Southaven, MS (July 11, 2023) – StyleCraft announces the upcoming debut of a new lifestyle collection created in collaboration with artist and product designer Austin Allen James.
StyleCraft's Rodney Leath commented, "We are excited to see buyers at summer markets and to be able to highlight our new collaboration with Austin. His lifestyle collection is absolutely exquisite and we can't wait to see the response from buyers during our launch party on opening day at Las Vegas Market"
The Austin Allen James x StyleCraft Lifestyle Collection will launch during Las Vegas Market, with a special Meet and Greet Event with Austin on Monday, July 31 at 3 pm, in showroom A-352.  StyleCraft's launch party will feature hors d'oeuvres and a Signature Cocktail, "The Jazzy James"  in honor of Austin's new collection. Guests are encouraged to RSVP on Eventbrite.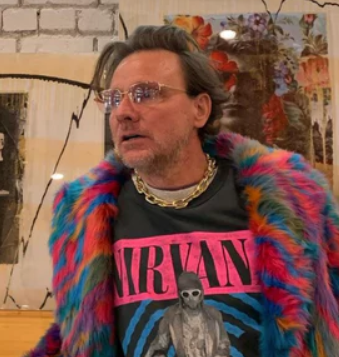 Austin Allen James, Artist and Product Designer commented about the collection, "My furniture and art are influenced by my everyday life living near the Gulf Coast. I capture energy and color in harmonious compositions. My goal is always to create a piece of art or furniture that grows more beautiful and precious through time."
Each of the new designs, StyleCraft created in collaboration with Austin, will be on display during Las Vegas Market. For buyers who want to experience the new Austin Allen James x StyleCraft Lifestyle Collection, they can register in advance for online access to preview the new collection of more than 70 designs across furniture, case goods, lighting, accessories, pillows, artwork, mirrors & wall decor.
As an added bonus to buyers visiting the Stylecraft showroom A352, Austin will be giving away $2500 worth of exclusive original artwork with a special drawing for 2 original pieces! Buyers are encouraged to stop by for details on how to enter to win.
StyleCraft's collaboration with nationally recognized artist Austin Allen James launched in 2018 with a capsule collection of original art. Throughout the pandemic, Austin and StyleCraft worked to grow their relationship and expand the number of designs into a full lifestyle collection for a summer 2023 debut.
Austin added, "I am so proud of what we have created and how we have expanded our collaboration into a full lifestyle collection. StyleCraft's entire team has been incredible to work with and I am thrilled that they were able to seamlessly deliver my furniture design visions – that our industry is going to absolutely love!"
Austin's licensing agent Yudi Kaufman, YKD Associates, added, "It has been an absolute pleasure working alongside Austin Allen James and StyleCraft while watching this collaboration come to life. Austin's designs are the perfect addition to StyleCraft's collections as it combines a hint of ethereal glam with an urban feel."
StyleCraft, known as a leader in design and manufacturing with a history that spans more than four decades in the furniture industry, offers more than 4000 SKUs with product categories that cover lighting, framed wall art, wall décor, mirrors, decorative accessories, and decorative accent furniture, and designs for dining, bar, living, occasional, and lounge furniture.
Open to the trade, their company's customers consist of retailers, designers, stagers, and hospitality purveyors all across the globe. Headquartered in Southaven, Mississippi, just south of Memphis. with a 400,000-square-foot, state-of-the-art distribution facility that also serves as an office, showroom, and warehouse. As well as trade showrooms in six states across the country, including High Point, North Carolina; Las Vegas, Nevada; Dallas, Texas; Atlanta, Georgia; and Tupelo, Mississippi. To learn more and experience their collections visit: Stylecraftonline.com.
StyleCraft began working with Austin Allen James in 2018 to develop an original art collaboration. Austin recently expanded his licensed collaboration with StyleCraft for a 2023 launch of Austin Allen James x StyleCraft Lifestyle Collection including 70+ skus across furniture, case goods, lighting, accessories, pillows, artwork, mirrors & wall decor. This new Austin Allen James Lifestyle Collection debuts at Las Vegas Market, at the World Market Center, in StyleCraft Showroom A-352.