Might as well rip the Band-Aid off and just come out and say it: It's going to be an ugly, rough ride for the furniture industry over the next year, maybe two.
There will be exceptions, of course. There always are. But for many on both the supply and retail sides, as well as those in our service sector, the pain has already arrived. Business has slowed. There's more product in stock than anyone needs. I'm told several major retailers are trying to offload excess inventory to third parties and with very little luck.
Consumer demand has dried up. Stimulus money is gone. Home sales have started to slide. Gas is $5 a gallon. Groceries are going up every day. Stocks are going down — 20% or more. I'm crying as I write this.
Even the hiring trend has shifted from one of great need for workers to one of no need for more workers. In some cases, it's reversed to a new need to quickly trim headcount. Look no further than this week's reports: Southern Motion and Fusion Furniture have laid off about 280 workers across eight upholstery plants as they adjust to the retail slowdown; and Corsicana's announcement that it will close the Richmond, Virginia, plant of the recently acquired Symbol Mattress in August, eliminating 54 jobs in the process. Just a month before, Corsicana moved to close its LaPorte, Indiana, bed-in-a-box production facility, which had opened just months before.
As one source put it to me, the furniture industry is always a leading and lagging indicator — always one of the first to feel the effects of a recession and one of the last to pull out of the malaise. We're at that front end right now, and, coming on the heels of nearly two years of great business, this go around may feel particularly brutal.
I recently met with retailer Jason Fletcher, CEO of American Furniture Warehouse in Greensboro, North Carolina, to talk about this new reality, to see how he's handling it and how he's positioning his stores for the future. Here are a few takeaways from the conversation and a couple of other random thoughts picked up along the way this week: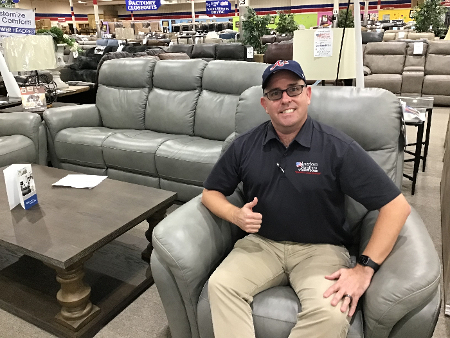 "This is going to be the summer of Covid revenge." That's how Fletcher describes what's going on right now. Consumers have not completely shut their wallets just yet, but they've definitely changed how and where they're spending. And it's not in furniture stores. They're going all-out on vacations right now, he said. It's all about experiences, and they'll face their hangover come this fall.
"But for the furniture industry, the hangover is now," he said.
So now is the time to clean up your floors, clean up your warehouse and get lean. Fletcher said he's training his eye on all kinds of operational expenses, looking for ways to trim back. He's asking himself if there are certain things for which costs "ran away a little bit," because business was just so good for so long.
That includes labor. Hourly wages have definitely crept up for Fletcher and others. You can't really take that away, but Fletcher is now asking himself: "Am I staffed correctly? Do I need as many warehouse guys now?
"And what about all these services and tools I've subscribed to? Am I using the right ones right now? Do I need all these things?
"We jumped into a lot of the digital tools with the pandemic," he said. Now he's wondering whether he still needs all of them. Is he spending right in every area?
That includes advertising, Fletcher said. He's checking to make sure he's got the right message and the right media mix for the time. He's checking to make sure his spend is appropriate given the change in consumer demand and the sales volume.
He's concerned about the cost of financing, too, now that the Fed has implemented the biggest rate hike in 28 years. Fletcher said he feels certain his cost to offer no-interest finance plans is going to go up, but he's just not so sure the alternatives he's seen so far are appealing enough to move the needle with the consumer.
And he's worried about what's going to happen in the second-look and subprime financing arena, which his stores and so many more play in and count on to reach the credit-challenged consumer. How financially viable will this model be going forward? 
"When the consumer is faced with paying for food, or gas, or rent, furniture is the last thing they're thinking about," Fletcher said. "They're not going to pay the furniture bill," and if that bill is part of a lease-to-own contract, he added, they're not particularly worried anyone will come knocking on the door to repossess the goods, either.
The Fed wants to see inflation back at that 2% sweet spot. "But in the furniture business, we really need to see deflation of at least 15%." That's Adam Resnick, owner of Furniture 4 Less in Jacksonville, N.C., and a friend of Fletcher, who put me in touch for this story.
"Our prices have about doubled year over year," Resnick said of the price he pays for furniture. "We really need them to come back down to be more in line with other goods, especially with demand slowing down."
Resnick said he, like so many other retailers, has raised prices as he's taken price increases from suppliers but not by nearly enough to cover the difference. So margins have taken a hit in order to keep customers from experiencing too much sticker shock, he said. Now, consumer interest in furniture is way down but the cost of goods is not.
"A lot of retailers are lost right now," he said. "They didn't understand what was happening two years ago, and they don't understand now."
Even the good news we're seeing isn't all good after that first glance. La-Z-Boy just reported record sales and earnings for both its fiscal fourth quarter and full year ended April 30. But work a little deeper down into the release and you see this about the company-owned La-Z-Boy Furniture Galleries stores: Written same-store sales decreased 9% in the fourth quarter "reflecting near-term consumer impacts of inflation and geopolitical concerns." In other words, La-Z-Boy is fulfilling the backlog, but new business isn't what it was a year ago.
And the outlook from La-Z-Boy's Chief Financial Officer Bob Lucian? While the company was pleased with its fourth quarter execution, "We expect current macroeconomic and geopolitical uncertainty and its effect on consumer sentiment will likely cause demand trends to remain volatile for the foreseeable future. We are beginning to increase investments in marketing to drive demand for our strong brands to leverage their power in the marketplace, controlling the controllables, and improving our agility to navigate global supply chain disruptions."
So what to do as these storm clouds thicken? Following some of the steps Fletcher is taking seems like a pretty good plan. In short, go lean and "get yourself positioned because the really good deals haven't hit, but they're coming," he said.
And turn to others for help, ideas and inspiration. Indeed, one of the last things Fletcher told me was how much he was looking forward to the upcoming Nationwide Market Group PrimeTime in Orlando, Florida in August. Everything he has read or heard about lately points to this slowdown persisting for a long time, possibly two years, he said. "It's time to retool for the next phase of business," and PrimeTime helps with that, he said. "We get access to the latest economic forecasts for our business. It helps us make informed decisions.
"And honestly, it's just a good positive boost to get together, and focus on the things we've done well."
Despite the pandemic-related supply chain breakdowns, business until very recently has been unprecedented for American Furniture, its sister store Southeastern Furniture and furniture retailers across the country. "It was like tax season for almost two years," Fletcher said.
"But we've also been so busy dealing with some difficult things that we haven't really had a chance to take a deep breath and celebrate and look ahead to what's coming."
He's doing all of this now, as we all should.