ORLANDO, Fla. — While Jamie Winter and Furniture Mall of Kansas were the big winners of Furniture First's Best Idea contest at Symposium 2022 here, many retailers across the country stand to benefit from the tax-credit hack, just as they can from other roundtable winners.
The buying group filled nine tables with eight to 10 retailer members, each making their best pitch for this year's best idea, a quick $100 cash for winning the table vote and then a shot at the grand prize later that evening, the one that went to Furniture Mall. Furniture First members have much to gain from all 80-90 ideas to come out of the May 23-25 convention, but thanks to the nine dinner-time pitches at the podium before the final vote was taken, we have eight more to share with the whole industry.
Sales Bingo: Jay Hawkins of Tupelo, Mississippi-based Room to Room (a member that picked up wins at three different tables) said the retailer came up with a great idea to try to boost both its sales and store community.
"We wanted the whole store to be involved in it, not just the salespeople, because, for us, warehouse, sales staff, front counter — they're all somewhat divided and off in their own realm," despite efforts to bring the whole team together, Hawkins said.
So Room To Room went to BingoMaker.com, where you can customize and create your own bingo cards. Then it formed teams that included one salesperson, a warehouse worker and an hourly employee (maybe counter help or a floor stager). The bingo cards were filled with spaces for everything from "sheets" and "mattress" sales to "VIP signups," and "Random acts of kindness," to getting "Podium reviews" from customers, something delivery drivers can help with, too.
The retailer gave a cash prize to each member of the team that got the first bingo and then the game started over. There are other ways to play, too, Hawkins said, including using it in coordination with supplier reps to help keep salespeople engaged in product training.
VIP texts: Room to Room's Amber Beane said the retailer has used the SlickText program to "massive success,' noting the text marking channel has been a great way to boost sales and promote things such as flash sales and other time-sensitive promotions or to showcase categories.
"If we wanted to move a lot of rugs, we'll highlight that," she said, "and we're seeing people come in directly after and ask for those things."
Consumers are presented with a QR code option they can scan to sign up for the promotions. "We don't spam customers," Beane warned. "It's something we send out once or twice a month.' And with SlickText, retailers can choose marketing budgets that can range from $30 to $1,200 a month. Room to Room does $350 a month, giving it about 10,000 text messages.
"We're seeing whenever we do this, we're able to produce sales quickly," she said.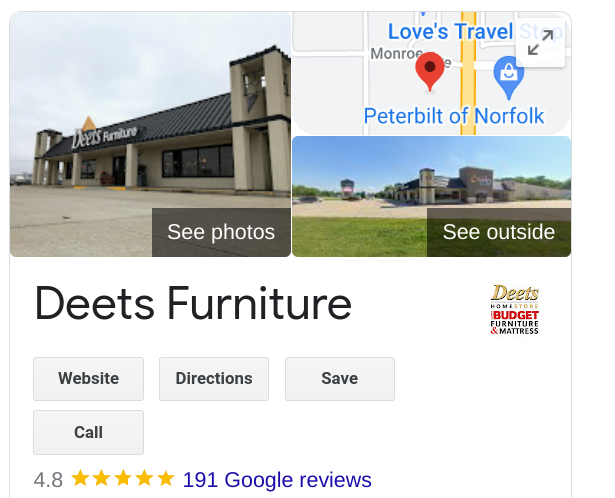 Google reviews made easy: "Google is the king of everything," said Kyle Deets of Deets Furniture in Norfolk, Nebraska. Search anywhere for "furniture near me" and Google largely controls what you're going to see. That's why it's important to stay active on your store's Google page, with photos and pictures. It leads to more organic search success, too, he said.
Deets came up with an easy way to get the customer's review, again creating a QR code. At the time of sale, while an RSA is writing up the ticket, Deets said, "We just simply ask a customer while they're waiting … 'Would you answer this one survey question?''
The customer gets out their phone, scans the code, which takes them right to Deets' Google page, where they can tap five stars, send, and they're done. The whole thing takes 10 seconds, Deets said. "In the last six weeks, we picked up over 50 Google reviews," he said, all for the price of printing up the code on the business cards.
While he had such a large dinner audience, he flashed the code on the stage screen, too, asking for a few more.
Digital business cards: This one, presented by Kray Klopfenstein of Home Rooms in Fort Wayne, Indiana, was along the same lines. The retailer has been working hard to improve its follow-up process and stay in touch with the six to seven out of 10 customers that typically walk out of a store without a purchase — even after dealing with a top RSA. One of the only ways to do this is to get their contact information.
Everyone knows handing a consumer your business card is sort of the salesperson's "white flag" and the consumer ticket out the door," Klopfenstein said. So the consumer is eager to accept one and wrap things up.
But Home Rooms decided to use pandemic times to its advantage. Instead of handing out a business card, the RSA says, "I don't want to give you any germs; I'll send you my digital business card. What's your number?" The consumer already has signaled a "yes," to accepting a business card so they're likely to accept this change up, and now Home Rooms has the info it needs to follow up.
It's helpful with buying customers, too, he said, noting how an RSA can send the card with his or her name, face and a Google review link all at the same time.
Retailer magazine: Lisa Hawkins, owner of Room to Room, presented the third winning idea from her staff here, a magazine/catalog, created by the staff. It highlights everything from customer stories (no fancy photos, just room shots from the customers' phones), to sales reps and vendors to the nonprofits the retailer works with, to the store's favorite area designers.
Room to Room found a publisher that does this same kind of thing for local realtors, and for $14,000 and with the help of some vendor co-op money, it was able to print 30,000 copies of a 32-page magazine.
"We have 35,000 people in our little community, and if we can do this in Tupelo, Mississippi, you can do this," Hawkins said. "It was so much fun," she added. "And we've gotten lots of comments."
Exchange of Value boards: Cailey Ehgoetz of Michael Alan Furniture & Design of Lake Havasu City, Ariz., was noticing what she calls "duds" on the showroom floor, and came up w ith a clever way to deal with them. It's a way to call attention to the problem pieces and move them out the door for good without sacrificing too much margin.
As merchandiser for the retailer, Ehgoetz was noticing a disconnect. She knew very well what had to go, but the salesperson on the floor often did not. So she hopped on Amazon for all the supplies she needed to create an exchange of value board, including cute stickers and $100 Amazon gift cards as prizes for the sale associates.
The board is filled with images of the product Michael Alan wants to move out pronto so fresh goods can take their place. It's posted prominently in a place salespeople easily see on their regular walks to their offices. When they sell something off the board, they get rewarded.
It's a simple communication idea that's proven very effective, Ehgoetz said. And the sales team has been "pumped," some can't wait to tell her what they plan to use their gift cards for.
"It just created this uplifting energy and was really a total win-win," she said. The sales team is proud when they succeed with a board task, and Ehgoetz gets to move new, exciting things onto the floor.
Booster club sales: When Pam Miller, owner of Miller Home Furniture & Mattress of Falls Creek, Pa., decided to close a store earlier this year, the liquidation was successful, "but of course we didn't sell it all." So what to do with the remaining merchandise?
Her mind went to Walmart and the tractor trailer load of goods they often donates to nonprofit organizations to sell. The charity gets the trailer and a few weeks to find a place to put it, tag it and sell it. It's a lot of work, but they can make a lot of money, she said.
With that in mind, Miller called the local school district to talk to all the booster clubs. Her pitch: "We have $300,000 worth of merchandise, and if you guys are interested, I'll give you 10% of everything we sell. All you have to do is show up and work."
She got another company to donate a building for the sale since proceeds were going to a good cause, put all the merchandise in and tagged. Then all the football, baseball, volleyball and basketball players showed up to work (with their mothers and grandmothers in tow) and over the course of two three-day weekends, Miller sold $100,000 worth of the remaining goods.
She suggested this could actually become a profit center for retailers, who could move the booster club sales from one community to the next with the help of only one paid employee.
Raise your protection plan prices: This simple idea from Travis Turner of Turner Furniture of Tifton, Ga., boosted the retailer's bottom line significantly over a five-month period even though it already was doing pretty well.
"We changed the way we paid it. We changed the way we presented it. And most importantly, we raised our price (on it) more than two-fold," changing the cost to the customer to an average of about 12.5% of the sale.
Among other things, the sales team was excited by the added bonus money they were getting via the new structure, he said.