Make It Yours program now includes fixed and extended dining table top options with multiple legs
CONOVER, N.C. – Vanguard Furniture is expanding its custom wood furniture program with a new dining assortment that offers square and rectangular tables with different leg options.
The company's Make It Yours custom program already has a dining segment. But up to this point, it has been limited to round table and pedestal base options where customers can choose their top, base and wood or painted finish.
The expanded offering brings one square table top and three rectangular table tops into the mix. The square table top is fixed at 38 by 38 inches and two of the rectangular tops also are fixed at 78 by 44 inches and 94 by 44 inches.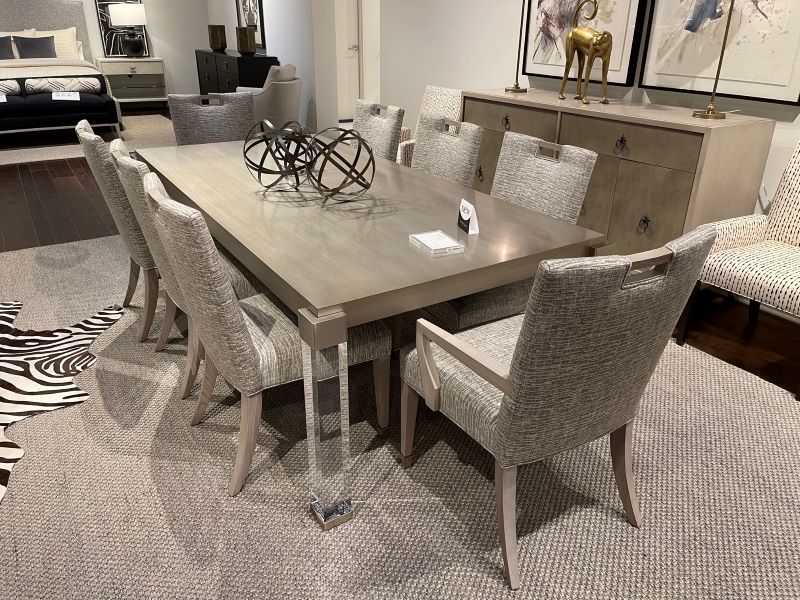 A fourth rectangular table has a top that extends from 84 inches to 128 inches with two 22-inch leaves. It too is 44 inches wide.
The program, which the company showed at the Sept. 13-14 Premarket in High Point, also offers 17 different leg options. There are seven different standard versions including groove, modern, fluted, parson, bamboo, angled and retro leg styles.
Premium leg options include a metal deco style, a metal captured leg, a metal tapered leg, a wood cabriole leg and a wood tapered leg. Five ultra-premium legs include a stone leg, a textured metal fret leg, a cast metal leg, an acrylic leg and a lapakanay leg.
In addition to round dining tables, other existing MIY categories include bedroom, home office, occasional tables, ottomans, benches, bathroom vanities, bar and counter stools, wall panel beds and lifestyle cabinets. As with these other categories, some of the components are imported, but the pieces are assembled and finished in the company's Conover, N.C. wood manufacturing facilities.
The company said customers can select from hundreds of finish options – wood stains, paints and metal finishes – for the tops and the legs. For an upcharge, pieces can be further customized with optional embellishments such as highlight striping and different sheen or distressing levels.
Also, for an upcharge, optional Vanguard Performance Top Coats are available to protect against heat, moisture, household chemicals and abrasion. The company said these are not offered on any stocked finishes or premium leaf finishes, but are standard on all tinted metal finish options.
At the Oct. 16-20 High Point Market, these and other MIY offerings can be seen at the Vanguard showroom at 301 N. Hamilton St.