The retailer is boosting its Capex budget as it looks to $1B in sales
ATLANTA — Container prices are soaring, ports are congested, labor is hard to come by and still Havertys posted record second quarter results, including a 46.9% increase in same-store sales as it lapped the Covid closings of last spring.
And the 122-store retailer has still bigger plans — to further fill-in its geographic footprint, to expand its distribution operations and to beef up its website with a new slate of applications and services. They'll make it better looking and easier to use for the consumer, the company said, while providing better analytics and reporting capabilities for Havertys.
Some takeaways from this week's earnings call and a brief follow-up with President Steve Burdette while he was on his way to the latest store opening: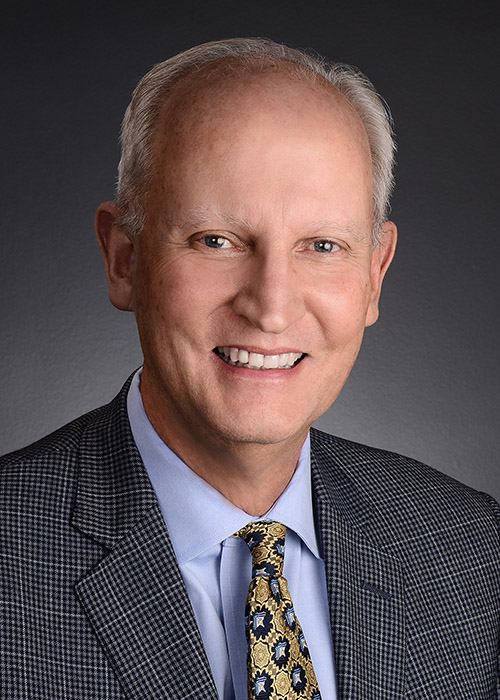 Consumer demand for furniture won't be drying up anytime soon. Havertys Chairman and CEO Clarence Smith said the company believes the increased importance of home jumpstarted by the impact of Covid "is a longer-term trend."
"While we don't expect the rush that impacted our industry to be at the elevated levels we experienced in recent quarters, we do believe that home is a priority and a sustainable trend for the near future," Smith said. Add to that continuing boom in home buying and Haverty's strong position in Florida, Texas and the Southeast, and the retailer is "in an ideal position for today and for the future."
Product shortages and delays aren't going away anytime soon, either. While Havertys suppliers, and merchandising and distribution teams are working to bring in goods, fill orders and reduce backlogs, the shipping challenges for home-related industry will probably remain problematic until spring of 2022, Smith said.
Containers prices are soaring up to $22,000, and that also won't be getting much better anytime soon. Despite all the headwinds, Havertys President Steve Burdette said the company has been able to increase flow of goods into its warehouses in the second quarter but at a cost. Container capacity, he said, continues to be under pressure due to that increased demand and will probably be an issue for the rest of this year, even if demand softens.
Container prices on the spot market now range from between $12,000 to $22,000 While Havertys has finalized contracts for containers at rates below that, sometimes it has to pay up if, for instance, its demand exceeds the allotment secured under its contracts or if it's just quicker to get good through a supplier's sources.
"We have been able to balance our shipping … so that no more than 20% to 30% is on the water at one time at these increased rates," Burdette said on the call.
Regarding the current lockdown in Vietnam due to a spike in Covid cases from the Delta variant, Burdette said the company doesn't expect it to impact customers as long as the closures don't extend past the projected two weeks through Aug. 2. A prolonged four-to-six week closure, however, will impact customers who have already purchased as well as future customer lead times.
Havertys also is seeing port congestion in Vietnam, China and at the Port of Los Angeles and railyards that its monitoring closely. Its undelivered backlog is now two times larger than it was last year, he said, stretching to about eight weeks from the previous six weeks three months ago. Special-order lead times have increased to 12 weeks to 20 weeks depending on the vendors, which has caused some softening in that business.
Despite the challenges, it was a record quarter for the retailer. Delivered sales for the period ended June 30 were up to $250 million, 127.3% ahead of the second quarter a year ago. That's partly because stores were closed in April last year. Even so, on a comp store basis, (and Havertys only counts comps from stores opened for the full month of both periods) sales were up nearly 47%. Net income jumped to $22.9 million, or $1.21 per share, from $13.6 million, or 72 cents per share, and gross profit margin increased to 56.6% from 54.2%.
Asked what's selling, Smith said Havertys' case goods business has improved a bit more than the other categories. Upholstery sales were up, too, but because of the emphasis on customization and the current product delays, it suspended a few of its custom and special-order vendors, he said on the call.
Written and delivered sales comps get tougherin the second half of the year, but Chief Financial Officer Richard Hare said the company has seen positive sales trends in both in this third quarter month-to-date, "and we're certainly optimistic about the rest of the year."
Havertys is growing. On the store front, the retailer is looking for fill-in locations in its best markets and plans to announce "several" for next year. Today (Friday), it grand opened in The Villages in Central Florida. And before that, it opened a third Austin-market store in the fast growing Pflugerville/Round Rock, Texas, area and a new store in Myrtle Beach, S.C.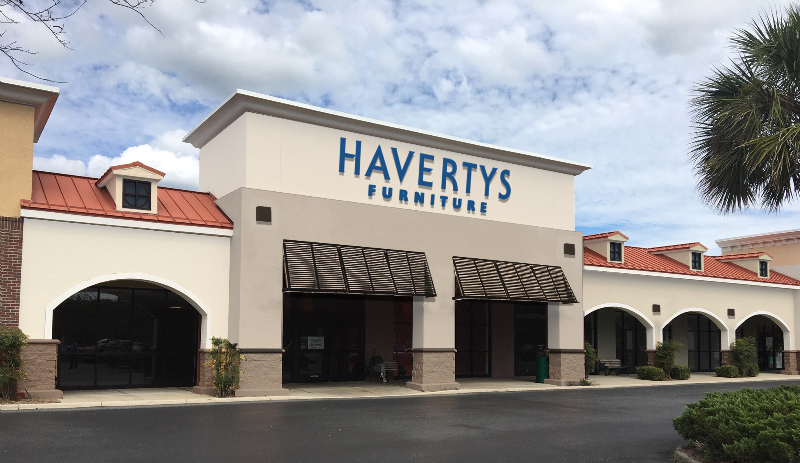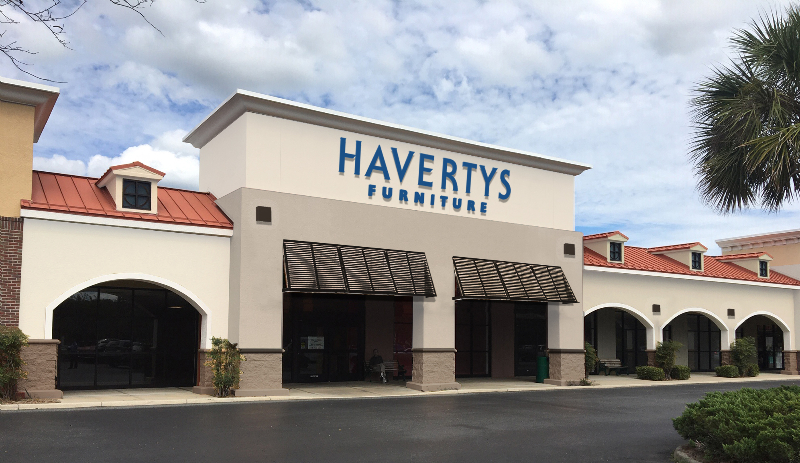 The Top 100 retailers also just completed adding racking to its "mothership" distribution center in Braselton, Ga., giving it 20% more storage capacity there, Smith noted, and it's evaluating other expansion opportunities across its network to support sales growth to $1 billion-plus. In Virginia, Havertys plans to buy back its roughly 130,000-square-foot warehouse in Petersburg, Va., south of Richmond, which as part of a three-warehouse sale-leaseback transaction last year. Owning it outright, gives the company more flexibility as it evaluates growth plans, Hare said.
Its "front door," Havertys.com, is getting attention, too. Smith said. It's really an ongoing "significant investment in IT and state-of-the-art systems, but that includes reworking its website "for better presentation and ease of use." The retailer contracted with Adobe to build a new foundation that Smith said "will improve functionality, help us create content easier and faster, provide better personalization using AI-driven automation, and enhance our analytics and reporting," with the goal of offering "the best-in-class website experience."
All told, Havertys, which carries no debt, has boosted its capital expenditure budget for this year to $37 million from the previous $23 million. Nearly $19 million will go to store expansion and remodels, $15.2 million to distribution network investments and the rest to IT.