Anaya Home, a new furniture and accessory resource with an emphasis on wellness, made its High Point Market debut in its new Suites at Market Square showroom this week.
The company was scheduled to debut in the showroom in 2020, but with the pandemic, they had to push things back.
While the company has previously shown product in Las Vegas, Atlanta, and Dallas in the Ivystone Group space, Anaya Home Co-Founder and Creative Director Jenna Rivers said they were very excited to be at High Point for the first time to expand their customer base and meet new people.
"We definitely wanted to expand our assortment into adding more furniture pieces," Rivers said. "We also found that we do business with a lot of interior designers, and we have no minimums, so someone can come in and buy just one stool. We wanted to help support interior designers and retailers who are maybe trying to test out another product category."
In the new space, the company displayed in-stock items— including its new Handwoven collection—and a preview of what's in store for 2022.
Anaya Home works with artisans in India to hand-weave all of their textiles. Everything is handwoven and made of natural materials like cotton, linen, or wool, and there are various textures, including a soft chunky weave.
The Handwoven collection is the company's staple collection hand-crafted by artisan weavers in India. With earthy color palettes and a soft hand feel, the collection includes eight modern patterns.
"We want to make sure the home is a comfortable earthy sanctuary," Rivers said. "To do that we believe in using natural materials and colors from the earth. All of the colors used are dyed to match a leaf or flower. I'm really interested in color theory and how it affects the mood."
One of the highlights in the space—and an item that originally made them start thinking about showing in High Point—is the Tope bench collection. The benches are coordinated with matching pillows that come in sizes 14×40, 20×20, and 14×20, and Rivers has started to use recycled denim and recycled cotton to make them.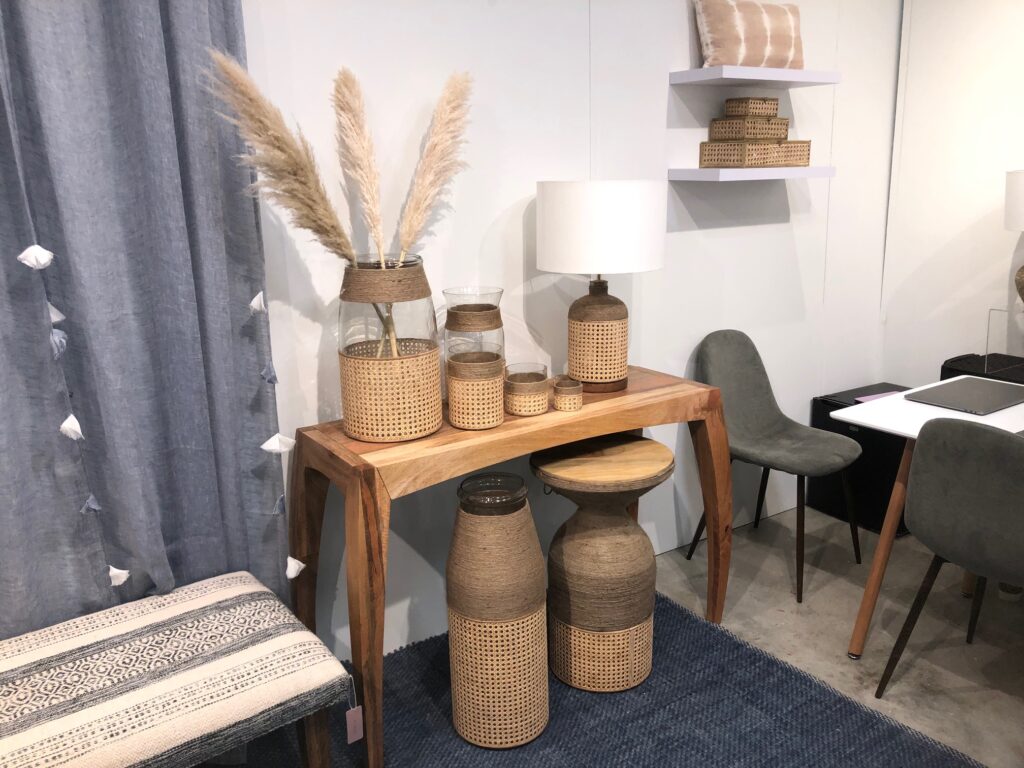 "In India, when we went to the area that they weave our textiles, we noticed there was a lot of old clothes and denim, so we repurposed some of those items," Rivers says. "We have a few items that are made with repurposed denim or cotton, and we'll be adding in more variations of recycled things."
The company also gave buyers a sneak peek at its new 2022 accessory collection, which features several pieces—from a lamp to a side table to a glass vase—covered in on-trend cane material.
"High Point is just so different than Atlanta and Vegas, and it's inspiring to see these great, innovative companies all around me," Rivers said. "And as a designer, it broadens my mind. Next time we come we'll have even more new products."