Stanley pauses all U.S. operations, Hancock & Moore, Wesley Hall halt production for a week
HIGH POINT — Shock waves from a host of supply chain disruptions continue to make matters worse for U.S. suppliers and their customers, as Stanley Furniture suspended all domestic operations. Also, two upper-end upholstery producers — Hancock & Moore and Wesley Hall — suspended all or part of their production this week.
In an email to customers obtained by Home News Now, the Vietnamese-linked Stanley said the suspension of its domestic operations was effective Wednesday and will last "until production flow stabilizes and the economics of our business becomes more predictable."
The email did not disclose how many U.S. employees are impacted by the move or estimate how long the operations will be shuttered and company officials did not return emails or calls.
"As has been well documented and experienced by all, delays in raw materials, inconsistent work schedules and lack of capacity with transportation routes, coupled with shockingly high ocean freight rates due to Covid-19 have greatly reduced our ability to operate efficiently," Stanley said in the email.
"Though the duration of this necessary business interruption is unknown at the present time, it is our goal to return to normal business operations as quickly as possible."
In Taylorsville, N.C., foam shortages exacerbated by the mid-February winter freeze in the Gulf Coast region, led Hancock & Moore to furlough more than 100 employees this week, in order to give foam suppliers a chance to catch up to demand and increase allocations to the upholstery maker.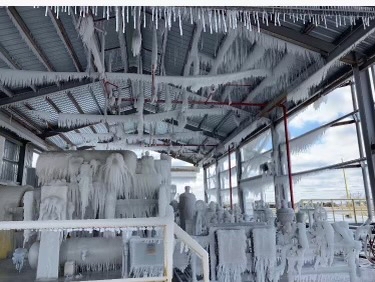 James Kennedy, vice president of operations for the high-end company, part of the Rock House Farms Family of Brands, said the affected employees were able to file for unemployment because the action was Covid-related.
"Everybody is coming back Monday and we'll play it by ear, but we feel like we can get through next week giving people a fairly full work schedule," he told HNN. That's good but not great, as the upholstery maker would prefer to be in a position to offer overtime to workers in order to catch up on backorders.
Kennedy said most of the impacted employees at its two Taylorsville plants did not work most of this week (though Friday is a holiday). There are basically two production streams at Hancock & More: a front end that handles marking, cutting and sewing fabrics and leather for covers; and a back end where the upholstery actually comes together and workers marry the covers to the frames. It's that work on the back end that was temporarily halted.
The company had been on 90% allocation for a while, meaning it was getting about 90% of what it needed to operate at close to normal capacity, but when the Gulf Coast storm hit in February, allocations dropped just as they did when Covid hit around this time last year. That 90% allocation went to 50% or less, depending on the foam supplier. In some cases it dropped to zero, he said.
"We made the decision to shut down our upholstery plant to let our suppliers catch up," Kennedy said of the move this week, which was really just a partial shutdown.
"We were able to go ahead and cut leather and fabrics and sew covers to have some of those orders in process so that, hopefully, we can begin to catch up again (on backorders) as foam starts coming back."
Kennedy said it will be a gradual process, though. "It's something we'll be chasing for several months if not the entire year."
Another high-end upholstery producer, Wesley Hall, also halted all production this week and plans to operate on a reduced schedule for the next two weeks, according to industry reports citing, a letter that went out to customers.
"Late last week, it became apparent that our foam and cushion supply was no longer in a position that would allow us to continue that strategy," Woodworking Network reported from the letter. "Our largest cushion supplier has been forced to close for two weeks, and our second largest supplier is currently working a very abbreviated schedule."
The pause by case goods producer Stanley, meanwhile, appears caused not so much by the foam issue as every other supply chain disruption the industry is facing, including capacity, container and other raw materials shortages, and labor and transportation problems.
Operations at Stanley's Vietnam manufacturing facility are continuing, the company said in the email to customers, adding that it expects "to see product shipping on a more consistent basis beginning late May." In the message (and on the main telephone line updated Thursday) the company directed questions about order status to an email address monitored by Stanley in Vietnam.
Stanley concluded the email by stating it regretted the inconveniences the pause will cause customers. "We will work hard to rectify the situation as quickly as possible and will communicate to you when that pathway becomes clear," it said.