PASADENA, Calif. — Following our publication last week of an obituary for Cisco Pinedo, who died suddenly on Feb. 11 while traveling in Mexico,  we learned more details about his many contributions to the furniture industry and to the city of High Point. And based on comments we received from our initial story, we also learned that he touched many people's lives during his many years in the industry.
Thus we are devoting more space here to capture his rich history and contributions along with the comments people have shared with Home News Now via LinkedIn.
Pinedo founded upholstery manufacturer Cisco Home in 1990. But according to an obituary written by his family, his time in the industry dates back to his teen years when he started as an upholstery apprentice in south-central Los Angeles at age 16, leaving high school to support his family. By age 26, he opened his own upholstery shop in a garage next to his apartment that grew into a small workshop that employed other friends and family members.
And following the Los Angeles riots in 1992, he moved his business back into the center of the impacted area, just as other businesses were moving away from the south-central neighborhood that he considered home. In 2003, he built the L.A. Design Center, a commercial center rebuilt from existing warehouses that is designed to showcase the talents of emerging furniture manufacturers, designers and entrepreneurs. Today the 80,000-square-foot complex includes about 20,000 square feet of outdoor space.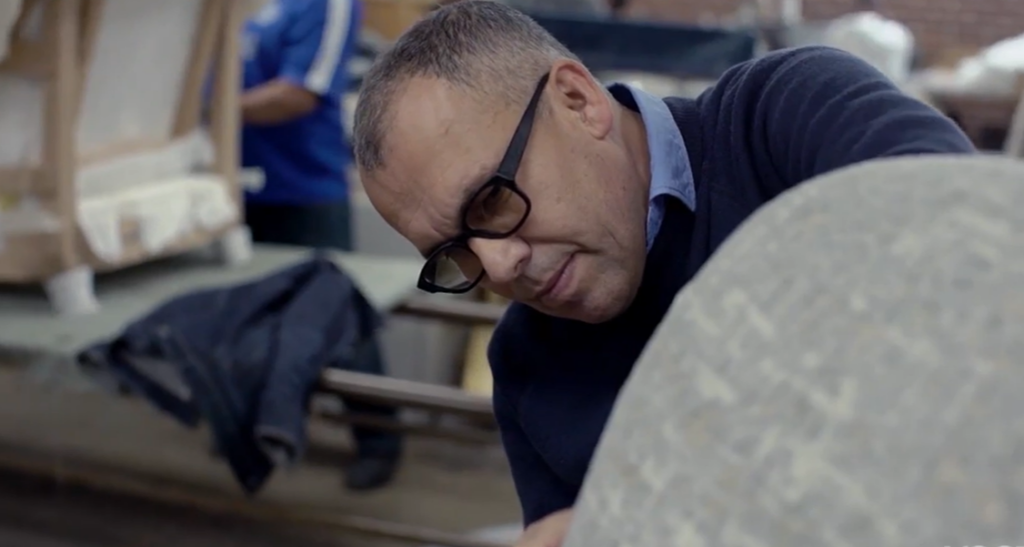 In 2002, Pinedo also led the revitalization of the former Highland Mills in High Point, transforming the abandoned 23-acre cotton mill dating back to the early 1900s into a 150,000-square-foot creative hub known as Mill Village. According to his family, he has invited many young artisans, craftsmen and craftswomen and emerging brands to the facility over the years to showcase their products and design talents.
"While his visionary building design is known throughout the High Point industry community, his warmth was most often felt through the meals he cooked for friends and clients during High Point Markets," his family noted.
He also developed projects in Round Top, Texas, including Cisco Village, a 6-acre creative marketplace operated year round to showcase the wares of various vendors. The other is Oakbones, which he developed as a 30-bed modern cabin camp with a 15,000-square-foot event space that is expected to be completed this year.
"Oakbones was his final design project, and he was thrilled to build a gathering space for family and friends for generations to come," his family recounted. "Recognizing the important interplay with architecture and design, Cisco's projects were inspired by the good bones he found in existing structures, giving them the Cisco touch."
Part of his legacy also included his commitment to sustainability, not just as a founding member of the Sustainable Furnishings Council in 2003, but also for his use of sustainable materials in his products. This has included nontoxic foams, FSC-certified wood, natural fabrics and traditional textiles from indigenous communities around the world. He was also credited with helping to ban flame retardants in furniture and was also committed to domestic manufacturing, producing products in both Los Angeles and North Carolina. And to this day, his line continues to be made with repurposed materials.
He also founded two nonprofit organizations that help disadvantaged individuals and their communities. They include Making Education the Answer, which provides mentorships and educational scholarships to Latino youth in Southern California. To date, it has provided more than $650,000 in scholarships.
Meanwhile, the Refoundry organization he helped found trains incarcerated individuals to repurpose discarded materials into home furnishings. It also mentors these participants into business ownership or career-track jobs. Since its founding, Refoundry has helped launch 10 businesses employing more than 100 people.
Pinedo also has received numerous awards during his long industry career including the AIA National Institute Award in 2004, The Bruner Foundation Rudy Bruner Silver Medal for Urban Excellence in 2007 and AIA/Los Angeles Decade Award in 2006 for the L.A. Design Center, as well as the KCET Local Hero of the Year Award in 2007 and the MED Week Manufacturing Award in 2007.
Survived by his wife, Alba, his three daughters, Maurishka, Natalie and Amanda, and a granddaughter Mara, his family closed his obituary with these words:
"Cisco will be remembered as a vibrant innovator, passionate business force, fearless entrepreneur, dedicated social advocate, and a loved husband, son, father, brother, grandfather and friend. His generosity knew no bounds, and his love for family and sense of home was the source of his energetic, loving spirit."
Here are some other thoughts from the furniture community shared with Home News Now on LinkedIn and via email:
"I worked at Lillian August Design in Westport, Connecticut, from 2000 through 2013 and Lilllian August and the Weiss brothers, Dan and John, carry the Cisco Brothers line. We were all trained on how the Cisco products were made and sustainability was very important. His furniture and name was one of my favorites, and I always recommend it to my customers at my own design firm today. What stood out most about the Cisco Pinedo products was the variety of colors and textures in their fabrics. Each could be mixed and made into your own style for a 'gypsy' look or a clean look that was always comfortable."
Danise Talbot, Danise Talbot Design
"Very sad news. Such a nice man."
Connie Lineberry, Connie Lineberry & Associates
"Cisco shone as bright and warm as the welcoming cauldrons of the fire at the front entry of his High Point showroom. How many of us paused for a moment there to take a breath and watch the sparks float toward the night sky after a long day of Market madness? Remembering his light and praying for his family."
Kimberly Wray, Steinreich Communications
"A loss for our industry and the design world."
Stefanie Lucas, American Leather
"How very sad for us all. A bright light has moved on … but will be remembered, gratefully."
Caroline Hipple, Norwalk Furniture
"I am just devastated and am still struggling with this loss. Such a generous spirit and kind man. We will truly miss him."
Patti Carpenter, Global Trade Ambassador
"A loss for the creative furniture community. #ciscobrothers took upholstery to another stratosphere. #ciscopinedo you will be missed."
Amy Lynn Schwartzbard, Life Designs, Kaleidoscope Project
"Truly heartbreaking, a big loss for our industry and his family. His dedication to a more sustainable future will live on through many of us. Sending prayers and condolences to his family."
Nancy Fire, Nancy Fire Designs
"A fantastic human. He visited my stores many times when I had my retail business."
Lynne Carroll, Valdese Weavers, Lacefield Designs
"Such incredibly sad news. Fond memories of visiting the Cisco Home showroom and sitting down to a wonderful meal, wine and conversation. His passion was deeply felt. Condolences to his family and friends."
Lori Friedlander, Merchandising, Sales Design Professional
"This is heartbreaking. … Always loved making the pilgrimage to Cisco during High Point Markets. Condolences to family, staff and friends."
James P. Fleming, Lighting Industry Expert & Adviser
"Cisco always had a smile and always blazed a trail. For sure the Pinedo family will continue to build on his legacy."
John Muldoon, Cohab Space