HIGH POINT — Premarket has always been one of those events that gets mixed reviews from the audience.
Some companies decline to participate, shrugging the event off as something that doesn't really have a lot of value, given that the spring or fall market is just around the corner.
For others it's a chance to get ahead of the game by giving retailers a preview of what's to come at the main event. By doing so they have a chance to get feedback on introductions, lock up distribution and spend quality time with key dealers from around the country. For many, the time spent with dealers alone is worth the effort of being open for the event.
In that sense, last week's Premarket was no different, with participation from event sponsors and non-sponsors whose doors were open even though some may not have had much product to show.
For example, a number of exhibitors told Home News Now that they were waiting on product held up at the ports that is expected to arrive in time for the Oct. 22-26 event. Others were showing large introductions that included some product that didn't make it here in time for the April market.
In either case, case goods and upholstery vendors alike said they were glad to participate as it gave them time to speak with their customers about what was here and what to expect next month.
Kuka Home for example received three containers of product in time for the show across multiple categories. It was waiting on several more for October, giving dealers plenty of reason to come back then.
"Premarket for us is always very, very positive and we always get new placements from retailers that visit us. It also gives us an opportunity to discuss projects that we can put in place," said Matt Harrison, president, noting that the company already has several initiatives in place for certain dealers later in the year. "So Premarket is doing its job if you will. Premarket to me serves a good purpose."
HMi Group, a division of Hooker Furnishings, showcased a major retrofit of its upper floor space for Portfolio, a program featuring 1,000 of the companys bestselling SKUs across the Pulaski, Samuel Lawrence and Prime Resources lines that will be in stock out of Hooker's new Savannah, Georgia, warehouse. Devoting about 10,000 square feet of space to the line, the product was showcased in a largely open floor footprint, mixing and matching various groups.
In addition, dealers got to see the first new Drew & Jonathan Home case goods collection since it was launched with four collections across the Pulaski and SLF lines in June 2021. Inspired by the Santa Monica coastline, Canyon features a mix of bedroom, dining room and occasional pieces made with oak veneers in a driftwood finish. Other key design details include woven fabric on an upholstered bed and the seats of dining chairs and stone inset tops on select pieces. The relaxed coastal look is also seen in the rounded waterfall corners on various case pieces.
Officials said reaction on the new collection was positive from dealers, some of which have recently begun flooring the other four collections.
Flexsteel was also market ready, showcasing the depth and breadth of its Flexsteel and South Haven upholstery assortments along with its new Charisma line featuring four entry-priced upholstery groups each available in two core fabrics.
"We loved it because we have a lot to talk about and we're market ready," said Tim Newlin, vice president, product, noting that the company saw about 25 accounts. "The products are here and the showroom is set up. We're prepared to have a great October market and this event helps us get one step closer."
Universal showed its 50-piece Newstalgia collection, and the complete 50 pieces in its new Erinn V. collection, a portion of which arrived in time for April.
"Attendance was slightly lower but we were happy with the people we saw," said Jeff Scheffer, president and CEO, adding that the company was also pleased with the response to its new collections. "Everybody's pretty upbeat, and people are still doing business. There's also a sense we are returning to some degree of normalcy with containers and product flow."
A.R.T. also showcased two new collections, including Portico and Mezzanine, both of which have 30- 35 pieces.
Dealers, the company said, were eager to see the new product as they prepare to freshen their floors in early 2023.
Company President Doug Rozenboom also noted another positive message for dealers: Most of the product available from its consolidation warehouse in Vietnam includes bestsellers that will ship on containers that have fallen in price significantly,. This means the value equation of the in-stock items ends up being higher based on the mix of product and the lower price of freight.
"Our position in A and B inventory has never been higher. We are poised with some of our best A.R.T. product in history," he said, noting that the company has never placed a surcharge on its product, instead pricing it at "everyday low prices and everyday value."
Officials at case goods manufacturer Napa Furniture said that while attendance also was down from Premarket events during the pandemic, the company was close to seeing the number of accounts it saw before the pandemic. They also noted that the mood among retailers was also positive as many had a strong Labor Day.
Below are more images taken by Home News Now at Premarket. You can see an earlier round of photos here.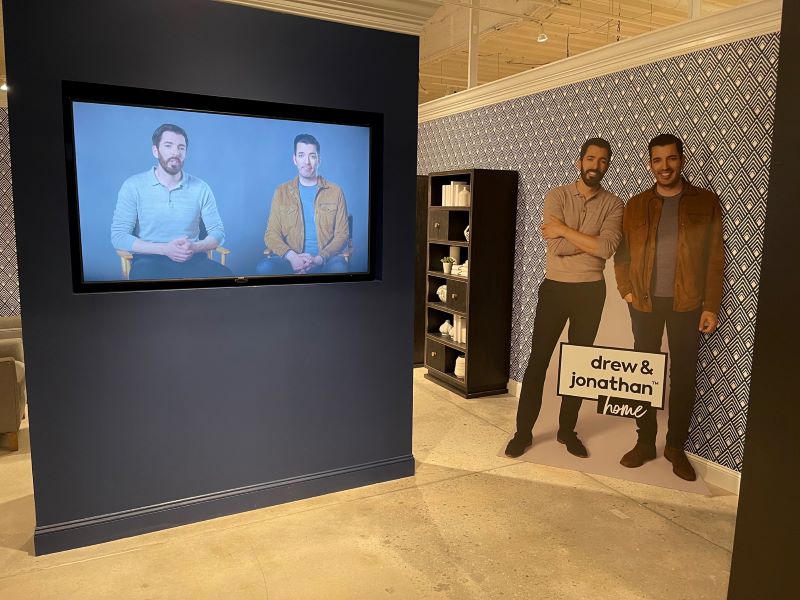 Drew & Jonathan Scott weren't actually at market — yet — but these images at the HMi Group showroom gave dealers a sneak peek at their planned appearance in October, their first in High Point since launching a collection with the division of Hooker Furnishings in June 2021. Stay tuned for more details about their newest collection and appearance next month.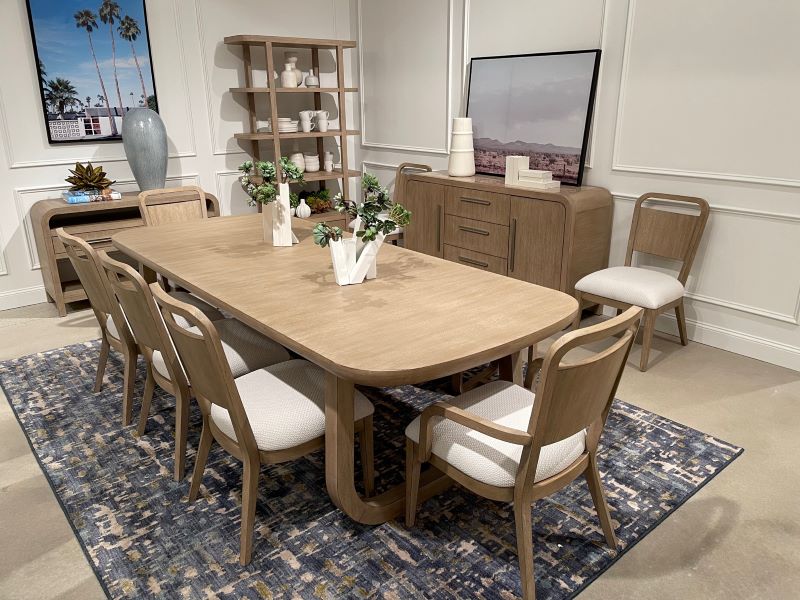 This dining table is part of the new Drew & Jonathan Home Canyon collection at HMi Group. It is made with oak veneers and shown in a Driftwood finish.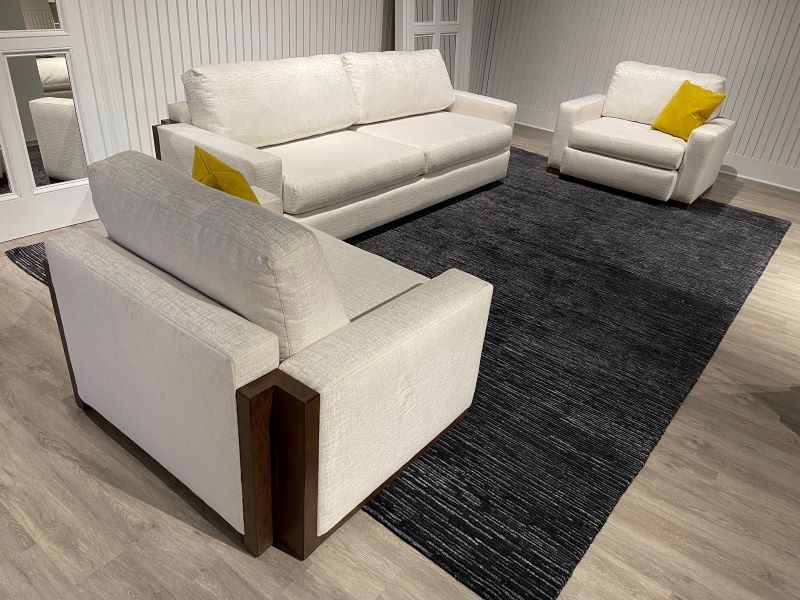 A.R.T. Furniture's Turner collection includes this upholstery group made in Mexico. The sofa is targeted to retail at $1,599.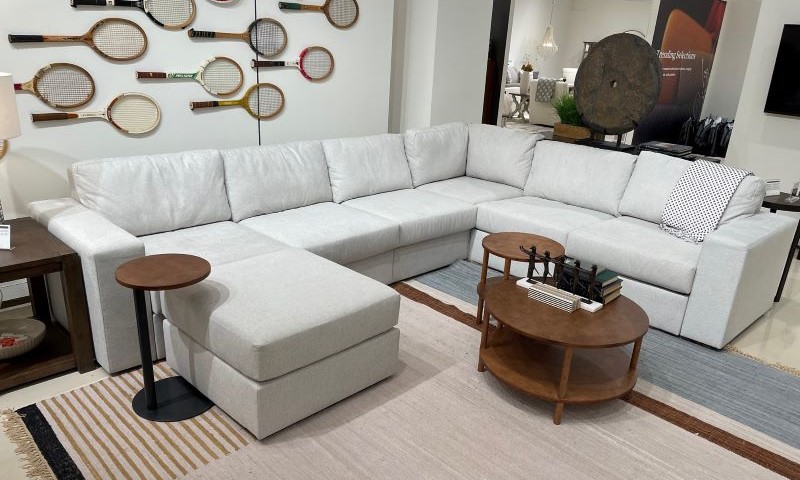 At Premarket, Flexsteel devoted about 13,000 square feet of its 50,000 square-foot showroom to the South Haven upholstery line, which includes this sectional.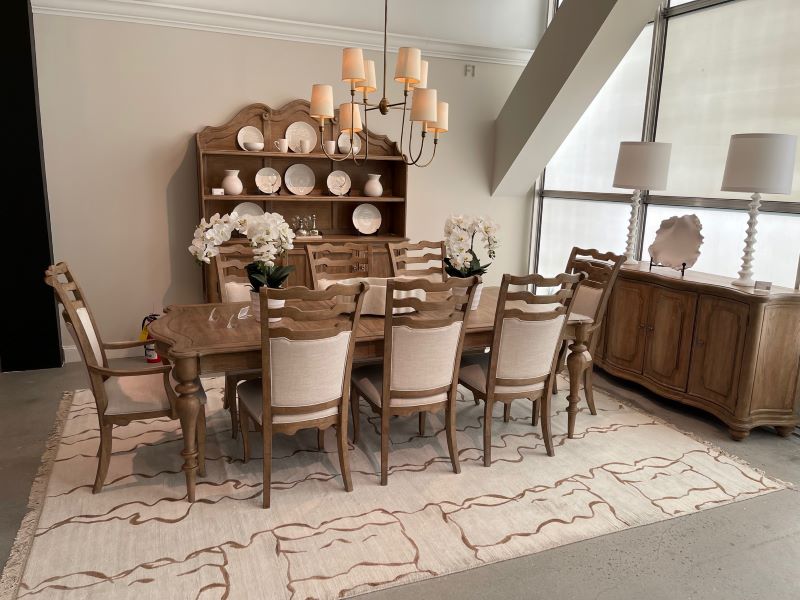 HMi Group showed the Weston Hills dining collection by Pulaski Furniture as part of its Portfolio mix of product that will be available the Savannah warehouse of parent company Hooker Furnishings.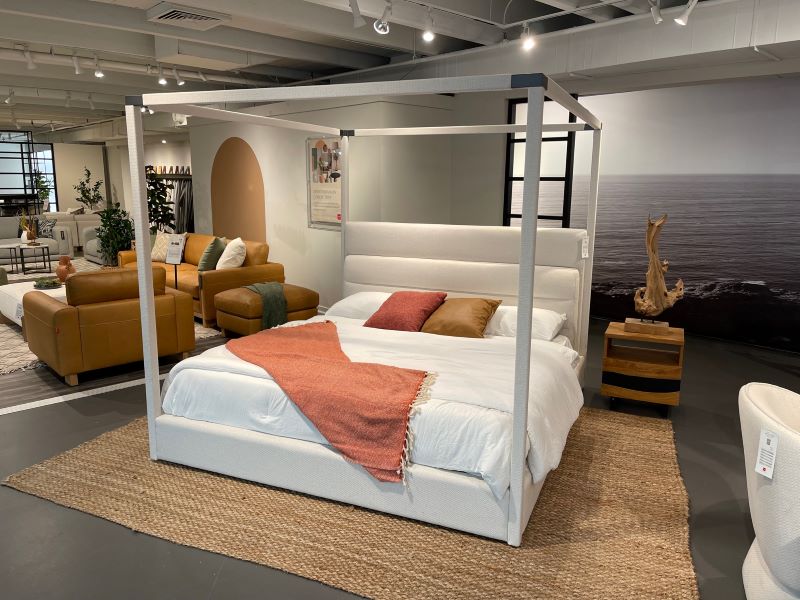 This canopy bed was part of the product shown at Kuka Home at Premarket. Featuring an entirely upholstered footprint including fabric wrapped around the canopy, it showcases Kuka's expertise with fine fabrics.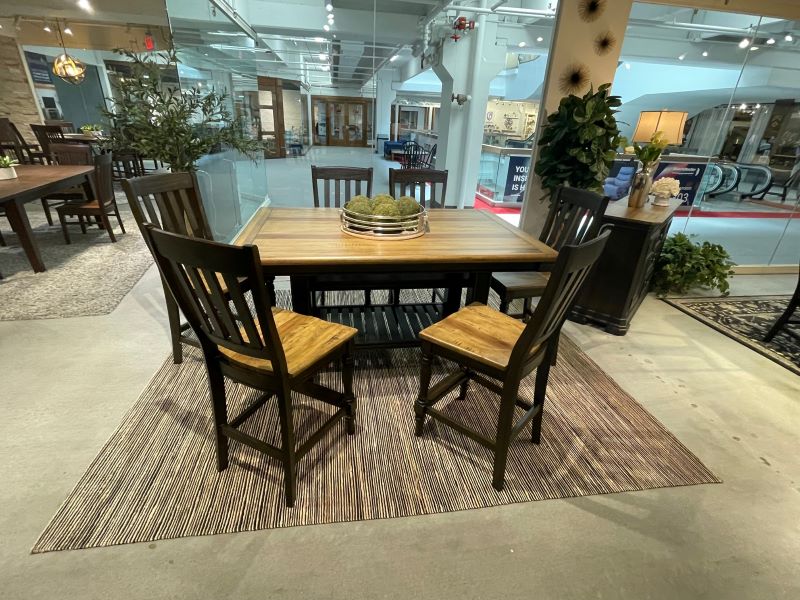 The Grand Louie pub table by Napa Furniture is made in Indonesia with mixed hardwood solids and is shown in a two-tone finish.