The retiring executive talks about his 14 years at Universal and other highlights in his 45-year career in the industry
HIGH POINT — In September, industry veteran Jeff Scheffer announced his planned retirement at the end of this year from Universal Furniture, where he has spent the last 14 years as president and chief executive officer.
This marks the completion of a long and successful 45-year career in the industry that began with his working as an assistant buyer for Burdine's Department Store in 1978.
Other key roles he has held in the industry since then include vice president, national sales at Universal Furniture, president of American Drew, and president and CEO of Stanley Furniture.
He also has served on the board of the American Home Furnishings Alliance for the past several years and served as chair of the High Point Market Authority board from 2017 to 2018.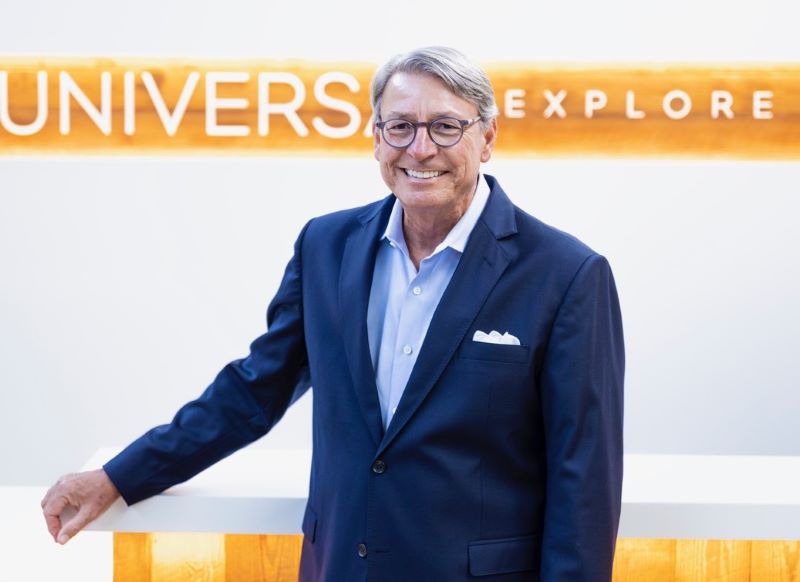 In this exclusive interview with Home News Now, Scheffer talks about his career in the industry, including his time at Universal.
There he has led the company's successful transition from a seller of commodity case goods to a style-driven whole home resource not just for traditional brick-and-mortar dealers, but also for a growing base of interior designers. This is particularly the case with lines such as Coastal Living launched in 2018 in indoor and later evolving into outdoor furniture; Miranda Kerr (2019); and Erinn V. (2022).
These lines along with To The Trade (2015) and Modern (2016) captured the imagination of dealers and designers alike, offering something for just about every segment of the market. In addition, the company launched an import upholstery line in 2015 and a domestic upholstery line in late 2019 that have positioned the company as a whole home resource.
Here, Scheffer talks about this evolution and how it has changed the company into what it is today.
As part of the September announcement, the company also revealed that Universal Senior Vice President Sean O'Connor will be his successor as president, effective Jan. 1, 2023. In this interview, Scheffer also comments on what makes O'Connor the right person for the job.
Home News Now: What makes this the right time for you to retire?
Scheffer: I have had just a wonderful career. And it is truly a blessing at 67 to still love what you do. It's a cliché, but it's true: If you enjoy what you do, it's never work. This has never really been work for me. There have been some ups and there have been some downs, but they all tend to equal out. But now it's just time to let the 40-somethings have their shot and for me to get out of the way. My health is good, my wife's health is good, we are empty nesters and I look forward to spending time with her.
How would you describe where Universal is positioned today compared to when you started with the company in 2008?
Scheffer: What I am most pleased with is that we have been able to successfully transition the company from one that 14 years ago was basically a producer and seller of commodity case goods, with a heavy emphasis on price. We have evolved things into a whole home resource now firmly entrenched in the upper-middle segment. I like to think of it as we are at the highest price where there is still velocity.
Was this part of your vision early on?
Scheffer: Yes. We launched To The Trade in 2015 with that in mind and that was the whole reason for moving from out on the highway (former Uwharrie Road showroom) to downtown. A key part of our strategy is to sell into every channel that makes sense, and the design channel is one that is growing and we felt that we really needed to be there. And we have been able to do that without disrupting the brick-and-mortar channel.
Can you say how your business in the designer channel has grown?
Scheffer: I would just say we are very pleased with the growth in the designer channel and that it continues to grow as they become more familiar with us and what we do.
Your styling has also evolved, particularly in areas such as your Modern (2016) and Coastal Living (2018) lines. Can you discuss the importance of this evolution?
Scheffer: Sometimes you get lucky with timing, but our timing could not have been better. With Modern, it's just a portion of what we do. It is certainly not anything like half, just like Coastal Living is just a part of the business that we do. There again that timing was good as woven products kind of caught fire. They were dead as a doornail for a couple of decades and then — boom — we hit it.
These past several years have been marked by major disruption. First with the 2018 China tariffs that impacted your production in Shanghai, then by a global pandemic.
Scheffer: They were some interesting years. You had the tariffs in China and dealing with everything around that. And then the move (from China to Vietnam), which although you kind of half expect it, it never goes as quickly and as smoothly as you would like. Then you get this pandemic and you think the world is going to come to an end. And then add to that everything we have dealt with over the last 18 months with ocean freight and availability of containers — it's been a pretty bumpy ride, not just for us, but for everybody importing.
What were things like for Universal?
Scheffer: I think the whole pandemic thing was probably the toughest at the outset. At the time, we had 1,500 SKUs in the line that we were shipping on average in less than 10 days from receipt of order and then Asia shuts down and you don't get anything for a few months. And then when it reopens you can't get a container. And then — and it really wasn't until the media started talking about furniture — I am not talking about the trade media, I am talking about the mainstream media — furniture got thrown in with cars and all the other kind of stuff as things got tougher to get. And as it got more attention, our dealers and the ultimate consumer began to understand what was really happening.
What would you say are some of the other highlights of your career?
Scheffer: I have been in the industry since right out of college, so it has been 45 years. I went to work for a department store in Florida, Burdine's, and was in their executive training program and became an assistant buyer in contemporary upholstery. … I just fell in love with the business. And it wasn't just the business, it was the people you got to know. And then I was promoted into men's clothing and stayed for about a year and just realized I wanted to make furniture a career. So I left the store and went to work for a manufacturer and moved to the West Coast.
You have had some extremely high-profile positions since then.
Scheffer: I just have been very lucky. I got my first chance to run a company at 40 — Don Mitchell brought me on to run American Drew and then Albert Prillaman hired me at Stanley and I learned a ton from him. And then Sean's dad (Kevin O'Connor) hired me to come and get this company moving again. Not to mention Samuel and Grace Kuo and Mohamad Amini (all of Universal parent Samson Holding) have been great partners. I have had the chance to work for and learn from some very good people.
You've seen a lot of change in the industry, too.
Scheffer: Yeah especially if you've lived long enough (laughs). But if you go back to the '90s, the big change was where everything was being made. All of it — and I am talking about case goods — started to go offshore, and of late, it has been more about where it is sold. You had to sort of zig when others were zagging and kind of figure things out. And I've told Sean that if this company looks exactly like it does today five years from now, he probably hasn't moved the company. I don't know what it's going to be, but there will be some disruption and you've got to figure out your way through it.
So what is it that makes Sean the right person at the right time for the job?
Scheffer: It is almost like somebody that has come up through a farm system to play. He has been here 11 years and he knows the system so there is going to be terrific continuity. And if I have done my job right no one is going to miss me. He shares the vision that I have had on where we need to go. He is good with people, he has a passion for product and he is going to do well.
The company is just in a good place and we are on a good path. We have found our lane and there is a reason for us in the marketplace. We are positioned nicely above and below the competition and it may not be like that forever, but we will figure it out. But right now, the company is in a good spot.