Handy Living re-imagines upholstery to reach furniture stores most efficiently
HIGH POINT — Handy Living came to the October Market here with its eye on big furniture stores and a handful of new upholstery pieces designed especially to work for them — be it in-store or online.
The upholstery resource is using its experience in small parcels and selling to the e-commerce home furnishings giants to create a more efficient logistics and product model for furniture to be shipped, warehoused and delivered to the consumer — even bulky products, such as sectionals.
In High Point, after nearly three years of of dealing with product development that was stymied by Covid — including closures throughout Southeast Asia — Handy Living introduced new concepts driven by its product engineering, packaging and container optimization. The stars included a modular sectional along the lines of something you might imagine from Lovesac, but built and packaged in a way that keeps the retail price at a fraction of the modular pieces offered by the publicly held retailer, manufacturer and e-commerce company.
And it's doing so without sacrificing quality, said Tom Erdman, corporate advisor to Handy Living. The seven-piece sectional can retail for $1,799 at long margins and will come in three colorways. It will include a leather look and features performance fabrics, Certi-Pur foam, reversible cushions and FSC-certified lumber. A four-piece loveseat version (including two square ottomans) will retail for $799.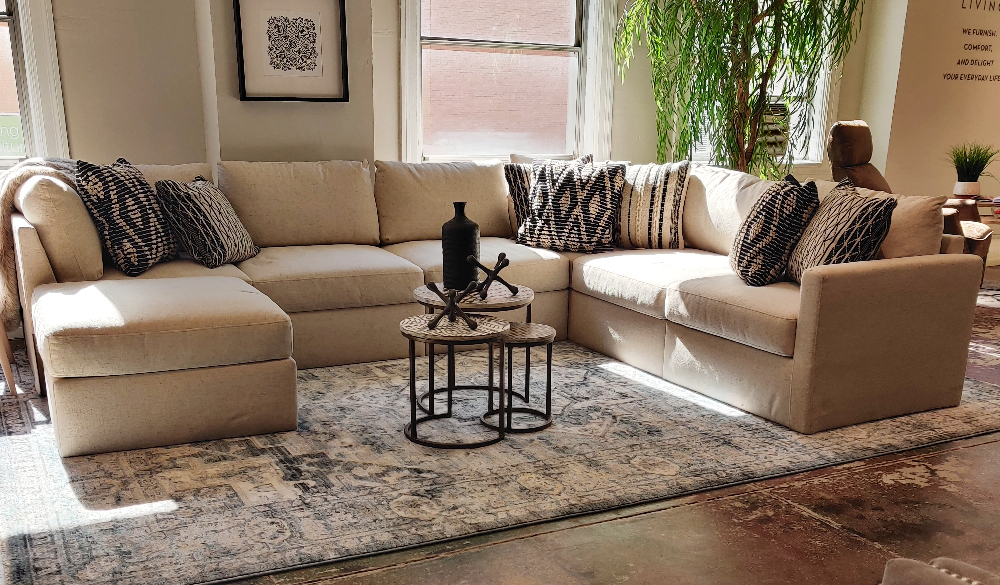 "Sectionals are huge business, and modulars are getting bigger because of the flexibility," Erdman said. "But they're very bulky in the truck. They're monstrous."
Typically, sectionals that look similar to Handy Living's newest iteration would fit 16 or so to a container, he said. But not so for Handy Living. The similarities in product end with the look.
"We can fit 45 of these," he said. What's more, the carefully proportioned boxes mean consumers don't necessarily have to wait on and pay for white-glove delivery. They can take the sectional (seven boxes) home in one trip in their Toyota RAV4 or similar SUV. Or it can be shipped via UPS or FedEx without going over the size threshold that would trigger extra charges.
Erdman contended the engineering Handy Living demonstrated with the new product this Market was "at a level not seen before in the industry," and he gives all the credit to Luke Zei, the company's director of product development. A typical container of furniture loads "85% efficient," Zei told Home News Now. Handy Living has increased that through its design to about 97%. That means more furniture goes in the containers, which, in turn, drives down the retailer's costs and the retail price on everything from shipping to storage to delivery.
"It's always been our position that air is the most expensive product to ship," Erdman said. "When you look around our showroom, you will see the phrase, 'Less is Greater than More.' This is an example of that."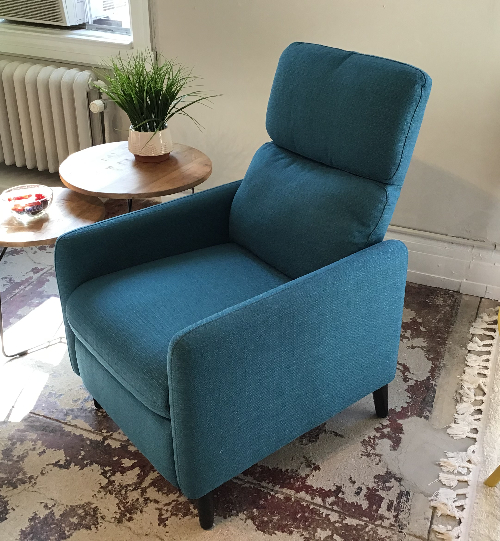 The latest moves are as much to help the efficiency and profitability of big retailers today as they are to help Handy Living. For years, the company has made its living selling primarily through the big e-commerce channels. That's not going away, but Handy Living recognizes the struggles that channel faces in this era of rising interest rates, inflation and weakening demand. There has been a pivot back to brick-and-mortar stores after an initial pandemic-inspired acceleration in online shopping. Brick-and-mortar stores still control the lion's share of the business and will probably do so for years.
"So in order for us to play where most of the people play, we need to play in brick and mortar," Erdman said.
What Handy Living has been trying to do, whether that's for the e-commerce world or furniture in general, is add value, Zei said. "And one of the best ways to add value on our side of the business is by being more efficient with how it moves through the whole supply chain."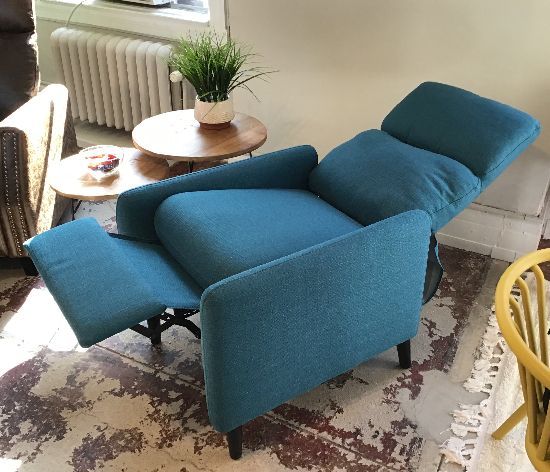 That's what Zei said he was thinking about when he was developing a "more brick-and-mortar-scaled modular sectional," and by that, he means, in part, a sectional that sits deeper than most of the product sold via the large e-commerce players. It needed to be the right scale for stores but also built to fill up that container from Vietnam without wasting space, boxed so it could also be drop shipped affordably, sit on a single pallet in a warehouse, and give the retailer and its customers options, including take-with and affordable order online and delivery with easy assembly (one tool and a few screws).
Handy Living also was able to reinvest some of the savings gained by efficiency back into the product while keeping the price down. That included higher-end fabrics, such as linen, and a solid foam core cushion (versus pocket coil used in similar e-commerce product coming from overseas), Zei said.
It also doesn't compress the cushion, which Zei said leads to a more "consumer-friendly unboxing experience."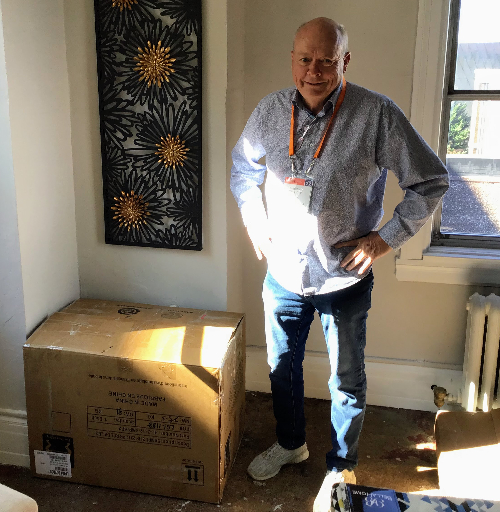 Pretty much by accident, the modular pieces include some easy-to-access cavities, in which a customer (or a retailer) could install a subwoofer. So for the price of an inexpensive surround-sound system, they've got a home theater without the expensive product upgrade, Erdman added.
While the modular sectional, a related loveseat and a new recliner — the latter designed to fit 312 to a container — work for both store and e-commerce sales, Erdman said one of the objectives here is for Handy Living to start moving into the brick-and-mortar area with its learning from playing in the e-commerce field. It's starting with product that's priced right to deliver a, say, 55% gross margin should a retailer choose to take a long mark.
The new product is expected to ship from Vietnam by the end of January and be available for sales later in the first quarter.
Erdman noted he's been in the business since 1979, and, "this is the smartest thing I've ever seen from a blocking and tackling, efficient furniture delivery (perspective)."
"It's not sexy or anything like that," he said, "but it does what it needs to do."