Irish-owned EZ Living Furniture leading the way in consumer-facing technology
GALWAY, Ireland – To visit Ireland in 2022 is to see the world turned upside down.
For so long a sort of red-headed stepchild to the rest of Europe, and I say this as a person proudly of Irish heritage, Ireland is in so many ways leading the way. (I also say this because the stereotype of the Irish having red hair is wildly inaccurate.)
The United Kingdom Brexited; Ireland did not, so it is Ireland that has continued to benefit from membership in the European Union throughout Covid in ways I'm sure most Brits wish they could have. The U.S. Supreme Court reversed Roe v. Wade; Ireland has largely unshackled its social policies from the Catholic Church to allow a progressivism unthinkable even a decade ago. And I could write an entire column on what recycling and environmental consciousness looks like here relative to the disposable culture that abounds back home.
Ireland might be leading in home furnishings, as well.
An all Irish-owned, 16-store chain headquartered right here in Galway in the west of Ireland is embracing leading edge technology, particularly as it relates to customer touches, to better accommodate the ways in which the post-Covid era customer wants to shop and buy.
I visited the flagship store of EZ Living Furniture in Galway, the chain's very first location, a few days ago to see for myself how the company is integrating its online presence, brand, spanking new augmented reality, interior design expertise and physical or real-world store experience.
Augment your reality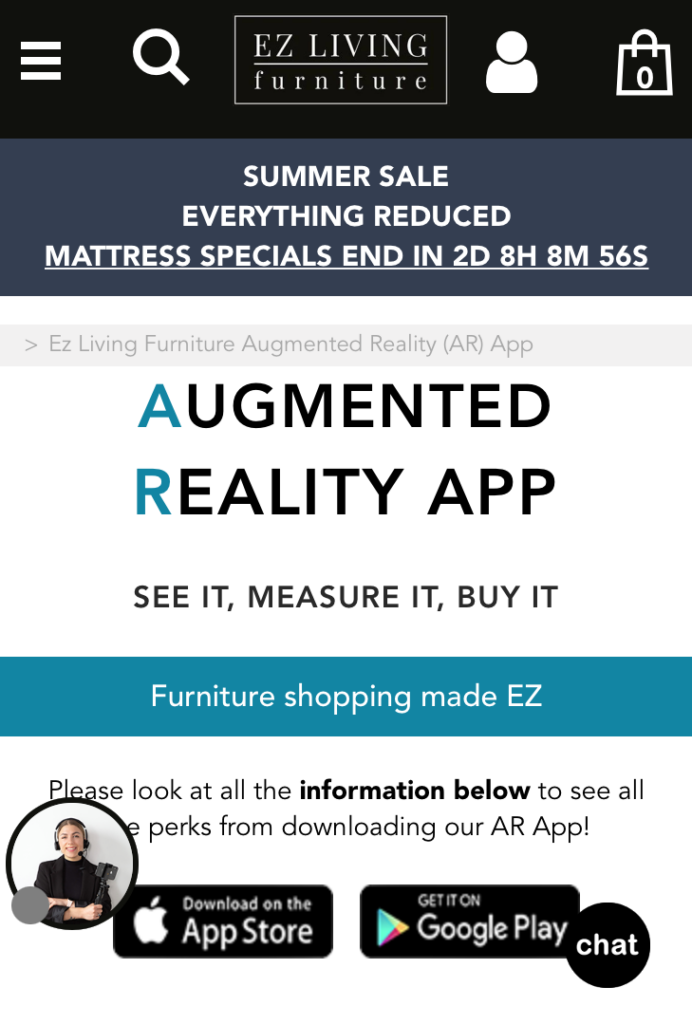 The EZ Living website and app have all of the bells and whistles that leading hybrid retailers have these days, including live chat, room planner, blog and multiple ways to subscribe to alerts and sale information.
One of the newer weapons in the EZ Living arsenal is what is called "augmented reality," a term I despise on semantic grounds, but that has caught on despite my protestations. (Reality can't be "augmented" by anything virtual, which is a synonym for "unreal" or "simulated." They are contradictions, making the term Orwellian doublespeak in much the same way "virtual reality" has always been utter nonsense as a term.)
I will explore in a future column how the metaverse and blockchain technology are coming to furniture, but for now, perhaps a peak at how one Irish furniture retailer is embracing Covid-inspired technology might make for a good introduction.
In its most basic terms, augmented reality delivered exclusively via EZ Living's app enables consumers to combine photos of the interiors of their homes, then to insert or place furniture and accessories from the EZ Living lineup into those images. Rather than using generic room shots or pre-fab backgrounds, EZ Living's AR provides a preview of how a purchase might look in specifically the home of the customer, or in any room for which that customer has an image.
The software, developed by Poland-based Intiaro, makes the integration of the images appear to be seamless, as if they were a single image all along.
Amazon rolled out its AR tool, Room Decorator, in August 2020, and just added AR for sneakers. Like Amazon's, EZ Living's AR can place multiple products in a homeowner's room at the same time. Customers can see how a set of new products might fit together in a space.
We know that online shoppers need confidence to make big ticket purchases, and we know that AR can provide that confidence. It has been proven to increase customer conversion rates.
Live video chat
New this summer on the EZ Living app is live video chat, a seeming inevitable addition after the experiences of stay-at-home everything during Covid. Just as Zoom has embedded itself into the pedagogy at schools and universities all over the United States, video chat is likely here to stay at retail, as well.
According to EZ Living, its live video chat powered by Go Instore works on any device, and chats with a sales associate can be spontaneous or by appointment. Once connected, a customer be taken anywhere in the store. For a country that had a 2-square-kilometer restriction on movement during Covid, this new feature likely will prove popular. The Irish have learned to do most things from home.
It's also notable that while the customer can see the sales associate and anything at which the associate points the video camera, the associate cannot see the customer. Privacy is proactively protected in Europe in ways that put the United States to shame. (Each and every website, including EZ Living's, asks a site visitor what sort of privacy settings he or she wishes. Suck on that, third-party data aggregators!)
These video chat conversations can result in a sale: customers can order right then and there, with delivery scheduled on the spot. Or, the transaction can be completed online or in-store.
The live video chat is a natural outgrowth also of the Covid-inspired practice of booking one-on-one appointments due to confusion throughout out Europe during Covid about when by mandate retail outlets could reopen.
"We were aware that some customers might be nervous about shopping with other people, so we had set aside time in the mornings and evenings when a customer could book a private shopping slot," one of EZ Living's directors, Liam Dilleen, told the Irish Herald newspaper.
Irish success story
The Dilleen family started EZ Living right here in Galway, Ireland's third-largest city, in 1998. Since then, the chain has grown to 16 locations throughout Ireland and Northern Ireland. The family has more control over its financial future by owning also some of the shopping centers that its stores anchor, including the Terryland Shopping Centre here in Galway, site of its first store and the store I visited.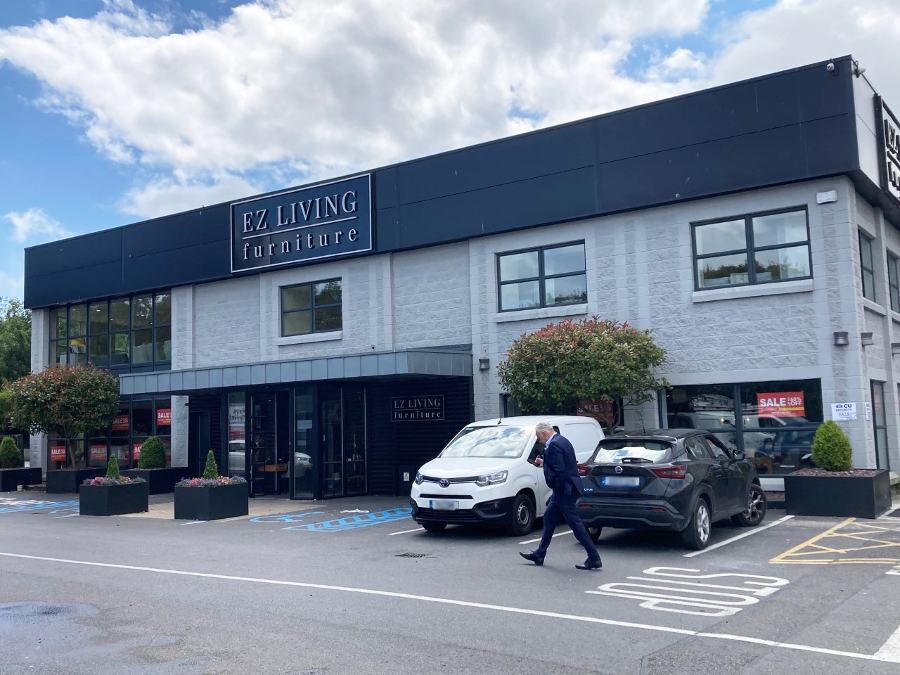 Employing more than 300 people, according to the Galway Advertiser newspaper, it is the largest furniture retailer in Ireland. Privately held, with fragmentary financials only as recent as 2014, I couldn't confirm that it is the largest, but judging by newspaper advertising pages, clearly EZ Living is a major player here.
The chain's bedding mostly comes from the U.S., with King Koil and Sealy prominently promoted in the stores' bedding sections. The furniture not surprisingly comes from all over, including China, Singapore, Malaysia and Vietnam. I counted around 25 dining sets and about 40 sofas on display in fully accessorized vignettes. The chain does not use manufacturer or factory names in its marketing and merchandising.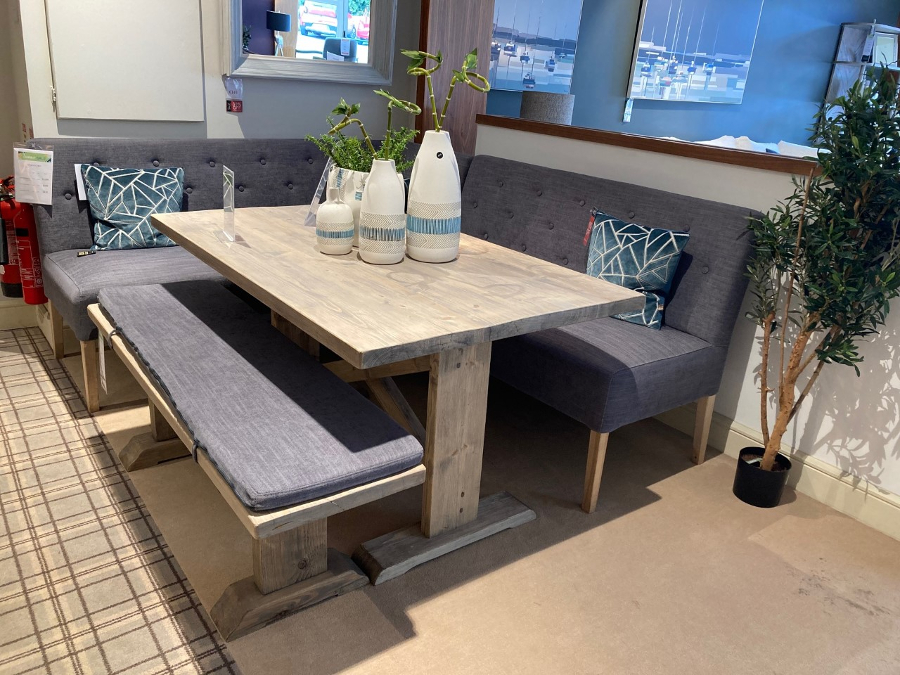 EZ Living Furniture, not to be confused with EZ Living Interiors, also an Irish furniture retail chain, added its newest store last year, in Derry, just across the border with Northern Ireland. According to the company, the "last mile" of delivery into the home is an emphasis coming out of Covid, and I saw EZ Living trucks all over Galway at a frequency akin to Ashley 18-wheelers back home.
That's all from Ireland, where we head next to Dublin just as a heat wave grips western Europe. I hope our hotel has air conditioning so we can augment our heat index reality!
Slàinte!