The casual industry has always been a unique sector of the greater furniture industry, and that was abundantly clear at this year's Casual Market.
While indoor retailers are dealing with piles of inventory because consumer demand has slowed down, that's not the case when it comes to outdoor furniture.
A large number of retailers came to market ready to buy this year, though some manufacturers told Casual News Now that other retailers are "on pause" at the moment and waiting to see what happens with a possible recession and consumer demand.
However, many exhibitors said there are retailers buying up what they can and warehousing it so they have it in case a recession hits in the near future — which could be smart because outdoor furniture sales could actually increase during a recession like they did with Covid.
And because of that, the early buy is back in a new and big way.
While it never ended for some, there were industry members who predicted that the early buy might fade out as the category becomes less seasonal.
But Telescope Casual is just one of many examples of why that's not true.
"We have over 50% of our early buy orders in already," said Henry Vanderminden of Telescope Casual. "And that number is expected to rise by the end of the early buy period."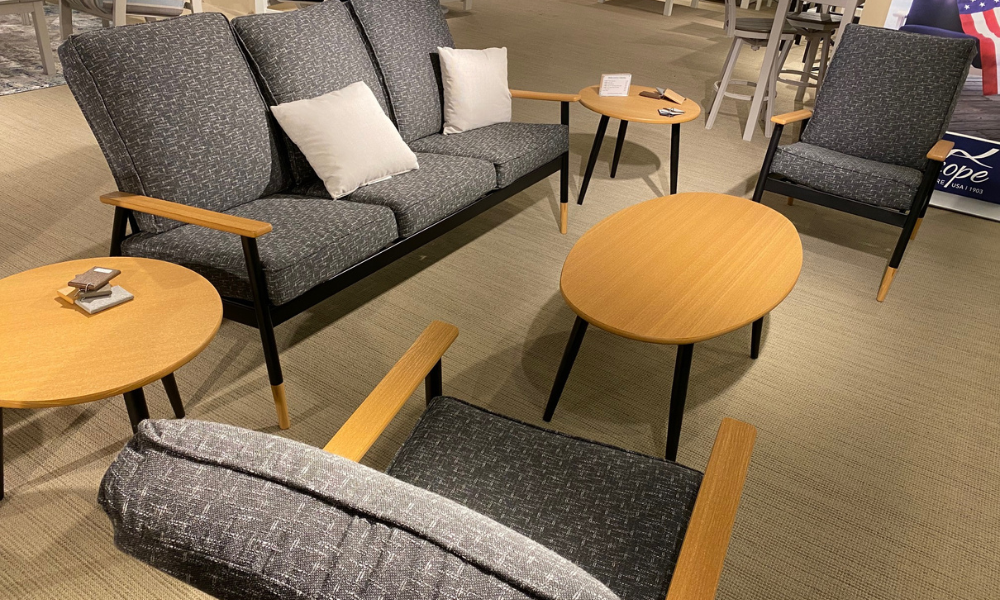 And others, like Barcalounger and Pacific Casual, have product fully stocked in warehouses and available to ship immediately.
While there are still delays on some products, most exhibitors have said shipping times range from 2-6 weeks, with a few exceptions in certain cases.
Still, lead times have been significantly reduced overall, and that's in part because of the investments the manufacturers made over the last two years.
For instance, Polywood added a 500,000-square-foot manufacturing facility to help keep up with demand.
Homecrest realized that there were issues its material partners were having and stepped in to help take those processes in-house, alleviating a pain point.
Lane Venture has been tightening its lines and bringing in new, modern looks and finishes, and business is up 60% from 2020, according to Robert Spillman III.
In some cases, the industry has worked together to get through these hard times, and while some manufacturers who are still facing them decided not to show new furniture until their supply issues get sorted out, there were quite a few new introductions.
Vanguard Furniture was a newcomer this market and debuted its new line of outdoor furniture with an indoor style. While the line soft launched at the April High Point Market earlier this year, this was the first time the company introduced its outdoor pieces to the casual industry.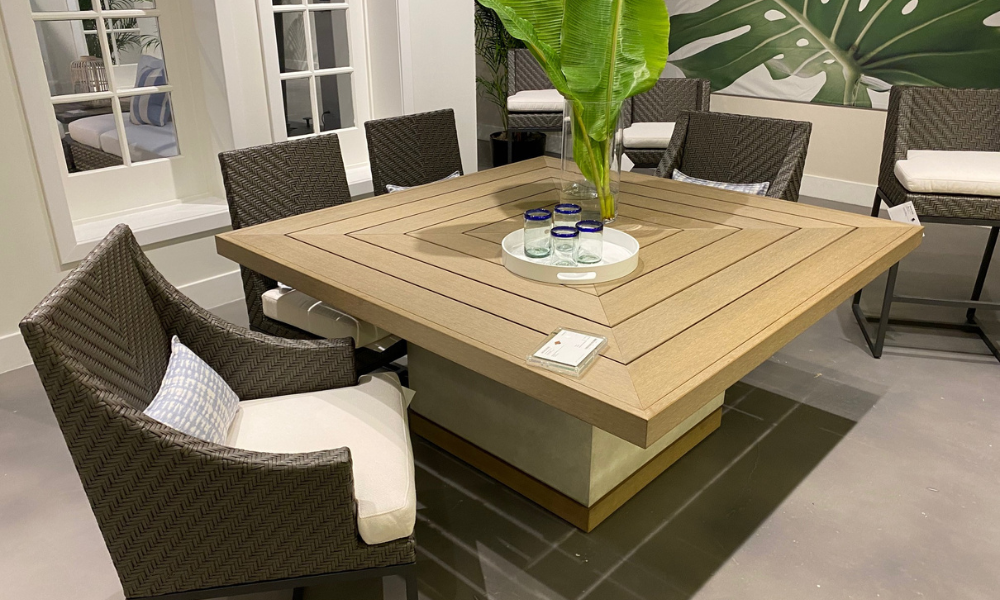 Industry veteran Gary McCray said the response was overwhelmingly positive, and that the retailers were excited to see the product for the first time.
The 50+ piece collection, which was designed by Michael Weiss, includes dining, seating, occasional, and entertainment pieces, and is made with materials ranging from concrete to synthetic teak, synthetic wicker weaves, and powder-coated aluminum.
Flexsteel quietly launched its premier outdoor line this market, with pieces from both its Homestyles e-commerce line, as well as the upcoming Flexsteel retailer collection.
Homestyles ships RTA and flat-pack directly to consumers, and the Flexsteel line, which will have a slightly higher price point, will officially launch later this year.
"We've been studying the outdoor category and wanted to be judicious about it because it's so different from indoor," says Tim Newlin, "We didn't want to move into anything too quickly.
Telescope introduced its Wells collection this market, which is an updated take on a collection the company launched in 1966.
With a teak look, poly arms and a turned leg, the collection offers retro style with fresh features, like cushions with a pocket that slide over the back of the sofa for an upholstered look.
Another new product Telescope displayed was a new padded sling lounger — and there was an abundance of similar padded loungers from exhibitors around the market. Officials at several companies said this trend is happening because it adds more comfort for those who want to sit in the chairs long.
Pacific Casual even upped the ante and added a padded lounger with an air-powered pull lever that makes it significantly easier to adjust the angle of the back of the chair.
Another trend we saw was oversized seating — and it was everywhere. From Vanguard to OW Lee to Mamagreen, there was scarcely a company at the show that didn't have some sort of large sofa or chat set with deep and wide seating.
That makes sense knowing more people want to entertain outside today than ever, and exhibitors confirmed that this was a trend that started before Covid but was boosted by the need to stay home.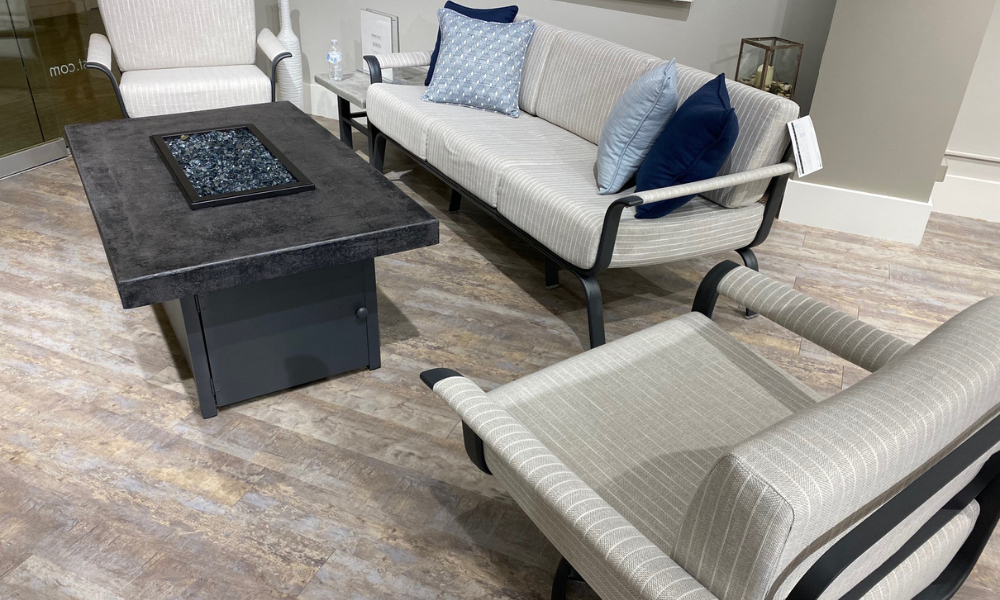 Plank & Hide had some oversized seating as well, but the star of the show was the P&H Elements line that soft-launched at the April High Point Market.
Coming in at a lower price point than Plank & Hide products, P&H Elements offers high style at more affordable prices, and the company said it has been received well by the industry.
Homecrest CEO Randall Shorts said he was thrilled with the traffic at the show this year, and the company highlighted two design-focused collections, Wren and Mila.
Unique to these lines is the ability to change out the fabric on the arms based on the season, location or changing tastes. They also feature deep and wide cushions, meeting the trend, and have a sleek, modern design.
Though 2023's market dates have yet to be officially announced, Bryan Echols, an ICFA board member, confirmed it will overlap with the summer Atlanta market in July.
And as the last Casual Market comes to an end, many are sad to leave Chicago. But there's also excitement about Atlanta and the opportunities it will bring to the category.
It won't be easy transitioning to a new market center, and some have expressed concern about navigating the floods of new customers that will come as a result of the move. Fortunately for the casual industry, it may be a good problem to have.
Stay tuned to Casual News Nows for a Casual Market slideshow next week.
This story first appeared in Casual News Now.