But future growth plans slow amidst economic uncertainty
HOUSTON — With a little help from its utility company, Exclusive Furniture will open its eighth store here next week, one that reintroduces a budget concept just as consumers have begun to tighten their purse strings.
But it's exactly this uncertainty over what's in store for the next year or two that has the HNN 125 retailer rethinking the speed at which it pursues still more locations.
Exclusive is putting the finishing touches on the 60,000-square-foot showroom in north Houston, just south of Spring Texas, at 16115 North Freeway. It has been a long time coming, slowed intentionally, at first, when the pandemic hit and again when the retailer faced the same kind of materials- and labor-related delays that many companies across many industries have faced for going on two years now, CEO Sam Zavary told Home News Now.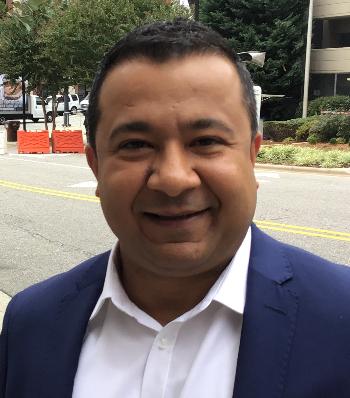 If all goes well, and power is connected this week by the local utility, the retailer expects to soft open next Tuesday, June, 28, Zavary said. If not, the opening will probably be pushed back until after the July Fourth holiday. Exclusive is adding roughly 25 to 26 employees with the opening, which should push its overall headcount to about 300.
"This store is going to be a little different," Zavary said, noting that it will be the first to feature a Rack 45 store-within-a-store concept. A few years ago, inspired by HOM Furniture's Dock 86 format, Exclusive opened a Dock 45 deals-oriented concept in a temporary space. After a cease-and-desist request, Exclusive changed the name to Rack 45, Zavary said.
At the North Freeway location, the retailer will dedicate about 15,000 square feet to Rack 45, which will serve as its clearance center and other starting price-point goods, including discontinued home furnishings, and opportunity buys. The latter is something Exclusive and many other retailers expect to see more of in the months ahead, now that consumer demand has softened and supply chain channels have loosened up.
"Furniture is abundant now, instead of being scarce," Zavary said. "I think Rack 45 will serve a good purpose."
The rest of the space will be used to floor goods from the midpriced retailer's core suppliers, but even there, the company is in the process of making some changes — paring things down to the resources that have been most loyal and reliable during the long period of supply chain disruption, while cutting back or altogether the sources that disappointed.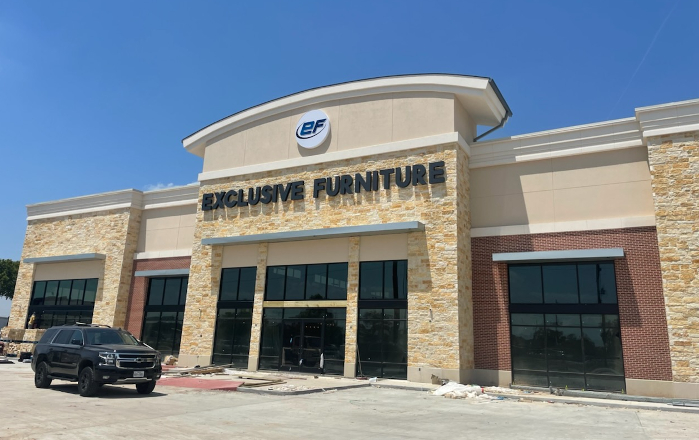 Among the suppliers that shipped reliably and will continue on the floor are Avalon, Magnussen Home, Jofran, Franklin, Southern Motion, Kuka Home, Man Wah, Elements International, Mexican upholstery resource Sofa Master and Nourison for rugs. On the mattress side, the new store will carry goods from Tempur Sealy International, Serta Simmons Bedding and both pillows and mattresses from Bedgear. Zavary said Exclusive has been successfully selling Bedgear mattresses for about two years now, including its M3 model, featuring an exclusive technology that enables varying firmness options across a single mattress.
In October, after Exclusive opened its relocated and expanded showroom on Westheimer Road in Houston's Alief community, Zavary hinted of aggressive expansion to come, including plans to enter new markets. But with the recent slowdown and general uncertainty in the marketplace, the retailer has since decided to dial things back.
A 61,000-square-foot store in Baytown, Texas, east of Houston was originally slated to open a couple of months after the north Freeway location. That has now been pushed back to October 2023. "Hopefully the storm will pass by then," Zavary said.
"The plans are already drawn and we were supposed to break ground last month, but I'm kind of dragging my feet," he said. "Because, with recession looming, businss slowing down and high gas prices, the future is very unpredictable. I feel like it's best to slow it down, at least for right now."
Nevertheless, in Houston, where Zavary has seen rising and heated big-retailer competition — including the arrival of American Furniture Warehouse a few years ago and the recent entry of Living Spaces — Exclusive may be slowing its own expansion moves temporarily, but that's going to be about the only thing it's tapping the brakes on. Zavary doesn't plan on relinquishing anything that helped the company to its nearly 37% furniture and bedding sales gain last year (for a total of $78 million0.
"Right now, (business) is a challenge," Zavary said. "If you're not fighting for the customer right now, you're not going to get it.
"If you're trimming your advertising, you're really making a mistake. You have to fight for every customer and stretch that average ticket. People are walking into a furniture store for a reason, and if furniture store owners or managers don't realize that we have to get the most out of that customer, then we're going to suffer."
Zavary said everyone knows "the bus is coming," the bus being a business climate that could flatten very well will flatten them if they're not smart. But they don't know exactly when it's arriving or how long the pain will last. Yes, business already has slowed but, "People are still buying furniture, they're still buying homes," he said.
"We can't stop working."