HOUSTON — Exclusive Furniture recently opened a new store in Houston's Alief community at 2450 Highway 6 near Westheimer Road as the CEO of the Top 100 company hinted of future expansion beyond its home market next year.
The 30,000-square-foot showroom is twice the size of the seven-store retailer's former Highway 6 location and is "better to serve the demand and provide the best customer service as well as in-stock furniture in the area," it said in a release. It features a mattress store-within-a-store and opened fully staffed.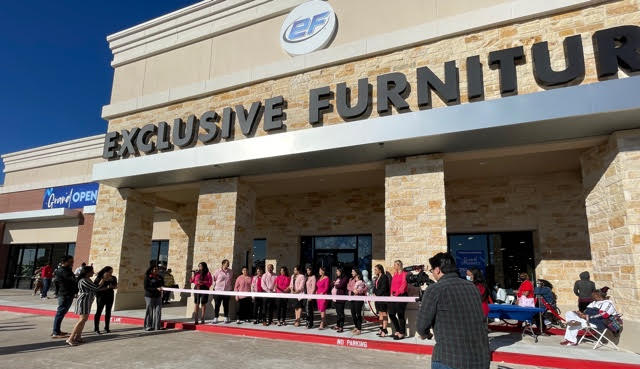 The grand opening featured a twist as representatives from the company's female leadership cut a pink (vs. red) ribbon in honor of Breast Cancer Awareness Month and the company's diverse leadership.
Fauzia Zavary, corporate manager, head of logistics and shipping and the sister to Exclusive CEO Sam Zavary and Vice President Fawad Zavary, took the stage to welcome the crowd immediately following the ceremony. She was joined by Carolina Chavez, the company's vice president of marketing for the Top 100 company.
"We love continuing to expand our community presence in the city with new brick and mortar locations," Sam Zavary said in a statement, adding that he's excited about making the move "in my old stomping ground, the Alief community."
"This year, Exclusive Furniture has been very blessed to grow, and this next year we have plans to expand into other markets as well." He did not identify the likely next market.
With deep roots in Houston's Alief working class suburb in Southwest Harris Country, Exclusive donated $1,500 and 200 meals and backpacks to the area's Budewig Intermediate School.
But it's charity reach extends beyond this. Also earlier this year, the retailer partnered with two local nonprofits to help integrate more than 20 Afghan refugee families into Houston with the donation of 100 mattresses, box springs, and bed frames in its warehouse valued at $30,000.
Its latest grand opening event featured, among other things, live entertainment and various giveaways and prizes including Houston Astros tickets, Google Minis and gift cards to an area TexMex restaurant as well as 25% discounts on merchandise, doorbuster items and free delivery.
The first 100 individuals to enter also received $100 gift cards, and the retailer hosted a social media "call" for talent, giving local artists from the community the chance to perform on-stage.