Companies offered expanded product mixes from Italy, Poland, Albania, Brazil, India and Bangladesh
HIGH POINT — At the start of the April High Point Market, Home News Now wrote about the importance Mexico is playing in the industry right now, particularly as buyers seek to avoid some of the high transportation costs and other logistical challenges flowing goods from the Far East.
At market, we learned that Mexico was just part of the story which unfolded in greater detail after visiting many more case goods and upholstery resources. When it comes to global sourcing, it appears much of the world is open for business and continues to capture the attention of the U.S. market.
For example, Lifestyle Enterprise launched its first case goods from Turkey with six new bedrooms and six new TV consoles. A glimpse of the pieces showcased that country's experience building quality clean-lined contemporary product, some of which featured built-in fireplace units and high-gloss black and white lacquer finishes.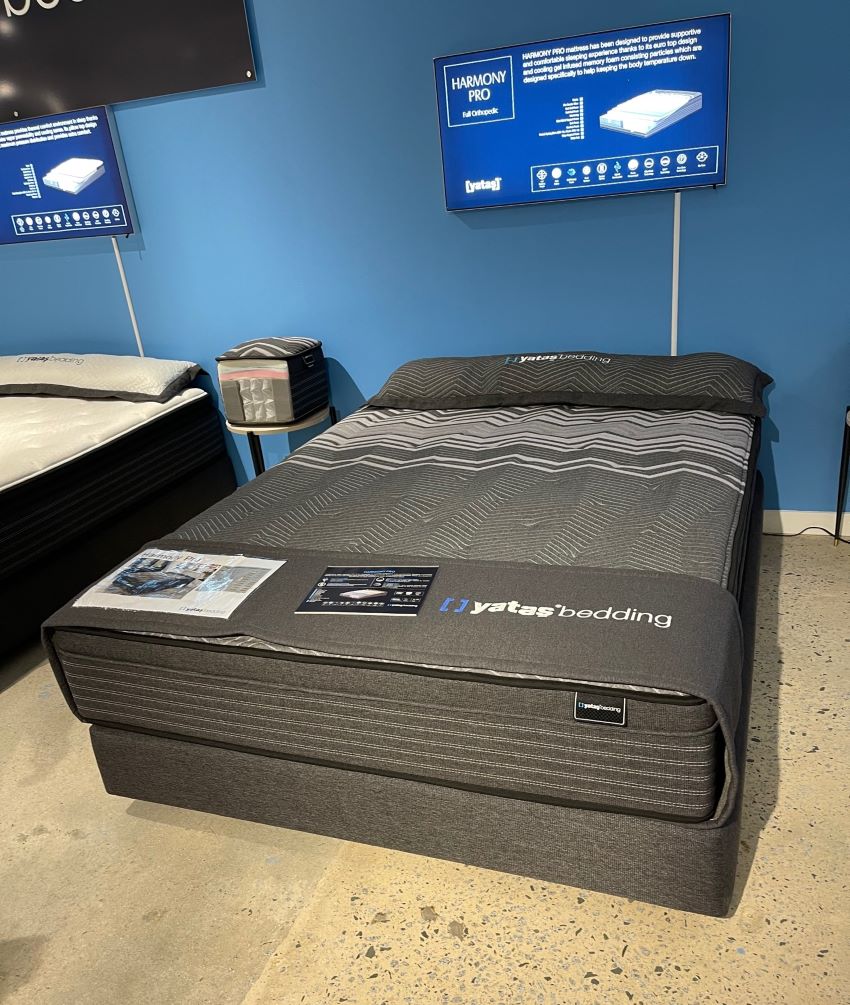 Meanwhile Yatas Bedding showcased a line of Turkish-made bedding that received a strong reception at the January winter Las Vegas Market and continues to draw interest among retailers. Sister company Enza Home showed a line of upholstery, occasional and dining tables also produced in Turkey by facilities owned and operated by parent company Yatas Grup.
Also attending from Eastern Europe were a group of Polish manufacturers showing at 220 Elm, which is known for its roster of international exhibitors, many of which offer a mix of European contemporary leaning case goods and upholstery. These manufacturers — including case goods producers SzynakaMeble and Black, Red, White, upholstery producers Gala Collezione and Benix Style Furniture were among the companies exhibiting at the space.
Jan Szynaka, CEO and owner of SzynakaMeble, told Home News Now that buyers were interested in what Poland has to offer across multiple product categories due to still high backlogs and tariffs out of Asia. He said with its vast — and expanding — manufacturing capabilities, Poland can help meet some of the demand.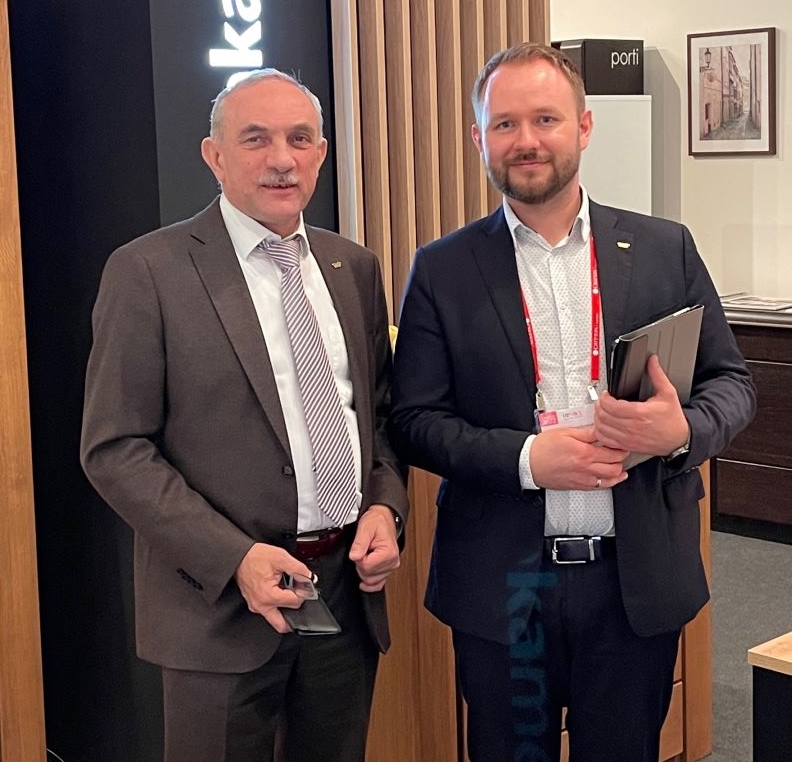 "We know the European market very well and we want to develop business in the U.S.," he said, noting that his company already has made some good contacts with buyers in the market.
The company also had TV screens showing videos of its highly automated manufacturing process.
"Poland is developing very fast," he said of his company's investment and set up of new machinery. "We want to be able to show our capabilities and what we can do."
Italy had a strong presence here too with companies once again showing in the Casa Italia building resembling a cruise liner at 130 W. Commerce. Along with 10 existing exhibitors that included Natuzzi, Nicoletti, Calligaris, Calia Italia, Ditre Italia, Connubia, Gamma and Luceplan, there were three new companies including Composad, Gorini and Ozzio Italia.
As many of these companies were busy with customers, it wasn't easy getting time to interview — or shoot video of them during multiple visit at market. But that shouldn't have come as a surprise as Italy is starting to represent a huge value once again due to what appear to be lower shipping costs out of Europe compared to Asia.
Bellini Modern Living also showcased a mostly Italian-made line of case goods and leather upholstery that highlight the country's clean contemporary design aesthetic. Due to the interest and value that Italy appears to once again commanding in the market, the company increased the amount of product shown from Italy at market to 95% of the mix, up from about 90% previously. This included a line of occasional tables previously sourced in China.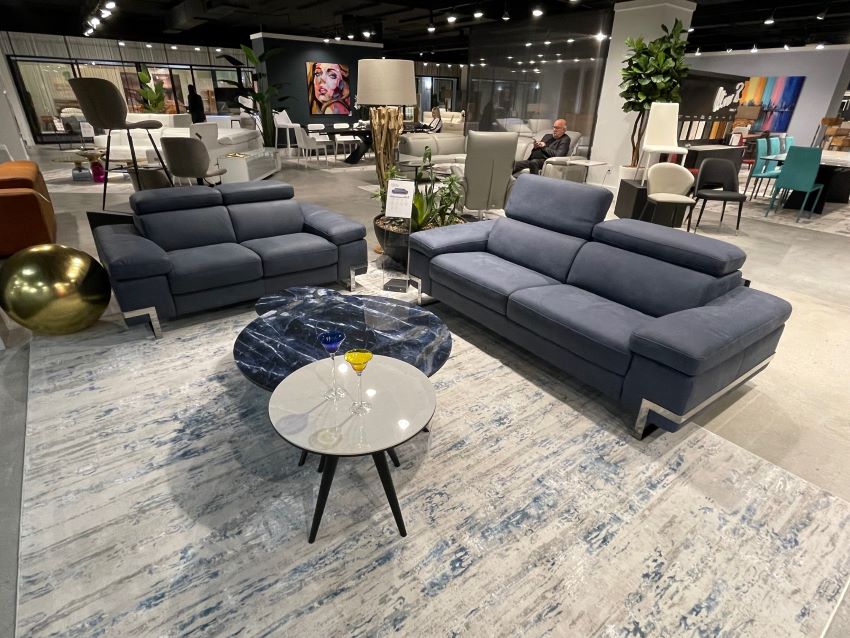 "Until now, all of our occasional furniture has been made in China, but that changed with the Spring Market and our introduction of five new occasional groups," said Hossein Azimi, president, noting that today more than 80% of the Bellini line is made in Italy. "And while we cannot get out of China entirely yet, our mission over the next two years is to phase out production in Asia altogether."
Azimi said the move is not only due to supply chain challenges and global politics, but also the need for a story that illustrates the design and quality of the line.
"The simple fact is that we've become known for the high style and quality of Italian products," Azimi said. "We have the largest inventory of Italian goods in North America, and we've become known for our ability to ship them from Canada to our warehouse in the U.S. in 48 hours. This is what differentiates us, and it only makes sense for us to continue building on this success story."
Today Sofas, a sister company of upholstery manufacturer Digio Leather, showcased an Albanian-produced line of leather motion upholstery.
Of the 15 sets shown, featuring all-leather sofas that retail from $2,499 to $2,899, 12 are expected to go into production, said Steve Lush, president of sales. The first sets are expected to ship in about 14 weeks, and from there the company is expecting to offer eight-to-nine-week lead times.
"Commodity type of products people can get from multiple sources," Lush said. "Where we had the most success was with our Italian styling and attention to detail…That was where the action was, on step-up models with better leathers and contrast stitching."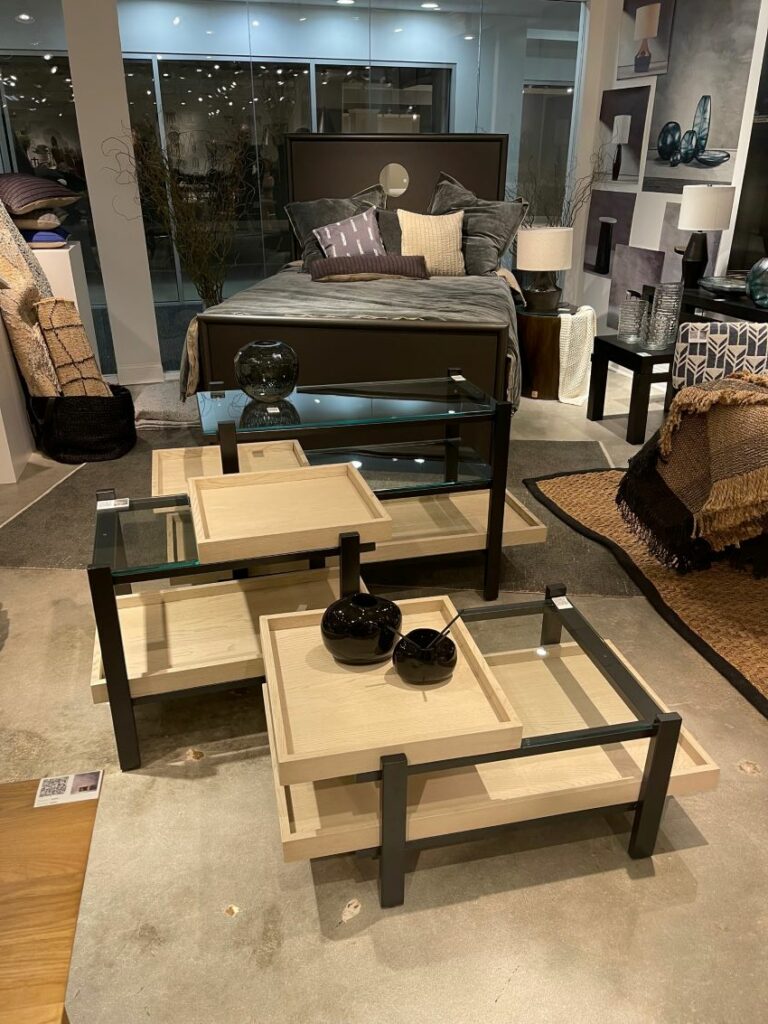 Even some Brazilian manufacturers were here at market. Equitable Trading, a marketing arm of case goods and upholstery manufacturer Kappesberg Moveis, returned to its showroom in Centers of High Point Hamilton, showcasing a mix of case goods that included bedroom and home entertainment consoles and wall units.
Factory executives from both Kappesberg and Sandrin Furniture also spent a few days here at market, studying design trends and seeking business opportunities.
There were also expanded case goods and accent furniture and accessories lines from India and surrounding countries seen at Geniemode. It is rapidly expanding its sourcing platform to the U.S. market, not only with a host of wood furniture, upholstery and lighting – it also has plans to warehouse the product on both the East and West coast, offering dealers quick-ship capabilities through its investment in inventory.
Resources such as Lane and Jofran also expanded their accent furniture mix from India.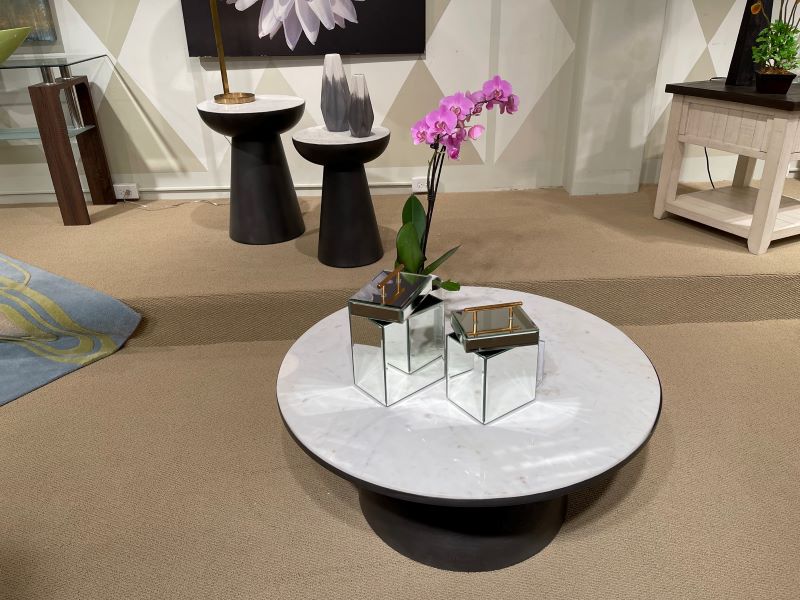 Lane's mix included about 55 new accent tables and storage units. Jofran's mix included some 30 new pieces of occasional and accent furniture and dining made with solid acacia and mango, while also highlighting other mixed materials such as marble table tops and solid metal bases.
Obviously, buyers also were shopping product from places like China, Vietnam and Malaysia. As the supply chain improves in the coming weeks and months, those countries will remain important resources moving forward.
Yet this was abundantly clear: buyers looking for alternatives had plenty of options. And while the pandemic has disrupted much of the flow of finished goods, the global marketplace remains resilient, offering looks and values from places that may not have been top of mind just a few short years ago.