First-time furniture retailers give themselves one shot to get things right with once-a-month opening hours
RALEIGH, N.C. — Industry newcomers Shelley Todd and Brian Bass opened their first furniture retail store Styron and Hughes Interiors last month in North Carolina's capital city. Their big goal is to sell low-price pieces with high-style value under an unusually tight time frame — one open day a month each month.
"We're trying to create something between a boutique and a furniture warehouse feel without being a furniture liquidator," explained Todd. "I still want it to feel like you're working with a designer in a boutique store because of the pieces, but still have a large selection at great prices and with no one following you around the store while you shop."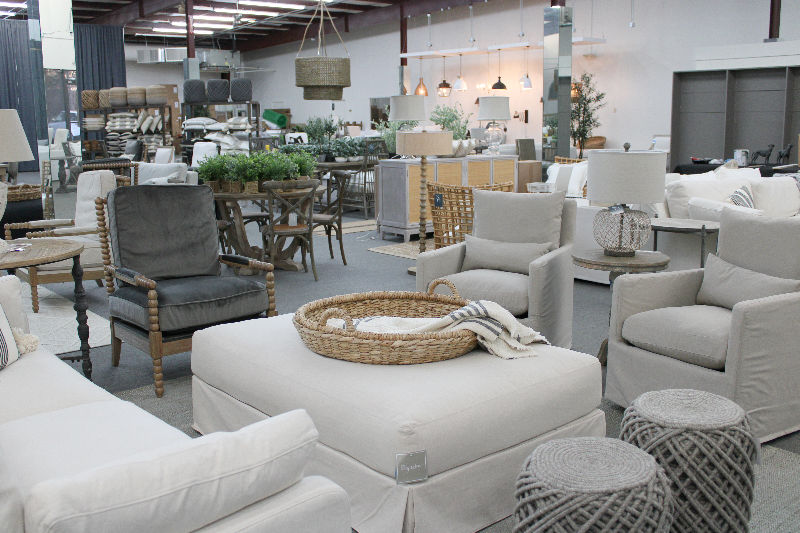 The store's model is simple. One Saturday each month, they open from 8 a.m. to 2 p.m. for in-store shopping. Pieces are sold on a first-come, first-serve basis; no dibs allowed. On their website, Todd and Bass encourage customers interested in specific pieces they see online or on social media to line up early to be first inside. Everything is available at the store same day for pickup, and the number of available units varies between pieces.
On the Sunday following the in-person sale day, a 12-hour online shopping link opens from 11 a.m. to 11 p.m. Shared with social media followers and visitors to the retailer's website, the sale features any inventory that did not sell on Saturday, and goods purchased will be available for pickup for two weeks following at the warehouse.
If you purchased in person, you can opt to come back for pickup during that two-week period, too, or work with Styron and Hughes Interiors' third party delivery service partner to arrange drop off. Online shoppers can also take advantage of the delivery service.
"We want our sales days to be events, something people put on their calendar and get excited about," Todd added.
Abbreviated hours = more time
The reasoning behind the decision to dramatically cut down on retail hours was manifold for the reconnected high school sweethearts turned business owners.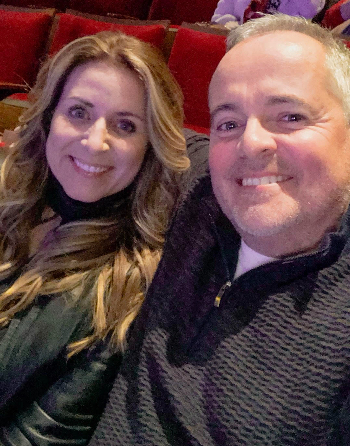 For starters, this is not Todd's only gig. A longtime concert promoter, she did not want to give up her career in the music industry but still wanted to find a way to fit design and home decorating into her life professionally. Her dad, who died last January at the age of 101, gave her the chance and a push, leaving her a little money to get started with and encouraging her to pursue her dream and slow down her travel for work.
The once-a-month concept gave her the time. Todd first saw similar opening hours at work for liquidation stores and at Sara Sells, a three-store furniture retailer with locations in Tennessee and Alabama.
"Home decor is my love, music is as well, but this has always been something I loved and enjoyed… but it was always referred to in my mind as the hobby," explained Todd. "But when I saw those stores, I went, you know what, if I could do that it would open up the door for me to still have my full-time job, still be able to work, if this is done on one weekend a month."
Cutting down on Styron and Hughes Interiors' business hours also fit perfectly into their affordability goals, allowing Todd and Bass to save money on operating costs and give them room to pass savings along to customers. Todd also said that instead of spending money on separate warehousing and retail space they were able to spring for a larger 10,000-square-foot "true warehouse" space that acts as both the showroom and warehouse for the store. She described the space as "nothing fancy," off the beaten path in their area away from pricier high visibility commercial areas. If they are only open once a month, they "don't have to be too worried about day-to-day visibility," Todd explained.
Bass, who sold his commercial audio/video store to take on this new challenge with Todd, mans the warehouse/showroom in the weeks following the sale, giving shoppers time to arrange pickup, and manages day-to-day operations. He is also behind their website and point-of-sale system, able to use his previous experience in tech to get them set up quickly with Lightspeed Commerce.
Abbreviated hours in High Point, too
Todd handles buying for the store and the displays. A lifelong lover of design, she dove headfirst into High Point Market by herself this past October to prep for last month's opening sale. She stayed for five days and relied heavily on educational videos and online first-time market goer resources from groups such as the High Point Market Authority. She also got good advice from her first few manufacturing connections, but admitted freely she felt like she "didn't have a clue" what she was doing during her first round.
"It was extremely overwhelming," she added. "I don't know how else to describe it. I planned to stay six days, but cut it short because I was just worn out."
But the trip was a success, and she was able to connect with several furniture and decor vendors whom she said she is excited to be working with, including Rockford Wholesale and Forty West Designs. Everyone Todd came in contact with during the market was helpful and willing to guide her through the buying process, and when she asked for recommendations on who and where to go next for the other items like rugs and lighting, each of her vendor connections were all more than willing to give suggestions and advice.
Her personal style guided most of her product picks. Todd said she aimed for neutrals like grays, blacks, whites and taupes in case goods and upholstery pieces, leaving pops of colors for smaller accents like pillows. She jokes the whole showroom is like mix-and-match children's clothing brand Garanimals – everything in the store can go together, but nothing is technically a matching set.
"We appeal to those of us that love design, but can't afford the Restoration Hardware price," she explained. "So I am staying true to my own personal style and curating everything so it matches together."
And those customers she spoke of came out in much larger numbers than originally anticipated for the retailer's first opening event on March 26.
"It was a very good day," Todd said with a laugh. "We made a joke of just hoping we had some people show up that weren't related to us, but had about 50-60 people in line waiting when the door opened…We kind of stopped counting how many people came in at about 250-something because we had to pull the young man at the door counting to help us load furniture." In all, she estimated about 270 customers came through for the first day.
Per Todd, people were excited about Styron and Hughes Interiors' price points and selections, and many more were just excited about the chance to take things home same-day following the last two years of shipping delays and supply chain disruptions that have put customer waits for products at some stores out by several months.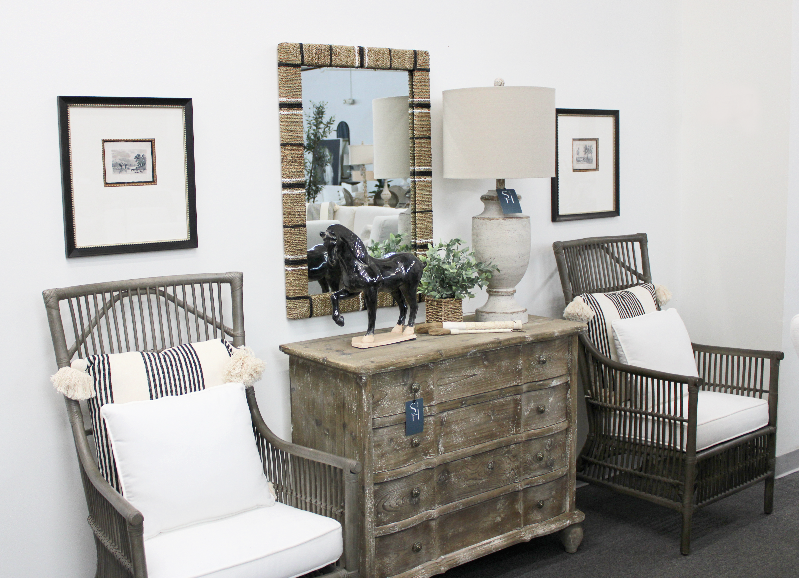 The customers Todd observed on their first day seemed to fall into two major categories — 30 to 40 somethings looking to make big, first-time furniture pieces and older, more established customers looking to take advantage of the deals on unique decor and accent pieces like terracotta horses and calligraphy brushes. Those older customers appreciated offerings like pillows which usually cost in the $200s being sold in the $100s, so she had those on hand alongside even lower price-point pillows in the $40s for the other half of her customer base.
"Not everyone is going to get a $150 horse," Todd explained. "But for those that do get it, we have a few of those pieces. Something for people like me where I already have my dining room table and chairs, but I still want deals on some of the higher end accent pieces to complete my home."
Making small adjustments
While the day was a great success, it did teach Todd and Bass several lessons and give them new goals to work on ahead of April's next sales event, especially on the logistics side of things where they struggled to keep up with the number of shoppers and the amount of furniture they had to move during the day.
For this first sales event, Todd and Bass pulled their family and friends in to work the store with them, but they know that will not work long term, though they are still in the process of trying to address how to recruit and staff a store for such limited amounts of time. Their delivery service offering will also need to grow with them. Right now, though no customer needed delivery during this month's sale, the delivery option is being serviced by a local moving company located nearby the store.
"It's really the two big things we are tackling ahead of the next sales day," explained Todd. "We know we have the customers, now we need to be more prepared for them."
Online, last month's Sunday sale ran into some technical issues, leading to its early cancellation. Todd noted the website also did not have the amount of photography she was hoping to have posted before the sale started.
On the inventory and product side, Todd is not so worried following the opening about making any style changes, but did have some takeaways on the amount she was buying, noting that moving forward she will be buying more of many items now that she has seen the demand in action.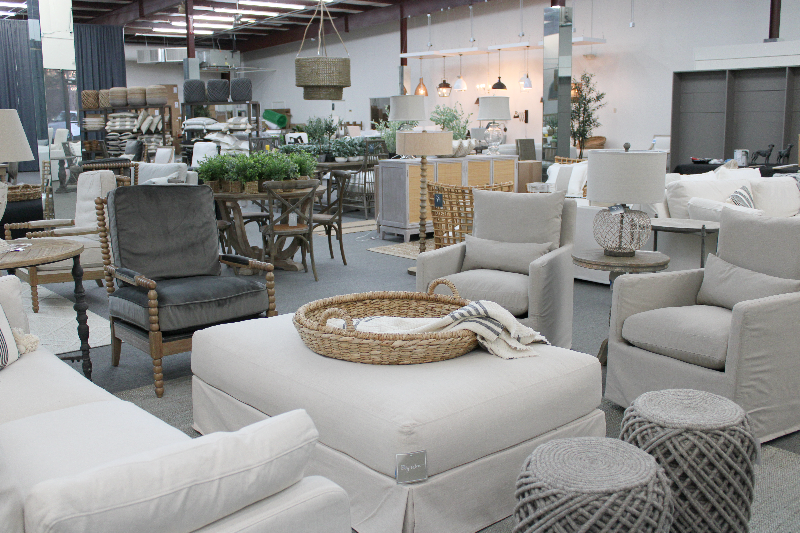 For this first round, Todd bought conservatively, only opting to buy limited sizes and multiples in the best deals she could offer like oversized ottomans at $399 and linen sofas at just under $1,400. The six rug styles available at Styron and Hughes Interiors were offered in neutrals and natural materials like jute, and only available in size 8×10 foot, based on customer average advice she was given by her salesperson at market.
"I shopped for things I knew I loved and always kept price point in mind," explained Todd. "But I was taking some guesses this first time. Now I know a little more about what sold well and who is coming into the store."
Todd will continue growing her vendor list now that she has gotten several firsts under her belt after attending both High Point Market and more recently the Atlanta Market. She hopes to head to Dallas and Chicago next to make more connections, especially to source the unique, handmade decor pieces like the dough bowls and clay bead rosaries and accents that she offered during March's first sale.
"We have a lot to learn still, but this Saturday's sale and everything that came with it has only got us more motivated," Todd concluded. "I can't wait to get customers back in for April's event, and I hope they'll be just as excited about it as we are."
Adelaide "Addie" Elliott is a freelance writer working in the home furnishings industry specializing in retail and fabric coverage. Get in touch with her on Twitter at @AElliott_Writes or by email at adelaideelliottwrites@gmail.com.