Helping consumers make room for some new furniture
Coming out of the Thanksgiving holidays after having gathered around the big, two-leaf dining table (Pennsylvania House, Shaker cherry, for those scoring at home), I contemplated anew the difficulty we all have replacing furniture.
Unlike homes, cars, smartphones or even books and vinyl, there is no reliable after-market for re-selling "pre-loved" home furnishings. Our choices are organizing a garage or yard sale, and then fending off the vultures who arrive an hour before the advertised start time, posting an ad on Craigslist or Facebook Marketplace, or swinging by Goodwill for some IRS chump change.
None of these options brings any more than, at best, dimes on the dollar, regardless of the condition of the item. To drive this point home, consider that even used sneakers routinely get more than their original retail price on after-market websites, provided they have an Air Jordan or LeBron logo on them. I'm talking about used, sweat-stained kicks!
Next, for that now-forlorn piece of furniture, factor in the filters of taste, scale or size, wood species or fabric color or pattern, configuration, and whether the buyer can fit the item into their Nissan Sentra to cart home. The pool of potential buyers at any one selling moment is impossibly shallow.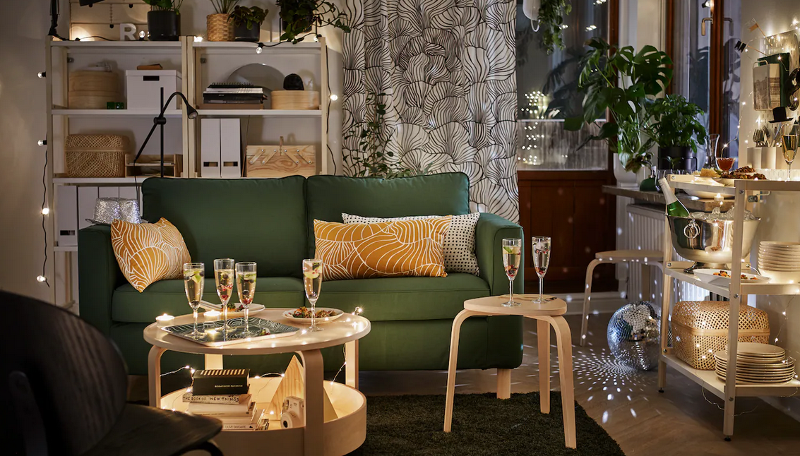 So many times have I thought that the home furnishings brand that figured out this phase of the life cycle of more-than-disposable home furnishings would garner, in the long run, no small measure of consumer loyalty, much in the same way that "Certified Refurbished Apple" programs keep the new iPhones flowing into our home with lockstep regularity. (Of course, so does Apple's planned obsolescence.)
Ikea leading the way
Not surprisingly, in the furniture sector it is Ikea that is working on a similar "Certified Refurbished Ikea"-like program. And not surprisingly, the big chain is thinking about much more than quarterly earnings figures, because no small part of the Swedish innovator's digital "as-is" marketplace and buy-back plan is the increasingly acute concern of sustainability.
Launching first in Australia as a test market, Ikea's new "as-is" e-commerce platform will allow "members" to browse second-hand Ikea products that they can, after purchasing, pick up in stores. This distribution model allows Ikea to repair or otherwise refurbish items that need some attention to its own standards, which maintains the integrity of the brand. Store pickups also keep the chain out of the messy business of last-mile delivery into homes, and they accommodate the new normal established by Covid's many mutations, a normal that understands we don't want to hang out in crowded stores: "Just stick it in the back of the car, please. Thanks. Bye!"
Of course, no small part of the equation is brand loyalty, as well, just as it is with Apple's buy back program. Circular economies and product sectors have the best chances of success when consumers trust the brand. A major factor in the sneaker re-sale market, for example, is a certification program that gives second-hand sneaker buyers confidence in what they're getting.
Look for Ikea's new after-market platform to make its debut Down Under when the calendar flips to 2022. Another example of this sort of platform is Fernish.com, which allows customers to rent, rent-to-own or buy. Sourcing only from "trusted, credible manufacturers" such as Crate & Barrel, the site stresses sustainability as a big reason its founders got into this business (and presumably why the name is fern-like).
Mellisa Hamilton, sustainability manager for Ikea Australia, told The Australian that consumers' mindsets are shifting as prices on most things continue to spike. If nothing is wrong with a piece of furniture, for example, and the consumer trusts the brand, maybe the item doesn't have to be new, she told the newspaper.
Just as importantly, these same consumers are thinking increasingly more about the impact of their buying and consumption patterns on sustainability, making them more willing to take "action to support the people and the planet," she said, a trend discernible in high-end clothing, as well.
"We are continuing to transform what we do and how we do it as we work to become climate positive, and create a positive social impact across the Ikea value chain and communities we operate in," Hamilton said, in a separate report.
What are your company's climate-positive goals? Does it have any?
A smaller carbon footprint
As I contemplated this column on after-markets, my news feed peppered me with headlines about Wall Street, sustainability and the airlines. Apparently, pressure is building on the big carriers to re-consider their carbon footprint, and that pressure is coming from all directions: investors, employees and ticket-buying passengers.
While I anticipate whining about paying yet more for exactly the same leg room, I get it.
The airlines know what California furniture manufacturers have known for a really long time, which is if industry doesn't lead, government will step in and mandate "solutions" few businesses end up appreciating, solutions that add cost and red tape.
If we're eschewing drinking straws in some quixotic effort to save a few turtles, certainly we need solutions to re-circulating pre-loved furniture, alternatives to bonfires or dumpsters. And like most complex problems, this one, too, likely needs a coalition. The problem is multi-faceted, so the solution probably needs to be, as well.
For its part, Ikea already has a track record on sustainability. The "as-is" marketplace isn't a one-off event, in other words. A participant in the COP26 climate change conference, the retailer-manufacturer is again running a Green Friday campaign this year in the United States to encourage people to recycle their Ikea products.
Running now through Dec. 5, the "Buy Back & Resell" service invites consumers to return items for in-store credit. Running in the United States and in Australia (and I'm sure other places), the program is gaining traction. Hamilton said last year in Australia, 85 percent of the 10,000 products brought back were turned around and re-sold in the same 10-day period. This points to very real interest in a circular economy for furniture and household items.
And this year, all of the roughly 50 U.S. Ikea locations are participating.
A multi-faceted approach
Seeking to become "climate-positive" by 2030, Ikea is hoping to "create a sustainable movement in society, and inspire our customers to acquire, care for and pass on Ikea products in more sustainable ways," according to Javier Quiñones, Ikea's U.S. president and chief sustainability officer.
Note that Quiñones is both president and chief sustainability officer, a pairing that highlights the priority on climate Ikea is making. Sustainability isn't like some diversity and equity outpost in the far bureaucratic reaches of a vast organization; for Ikea, it's in the executive suite.
Also, all U.S. locations feature a Sustainable Living Shop during the Green Friday "event," aggregating sustainable products in order to highlight "green living, and Ikea "Family members" are getting discounts on sustainable products that combat pollutants, use renewable resources or come from recycled materials.
As Sam Cooke so soulfully sang, "A Change is Gonna Come," and it's coming already. More younger consumers are accustomed to renting, only temporarily owning, and re-using a growing list of durable goods. The circular economy is good for the climate, and it will be good to those companies that figure out how to meaningfully participate and, therefore, partner with their consumers for the long haul.
Now, if you'll excuse me, I have to go figure out how to recycle approximately four pounds of that six-pound spiral-cut ham we barely put a dent in last week. Can I offer you a sandwich made with "pre-loved" meat?