Some reported good attendance from large accounts, but said it was lackluster from independents still awaiting product from April and June
HIGH POINT — While market attendance was still down from pre-pandemic levels, exhibitors were still grateful to meet face to face with those who did turn out as they had the chance to discuss issues ranging from supply chain and logistics to when product might be available from Asia.
Much of the discussion also focused on what's available now as retailers around the country continue to see ongoing consumer demand. This discussion was particularly important as inventories start to dwindle as factories in Vietnam and Malaysia begin a slow but hopefully steady path to resuming normal operations following Covid-19 related shutdowns in the summer.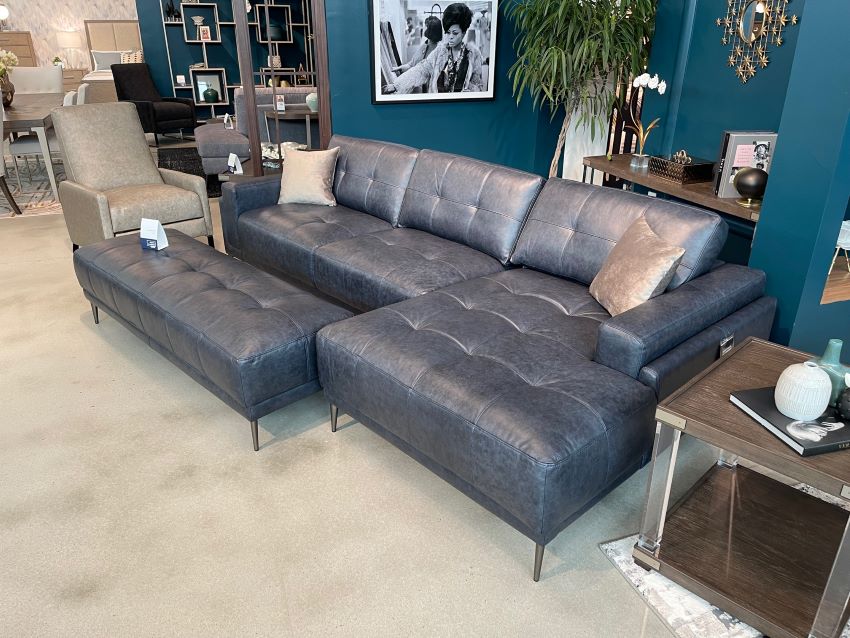 Yet there also was some demand for new product. While it may not ship until late next spring given current backlogs, sources said that retailers want to have their floors ready with new product when the supply chain gets back to normal.
The conversations also centered around what suppliers could get in places such as Mexico and even Eastern Europe as they seek to avoid the expense and delays in flowing goods from Vietnam and other parts of Asia.
This benefited newer resources such as Enza Home, a marketing arm of Turkey-based Yatas Group, and Urban Roads, which this market expanded its mix of upholstery available from six source factories in Mexico.
"This is the first time we have been able to show (product) from all six factories in a big way," said Randy Spak, vice president, upholstery product development at Urban Roads. "So the retailers are seeing our full assortment. It has been piecemeal until now."
He said that consistent six-week lead times out of Mexico also have been a hit, which has resulted in many dealer commitments. In addition, he said, "We match the customers' volume to the factory's capacity so we don't oversell it."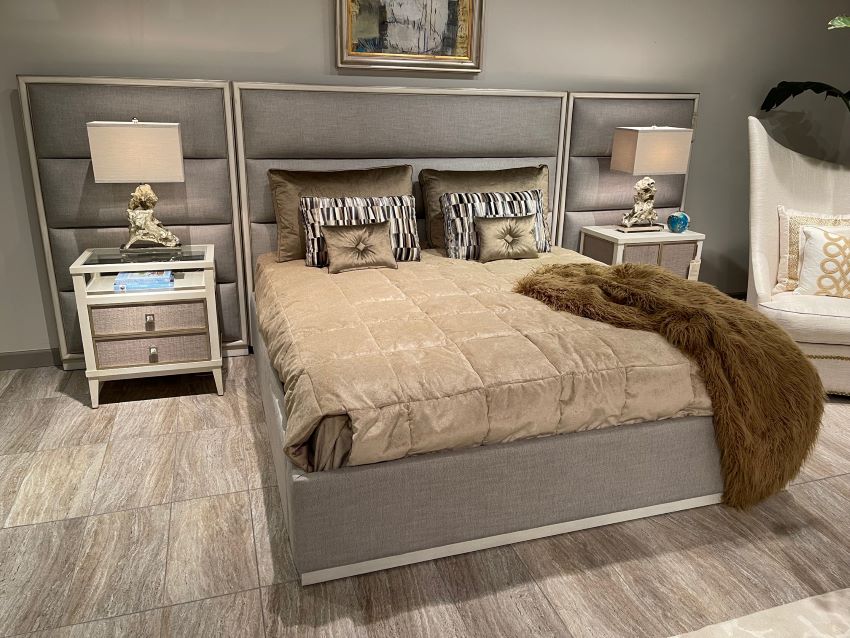 The product is expected to ship in December, allowing it to begin hitting retail between December and February 2022.
Luxury case goods and upholstery resource Marge Carson also is seeing success not only with its Mexico-made upholstery, but with its occasional and expanded Palo Alto bedroom, also made in Mexico.
In addition to new options in its custom Cascade occasional line, including table bases with button tufted fabric and specialty leathers, the company has expanded its Palo Alto bedroom.
A major advantage drawing customers to the line has been lead times of roughly eight weeks for upholstery produced with in-stock fabrics, noted Jim LaBarge, CEO.
"Now with all the problems in Asia, it is about who can deliver," LaBarge told Home News Now at market.
Some other companies that showed new product from Mexico this market included Standard Furniture, Lifestyle Enterprise, A.R.T. Furniture and Home Meridian International, which showed a line of new Drew & Jonathan Home upholstery made in Mexico.
Others have shifted sourcing to other parts of Asia including China, to avoid delays on product from Vietnam. For example, New Classic Furniture, showed six new motion groups it is producing and now shipping from China.
"We had no choice but to go to China," said Bill Dominguez, vice president, research, development and international operations.
Due to demand in the category, the company was selling the sets off photos and fabric samples, without customers even seeing the finished goods, which are expected to hit retail by the end of November and the first week in December.
"We want to make sure they have product for the Christmas selling season," Dominguez said, noting that the company also showed four new bedrooms from Vietnam and several new casual dining sets featuring tables in either regular or counter heights. Knowing there would be demand for new goods, the company ordered the new product well before market.
"We had to make a decision quickly," Dominguez noted, adding that dealers have liked the fact that the new goods are in production and most are set to ship soon. "Even before it was at Premarket, we pulled the trigger."
In addition to the new product, customers also sought inline goods that are ready to ship immediately, Dominguez noted.
Case goods resource FD Home also had new goods on hand including five new bedrooms retailing from $2,199 to $2,599 for four-piece sets. But its discussions and priorities in order were 1) Taking care of existing customers with existing orders 2) Opening new accounts with existing goods now available and 3) Selling new product.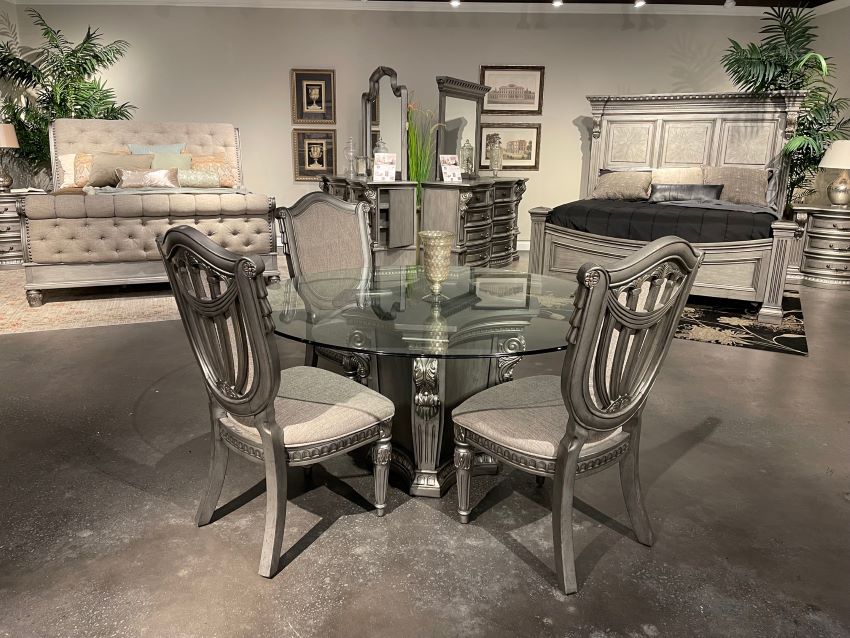 "The number one question we get is, 'What do you have in stock,'" said Steve York, president. "We have to be smart about taking care of customers with what they have on the floor."
He also noted that that while a big focus was on the inline goods and getting those orders shipped, the company still received commitments on the new goods. Thus, the lion's share of the new bedrooms will go into production.
Don Deeds, executive vice president, sales and marketing at case goods and upholstery resource Coaster, said that while demand has been strong for inline goods, the company was hearing more inquiries about new product.
"We are hearing less about what is in stock — they are looking at introductions," he said, adding that while there is still interest in inline goods, "It is not the focus I am hearing."
He noted that commitments remained strong as all of the product being shown has been purchased.
"They know it is in the pipeline, so they know they can go ahead and order it," he said, noting that while the wood product is mostly from Malaysia and Vietnam, much of the upholstery is from China. "It is already bought."
Companies interviewed for this story said that traffic arrived as early as Tuesday and Wednesday, and most majors shopped the market sooner versus later, leaving parts of the weekend, Sunday in particular, extremely slow for some.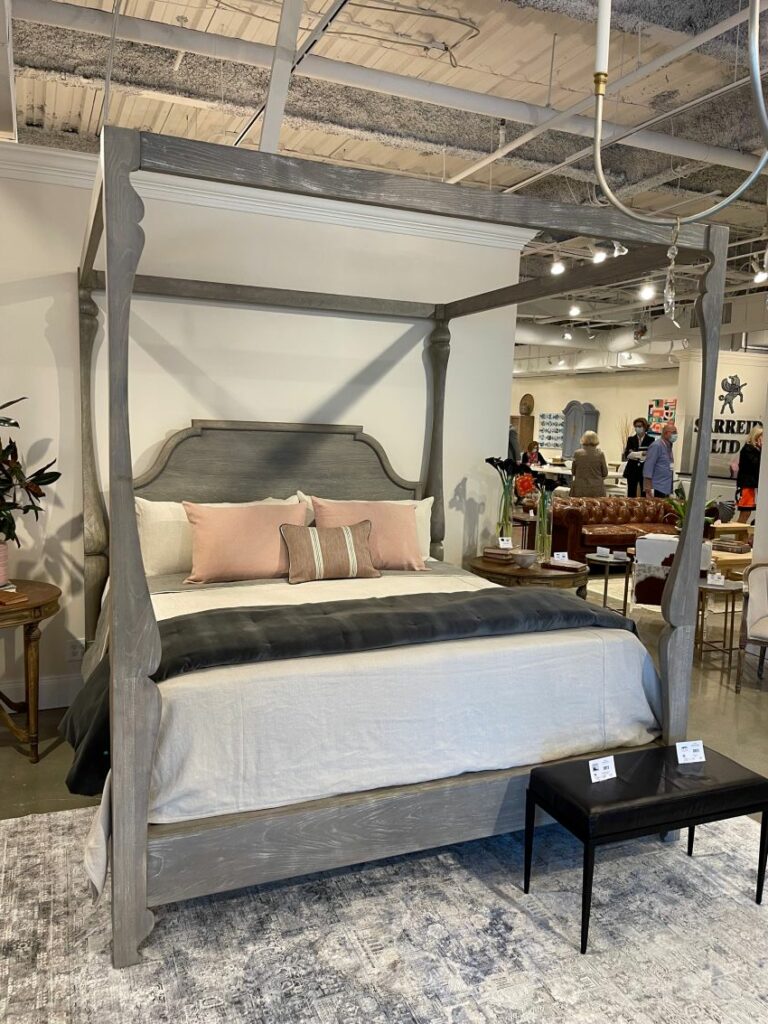 But many were pleased with traffic overall, saying that while it was still more lightly attended than pre-pandemic markets, it was a better market than anticipated.
"It is down from a regular market, but the quality of the traffic is better, said Tim Donk, director of marketing and business development at Legends Furniture.
Demand was strong for its U.S.-made home office and home entertainment line produced at its Arizona plant. Lead times are now down to a record two weeks, from 16 weeks six to eight months ago.
Interest also was strong for its imported bedroom and dining room, but the focus was primarily on what's in stock.
Brad Cates, CEO of luxury case goods and upholstery resource Sarreid, said that he expects traffic to be ahead of last October, but perhaps not June, which drew some 1,200 accounts. By noon Monday, the company had seen about 900.
"We are very pleased," Cates said, noting that the company showed more than 100 new items this market and those are either in stock, in production or about to go into production. "Order writing is good. I don't expect anything that we showed not to go into production."
He added that the company currently has more purchase orders in place with its inline vendors than any time in the past 43 years, a good sign that demand remains strong in the marketplace.
While traffic was reportedly strong from Top 100s, it was much lighter from independents and smaller accounts, based on reports from some reps at market. The reason? Sources note those dealers want to deliver what's on order that they are still waiting on, not see new product.
"They still don't have product from April or June," one source said.