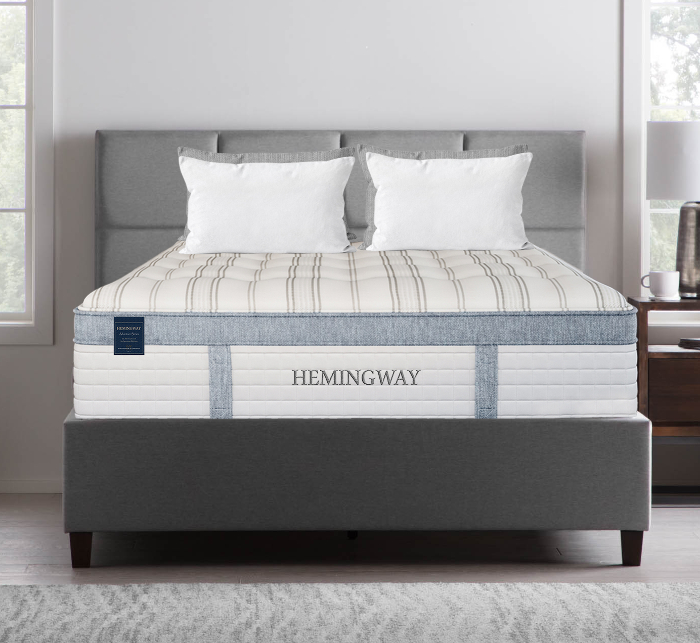 NORTH BRUNSWICK, N.J. – Combining its retailer's growing appetite for premium bedding and leveraging the power of over 64 million yearly online searches for the Ernest Hemingway name, leading mattress manufacturer, Eclipse International, will launch the Hemingway Adventure Series by Chittenden & Eastman at the upcoming Las Vegas Market in August.
Eclipse, which has been producing, marketing and selling the Ernest Hemingway brand for more than 10 years, has introduced Adventure Series to reflect the charm and beauty of Hemingway's favorite places. 
"Several of our major retail partners acknowledge the digital dynamics and the brand awareness that comes with the Ernest Hemingway name," said Stuart Carlitz, president and CEO of Eclipse International. "With over 64 million searches conducted on the brand yearly, our Adventure Series is not only a premium, handcrafted collection, but it comes with the ability to convert those online searches to traffic to our retailer's websites."
Handcrafted in the U.S., the Adventure Series features OEKO-TEX 100 certified Talalay latex, which is completely free of any unhealthy or harmful chemicals.Aesthetically, the Adventure Series is hand-tufted with a high-fashion, 100 percent cotton damask imported from Belgium. The cover also acts as a thermal barrier to dissipate heat throughout the night while also including an additional comfort layer. Available in firm, plush and pillow top, the Adventure Series will begin at popular price points and expand into a more luxury segment.
Eclipse's Las Vegas showroom is space B-1118 of the World Market Center.
North Brunswick, New Jersey-based Eclipse International has been making mattresses since 1866. Known for its design innovation in creating advanced sleep products, the company has an extensive global licensing network that distributes mattresses under six brands – Eclipse, Eastman House, Ernest Hemingway, Embrace Pure Talalay, Natural Dreams Pure Talalay, Velika and BIA. A well-established leader in the bedding industry, Eclipse designs products crafted with high quality components, including latex, memory foam, gel and eco-friendly materials. The company holds a number of patents that deliver superb support throughout the product line. Today, the company has 82 licensees worldwide. For additional information, visit www.EclipseMattress.com.