PLANTATION, Fla. – GhostBed, a leading online mattress retailer and manufacturer of boxed beds, will launch Ghost SmartBed, propelling the brand into the "smart" mattress category. The company will formally introduce their new Smart Bed at the upcoming Summer Las Vegas Market.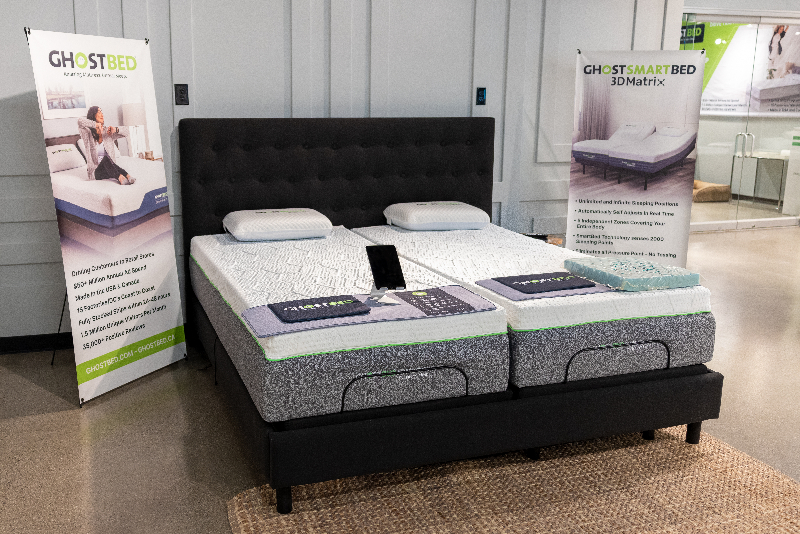 The new Smart Bed is constructed with materials and technologies that allow a person to customize his or her comfort levels to ensure a deeper, more restorative night's sleep as well collect data monitoring a person's sleep experience throughout the night.
"The Ghost SmartBed will establish a significant presence for us in the fast-growing field of smart bedding," said Alan Hirschhorn, executive vice president of sales for GhostBed. "It also puts us front and center with consumers whose health concerns have been heightened by the COVID-19 pandemic. Consumers want to know more about their sleep habits because they see the relationship between sleep and overall good health – and now we can offer them a bed that provides key information about the quality of their sleep each night and allows them to fully customize their bed to their desired comfort setting."
The Ghost SmartBed is designed with 2,000 zone detection points on each side of the mattress, located just below the sleeping surface, which have sensors that monitor respiration, position and movement through GhostBed's Ghost Vision technology. The Smart Bed's truly smart support system consists of five medical-grade air chambers, which independently react to make automatic real time adjustments to the comfort levels for the head, shoulders, torso, hips, and legs by way of the company's Ghost Relay technology.
Unlike other sleep technologies in which people need to wear devices to monitor their sleep, these technologies are built into the Ghost SmartBed. In addition, the new mattress comes with the Ghost Smart App, which collects sleep experience data and controls the comfort settings delivered by the air chambers. The app can be downloaded onto any smartphone or tablet. It allows both sleepers to independently adjust the comfort levels in the air chambers for their side of the bed, thus giving each person the ability to set all five zones to meet their individual preferences. Additionally, both sleepers can view all aspects of their previous night's sleep, thus providing a complete Bio-Metrix picture of how well they are sleeping throughout the night. Each bed is delivered to the consumer with white-glove service allowing the trained delivery people to assist each consumer in setting up the Ghost Smart App.
GhostBed's first introduction of their new Smart Bed Technology will be their best-selling patented 3D Matrix model, by which the surface is constructed in a honeycomb pattern which is infused with gel polymer that stretches in every direction to both distribute weight evenly and absorb excess heat through the night. Above the air chambers support system are three layers of gel memory foam, which enhance the bed's cooling properties and add a further dimension to its comfort levels. The mattress can be used perfectly on an adjustable base and is manufactured with an all-modular construction, enabling parts to be easily replaced. As part of the Ghost SmartBed's launch, GhostBed will introduce a website dedicated to the new product, www.ghostsmartbed.com. The site is projected to go live at the beginning of August.
GhostBed's World Market Center showroom is located in building B, suite 980. Las Vegas Market is scheduled for Aug. 22-26.
GhostBed's parent company, Nature's Sleep, has been a mattress industry leader for more than 15 years, focusing on high-quality, low-cost sleep products. With expert craftsmanship and superior materials designed for comfort and durability, GhostBed offers an affordable alternative in the online mattress marketplace. With a laser beam focus on customer service and satisfaction, GhostBed ships in 24 hours from 15 coast-to-coast distribution points in the U.S. and two distribution points in Canada.