Launch also includes 200 new in-line custom fabrics, 250 new program fabrics
HIGH POINT, N.C. — At the October High Point Market, Sherrill Furniture will showcase a mix of new fabric and leather stationary upholstery along with motion upholstery and occasional items throughout its newly renovated space at 315 Fred Alexander Place.
The first floor of the building will include some 40 new products from Sherrill Furniture, Whittemore Sherrill and Motioncraft in different settings throughout the space.
"Sherrill's introduction of leather, fabric and motion crossover styles at Fall 2021 market generated an outstanding level of customer interest and orders in the showroom," said Dax Allen, vice president, marketing. "In response to customer demand, we are expanding on this seamless crossover business strategy."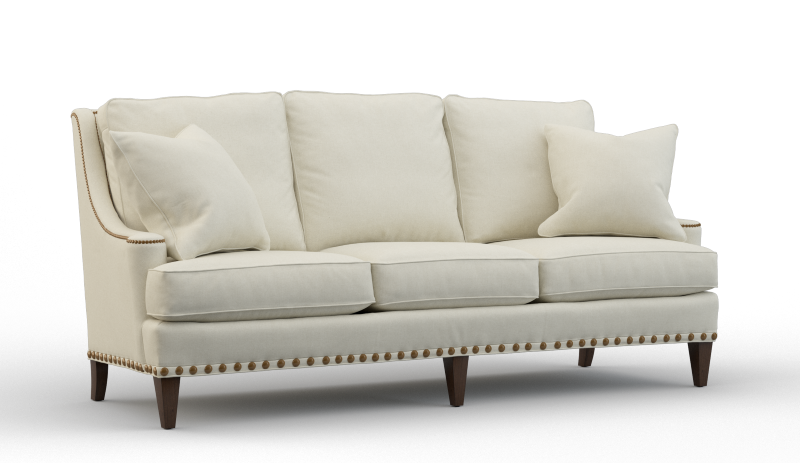 Johnny Suddreth, vice president, sales added, "Sherrill Furniture is making our biggest introduction of new fabrics in over a decade. We are introducing 200 new in-line custom fabrics and another 250 new program fabrics including an InsideOut performance fabric handle,
new Libeco Luxury Belgian Linen collection handle and a new Kravet partnership."
Some of the new products include:
The F1735-03 Sofa, which was previously shown in leather from Whittemore Sherrill and is now available in fabric for the first time. It features a loose pillow back and a high-back design meant to provide additional comfort and support. It also features a flared scroll arm.
The F460-03 Sofa also was originally shown in leather in the Whittemore Sherrill and is now available in fabric for the first time. The low profile frame has a loose pillow back and a wide track arm. It is being shown in a noble linen body fabric with a contrasting natural beige brindle hair on hide along the outside of the frame. It is also being shown with a contrasting natural cayenne hide on hair.