Nationwide follows PrimeTime with message of Covid infections
NASHVILLE — Perhaps it was inevitable.
Nationwide Marketing Group's PrimeTime here was one of the industry's first summer events to take place as Delta variant-driven Covid-19 infections were spiking again. It drew thousands of attendees, and when it was over, they all got this email from Tom Hickman, president and chief member advocate for the furniture electronics and appliance buying group.
"I hope this message finds you safe and healthy. I wanted to reach out because we've recently learned that some attendees who were at last week's PrimeTime event in Nashville have been diagnosed with Covid-19 since returning home. As a fellow event attendee, you may have also been exposed to this virus."
Hickman's message goes on to say the health and safety of the industry buying group's members, vendor partners and staff is "of the utmost importance," and that he wanted to share the news as soon as it was confirmed.
"We are working closely with our events team to monitor this situation and will continue to keep you updated as any new information becomes available," he said.
Home News Now reached out to Nationwide to learn more, including how many people at the event tested positive, their condition and to see whether, in retrospect, the group believes it may have been too early to return to live events, given the amount of socializing that naturally comes with them.
Director of Public Relations Amy Croom responded, "we cannot comment on individuals' health status or specific numbers from attendees. We followed all CDC, WHO, state, local and Gaylord Opryland guidelines during the event, and chose to notify attendees yesterday out of an abundance of caution."
She later said about 3,500 people ― members, vendors and staff — were at the show.
Nationwide previously reported that it was following CDC guidelines, including requiring masks for all who were not fully vaccinated and recommending masks for everyone. Hickman appeared in a video posted to social media channels before the event, acknowledging the uptick in cases and noting how the group was executing some "long-planned and recently added measures" to help keep everyone safe.
But it remains unclear how the guidelines were enforced, and from some of the photos taken during the event and shared with HNN for a previous story, it's clear the protocols were not always taken seriously by everyone. Elbows rubbed elbows, masks were often off.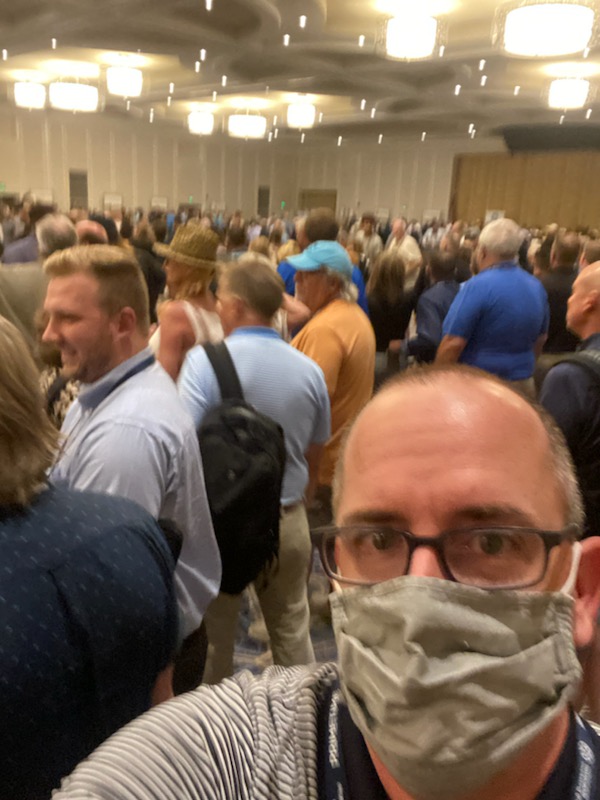 The PrimeTime event at the Gaylord in Texas was followed by another large convention hosted by the AVB BrandSource buyinging group, which responded Friday morning, noting it's probably "too soon to know if there is or will be any issues." The concerns were addressed in AVB CEO Jim Ristow's address to attendees, which noted how meetings were set up following local and CDC guidelines and that PPP supplies were available in the back of the room at at check-in. A graphic from the presentation recommended "mask when you can, fist bumps encouraged, wash hands often, distance when possible, respect others' choices."
In Las Vegas, where the summer Las Vegas Market wrapped up Thursday, one member of International Market Centers marketing team tested positive after contact prior to market with someone else who tested positive, IMC CEO Bob Maricich told HNN.
The employee left the World Market Center campus before market began and did not return, he said, adding the employee identified other points of contact, all of whom ultimately tested negative. No other incidents have been reported as of early Thursday.
"IMC has a very strict policy for employees to wear masks at all times while on our campus," Maricich said. And it appears, the company moved quickly to mitigate risk in an environment of increasing infections nationwide.
"When the Nevada mask mandate went into effect just prior to the start of market, we cancelled all indoor receptions that included food and beverage to avoid encouraging people to unmask while in a group," Maricich said.
"We had a few live seminars that were set up with socially-distanced seating within the building, which was in compliance with the state's mask mandate."
Back in Nashville, the buying group shows were an attempt to celebrate a return to some form of normalcy after an extended period of pandemic-related virtual events, but instead, the virus and virus warnings have come full circle, despite the widespread availability of vaccines. For both Nationwide and BrandSource, these were the furniture, electronic and appliance buying groups' first live conventions in about 18 months. Before Nashville, BrandSource members last met in Las Vegas for a Summit in March 2019, just before the lockdowns. And just as Nationwide warned attendees of some infections this time, BrandSource had issued a similar message about a case that cropped up for an attendee that spring.
In the recent email, Nationwide recommended that all PrimeTime attendees follow the most recent CDC guidance regarding post-travel Covid-19 testing and quarantine and asked them to watch for the most common symptoms and contact their healthcare providers should they become ill.