And it can be your yours for just under $70 million
If this headline by The Wall Street Journal didn't catch your attention, you must be at furniture market: "Furniture World's 'King of Bling' lists gold-filled California palace for $69.8 million."
It's referring AICO CEO Michael Amini and one of his many labors of love, Palais de Cristal, a 15,500-square-foot, seven-bedroom, 13-bath home he designed and built over nearly a seven-year period.
WSJ reporter Katherine Clarke describes it this way: "From the outside, the … mansion looks like a grand Palladian European chateau with columns, ornamental detail, decorative balconies and tall arches. On the inside, the sprawling property includes a string of unusual amenities including a garage with its own smoke machine and sound system so that it can be used as a nightclub." It goes on, but you get the idea. This place is fancy.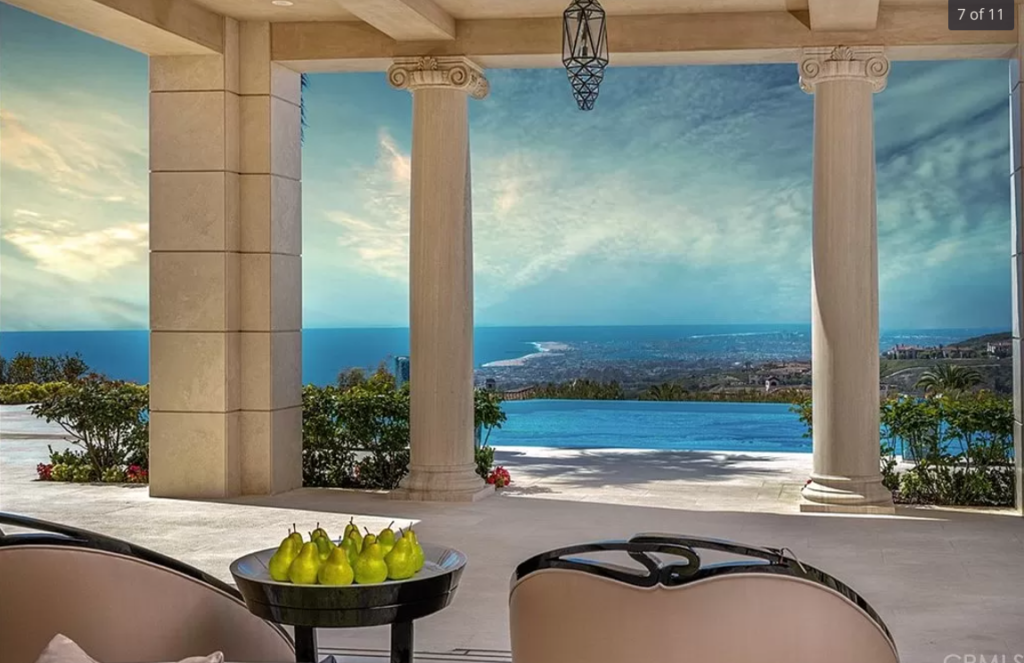 In fact, calling the garage a garage is an understatement. When I found out about this new listing and asked Michael Amini if I could maybe just live in the garage while he waits on a buyer, he laughed (maybe nervously?) and then said it's not so much a garage as it is a ballroom. "All Venetian plaster walls and marble floors. You can seat a couple of hundred people."
There's a catering kitchen off to the side, and according to the Zillow listing, where these photos came from, the climate-controlled 10-car garage features a car turntable that converts to an event space or discotheque.
Even that 15,500 square feet size reference for Palais de Cristal is arguably an understatement, referring only to the living quarters; it doesn't include that 3,725-square-foot garage or all the balconies and loggias. Altogether, it's more like 23,500 square feet under roof.
Amini spent years working on this home, which sits atop a hillside on the Newport Coast in Crystal Cove and offers "unobstructed views of The Pacific Ocean, Catalina, white water, Newport Harbor, Palos Verdes all the way up to Los Angeles," according to the listing. WSJ reported he purchased the site for the home back in 2007, originally planning to build and make the home his own. But the project was delayed by the 2008 recession and he didn't back around to truly working on it until about 2017.
It comes fully furnished, mostly with AICO furniture but also with specially made pieces from the late Christopher Guy, a friend of Amini's who "was so gracious he built some custom-made furniture that fits in the house perfectly," he said.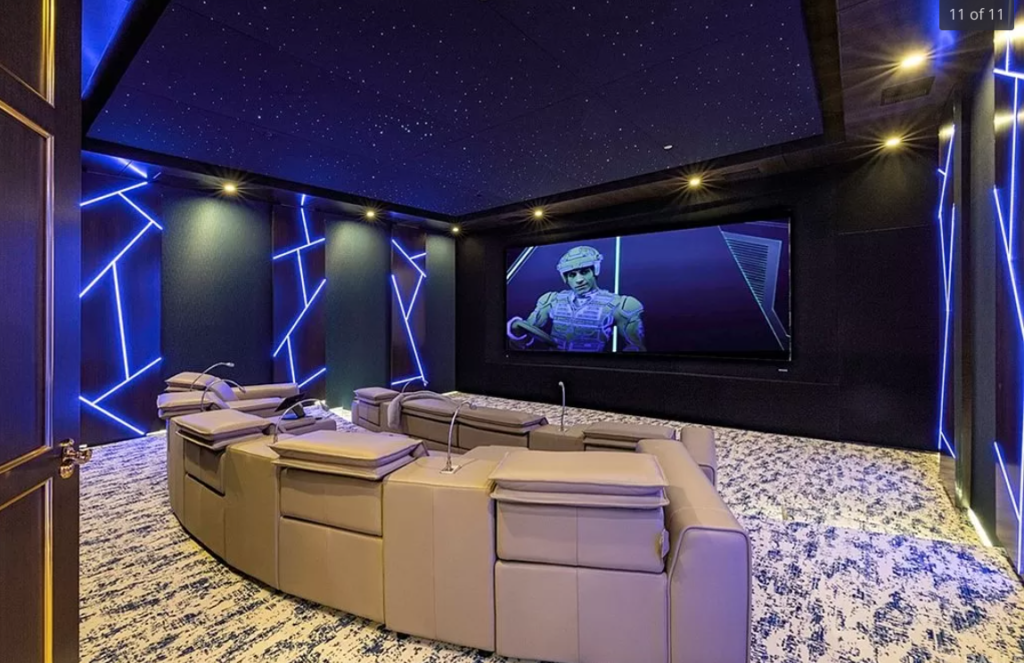 "Our furniture really shines in that house because it has such a high perceived value that in a house of that caliber, it feels right at home."
Some of the homes many other features, according to the WSJ piece and the Zillow listing: the main foyer with a floor of white Jordanian marble with pink onyx inlay and a colorful glass dome overhead, the only one "of this magnitude in a residence in the United States," according to the listing; a wine cellar; a gourmet kitchen, a gym; door handles imported from Italy and coated in 24-karat gold; a pool with a custom two-part tile mural on the bottom depicting underwater scenes at sunset and sunrise.; two spa-inspired bathrooms with heated marble floors. See the full listing for more.
When I asked Amini about that "King of Bling," headline, he laughed and said the WSJ reporter had done quite a bit of research before the interview and apparently found the reference in a couple of places. It's how long-time collaborator and actress Jane Seymour has introduced him — once during an American Home Furnishings Hall of Fame dinner, and again early last year, when Amini accepted the Dallas Market Center's Academy of Achievement Award.
Amini said it had been his intention to live in the Palais de Cristal, but a lot has happened in the more than 22 years since he purchased the property. For starters, his children have grown up and are on their own. And now, with the world opening back up after the pandemic, his travel schedule is about to go from zero for the past year and a half to extremely hectic.
"We've just moved into (our new facility in Vietnam), and I've barely been able to set up the systems and to build the offices," he said. "We have showrooms that have not been built, an upholstery factory we intended to start that we haven't bought the machines for or hired people. There are a lot of things I have to do there.
"Plus, AICO is looking to move some of its production back to China as Vietnam has become flooded with promotional furniture production, he said. "It's much easier for a lot of factories to make, and they're not as interested in working on such complicated furniture like ours," he said.
"Therefore, we feel China is still a very good source — China, Indonesia and probably some other Asian countries would be a far better fit for us. The point is, with all this work to do and his travel schedule filling up, having his wife living in Palais de Cristal mostly by herself seemed "a little redundant."
Amini's said he's a little sad to be selling "because you get attached, but I put just as much effort into making my furniture," and the goal there, of course, is to sell it, too.
"Everything I do, I put my 100% effort and my heart and soul into, because whatever I create, I like it to be a work of art, and I like to offer it for sale to people who truly appreciate it.
"I now have a passion for building new spaces and new homes that really leave a legacy behind," he told Home News Now. "I figure when the time comes I can build another one, just as nice if not nicer because of the experience I've had in building this monument."
In the meantime, the Aminis will stay put in their home just 10 minutes away from Palais de Cristal, a place Amini just happened to design and build, too.