DETROIT — By the end of next month, the last of the Loves Furniture & Mattresses stores will have closed, but the battle over how much industry creditors recover may be far from over.
Early this week, the unsecured creditors committee in Loves' Chapter 11 bankruptcy case filed a 202-page document asking the court to order 11 parties to produce documents and appear for testimony. It's asking for subpoenas of everyone from the U.S. trustee in Art Van Furniture's Chapter 7 estate to Loves's owner Jeff Love to former CEO Matt Damiani and the former chief merchandising officer.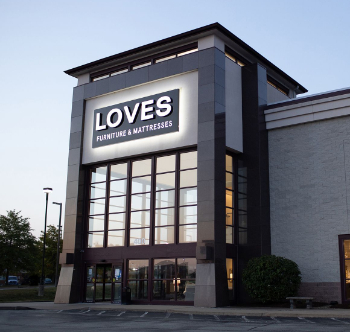 There are also subpoena requests for Jeff Love's private equity firm U.S. Assets, its chief financial officer, and White Oak Station, the latter, a chain of gas stations and convenience stores affiliated with Love and his PE firm.
It's not clear exactly what the committee and its attorneys hope to discover, but the motion suggests the committee is seeking a better understanding of how so much went so wrong in such a short period of time.
Take this from the paragraph on the subpoena for the Art Van Trustee Alfred Giuliano: U.S. Assets acquired the assets to start Loves out of the Art Van bankruptcy, and the committee now wants information regarding the sale of those assets and leases. "This sale was closed only eight months before this case was filed," the committee said, referring to Loves' own bankruptcy, "and notwithstanding such a short time frame, the debtor quickly accrued tens of millions of dollars in unsecured claims." It goes on to says the trustee has not responded to its informal requests for information, which is the reason behind the subpoena.
From the "insider parties" — Jeff Love, U.S. Assets, Loves executives and others — the committee said it's seeking information regarding Loves' "establishment, capitalization, solvency, business planning and strategy, bankruptcy filing, liquidation sales, inventory and merchandising, and prepetition planning, marketing or process to sell, refinance, recapitalize or reorganize," and more.
The creditors committee isn't seeking a forced "document dump," it said, just those documents it deems "critical to the committee's evaluation of the debtor's prepetition actions, and those of its insiders, which led to a bankruptcy filing and significant unsecured creditors losses after only eight months of corporate existence."
It's that speed from start to finish for Loves that appears to be the biggest sticking point, even though the retailer was attempting to build something at the start of a pandemic and then during severe, industry-wide supply chain disruption.
Love's filed for Chapter 11 Jan. 6. Several industry-related companies appear on its list of 20 largest unsecured creditors and they're owed more than $10 million, according to the document. And that just the largest industry creditors. In a declaration by interim CEO Mack Peters, he noted the retailer had ordered goods from 81 sources for an aggregate landed cost of more than $60 million.  Of that, it received about $38 million worth of goods. The rest was either canceled by the supplier due to non-payment or it was sold to another retailer.
Loves said it paid about $17.2 million toward that inventory, and about $22.5 million remained unpaid at the time of the filing.
Early this month, Loves filed a liquidation plan with the court. (It has yet to be approved by the judge, who has asked for revisions.) In the plan document, Loves recalled how it had signed deals for 27 stores from two former Art Van landlords, though a number of the locations never opened. It noted how it needed to refurbish the locations and install Covid-19-required barriers at a cost of more than $4 million that had not been fully repaid at the time of petition.
And it went into the host of service, warehousing and distribution problems previously noted in Peters' declaration, starting with the delay in opening its own facility and the need for temporary space and ending with the fulfillment nightmare that included "repeated and costly failures to locate inventory" and frustrated customers.
"The debtor began as a thinly capitalized entity that required the speedy turnover of inventory and a steady high volume of orders to fund operating expenses," it said in the liquidation plan.
"The inability to deliver furniture to customers delayed or eliminated payments to the debtor," causing it to seek merchant capital financing at high interest rates "to pay suppliers for critically-needed inventory." The higher financing costs then prevented it from ordering new inventory.
"To succeed, the business plan needed everything to go right," it said. "The logistics problems meant that nothing did."
Loves was down to a dozen continuing stores at the time of the filing. It had hoped to restructures and operate with a smaller footprint but has not been able to find additional financing, it said. Planned Furniture Promotions was brought in to run liquidation sales at a dozen stores before the filing and later at the remaining 12 locations.
The sales will conclude at the end of this month in Hermitage, Livonia, Battle Creek, Canton, Niles, Port Huron, and Waterford, Mich. That will leave 10 stores — in Toledo, Ohio, and in Warren, Comstock, Grand Rapids, Portage, Jackson, Shelby Township, Saginaw, Taylor, and Howell, Mich. — where the sales finish up at the end of June, PFP said.
It's unclear to date how much money industry creditors will recover after secured creditors are paid. Meanwhile, attorneys on both sides are making hundreds of thousands of dollars in fees and recovered expenses in a case that could go on longer than the actual business.
According to court documents, Loves' attorney Butzel Long sought more than $110,300 in payment for the period from Jan. 26 to Feb. 28, (including $22,000 that's to be held back). The unsecured creditors committee attorney, Foley & Lardner, sought $219,000 for the period from Jan. 19 to Feb. 28, and nearly $47,000 for March.