With more showrooms open than last summer, a new Expo facility housing temporary exhibits and a nice uptick in traffic, physical markets found their legs in Las Vegas.
LAS VEGAS — International Market Center CEO Bob Maricich was amazed by just how many buyers made a last-minute decision to attend the April 11-14 Market here.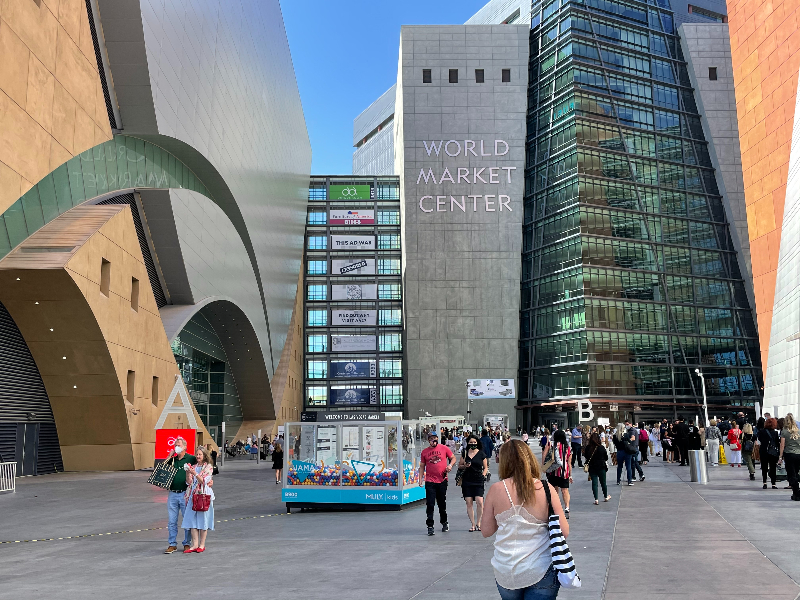 He said that on a call with the media a couple of days into the Las Vegas Market here. "There's just an unprecedented desire to get in front of people face to face," he said. The market-related stats are below, but before we move on to that, first a little more about that overall desire to get out and re-connect. It's borne out by the TSA data IMC has been following. Travel sentiment continues to improve, Maricich said. The number of passengers moving through airports is a little better than half what it was in 2019 before the pandemic and improving by day — actually soaring from where it was a year ago today. On Monday, passenger traffic was about 1.5 million vs. 100,000 the same day year ago.
So people are more and more willing to get on that plane, and the more they do it, the better market attendance is going to be "because the underlying demand is there," Maricich said. Technology and virtual markets are all well and good, but there's just no replacing two people actually meeting in person, eyes and voices coming together for real business with no frozen screens or the distraction from a dog barking its head off because someone had the nerve to walk down the street. 
Here are seven takeaways from the January-rescheduled-to-April Las Vegas Market from leaders at IMC:
Back to 1998: Through the important first two days of Las Vegas Market (check back for updated data), attendance was roughly triple that of the summer 2020 market. But, perhaps more significantly, traffic was running at about 40% of pre-pandemic levels, according to Dorothy Belshaw, IMC's chief customer and marketing officer.
"Most are reporting that the buying power is yielding (orders) anywhere from 60% to 75% of pre-pandemic levels," she added. "That tells you just how robust the buying is, and the order sizes tend to be quite a bit higher than they were pre-pandemic."
Belshaw said interior designers and retailers were placing larger and deeper orders as well as trying to secure warehouse space for back stock to ensure they have the inventory to get them through several months. "I said to somebody it kind of feels like 1998," she said. "That's kind of how buyers used to buy back then — in six-month increments."
Some other stats: 85% of WMC showrooms were open for business, vs. about 50% last summer. The closures, Belshaw said, were largely a function of supply chain disruptions. For "larger furniture manufacturers that have significant disruption it's difficult for them to contemplate opening now in April, but we do expect 100% showroom participation for the summer 2021 market," she said. (WMC, largest tenant, Ashley Furniture Inds., was one of those choosing not to show, but told HNN last month it was more about the logistics headache involved with trying to be in Las Vegas and then in High Point for Premarket two weeks later.)
LVM saw attendees from all 50 states with the vast majority coming from the West and Southwest. Some 2% of attendees were international visitors, which Belshaw said surprised IMC. About 30 countries were represented, with the bulk of international buyers coming from Central and South America and places like the Caribbean, where business tends to be interior design-driven Belshaw said. "They're having a strong impact on the home decor side of the business."
Some of the biggest names showed up. While many large corporate buying offices and Top 100 mass merchants remain under travel restrictions, the market still managed to attract a significant number of big players, including Jerome's and Living Spaces in California, American Furniture Warehouse, RC Willey, Steinhafels, City Furniture, Gallery Furniture, Furniture Mart USA, some of the major buying groups and more.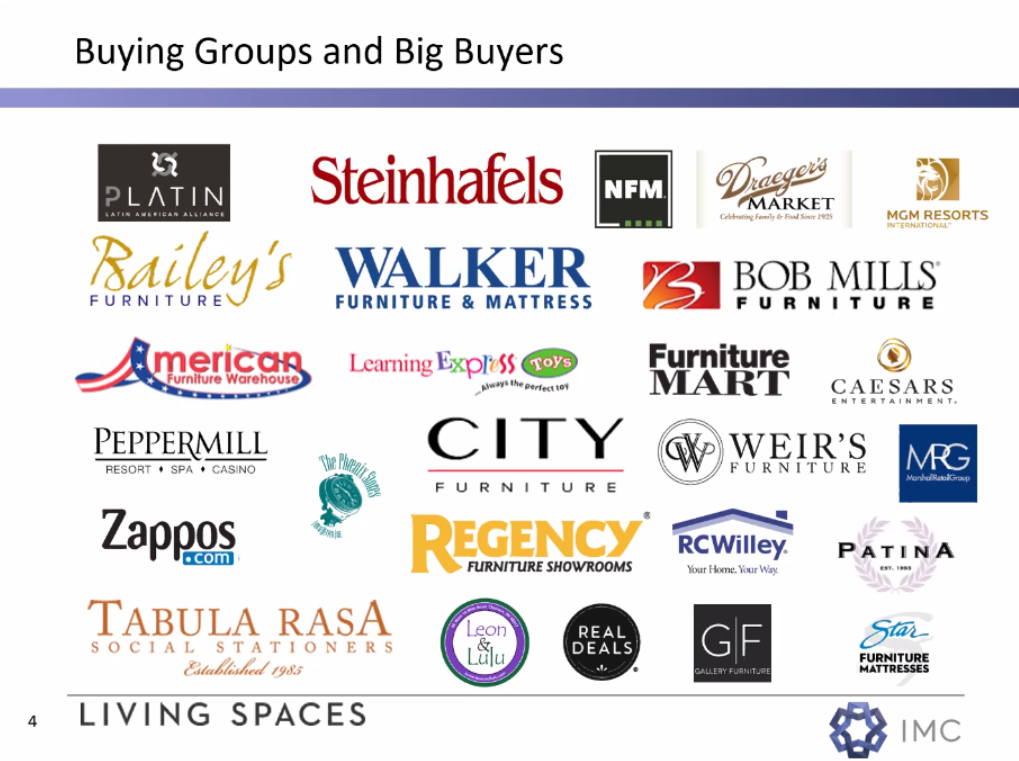 "I'm zoomed out." Technological advances such as Zoom (which was actually the platform IMC used for this media call) work, Maricich said. They have more than carried their weight during the pandemic, but it "just doesn't replace face-to-face commerce." So as he walked market, he was hearing attendees say things like "I'm Zoomed out," and, "The last thing I need is one more Zoom meeting."
"If you have a long day where you're trying to get work done like you would in a showroom, it's pretty onerous," Maricich said. "Since we started the company, our mantra with Las Vegas was always, 'effective, efficient and compelling.' Effective (means) you can get a lot of work done in the shortest period of time, and we're seeing that. People are not here kicking tires. The people here are very very serious about commerce. They're working efficiently, and in a couple of days, getting a lot of work done."
Supply chain woes changed buyers' objectives. Before the call, Maricich had just been over in the "available for pick up" area of the new Expo at World Market Center Las Vegas, and "it looked like they were giving candy away to kids," he said.
"There's such a demand for product," he said. "If (buyers) can get it right now, they want it." Later, he noted some exhibitors across the market had placed sandwich boards out in front of their showrooms with this simple message, "We have product we can ship."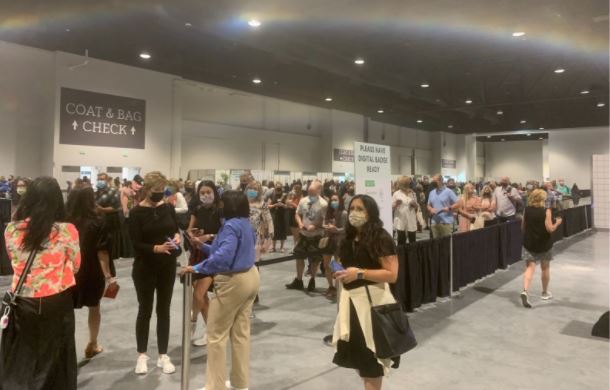 "It's come to that," he said. "It's such a unique environment where we have this incredibly strong consumer recovery, yet there's this lag in manufacturers being able to fulfill."
But on the bright side, Maricich noted that in his four-decade career, "I've always found when there's demand, good things are going to happen, and I think that's driving a sense of optimism."
Safety protocols are working. IMC "Together Safely program is proving effective and next to no one is protesting the rules about mask-wearing, social distancing and the like. As the market's "mask ambassadors" (sounds much better than mask police) went around reminding attendees to pull up their masks, "There are almost no negative interactions," Maricich said. "People respect that the protocols are important."
And they're expensive, too. IMC is spending about $400,000 a month more on safety protocols and hygiene on its Covid-era events, he said. "And it's paying off because people are trusting us and seeing we're sparing no expense when it comes to safety."
What will the compressed market schedule mean for High Point? That remains to be seen, but Maricich said all indications point to a Premarket that "is going to be like none other before. It is going to drive a lot of the Top 100 because most of them are located east of the Mississippi, and a lot of them drive."
He estimated Premarket could see four or five times the buyers that typically came to a normal pre-Covid Premarket.
"It's our hope that doesn't detract from the High Point Market, which is 30 days later," he said. "But much like this has been a journey where every one of our markets gets back closer to normal, the June market, while not likely be back to pre-pandemic levels, "is going to be really really strong." By then, 70% of the U.S. population could be vaccinated, he said, and "That's a game-changer."
"If the vaccinations rates continue like they are, I think the October High Point Market could be maybe the first large market that's even stronger than pre-Covid levels."