LAS VEGAS — International Market Centers and officials from the city of Las Vegas, held a ribbon-cutting ceremony Friday celebrating the grand opening of the 315,000-square-foot Expo at World Market Center Las Vegas (WMCLV), The three-year project is a $103.5-million investment by Blackstone, IMC's parent company.

"The Expo at WMCLV Las Vegas will be a hub for resurgence, addressing demand for modern convention and trade show space in downtown Las Vegas," said IMC CEO Bob Maricich. "With its state-of-the-art amenities, the Expo not only will attract additional business to downtown Las Vegas but also will drive associated job creation for its residents."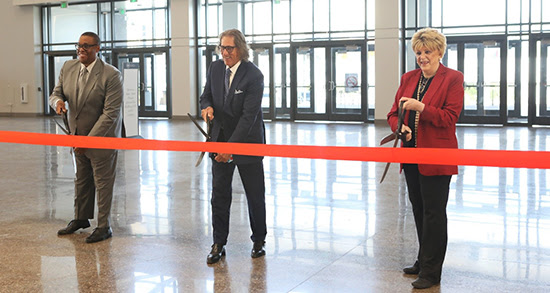 See video of the ribbon-cutting event, including speaker remarks and footage from inside the Expo at World Market Center Las Vegas here.

The facility is divisible into two halls — North and South —which can accommodate up to 1,000 trade show booths. In addition to sizable exhibit space, Expo features a large lobby and registration area, onsite shuttle bus depot, attached parking garage and permanent food service areas. The building was designed by Ed Vance & Associates Architects and built by the Penta Building Group.

The Expo at WMCLV is being used for the first-time during IMC's April 11-15 Las Vegas Market as home to the market's 200+ gift and home temporary exhibits. The easy-to-navigate layout is contiguous with Building C. "Operating as the gateway to the World Market Center Las Vegas campus, it allows for a continuous flow of traffic between the market's temporary exhibits and permanent showrooms," IMC said. It's also the location for IMC's newest buying event, Las Vegas Apparel, launching in August.

During Market, the Expo will adhere to IMC's Together Safely protocols, including the required use of PPE, temporal checks, capacity limits and social distancing measures. To read the full Together Safely plan, go to www.TogetherSafely.com.

"This opening signals a return to normalcy for Las Vegas Market and gives a sense of the transformative nature of this project for our business and our community," Maricich said.