NASHVILLE, Tenn. – Responding to consumer and retailer demand for performance-based sleep products that support better sleep health, independent manufacturer Southerland will highlight some if its most feature-laden sku's at the upcoming Las Vegas Market, April 11-13, in building B, space 965.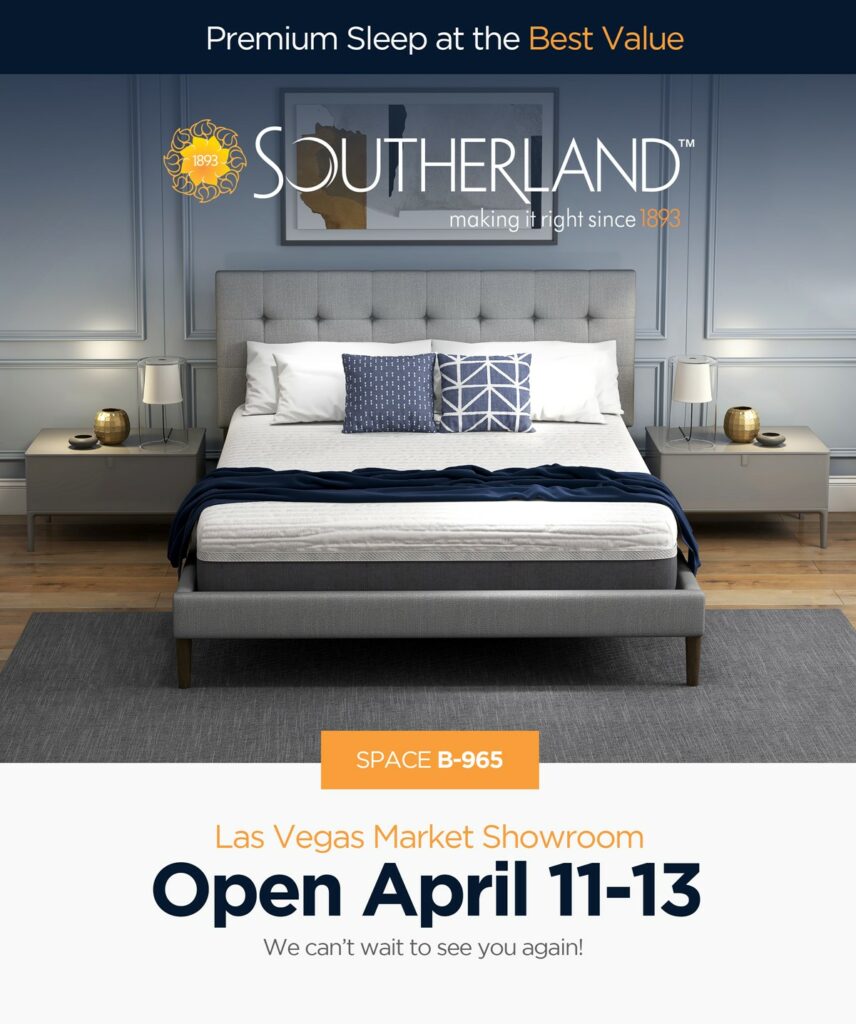 Joining the growing list of manufacturers exhibiting at the event, the company has received many requests from its retail partners looking to expand and remerchandise their product assortments to better align with consumers' needs who – as they've spent more time at home – have a renewed interest in achieving better sleep and are embracing higher-end products with more features that can help them attain that.
"The pandemic has disrupted the sleep patterns of so many consumers," said Bryan Smith, president and chief executive officer of Southerland. "Whether it's different working hours, children attending school virtually or stress, our retailers are telling us that the conversation with the consumer has changed. No longer are they looking to spend the least amount of money to fill a commodity need in a mattress. Rather, they are now using some of their additional discretionary income that would have otherwise been spent on things like travel and entertainment on investment purchases that will help upgrade their homes and benefit their overall health."
In response to this consumer trend, the company will be highlighting its successful Signature Hybrid and ThermoBalance® collections at the Las Vegas market which include premium materials including copper-infused latex, gel-infused memory foam and temperature regulating technologies that promote better sleep health.
The six Signature Hybrid models are designed around an 8-inch zoned wrapped coil system and include premium cushioning materials like copper-infused latex and gel-infused memory foam. The mattresses are engineered to be adjustable bed base friendly and work with Southerland's extensive line of motion bases. Three of the new models are copper-infused latex hybrids and the other three feature the gel memory foam. All six models feature a clean box top design and are enrobed in a ThermoBalance® quilted cover that combines cooling yarns with Tencel® for a cool-to-the-touch sleep surface and moisture wicking.
Available in five models, the temperature regulating ThermoBalance collection offers consumers maximum airflow and hybrid technologies with a blend of proprietary cooling yarns and Tencel, a vented border for maximum airflow and moisture wicking properties. Premium gel-infused comfort foams, zoned wrapped coils and Comfort Lock® technology provide conforming support and gives the mattress a "newer" feel for a longer period of time, maximizing the consumer's investment.
"Our Southerland sales team will be at the market Sunday through Tuesday to host retailers in our showroom to review our wide array of product offerings," said Joe Paviglianti, executive vice-president of sales for Southerland. "For our partners who are unable to attend market, we are also committed to providing various options to help remerchandise their floors. Our Southerland Connects program provides our retailers the ability to touch, feel and experience our products either by appointment in one of six strategically located factory showrooms around the country, participation in locally coordinated private regional showings or via sample reviews sent directly to them."
While Southerland Connects offers a safe in-person solution, the company is also offering a virtual option via a 360-degree virtual market tour. Retailers interested in Southerland Connects or the 360-degree virtual market tour can contact their Southerland sales representative for more information.
Southerland has been making quality mattresses in the U.S. since 1893. Using only best-in-class materials and components, Southerland currently sells its line of mattresses and adjustable bases throughout 43 states. By implementing its stringent quality assurance program, Southerland manufactures mattresses that are backed by the company's "making it right" philosophy that stands behind every product delivered. Each of its products is delivered to retailers via its wholly owned transportation company. The company's six production and distribution facilities in Nashville, Tennessee; Phoenix, Arizona; Oklahoma City, Oklahoma; and Tualatin, Oregon, total more than 470,000 square feet.