Backrest and legs can break when a user is seated, posing a fall hazard
SAN ANTONIO, Texas — HEB Grocery Co. has recalled about 1,400 lounge chairs whose back and legs can break when a consumer is seated, posing a fall hazard.
The recall involves the Haven & Key leather woven chairs, also referred to as the Lovina chairs. Although the company has received 11 reports of the chair back or legs cracking or breaking, no injuries have been reported.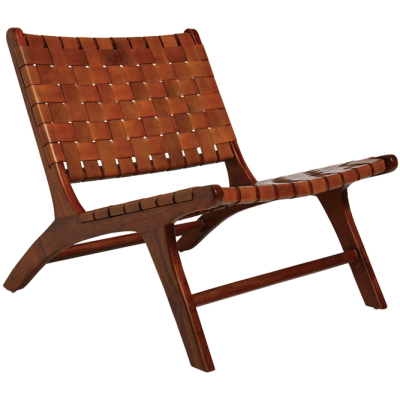 However, for safety reasons, the U.S. Consumer Product Safety Commission has advised consumers to stop using the recalled chairs immediately and to return them to the company for a full refund. The grocery store chain is also contacting all known purchasers directly.
The chairs were sold in black and brown and have the following UPC codes: 4122089244 for the black version and 4122091920 for the brown version. These codes can be found on the chairs' hangtag.
Made by UD Surya Abadi Furniture of Indonesia, they were imported and distributed by HEB Grocery Co. of San Antonio. They were sold in H‑E‑B stores in Texas and online at www.heb.com from April 2022 through April 2023 for about $300.
Although there were no reported injuries, the recall lets other retailers know the possible hazards associated with this type of chair construction, as seen in the product photo accompanying this story.
For additional information, consumers can contact H-E-B toll-free at 855-432-4438 from 8 a.m. to 5 p.m. CT Monday through Friday. Information is also available online at https://newsroom.heb.com/heb-news/recalls/ or www.heb.com, where consumers can click on "Product Recalls" on the bottom of the page.