The Detroit furniture store chain broadens its assortment in wake of a market shakeup and pandemic disruption
AUBURN HILL, Mich. — The Detroit market has undergone more than its share of upheaval over the past year, and longtime player Gardner-White is shaking things up, itself, to meet the new challenges.
The Top 100 retailer has vastly broadened its merchandising mix — stretching into the high-end — refreshed the displays in its dozen area stores and, most recently, distributed its first major catalog to introduce many of these changes. There's no one reason for the company's many maneuvers, but you can be certain the abrupt exit of Detroit's previously biggest furniture chain and Covid-related supply chain disruptions had a lot to do with them.
"We tried to broaden our assortment in every way possible, which means improving selection at the high end, at the low end and in the middle to appeal to a bigger cross section of people," Rachel Tronstein Stewart, Gardner-White president, told Home News Now.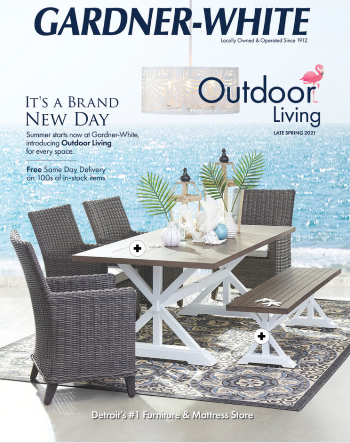 While Stewart said it has all been successful, the moves at the higher end might be most notable in that the retailer is entering brand new territory with brand new partners — Century, Vanguard and Rowe, for instance. Similarly, it developed a new private label upholstery brand made by Mississippi's Max Home that it's calling Detroit Furniture Collection, which also features related occasional furniture. Stewart called the program and its appeal thus far, "just spectacular."
And while Gardner-White has had a long-standing relationship with Jonathan Louis, it has expanded it to include the upholstery producer's Design Lab — a custom program that lets the consumer choose fabric, arm and leg style, seat depth and cushion comfort level.
The retailer's new direction is on full display in a 70-page catalog that dropped in early March. Stewart declined to say how it was distributed and how many copies went out, but she noted it's available both digitally (see it here) and in print and was the biggest book the retailer has ever put together in its nearly 110-year history. Appropriately, the cover declares, "It's a Brand New Day."
"As we brought on so much new furniture, a catalog was a great way to show it," she said, adding, "It's hard to show a broad assortment in a 30-second TV spot."
Nearly one-third of the book — the first 21 pages and the back cover — is devoted to the outdoor category, starting with a "Farmland" six-piece outdoor dining group on the cover price at $1,999. Click through to shop and you will find most of the outdoor living furniture in the book includes a clearance outlet header at the top of the product page, with the exception of Ashley Furniture outdoor items.
Other pages are devoted to Jonathan Louis Design Lab, AICO (another new supplier), Detroit Furniture Collection, mattresses (including the high-end Aireloom brand and Stearns & Foster), the new Century product, Rowe's Robin Bruce, Amish brands, including Gascho, once a mainstay at former Detroit powerhouse Art Van, and more.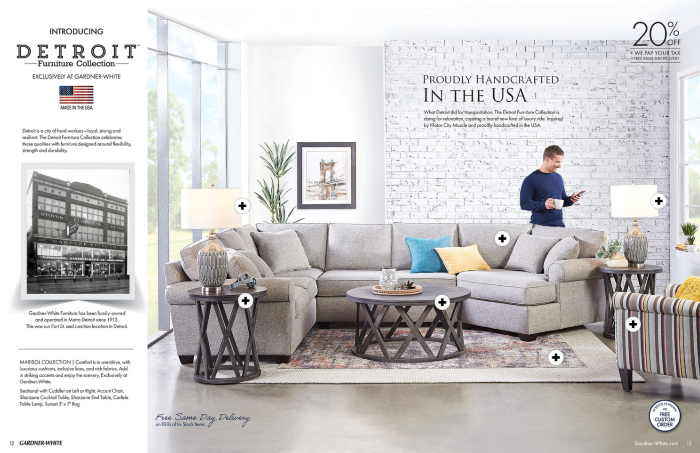 Stewart said the addition of higher-end merchandise and brands, gave the retailer many options in sofas above $999, for instance, and definitely brings a broader base of consumers into the store.
"As an industry, I think we've always been good at that on the bedding side of the house," she said. "We just need to apply those lessons to furniture."
But she added, "We certainly haven't abandoned the customer that brought us to the dance and maintain really strong promotional price points.
"We have a successful outlet, so at the low-end, we continue to be strong and market that heavily. In the middle, we've expanded a bit. And then at the higher end, what we're calling our design studio, that's where the new price points are in furniture."
In store, visual displays have been refreshed, too, Stewart said. Everyone in the industry, on occasion, has suffered from 'design by your stock team,'" she said, including Gardner-White in that mix. But the retailer has tried to break free of those shackles by bringing in "a great display team that has really helped to step it up in the stores and create that aspirational quality that is really important to today's consumers."
The retailer has been making these changes and upgrades in a Detroit market that's seen more top-level furniture store changes in a year than most markets see in over the course of many years. In March 2020, the market's largest furniture player Art Van filed for bankruptcy protection and liquidated in short order, after selling off certain store leases and other assets. Within a matter of months, a giant in the industry that did more than $1 billion in revenues in 2019 and well over $400 million in Michigan alone was suddenly gone.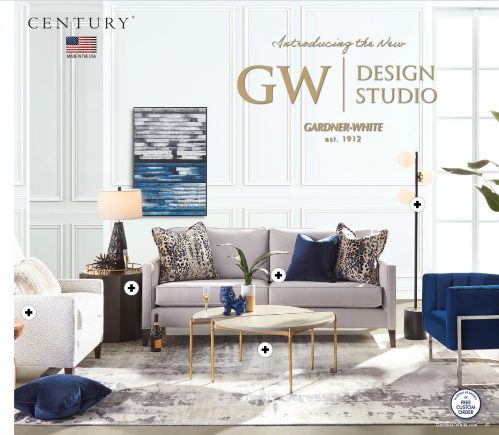 Shortly after its filing, startup Loves Furniture and Mattresses entered the market upon acquiring several of the Art Van leases. It expanded quickly but didn't last long, folding after less than six months in business.
Asked if Art Van's epic fail or the multitude of ongoing industry supply chain constraints were driving forces in recent changes at Gardner-White, Stewart said, "Like everything else, the answer is 'all of the above' to varying degrees,' adding later that with the collapse of Art Van, "There was certainly market share to capture." (The Van Elslander family has since bought back the Art Van name and other intellectual property for $6 million, but has declined to comment on what they're going to do with it.)
Still, it's much more than this fueling Gardner-White down its new path.
"We had plenty of time to rethink the assortment during our 10-week (pandemic-related) shutdown," Stewart said, "and the supply chain created opportunity." Asked to explain, she added that when you're not in stock on a lot of things, it's a good time to mix up the assortment.
And while the addition of more step-up prices and upper-end brands is probably less a direct result of supply chain constraint (vs. the overall product mix changes)," Stewart said with those continuing constraints, "Everyone has had to look at the SKUs on their floor and change (when needed). There's an element now of 'If it's in stock it's going to sell."
And indeed, that's a recurring theme in the Gardner-White catalog, which includes a badge on many of the pages proclaiming "Free Same Day Delivery on 100s of in-stock items."
The retailer's in-stock position has improved over the last five to six months, she said, partly as a result of the assortment changes, but it's been a slog. Asked for a rough estimate of how much of the merchandise mix has been switched out, Stewart said she wouldn't want to try to guess, but she did say more new goods and lines are coming; it's just that "given the state of the supply chain, it's taking some time to bring on new vendors."
So the supply issues have not been solved by any stretch, "but it's improving for sure," she said. "And we're starting to see the light at the end of the tunnel in terms of the foam allocations."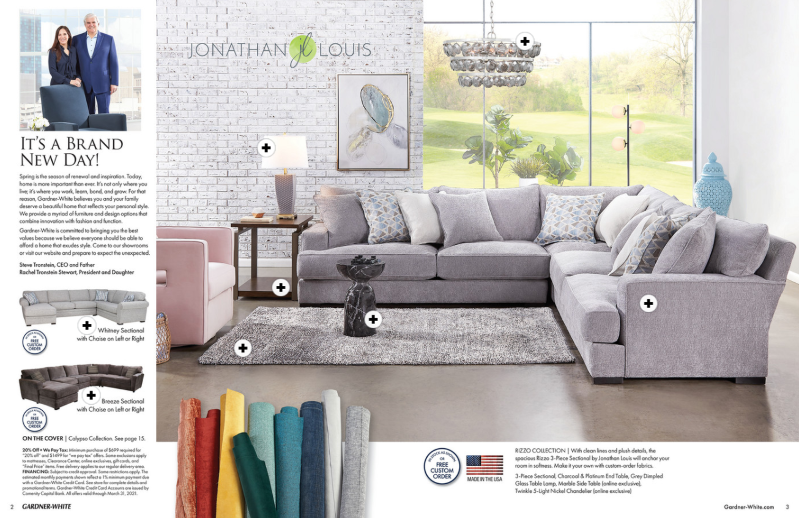 Stewart declined to disclose sales last year (in 2019, it did an estimated $134 million at 11 stores) but noted the retailer did manage an increase despite the lockdown period.
All told, the catalog and all the related changes at Gardner-White have been well received by the consumer, Stewart said, though she hesitated to give the retailer full credit for this.
"Like for many in the industry, that (response) is conflated by stimulus checks, tax refunds and auto bonuses," she said. "So to what extent we're geniuses, I'm not sure."