WOBURN, Mass. — Upstate New Yorks, Metro Mattress bedding specialty chain has become the largest retailer of Spring Air International's premium Chattam & Wells bedding brand.
Spring Air said the companies partnered on merchandising and strategy to "fully leveraged consumer preference during the pandemic to upgrade their living spaces and bedrooms with higher quality products." Metro Mattress is now the largest seller of the brand by sales volume, Spring Air, confirmed, though the actual sale volume was not disclosed.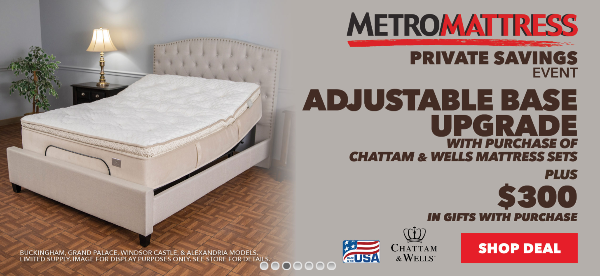 "Metro Mattress is particularly skilled in merchandising brands that resonate with both its customer base and its retail sales associates, and it has used this strength to become our largest Chattam & Wells retailer," Spring Air President Nick Bates said in a release.
"At a time when consumers aren't able to travel, go on vacation and are spending more time in their homes, we are seeing a greater need and want for better sleep. Chattam & Wells is ideally positioned to take advantage of this trend."
Metro Mattress President and CEO Bill Spudis Jr. added, "To sell a high-end brand, you have to have a great story to back it up, and Chattam & Wells has that story," adding everything about the luxury mattress brand introduced in 1996 is authentic.
Metro Mattress operates 47 stores, stretching across upper New York state from Albany to Buffalo. The retailer has carried Chattam & Wells for years, but since taking the helm of Metro Mattress in January 2020, Spudis has broadened the offering. It's now the exclusive retailer for the line in the markets it serves.