RANCHO DOMINGUEZ, Calif. — Diamond Mattress has entered the luxury bedding category with the introduction of a four-model Generations collection.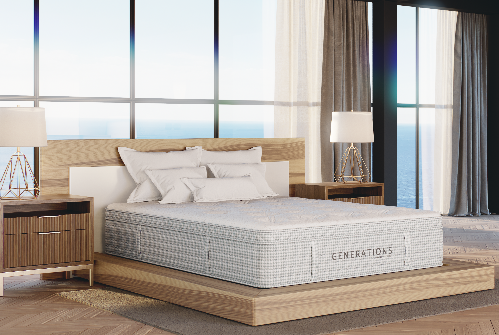 The move, it said, is in response to customer demand for more high-end bedding at sharp values. Diamond described Generations as "an heirloom-quality mattress with timeless styling. Classically dressed in a sage green houndstooth pattern, this premium hybrid mattress also boasts high-end components including latex, GOTS-certified wool, over 2,000 coils and micro-coils, Tencel fabric cover and artisan finishes of button tufting and handles."
The collection comes in three profiles and retails for $1,999 to $2,499 for a queen, mattress only. Previously, Diamond's offering topped out at $1,999 with the Transformation model from its G.I.F.T. collection.
The Generations models are:
Heritage — 17-inch luxury tufted, wool, latex, micro-coils, delivered in a box, not compressed
Tradition — 15-inch luxury tufted, wool, latex, micro-coils
Legacy — 14.5-inch latex, micro-coils, quilted panel
Legend — 14.5-inch latex, micro-coils, quilted panel
Two of the four models, Tradition and Legend, are compressible, bed-in-a-box options. Handcrafted and made-to-order in Diamond's vertically integrated factory in Southern California, the collection is CertiPUR-US certified with a 20-year warranty and shippable nationwide.
Generations will be introduced at the April 11-15 Las Vegas Market and available in early May.
In a release, Diamond President Shaun Pennington said Generations offers "bigger, more attractive margins to protect retailer profitability," than many players in the luxury space.
"As with everything we do, this new collection is in direct response to what our customers want and need to successfully drive traffic and grow sales," he added.
The fourth-generation, family-owned company said its growth in recent years has "enabled strategic expansion and refinement of its product assortment," adding current business conditions indicated it "was time to answer customer requests for a luxe mattress with Diamond's value-driven approach."
"From the materials and components to the craftsmanship and the name, Generations represents the old school mattress know-how and grit of my grandparents who built Diamond as well as the expertise of long-time associates who understand the industry and how to drive continued growth for us and our partners," Pennington said.