The upscale gaming furniture's new CEO responds to questions about the abrupt end to Keystone Designer Furniture just months after acquisition.
Updated March 24: Wrymwood CEO Jason MacDonald said the company is selling the Keystone Designer brand, "book of designs, IP, and client contacts … to Canal Dover." He declined to disclose purchase details, saying they're still being ironed out.
TAUNTON, Mass. — Late last month, Wyrmwood Gaming reached out to customers of its Keystone Designer Furniture to let them know it was shutting down the high-end case goods business it purchased just months before and was "moving away from retail and into the direct-to-consumer sphere."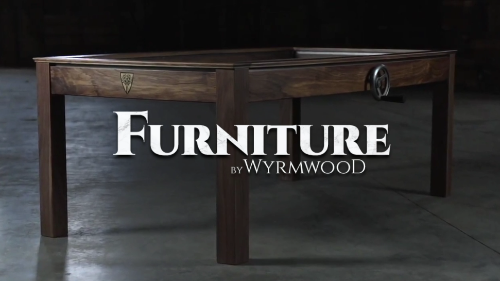 The company was no longer accepting Keystone orders or repairs, new CEO Jason MacDonald said in the letter. He called the move away from retail and the pivot to DTC "the right choice for our company and our staff." But the abrupt decision to shutter a business it had only recently acquired — along with reality TV-like videos posted on its own website highlighting turmoil and pandemic-related pain points within its organization — raised additional questions.
Home News Now reached out to MacDonald before posting our first story. This week, he answered in depth. Here's a slightly edited version of his response to questions regarding the about-face on Keystone, Wyrmwood's just-as-sudden leadership change and its plans to broaden its home furnishings despite closing the books on the high-end maker of solid wood bedroom, dining room and occasional furniture.
Home News Now: First, can you elaborate a little on why Wyrmwood decided to focus on DTC and move away from retail?
Jason MacDonald: Retail Furniture is a brutally competitive business, especially as pandemics hit and more people have found the ease of shopping for furniture online. Selling to retail necessitates high complexity, with little control of how the product is being sold, and right-off-the-top large carve-outs from revenue are sent to the retail stores, designer licensing, and salespeople's commissions.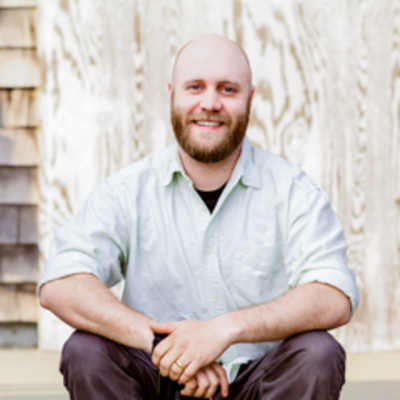 Wyrmwood has been lucky that we built our business from the ground up through e-commerce and direct-to-consumer sales. This has allowed us to have full control of our product offerings, how we present our product, and keeps as much profit in Wyrmwood as possible; meaning we can offer more competitive pricing than most high-end furniture retailers. We also have a unique business model that focuses on upgrading to exotic materials, rather than changing the design of our pieces. It is infinitely easier to make one table in nine exciting woods, than make nine different table styles in one wood. Our complexity is much simpler (in terms of SKU count) than most manufacturers. …
Our Modular Gaming Table Kickstarter was a surprise to everyone. We had hoped for $2-3M, we finished at $8.8M and with pre-sales and final selections we are trending towards $20M in that one product alone. We only had so much spindle time, so much space, and so much ability to ramp up production and train people. I had to make the difficult choice to focus on the more profitable business of our gaming furniture, and unfortunately, retire the Keystone Designer Furniture line to accommodate this explosive growth in demand. This pivot will also give us bandwidth in the future to launch several furniture products that have the potential to outperform the Modular Game Table Kickstarter. This would not have been possible with the amount of resources Keystone Designer Furniture was consuming.
Does this mean you're focus will be solely on gaming tables and related furniture going forward?
MacDonald: Gaming furniture is obviously our bread and butter, and where our customers like to see innovation. Wyrmwood takes pieces of furniture (a dining table for example) and adds in features and innovations that make the furniture more usable, and targeted to people's passions and hobbies. A lot of people identify themselves by their hobbies, so they are excited to get furniture that can expand that identity into their homes. The great thing about Keystone is they have a long history of heirloom quality furniture. My plan is to leverage Keystone's high-quality craftsmanship and sprinkle in the innovative product design Wyrmwood is known for and start offering pieces that can be enjoyed in every part of people's homes.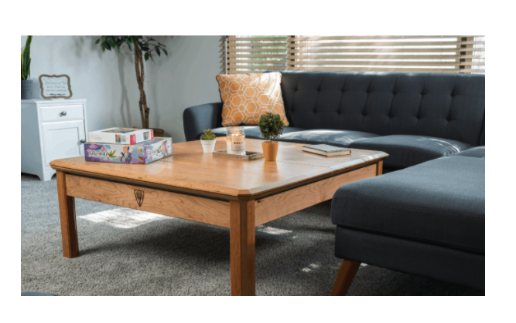 We have tens of thousands of customers that wanted one of our tables in their dining room. These same customers appreciate the wood selections and features we put into our products. I think there is a big demand for Wyrmwood bedroom sets, living room sets, and office furniture from a brand that people know and trust. The only limit is how fast we can make great designs, and ramp up our production to meet demand.
Will this lead to any workforce cuts or are you continuing to employ all the Keystone folks? And their production facilities?
MacDonald: Unfortunately, the switch to direct to consumer meant that we did not have a place for the traditional sales staff that were servicing all of the retail and designer accounts. Wyrmwood does all our sales through online marketing (mostly social media) and gaming conventions. I would have loved to send our salesmen to conventions, I think they would have done a really great job there, but the Covid-19 pandemic has meant that there are no in-person conventions for the foreseeable future.
All of the other staff at Keystone have been really great about taking on new roles and pinching in where labor is needed. We are moving from a one-piece-flow custom-configured business model to a mass production facility; our volume is going up 20 times. It has been challenging to say the least. We have retained all of our craftsmen (and are hiring more), our office staff is shifting around, and we are trying our best to pivot our custom designers and engineers to start working on manufacturing system improvements, and designing the next products Wyrmwood will be offering. The facility in Pennsylvania is busier than it has been in a decade.
I'm wondering what happened to Douglas Costello and James Martin, who were CEO of Wyrmwood and president of Keystone, respectively, when the deal was announced in December?
MacDonald: Doug stepped down from CEO, and appointed me as his successor. There were many reasons for this shift, but we felt that I had a good vision and would be a good fit. Both Doug and James are still with Wyrmwood. Doug's skills have always been in growing ideas and businesses. He is currently "in the trenches" of Modular Gaming Table helping to ensure we successfully change over our facilities and ramp up production to meet our deadlines. In the future, he will be finding new segments and products for Wyrmwood to offer. James has been shifted into managing our finances and helping make sure we stay on track and don't get over our heads as we are making very large capital investments.
And then finally, just to reiterate, Martin said back then that nothing was really changing for the Keystone brand other than growth. But his seems to be an about-face, so any light you can throw on the decision would be much appreciated.
I think a lot of the above explanations cover this question. It is always great to have a plan, and we did when Wyrmwood first acquired the assets of Keystone Designer Furniture. However, when circumstances change it is a big mistake to try and fight them. This is the biggest source of success for Wyrmwood throughout the years. We do not rest on our laurels, ever. When the landscape starts to shift we adjust immediately. This is what happened with Keystone, we could have kept the Keystone brand going because "that was the plan" but I looked forward and saw that it would jeopardize Wyrmwood's core business, and we would have probably made this decision eventually with a lot more problems and heartache.