More than 130 exhibitors opened their showrooms to retailers and offered a safe environment to do business.
At the recent First Tuesday event, manufacturers introduced product, wrote business and got lots of one-on-one time with major retailers.
And while momentum continues to grow for these kinds of meetings, many exhibitors agreed First Tuesday is about quality over quantity and that it's a great supplement to traditional markets.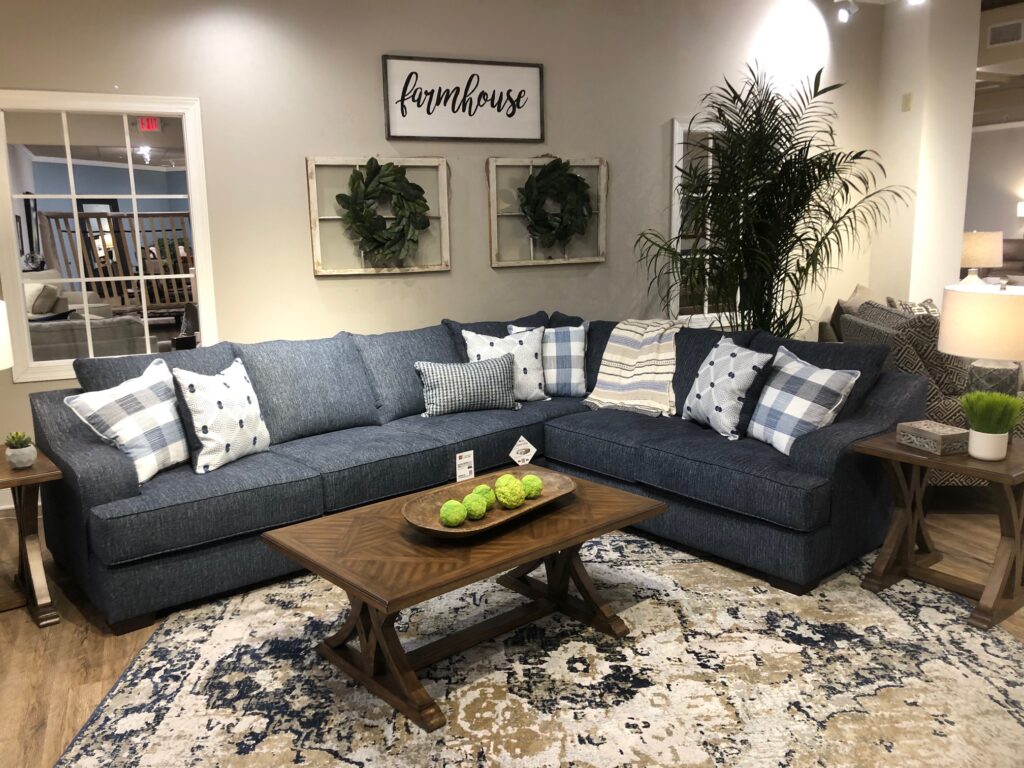 "We've seen key customers in a safe environment and had the opportunity to talk about challenges in the industry, like the foam shortage, increasing costs, etc.," says Jay Quimby, executive vice president of sales at Lane Furniture. "However, demand is up and our sales have increased by double digits year-over-year."
Lane introduced a few new collections this market, including the Whammy Rice sectional and the Bellhaven sofa in indigo, which features a 28-inch reversible cushion, individually wrapped pocked coils, and high-density foam. Because of the foam shortage, Lane has replaced some foam in their collections, like the Bennington, with blown poly fiber.
Over at Manwah, Kevin Castellani, director of corporate communications, said the company scheduled 24 appointments with major buyers for this First Tuesday. He says they're planning to see buyers throughout March and are already making appointments for April.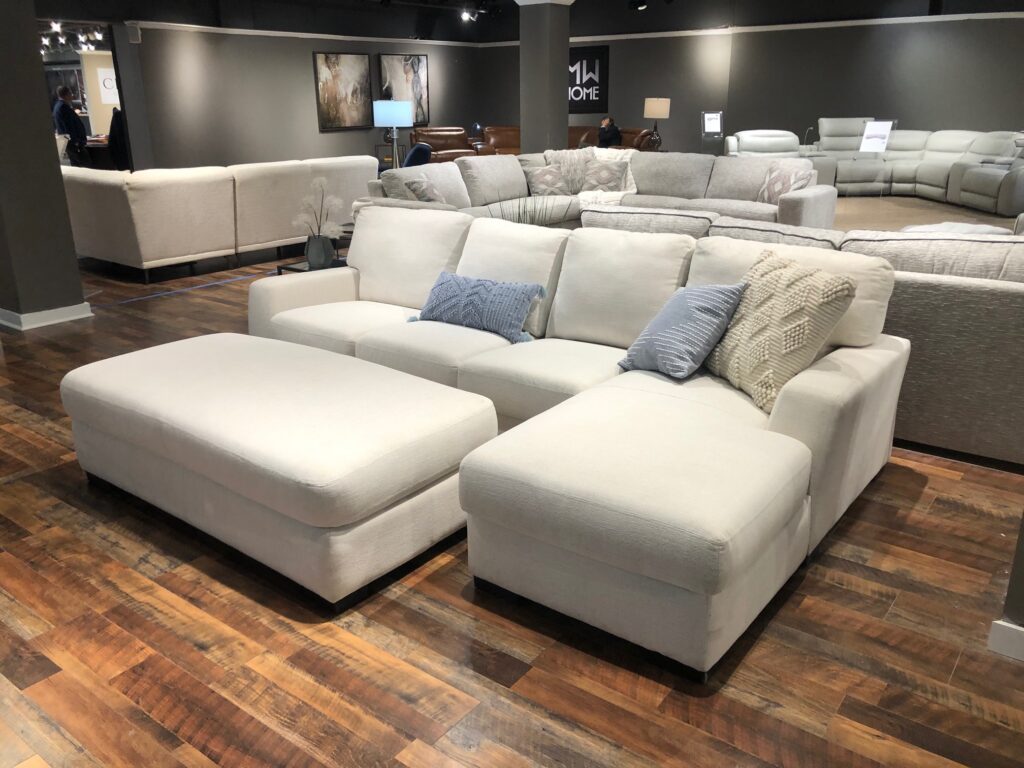 Manwah also flew in their sales reps for Cheers and MW Home for the event so they could get a feel for the new product.
The big introduction at Cheers was its brand-new sectional program. The company brought in more than 20 new products, and Castellani said this is the start of something that will continue growing.
And with those sectionals comes Cheers' new, exclusive Beyond performance fabric.
To have a performance fabric, it has to meet certain criteria. Castellani said that's a big problem in this industry, as many say they have performance fabric but it doesn't meet all the criteria.
"Our Beyond fabric meets every criterion that we think would define what a performance fabric is," Castellani explains. "What we're trying to tell our retail client is that there are legitimate performance fabrics out there and that we've created an article that has every element that we thought was important to be a performance fabric. So now we're not only going to be in performance fabrics now, we're going to be in it in a unique way.".
MW Home showed off its hybrid motion chair, which has two motion mechanisms in each seat— one at the head and one at the foot. Because the mechanisms aren't connected, users can adjust the headrest and footrest independently.
"For us, this is just not something we ever did before, but we know it's going to do well," Castellani says. "This concept of releasing new products on First Tuesday works for us, and we're going to continue to release new product at each event."
For Bedgear, this was the second First Tuesday event they've attended. While the first one in February was slow, Andrew Burt, territory manager for Bedgear, says retailers were just trying to figure out what the event was.
However, at the March event, Burt says three large national accounts came in.
"Our primary focus when reaching out to retailers for First Tuesday is having a more private setting in between the major markets and premarket," Burt says. "This is an opportunity, not necessarily to introduce new product, but to give our buyers private time, which is necessary at this moment in time."
As most of their pillows are either latex fill or memory foam fill, Burt says they've seen small issues here and there with the foam, but nothing too major.
"We bought up a lot of fabrics before Covid-19 hit, so we were able to introduce three memory foam mattresses, and we have a lot of buy-ins because we have it on hand," Burt explains. "We're also using this time to have discussions with dealers with industry issues."
In addition, the company utilized its pillow napkins—which help keep things sanitary when people test out pillows—and looked to the future with its showroom within a showroom model, offering retailers a way to carve out a piece of their showroom to offer a clean, fitted Bedgear experience when customers come back to the stores.
Overall, Burt says he's happy with First Tuesday but encourages more regional retailers to take advantage of it. "A lot of dealers would rather come to First Tuesday instead of regular markets, and there's a competitive edge for retailers who come to First Tuesday," Burt explains.
Hi-Rock Home, a company founded by three ex-Flexsteel employees, launched in January 2020 and offers "disruptive prices on higher-end goods."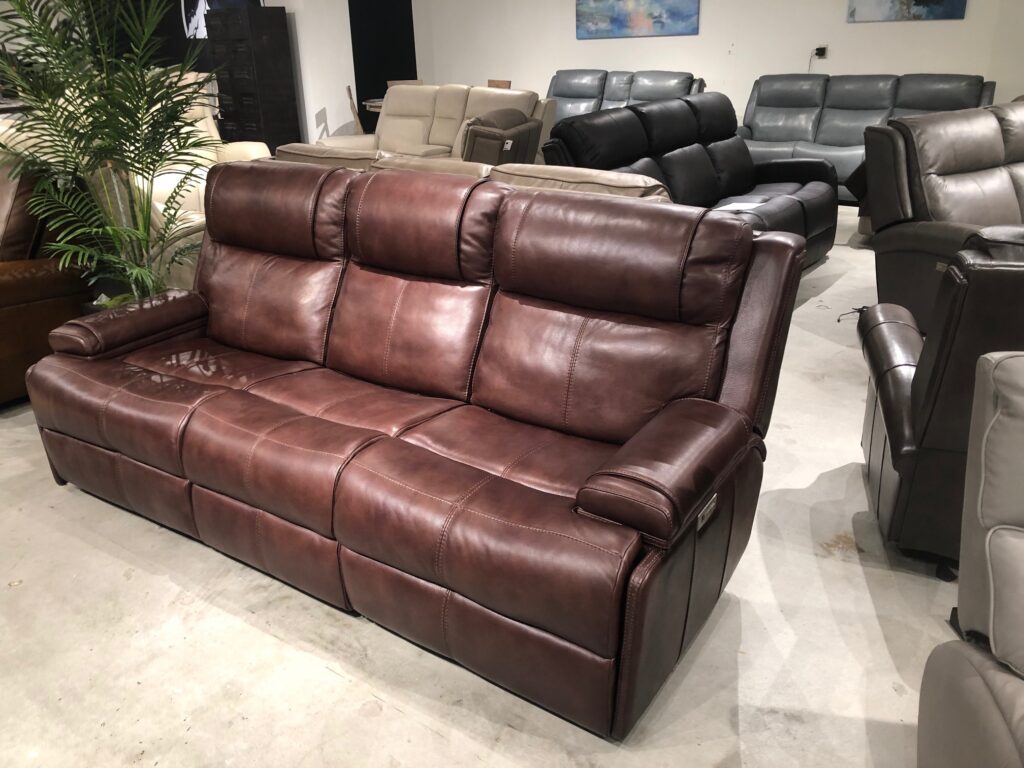 "The quality is as good as any of the products coming out of Asia," said President Ernie Rockhill. "We sell furniture for a fair margin. Where another company would offer a sofa for $1,100, we can offer it for $900. We're also not going to give you some artificially low sofa price and then have you get the short-end on the other pieces."
The container-only company makes everything in the same factory, and products can be blended into one container.
Hi-Rock has gone all-in with motion seating, providing P2 pieces, with a power headrest and power footrest, as well as P3, which include power headrest, power lumbar and power footrest. The company also offers over 40 different leather options.
In addition, Hi-Rock also showed off its collection of 10 motion recliners, which are all available in any of the 10 colors the company offers.
Looking forward, Rockhill says Hi-Rock sees itself as the new wave, and they will continue to try and change the way making and selling furniture is done.
"What we're trying to create is sub-thousand-dollar nice leather motion pieces," Rockhill said. "We're furniture people making furniture for furniture people."