While some say traffic was soft compared to last October, they were pleased with dealer response to their product introductions
HIGH POINT — Case goods and upholstery resources came to the October High Point Market with a combination of product strategies that include new categories, licensing partnerships and sharpened price points all aimed at securing placements on floors in the coming weeks.
Based on reaction from dealers, they came out of market feeling positive about their prospects for the new year and beyond. While concerns remain about the retail environment in the final months of 2023 and heading into 2024, the strategies appear to be focused on maintaining and even growing market share among those retailers that are well positioned themselves to come out ahead in their respective markets.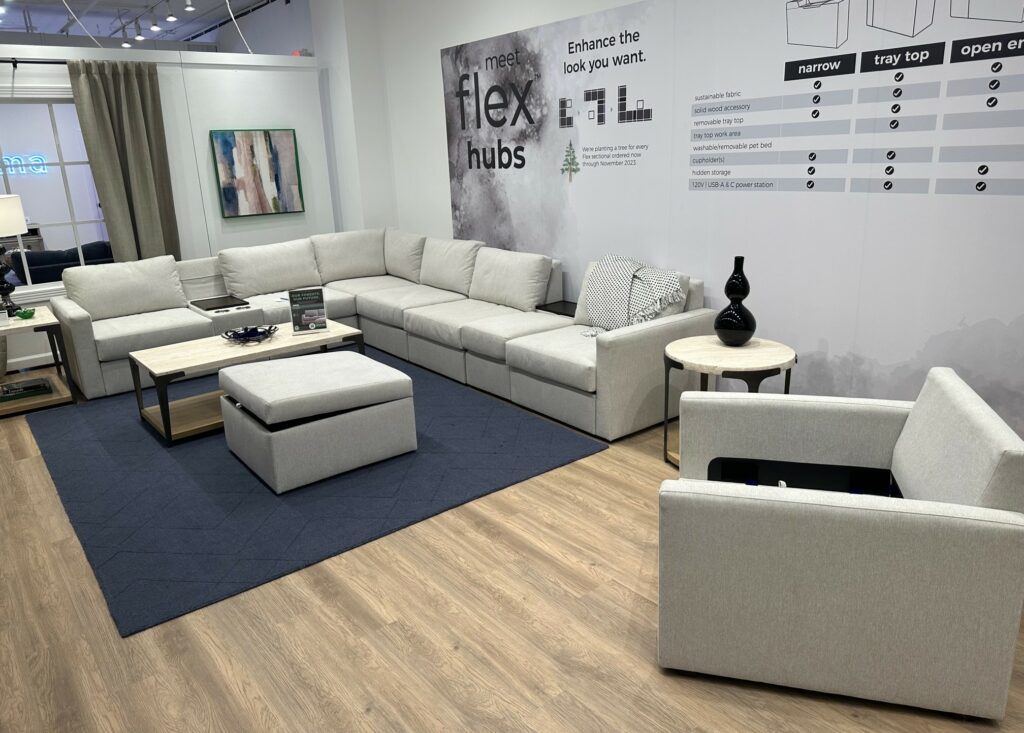 For some, the focus at market was offering more aggressive price points in their core categories. For example, Flexsteel came out with an aggressive product launch in case goods and upholstery, including a half-dozen new stationary upholstery groups featuring fabric sofas targeted to retail from $1,299 to $1,499, compared to more typical bread-and-butter price points of $1,499 to $1,699. Motion groups, meanwhile, featured sofas in performance fabric that start around $1,999 compared to $2,299 previously.
The company had strong response to these introductions as well as new features such as storage consoles in its Flex line and added heat and massage functionality in its latest Zecliner Model 2 power lift recliners.
Parker House also received positive response to additions in its line, including competitively priced motion groups such as its six-piece Stella fabric sectional, featuring P2 and zero-gravity functionality, retailing at $2,499 for six pieces. It was one of six new motion groups shown at market. The company also offered several new stationary groups, said Doug Townsend, chief operating officer.
"We've expanded on our stationary offering and have lowered our opening price points," Townsend told Home News Now, noting that some of the more competitively priced product also includes motion upholstery. "There is an appetite for product at sharpened price points."
Motion and stationary upholstery resource Nice Link Home Furnishings received positive response from dealers to its new Vietnam-sourced product, which effectively was 10% lower than some of its China offerings, factoring in 25% China tariffs. For example, a Vietnam-made P2 power motion leather sofa that previously retailed around $1,599 to $1,699 was hitting $1,299 retail.
But company President Jay Carlson said many customers still flocked to its China goods because of the overall value story. Some China product, he said, even was classified as tariff-free because of certain pieces falling outside certain HTS codes, which it promoted on signage on certain groups at its showroom.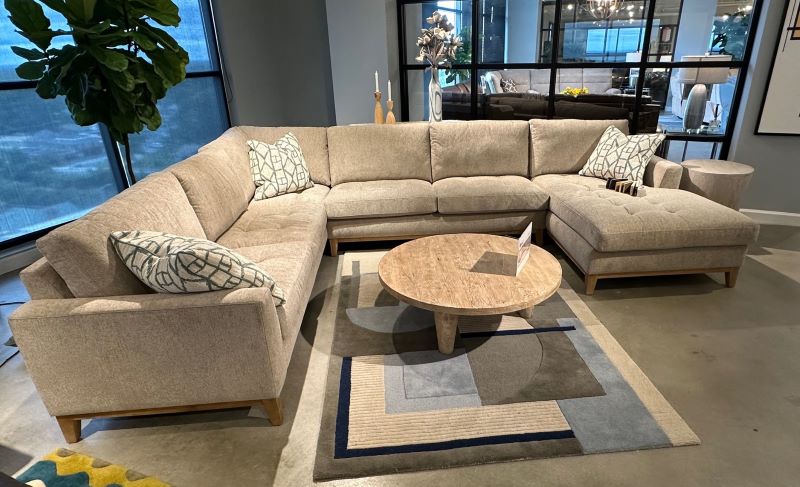 As a result, the company was able to sharpen price points with certain China-made products falling outside the scope of the tariffs.
"We're able to offer tariff-free pieces that are fully finished," he said, noting that other factors are helping sharpen price points as well including lower materials costs, lower freight costs and favorable exchange rates. "So if you have a sectional you might have a wedge that has a tariff, but the other pieces are tariff free."
Carlson estimated that some China product was about 10% lower in price, with power motion sofas hitting retails from $1,399 to $1,499.
Best Home Furnishings also did well in the motion category, with a range of product that included several new zero-gravity recliners and a wide range of additional offerings — including its motion and stationary sofas, sectionals and chairs. Demand was driven largely by interest in its custom capabilities, including a wide selection of leathers and fabrics.
"Our special orders are up from pre-Covid," said Greg Sicard, vice president of sales and marketing, noting that roughly half the company's business is special order. "People are buying what they want, not just what they can get because it was during Covid."
He added that the special-order business is a benefit for retailers since they don't have to carry inventory on that product.
On the case goods side of the business, sharp price points also drove business at resources such as LC Direct, which nearly doubled its dining offering with about 10 new sets. The larger-scale footprints are designed to seat about eight comfortably and are targeted to retail from $1,199 to $1,599 for a table and four chairs.
Made at the Bangladesh factory of company parent Samson Holding, they offer retailers a fashion-forward approach to the category, featuring a mix of updated traditional to contemporary designs with new finishes on familiar wood species including white oak, cathedral oak and birch veneers and mixed-media elements such as metal bases and accents as well as woven cane on chair backs, for example.
"We wanted the buyer to walk in and then walk away saying 'that's fresh, but familiar,'" said Kevin Miller, vice president of sales.
Kith Furniture offered a total of 15 new bedrooms, including six veneered sets retailing as low as $1,199 for a bed, dresser, mirror and nightstand and nine laminate groups targeted to retail from $799 to $899 for the same pieces.
Case goods resource Urban Design Collective showed two mid-priced case goods collections from Mexico and two from Vietnam, highlighting different wood and finish stories that showcase the capabilities of each country. Kelly Hahn, chief operating officer and chief creative officer, said overall attendance and the dealer response to all four collections made it a particularly strong market.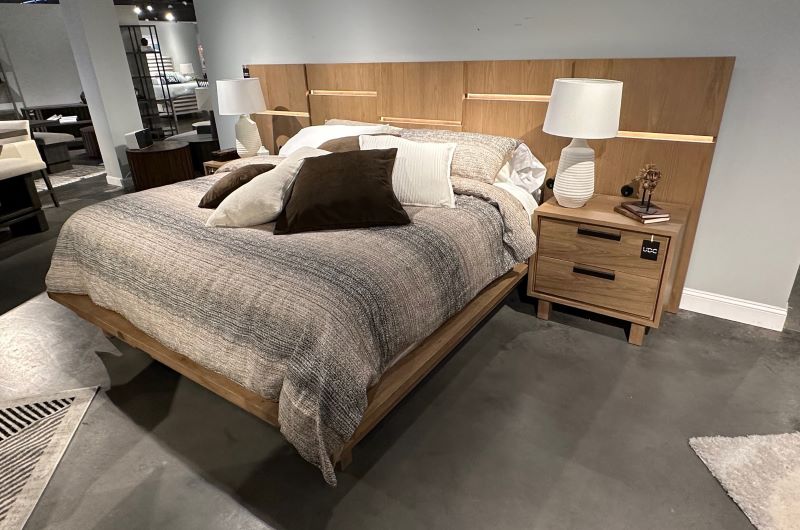 But even more importantly, buyers seemed to take more of an interest in the story behind the designs versus just buying anything they could get their hands on for their floors.
"They really wanted to know the ins and outs of our design process and had a lot more willingness to dive in and understand," he said. "It was great to see people come out of a slumber, a hibernation."
While the jury is still out on how the new collections will place at retail in the weeks ahead, Hahn said the market "for us was a return to the normal of what we think it should be."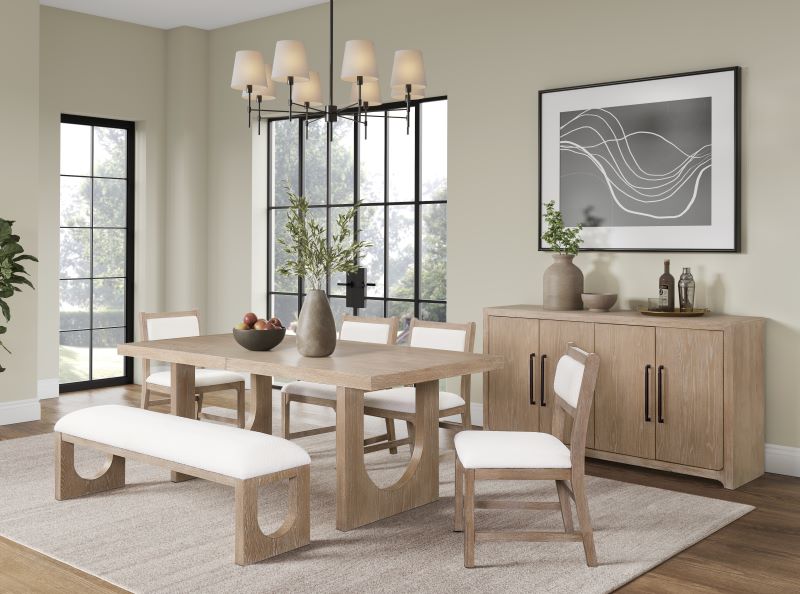 Other companies also expanded their wood furniture lines, including Martin Furniture, which launched about 15 dining sets, marking its entry into the category. Starting around $1,499 for a table and four chairs, the sets also included side pieces such as display cabinets, sideboards, bar units and benches. The company also introduced more than a dozen fireplace consoles, another new category featuring units ranging from 60 inches to 96 inches and starting at $799. Based on reaction at market, some 75% of the introductions are expected to go into production, the company said.
Other companies also saw this market as an opportunity to expand  their footprint in new categories. This included 31|21, a bedroom and dining room furniture segment of Magnussen Home, which just added occasional to its lineup. The new occasional groups were paired with new stationary and motion upholstery developed for Magnussen and shown in lifestyle vignettes.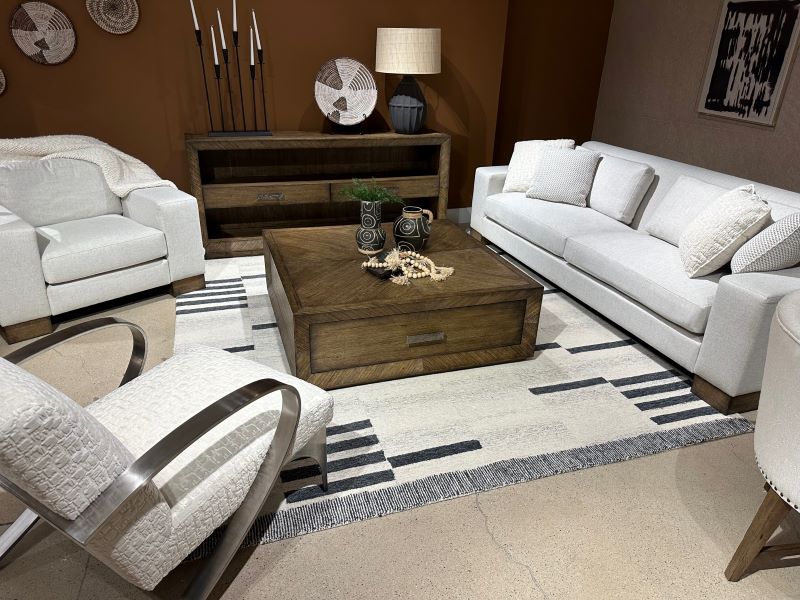 "It's a service to our customers to help them complete the room," said Adam Tilley, president at 31|21, noting that the buyer purchasing upholstery can easily merchandise the mix with the occasional.
He said buyers at market also responded well to the designs that can be mixed on a container from Asia with the upholstery.
"To be able to offer all this as mixable is resonating with people."
Other companies that expanded into new categories with success this market included case goods resource Legacy Classic | Modern, which debuted 12 new motion sets whose wood components matched the wood finishes of some of its most popular collections, and Artistica, which showcased its new domestically made upholstery line featuring six sofas, six chairs and five matching sectionals.
Vaughan-Bassett returned to the solid wood dining category this market with several new sets offered in its Artisan & Post line, including a licensed solid cherry group developed in partnership with Ben and Erin Napier of HGTV Hometown fame. The company also introduced a veneered bedroom group called Crafted Oak, as part of the licensed collection.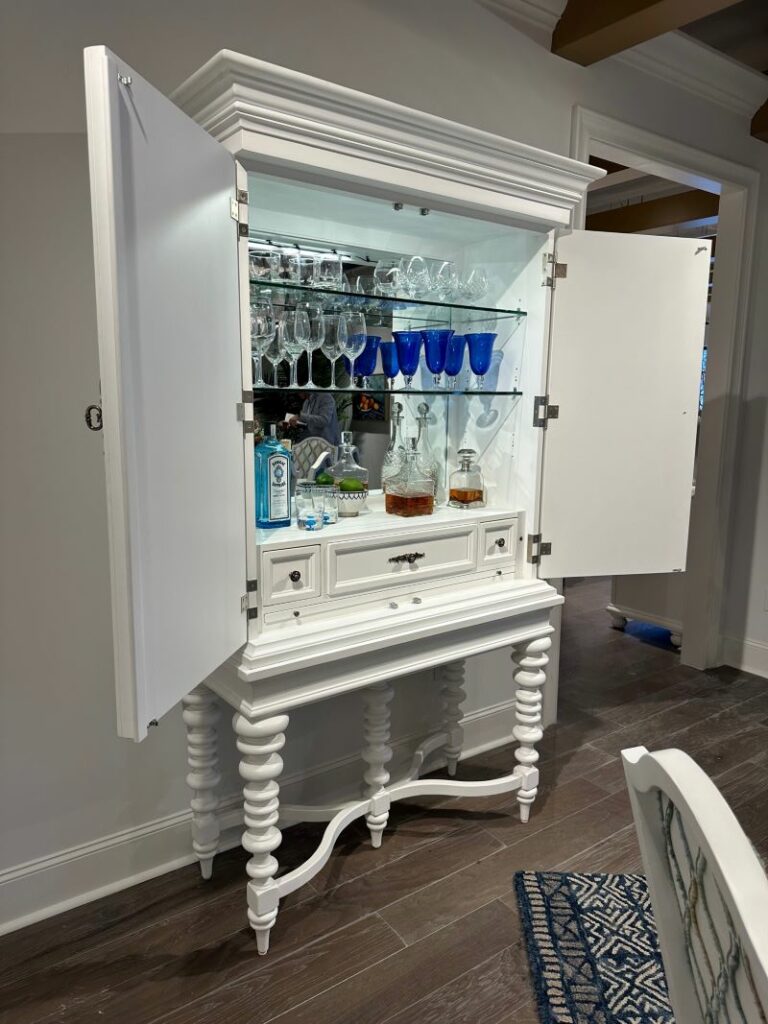 Other licensed collections also made a statement in the market, including the new 46-piece Villa Blanca collection by Barclay Butera for Lexington Home Brands, the nearly 100-piece The Met collection at Eichholtz, the new Salt Life Home collection at Magnussen, and the new Tricia Yearwood Home collection that recently transitioned from Klaussner to Legacy Classic | Modern.
Other large introductions billed as the largest in company history, including Universal's Modern and AICO's Canberra, also did well with retailers seeking a diverse assortment on their floors.
"With our largest-ever new product offering, we had a strong market," David Koehler, AICO president, told Home News Now. "Part of our strategy this year has been to be very aggressive with new product introductions. During the pandemic, we were all focused on shipping our backlogs. Despite the current challenging macro-economic climate, we believe in the post-pandemic environment, there is a healthy appetite for fresh, new innovative merchandise with strong value … and this was the case in High Point this market. … We had a terrific response to our new goods. We will continue to be focused on designing and developing creative, quality, innovative merchandise that helps our customers grow their share and ultimately be more successful."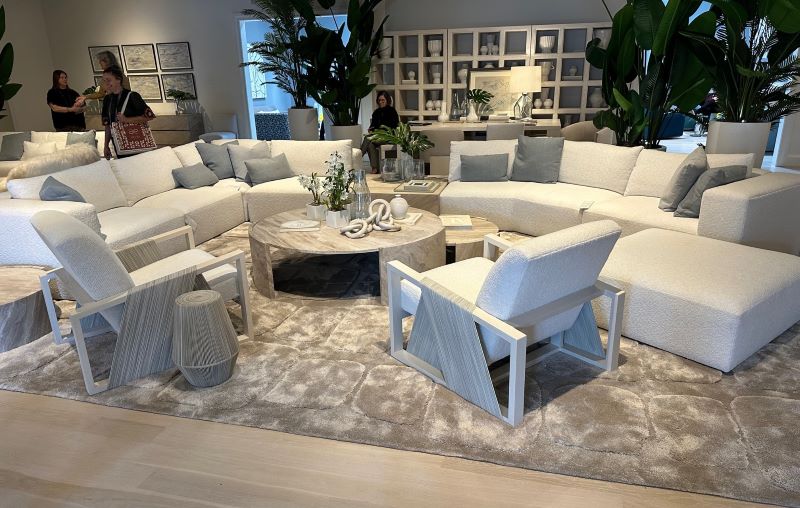 Other companies that received positive response to large-scale introductions ranged from Bernards at the lower middle to middle end with its 70-piece Assemblage collection, to luxury case goods and upholstery manufacturer Baker, whose 92-piece Resort collection — its largest in memory — garnered accolades for its relaxed contemporary design and materials story such as leather cord, Stream Onyx and Lena Grey marble sourced from Turkey — a standout in design and mixed media at market.
Luxury case goods and upholstery resource Sarreid Ltd. also reported a strong market with 200 new introductions, its largest introduction in memory. The company is putting nearly all of these items into production and making them available for quick delivery through its in-stock program.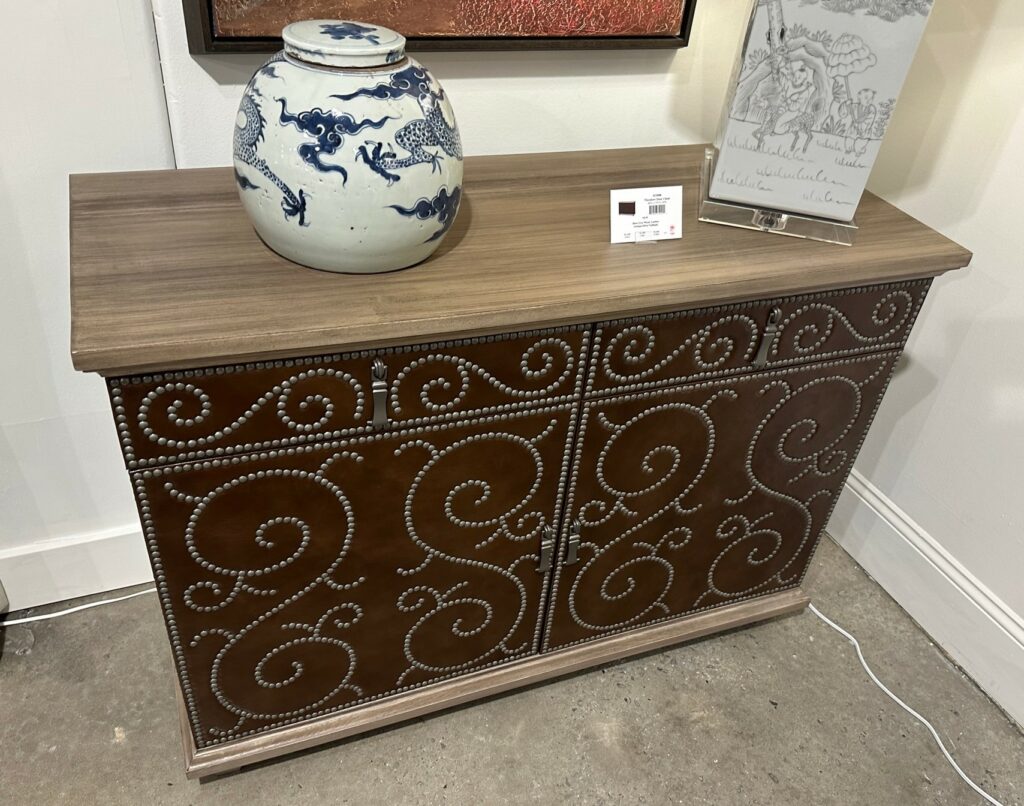 Company President and CEO Brad Cates told Home News Now it was a very strong market overall.
"We are very pleased, but market has changed," he said. "It is just not the order-writing event that it once was, but our team is very strong. There is a lot of follow-up with that, and we know we will see the ROI on this event, but it is just not going to happen this week. As leadership we have to be patient and wait for that to come and trust our teams to be out there beating the bushes and following up. But we are very pleased with the reaction to product and we are very pleased with traffic. We love High Point."