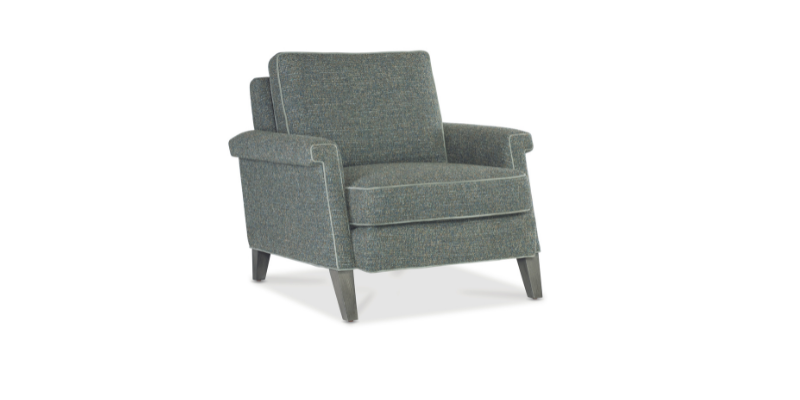 Featuring a sleek "new traditional" design, Bradington Young's Emyrsen upholstery group is characterized by its low profile and slender key-arm design. It is available in a stationary two-over-two sofa, chair, ottoman and coordinating recliner. Emyrsen is fully customizable in a choice of more than 150 leathers and 200 fabrics. Showroom: Showplace, Floor 3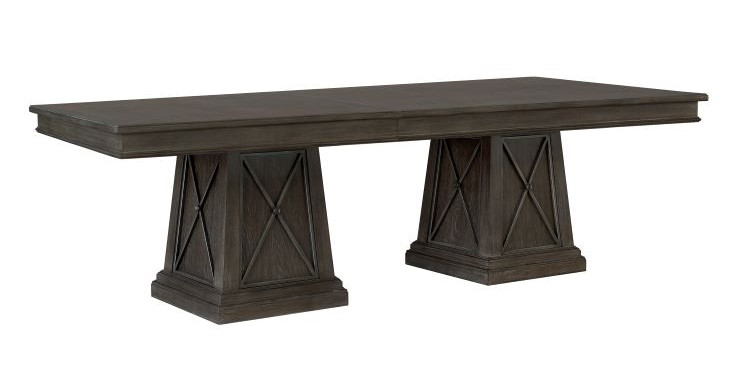 This double-pedestal dining table is part of Pulaski Furniture's Miller Park collection. Made with cathedral white oak veneers, it is shown in a Barrel Brown finish. Featuring hints of Arts and Crafts and Americana artisan styling, the collection features decorative joinery and metal overlays, double waist moldings with plinth bases, and soft, rounded corners and overlays on the drawers. Showroom: Space 200 at 220 Elm.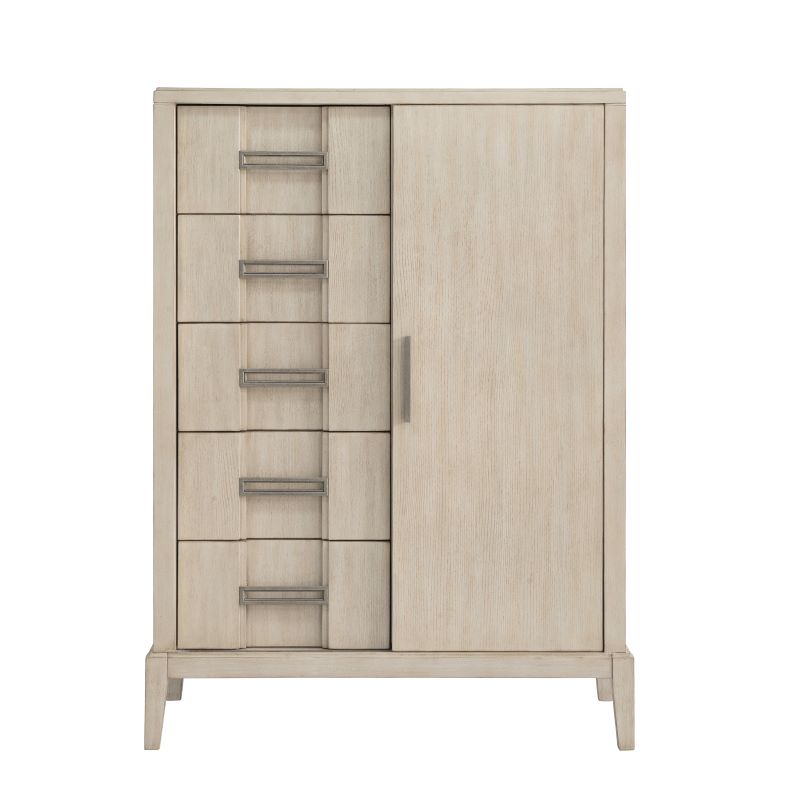 The Kendall door chest by SLF has transitional and modern design influences. Part of the Kendall bedroom, it is shown in a light Alabaster finish and features a step-down design on the center drawer fronts with recessed rectangular hardware and an extended base in an aged pewter finish. Showroom: Space 200 at 220 Elm.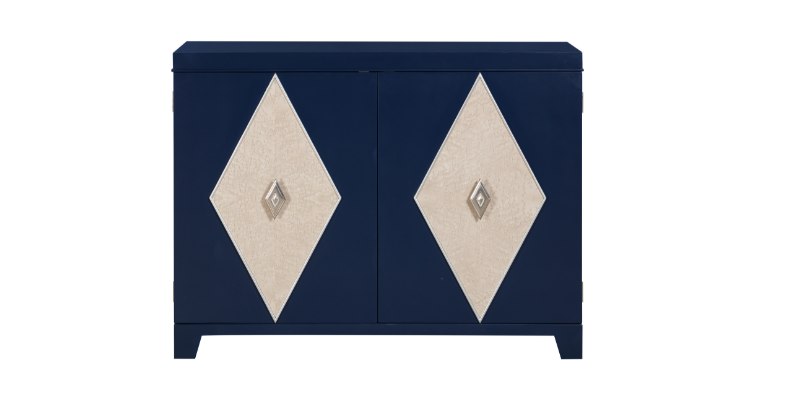 Alden Home's Sabrina Cabinet, finished in a deep Adriatic blue, makes a bold statement featuring doors highlighted by dyed bird's-eye maple veneers in a diamond pattern accented with custom hardware. Showroom: IHFC, IH310, Commerce, Floor 1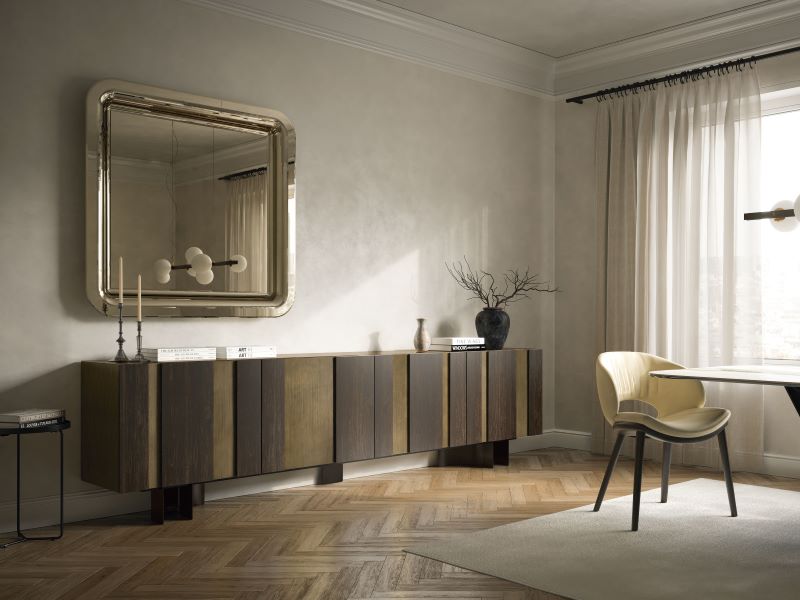 Cattelan Italia is showing its Amsterdam sideboard which combines two finishes, alternating on the doors, with a light/dark pattern that mimics the keys of a piano. The entire structure is finished in the company's new hand-brushed Oxybrass finish and the doors are fitted with burned oak inserts, which protrude outward, giving the structure a dynamic shape. Showroom: Space 308, 220 Elm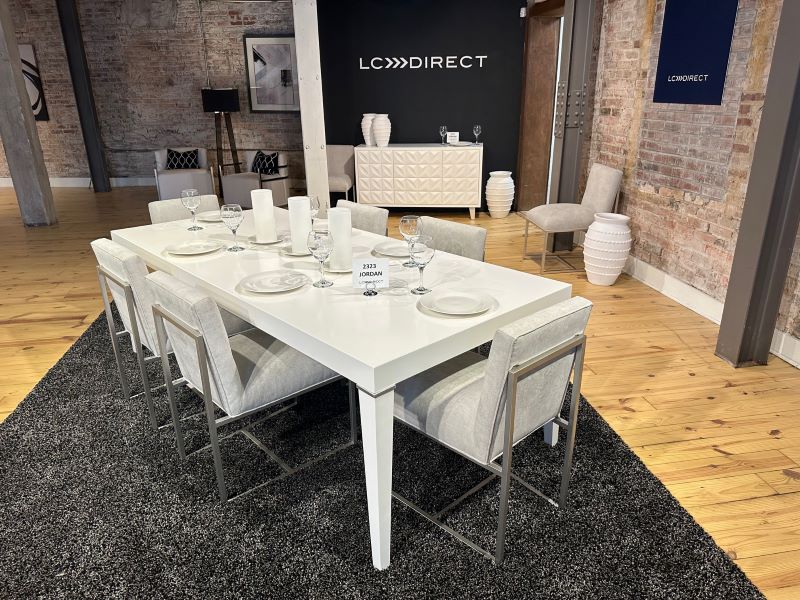 The Jordan dining set by LC Direct is made with birch veneers and shown in a white gloss finish. Sporting metal accents on the table and chair frames, a four-piece set retails at $1,499. Showroom: The Mill, 126 S. Centennial St.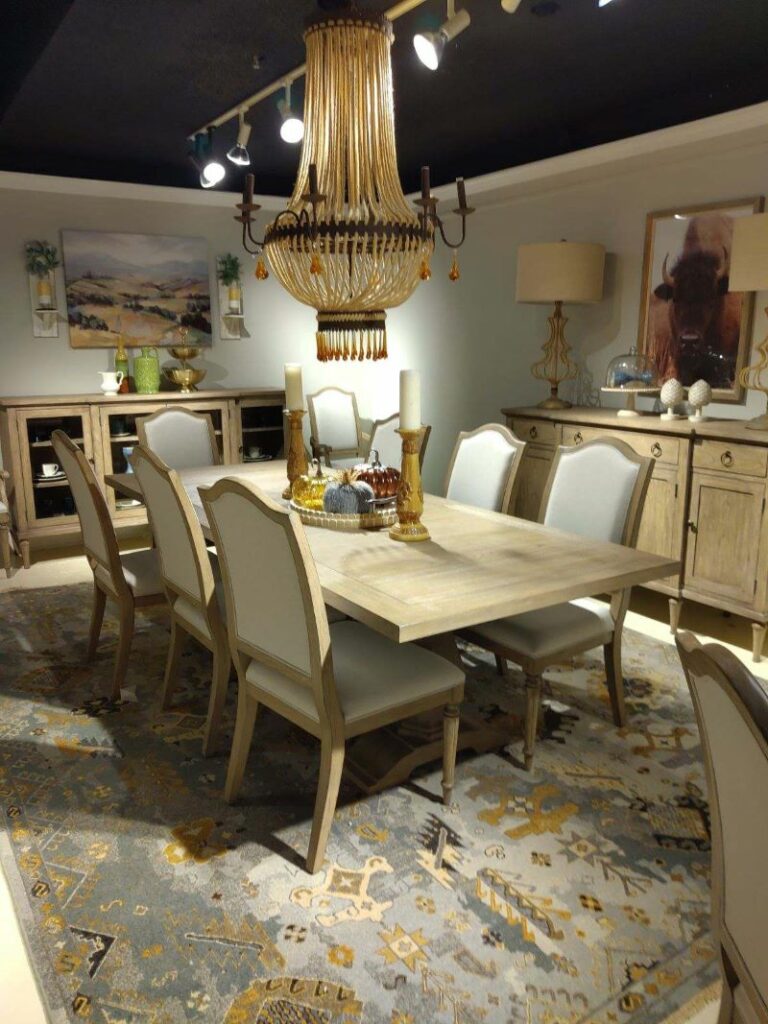 This dining set is part of Hekman Furniture's Chateaux collection. Bearing French Heritage design influences, it is made with mindy solids and veneers and has a natural finish enhanced with charcoal glaze and aged with white powder glaze. Showroom: IHFC C-754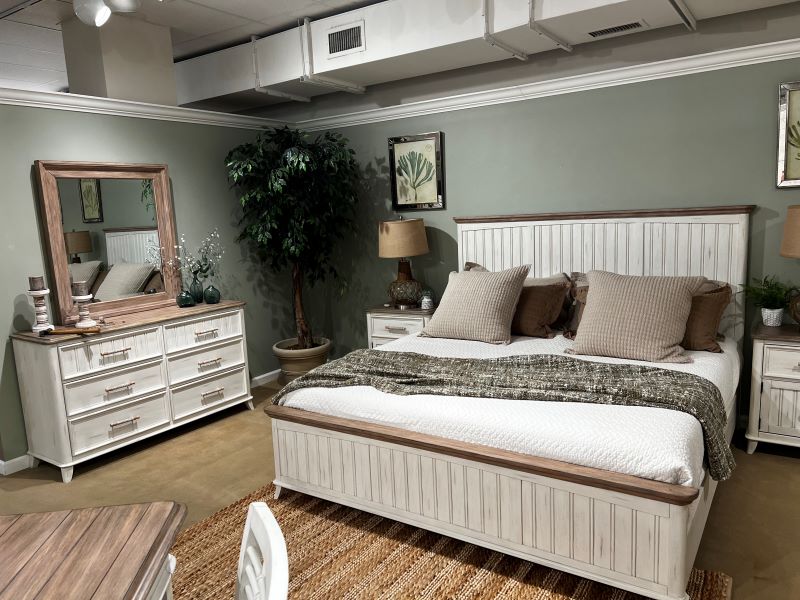 This bedroom is part of American Woodcrafters' Beach Comber collection. It is shown in a two-tone sand and soft white finish and features bead board motifs as seen on the headboard and footboard of the panel bed and the drawers of companion case pieces. Showroom: 233 S. Main St.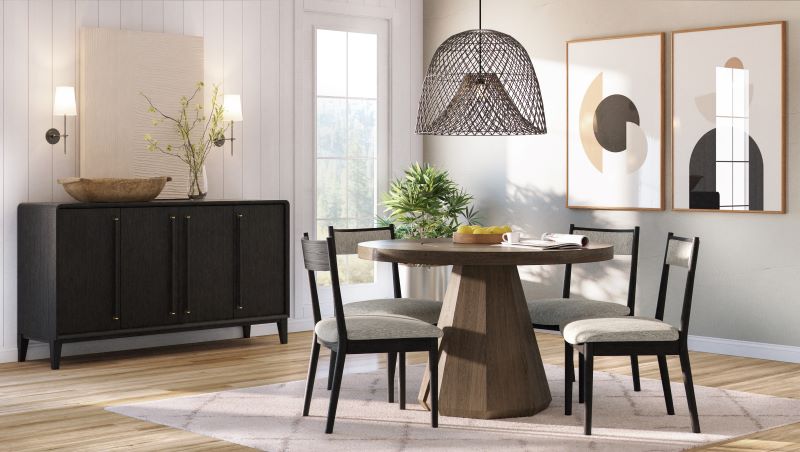 This dining set is part of Bernards' nearly 70-piece Assemblage collection. Made with elm veneers, it comes in two finishes, including a darker brown Peppercorn and a lighter brown tone called Latte. It has soft, modern design elements as seen in the waterfall edges on various case pieces and occasional tables and the curved footboard of a platform bed as well as the soft curves of sofas, chairs and other seating. Showroom: Space 201 of The Atrium, 430 S. Main St.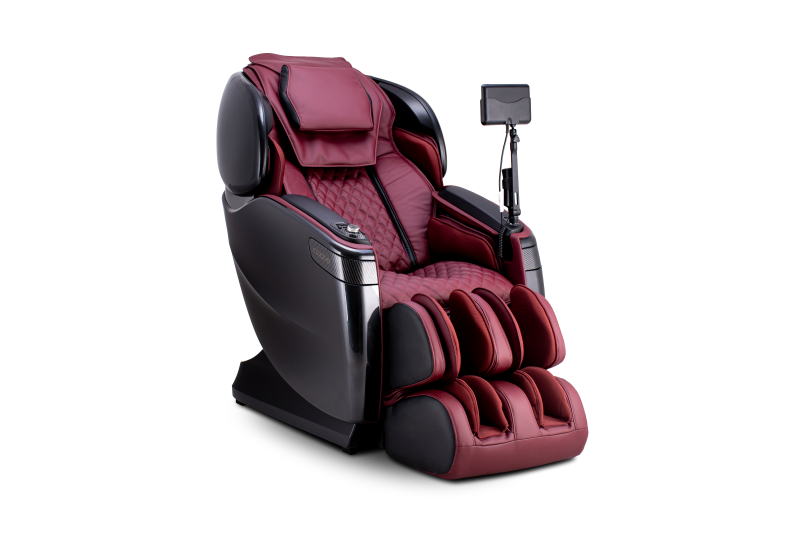 Cozzia USA is introducing two new colors for its Qi XE Pro Chair program featuring Chair Doctor technology. This model is shown in burgundy and black, and the other new color is Platinum. These and other massage chairs in the line will be on display this market. Showroom: 515, 517 Furniture Plaza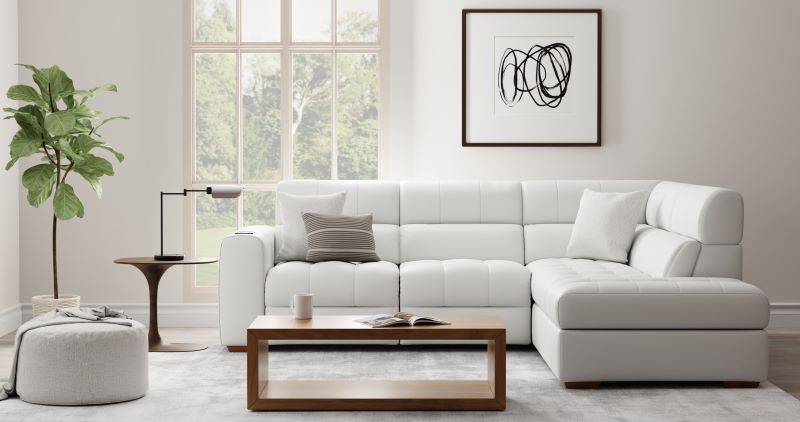 Nice Link Home Furnishings is showing its 4258 power motion sectional made at its Vietnam factory. Designed for smaller-scale apartment and studio living, it offers high-end power comfort complete with articulating headrests and a storage bumper chaise. The 90-degree-backed sectional also is designed to fit into living room corners without wasting space. Showroom: Spaces 1002, 1006 and 1008 of Market Square Tower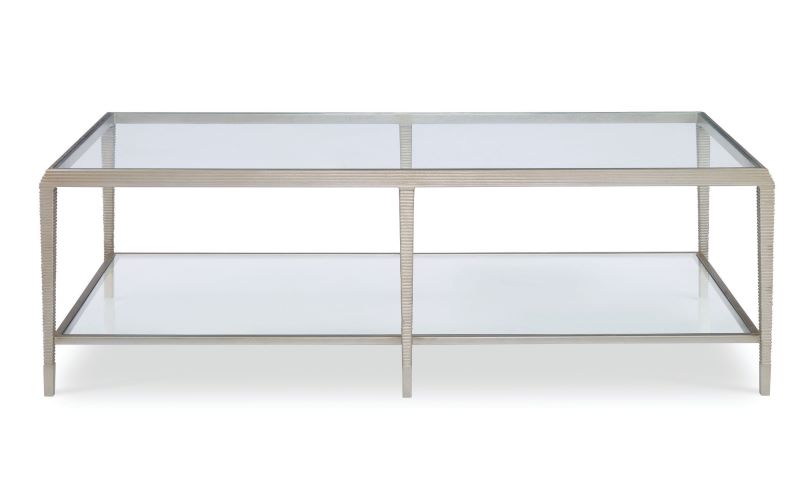 This cocktail table is part of the Shayla Copas collection for Ambella Home. It features a clean-lined aesthetic that includes tapered legs and two glass shelves. In addition to occasional furniture, the collection includes bedroom, dining, vanity sinks and a new upholstery line. Showroom: 310 N. Hamilton St., Suite 110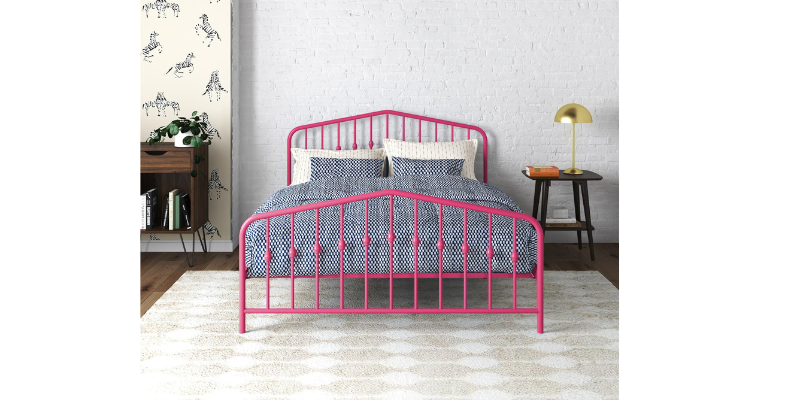 Dorel Home is celebrating its 10-year anniversary with The Novogratz by expanding Cortney's Collection this season with a colorful, limited-edition extension of the collection's bestselling products. Inspired by a modern farmhouse design, the rustic meets industrial Bushwick metal bed features a sleek, curved-edge headboard and footboard and is designed to maximize storage space underneath the foundation thanks to its adjustable bed-frame height. Showroom: Commerce & Design Building, 8N and 9A on Floors 8 and 9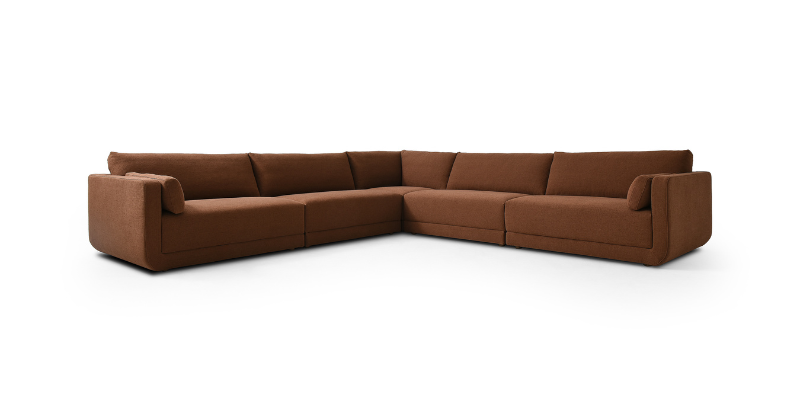 Four Hands' new Toland collection features upholstery with clean lines with loose back and arm cushions. A smooth linear base is fully upholstered and wraps up the arms for a shelter effect. It is covered in a new basket-weave fabric that brings both texture and comfort to the entire piece. Showroom: Showplace, 4101, Floor 4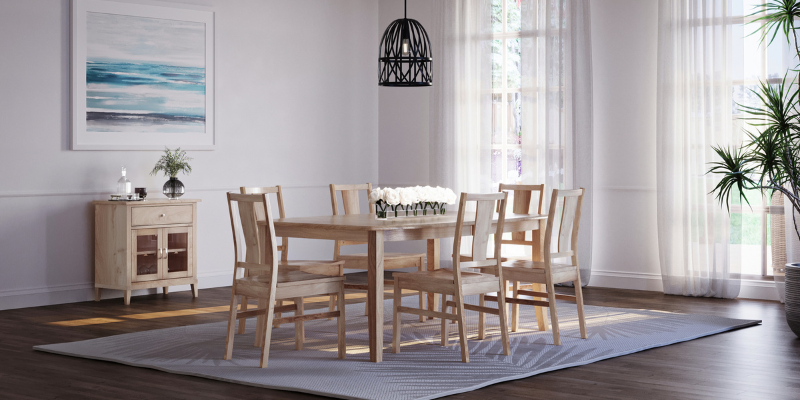 Fusion Designs Inc. is expanding its popular quick-ship Essentials Collection this market. New to the program is the Hatfield dining group in solid brown maple, featuring another clean-lined dining table, this time with a shaped top and beveled edge that can accommodate up to two 18-inch leaves. Showroom: Radio Building-404, Floor 4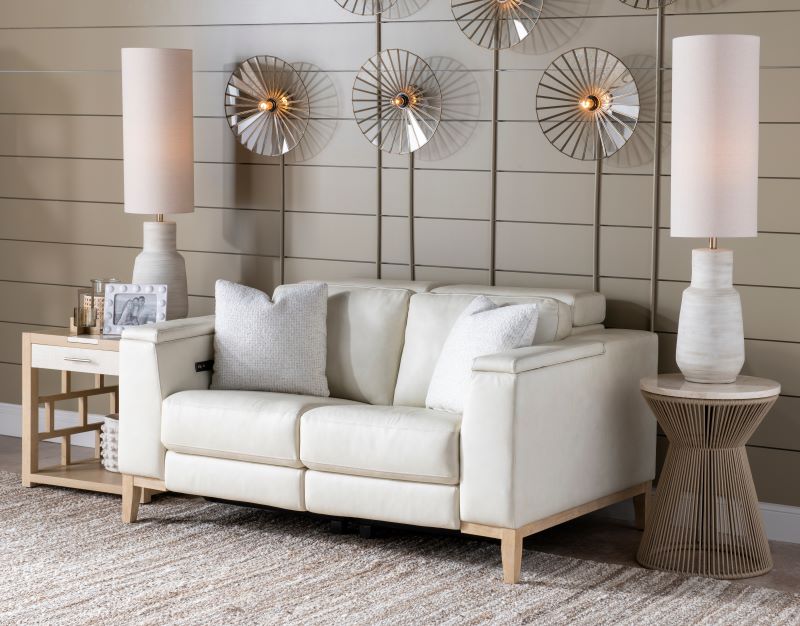 This loveseat is part of Legacy | Motion's Serena collection, one of 12 motion groups the company is showing at market. It features wood trim inspired by the light natural finishes seen in its popular Biscayne case goods collection. Showroom: 2622 Uwharrie Road, High Point
This Sierra chair and sofa mark case good manufacturer Copeland Furniture's entry into upholstery. They feature solid wood frames and deep comfortable seating. Showroom: Space 5100, Showplace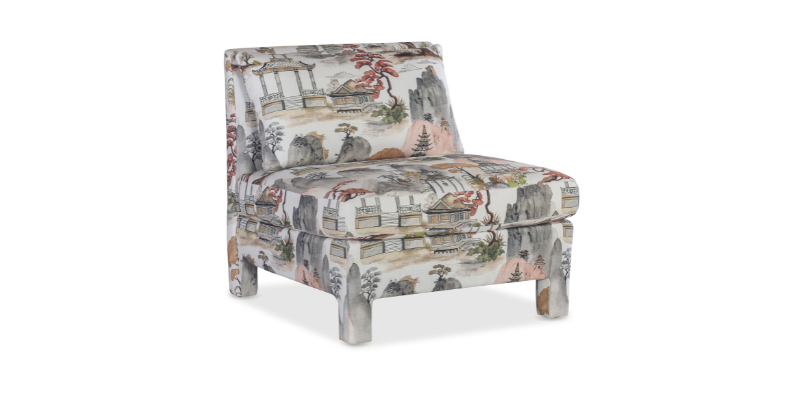 HF Custom's Margot accent chair is characterized by its armless silhouette and fully upholstered frame. Showroom: Showplace, Floor 3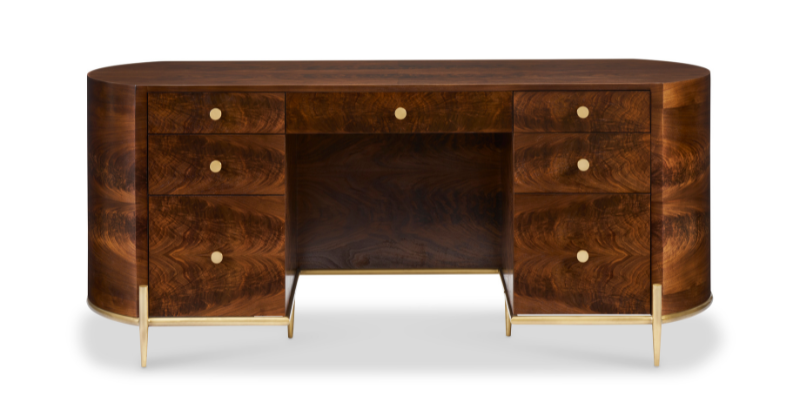 Hickory White's Benson desk has smooth rounded corners and a warm, dark finish with gold hardware. Showroom: 315 Fred Alexander Place, Third Floor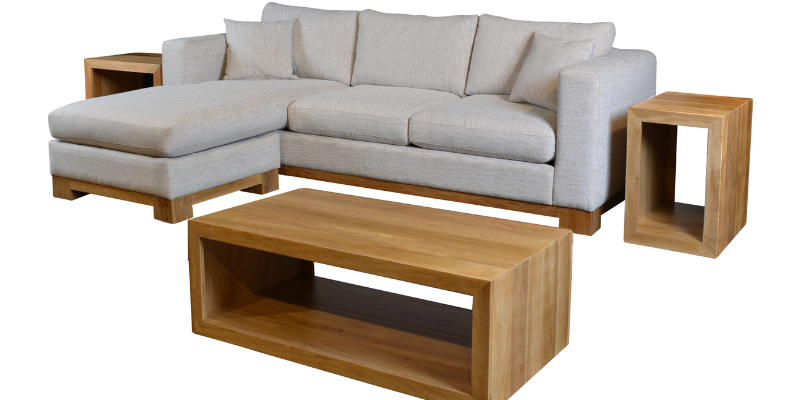 Horizon Home's Marin floating sectional has a wide track-arm design with deep seats covered in performance fabric. The floating ottoman provides left or right solution and cushions are fully reversible. Showroom: IHFC, H1144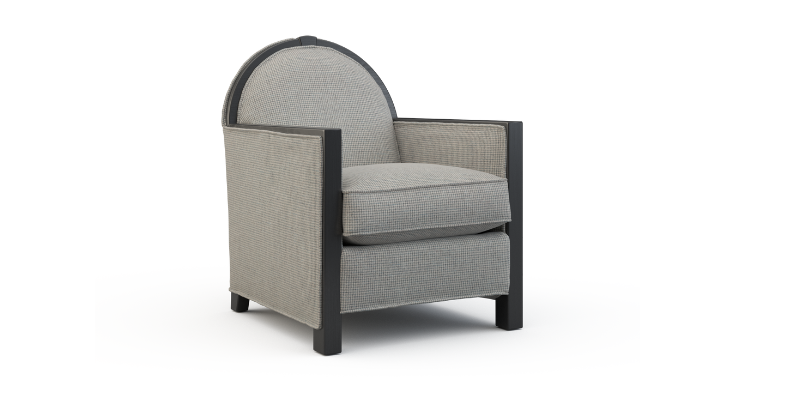 Lillian August's Leon Chair has a high, rounded, tight back and wood frame detail. With one seat cushion and Gatsby-inspired flair, this modern accent chair blends luxury and charm. Showroom: 315 Fred Alexander Place, Second Floor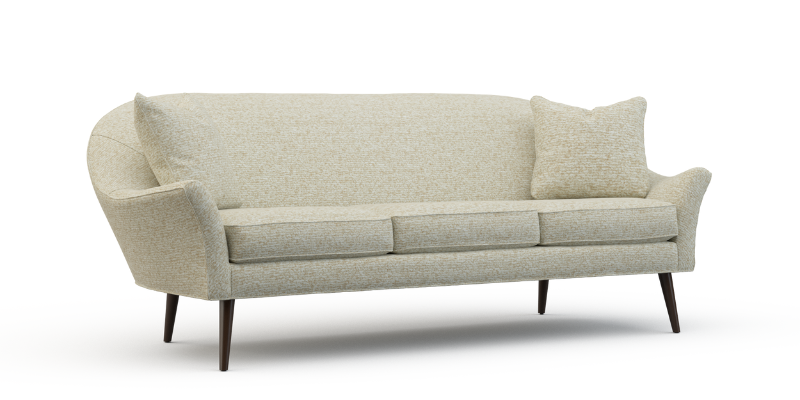 Precedent's new Fulwood sofa embodies timeless luxury. This midcentury modern sofa combines sophistication and comfort, making it the perfect centerpiece for any living space. Its design boasts a unique curved shape, adding a touch of elegance. The tight back provides exceptional support, while the tapered legs enhance its modern allure. Showroom: 315 Fred Alexander Place, Third Floor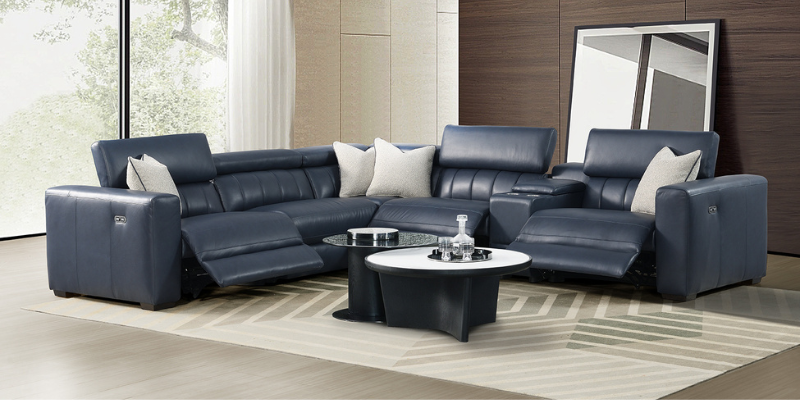 Royal Morris Living's Canton power motion sofa is shown here in stylish deep blue leather. Showroom: Profit Center, 110 W. Commerce Ave.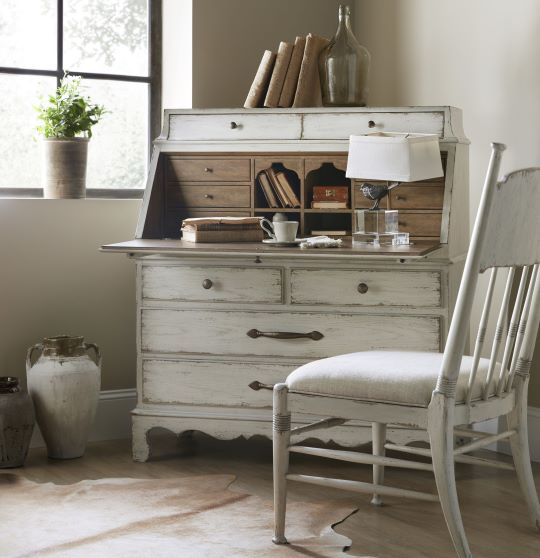 This secretary/desk is part of Hooker Furniture's Americana collection. Made with oak veneers, it is shown in a weathered and distressed Daisy finish. Case pieces also feature classic bale-style and hand-hammered metal hardware, both in a muted brass-tone finish. Showroom: Third Floor of Showplace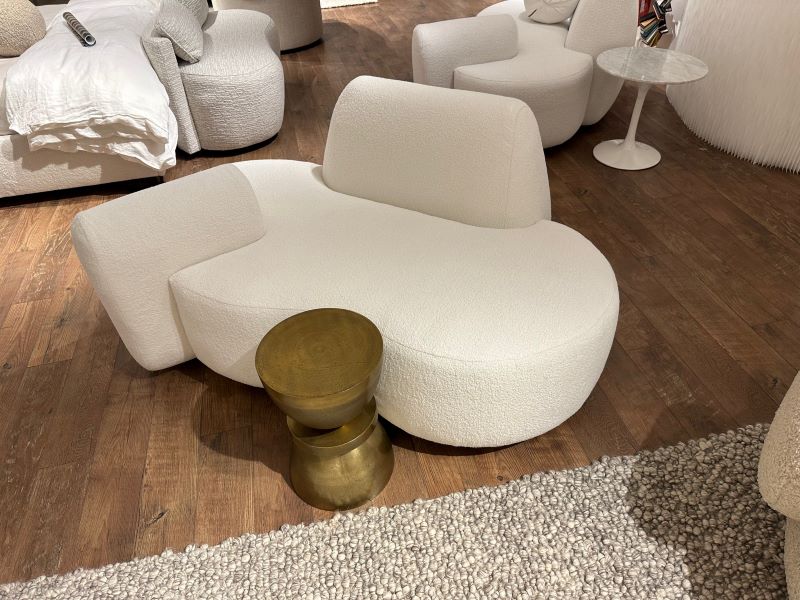 The Pebbles settee by Norwalk Furniture has modern design influences. Available in a left and right configuration, it is shown in a boucle fabric which enhances the comfortable and plush seating of this modern silhouette. Showroom: IHFC, M-108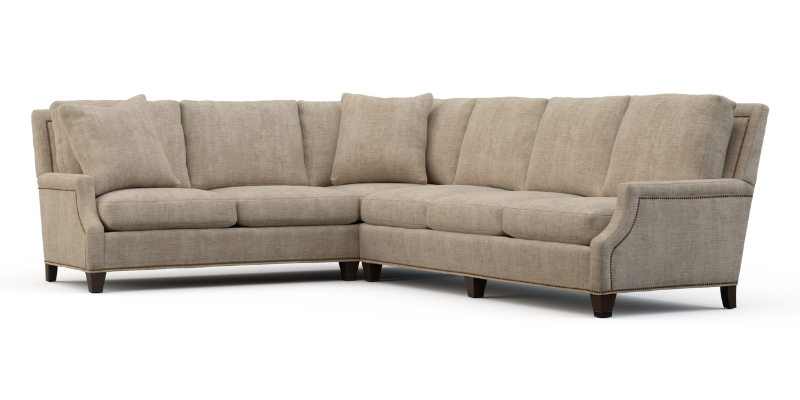 The F438 Sectional by Sherrill Furniture is an L-shaped piece designed to transform your living space into a haven of relaxation and contemporary sophistication, providing a balance between functionality and style. Showroom: 315 Fred Alexander Place, First Floor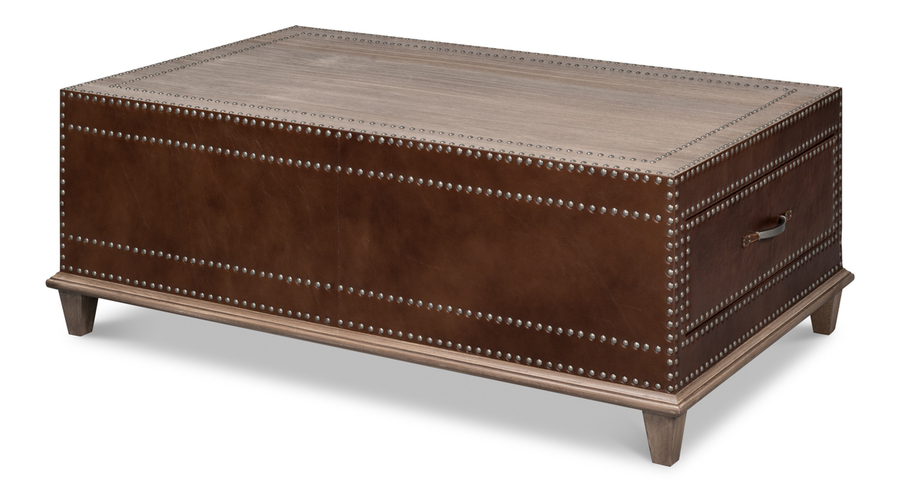 Sarreid's Grandon cocktail table is evocative of classic Spanish architecture and construction. Wrapped in leather with hand-placed nailhead accents, Grandon is a generational accent piece for any home. Showroom: C&D Building, Third Floor and 404 Interhall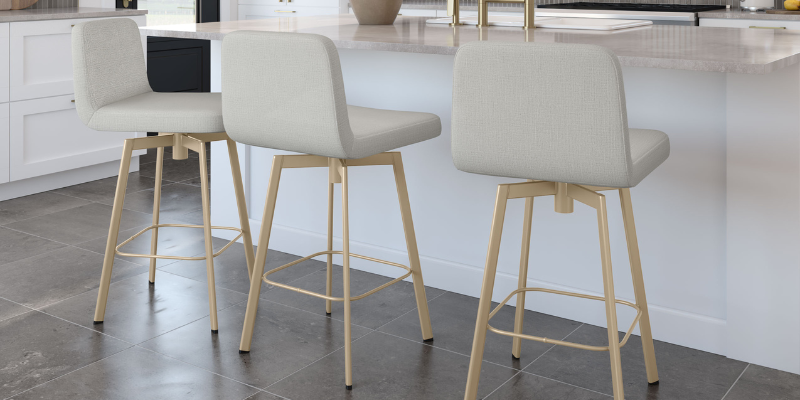 Amisco's Tully stool is available in 14 metal colors and more than 70 fabrics, as well as counter- and bar-height options. Showroom: IHFC, D720, Design Center, Floor 7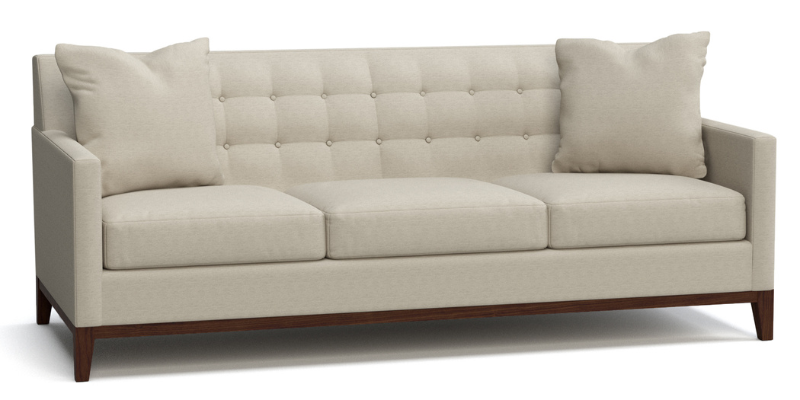 Expanding Stickley's bestselling Walnut Grove Collection, influenced by midcentury modern and Scandinavian design, this tufted-back sofa features slim track arms, a tight back accented by a modern grid of button tufts, and plush cushions for supportive comfort. It sits on a broad base of solid walnut (also available in maple) with tall tapered legs. Showroom: 200 N. Hamilton St.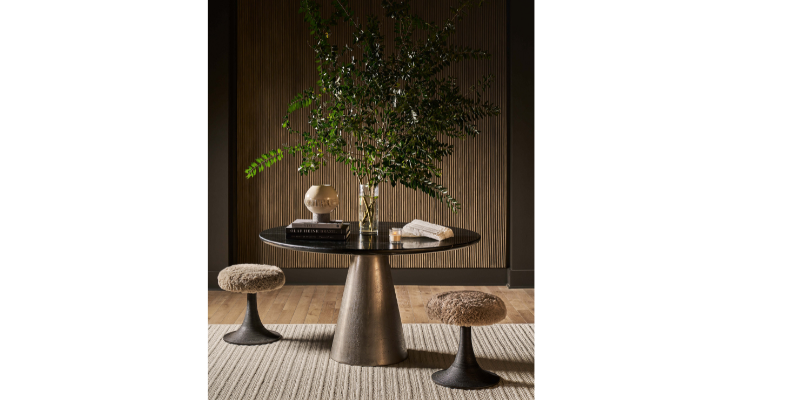 Blending marble and metal, Universal Furniture's 54-inch round Slate dining table creates a captivating fusion of materials. It showcases a honed Black Merino Marble top with creamy white veining, while its cast aluminum base in Antique Silver offers a contemporary industrial edge. Showroom: 101 S. Hamilton St.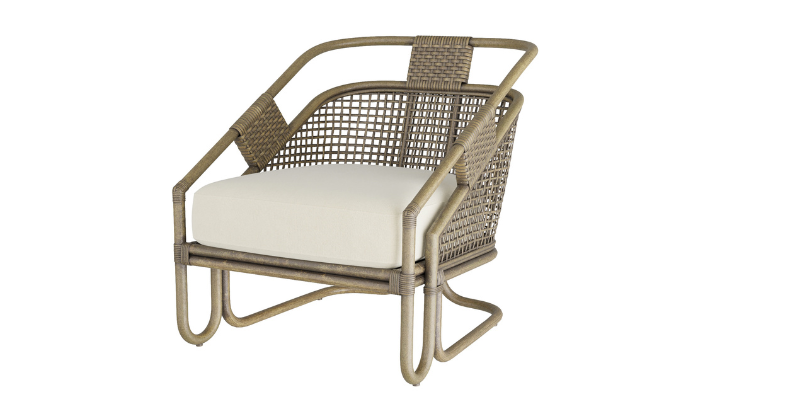 Woven in an American art deco style, Arteriors' Begala gray-washed finished lounge chair utilizes an intriguing mix of open and closed rattan. Featuring a high square back and serpentine arms, a cushion of ivory linen completes this comfortable lounge chair. Showroom: Commerce & Design, 1A, 1B, 1G, Floor 1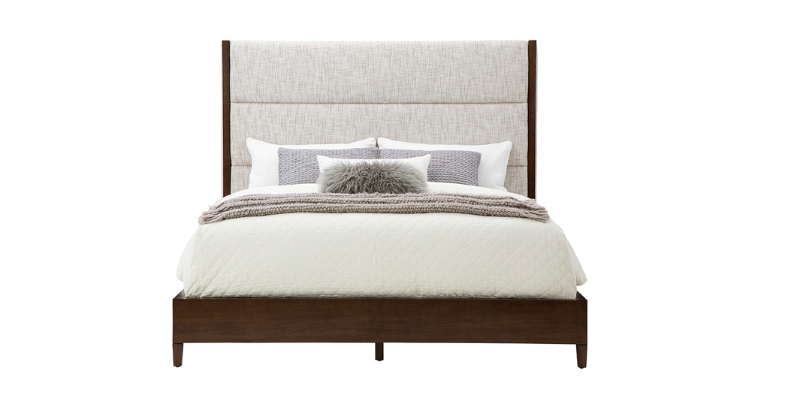 Belle Meade Signature's Clayton king bed has an upholstered headboard that blends seamlessly with a sleek wood frame. Showroom: 117 N. Hamilton St. Showroom 203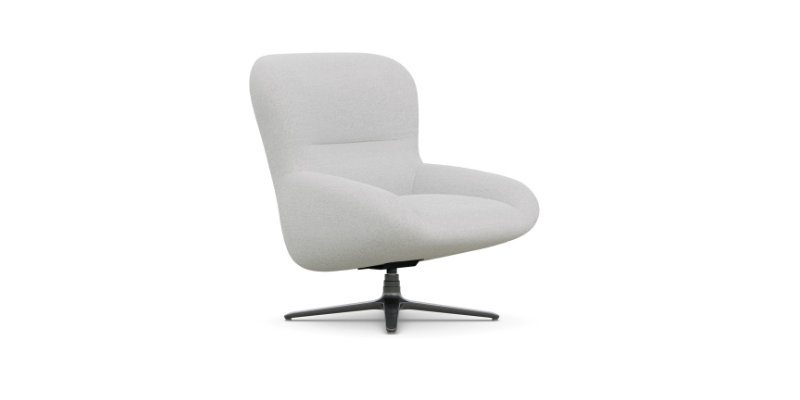 Case and Canvas' Lockhart swivel chair puts a modern spin on a midcentury favorite, showcasing a low-sitting accent design with a sleek gunmetal-finished swivel base. An ideal addition to lounges, living spaces or offices. Showroom: 300 W. Broad Ave.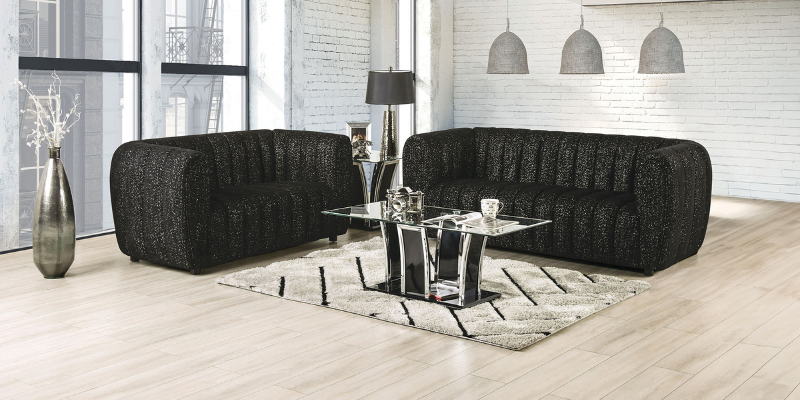 Furniture of America's Opulenza Signature collection features five upholstery groups with sleek, modern designs in both transitional and contemporary looks. Handcrafted by skilled craftsmen in Italy, the line offers affordable Italian luxury in both stationary and power motion sofas and loveseats. Showroom: IHFC, C700, W746, Commerce, Floor 7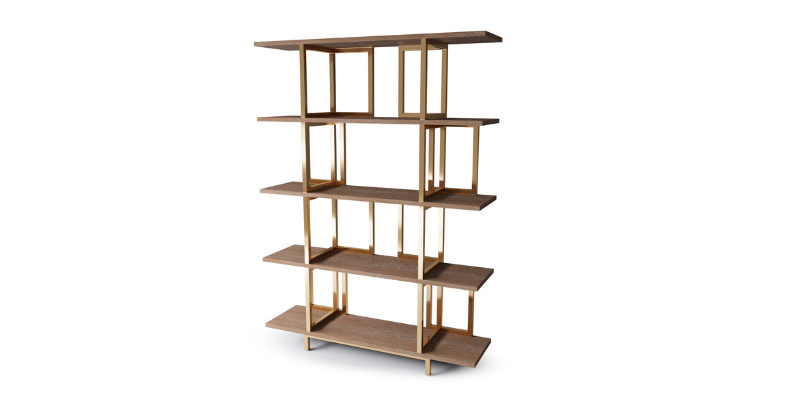 Liemeuax by Precedent's Rue etagere is crafted with a mix of cerused oak wood and brushed brass accents. It anchors any room and elegantly showcases books and decor. Showroom: 315 Fred Alexander Place, Third Floor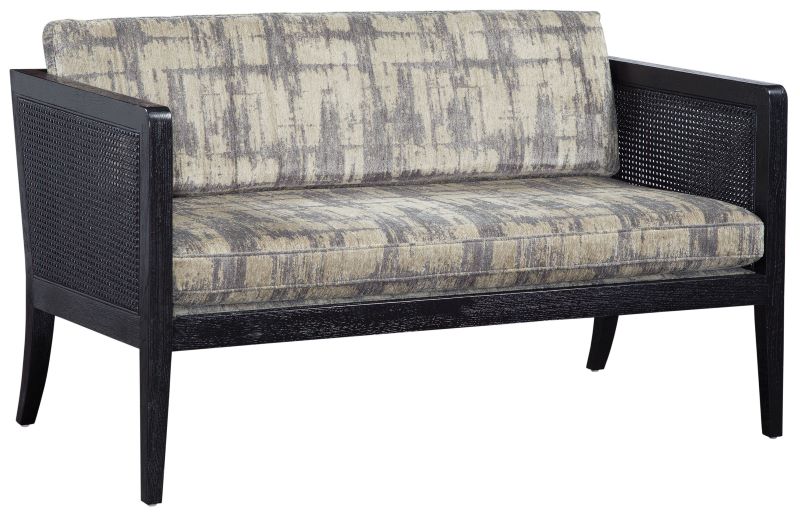 The Mission bench is part of the Tamara Day collection at Spectra Home. It is shown in Buffalo Sage fabric. Showroom: Spaces 211 and 213 of 200 N. Hamilton St.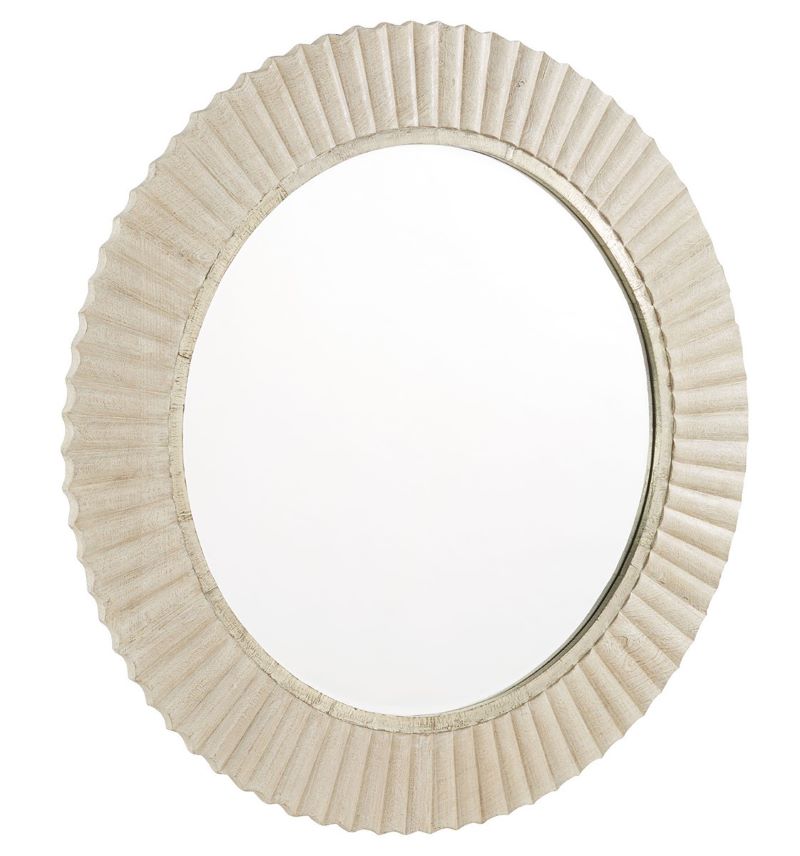 The Estriada mirror by Cyan Design is 46 inches round and is made with solid cerused mango wood. It also features hammered white metal accents. Showroom: IHFC, Space C258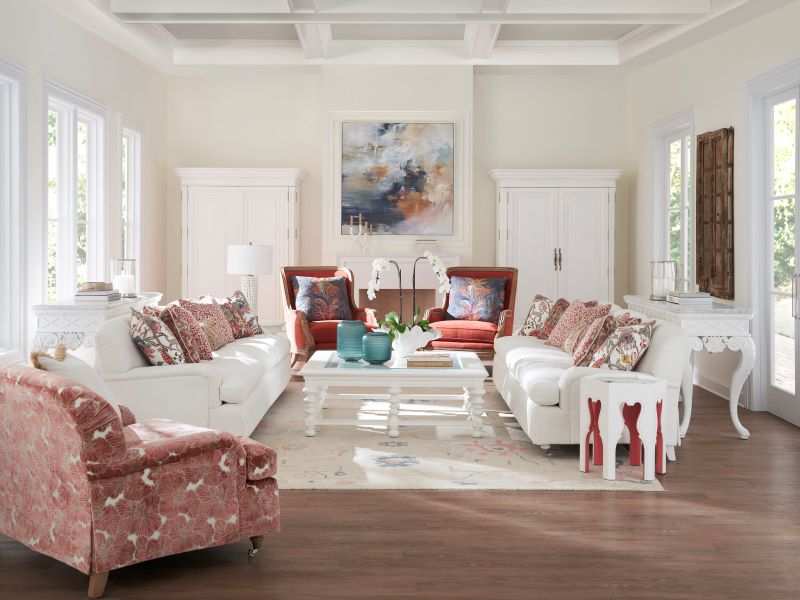 This living room vignette is part of the new Barclay Butera Villa Blanca collection at Lexington Home Brands. Shown are the Athos sofas, the Cyprus cocktail table and the Grand Villa cabinet. The white finishes and fabrics showcase an emerging trend that combines sophisticated forms with casual lifestyles. Showroom: 1300 National Highway, Thomasville

Bellini Modern Living's Zurich sofa features three deep seats, slim track arms and plush down-filled lumbar pillows for extra comfort. Fabric selections are performance-rated for easy care, including stain resistance and the ability to clean the material. Showroom: IHFC, H520.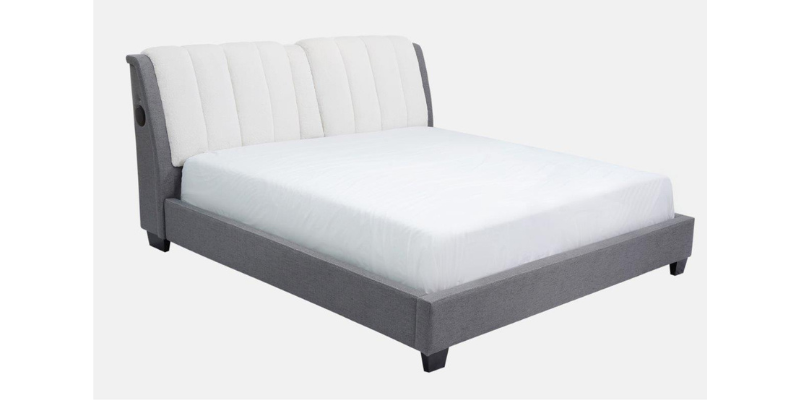 Luxfort Home's Imperial PowerBed features a Bluetooth audio system, power headrests, LED reading lights and a folding center console with cup holders, power switches, USB charging ports, and two wireless-charging phone holders for a convenient entertainment experience in bed. Showroom: 100 N. Main St., High Point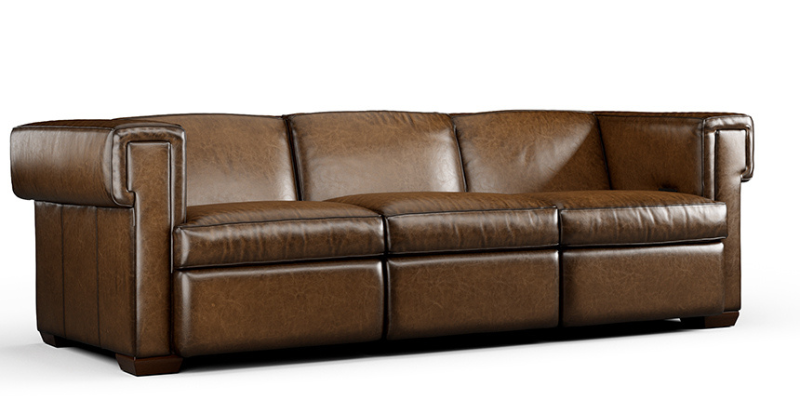 Motioncraft's new Ratchet Back sofa combines sleek modern design with a unique quilted pattern on the padded seat back and top of the arms. This leather sofa boasts a power recliner mechanism that effortlessly adjusts to the desired position, ensuring ultimate relaxation. Showroom: 315 Fred Alexander Place, First Floor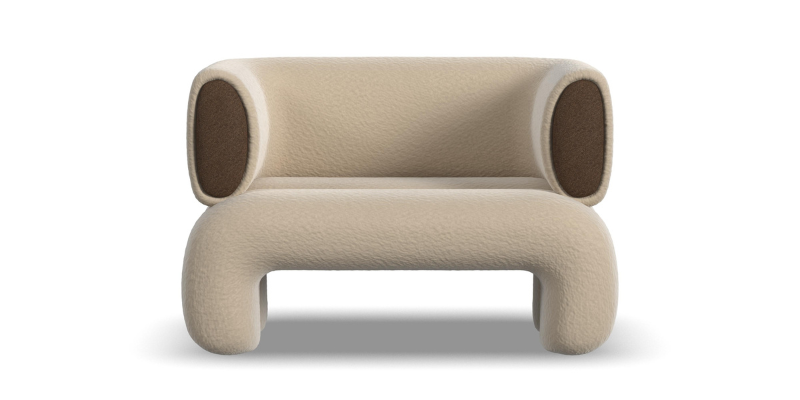 Nathan Mai, namesake and next-generation designer for high-end upholstery manufacturer Nathan Anthony, is a student at Otis College of Art and Design. Given the challenge to create using a repetitive shape, his junior-year project resulted in an upholstered chair concept named "Bear." The emotional comfort-based design offers the effect of a hug while sitting. Showroom: IHFC, IH602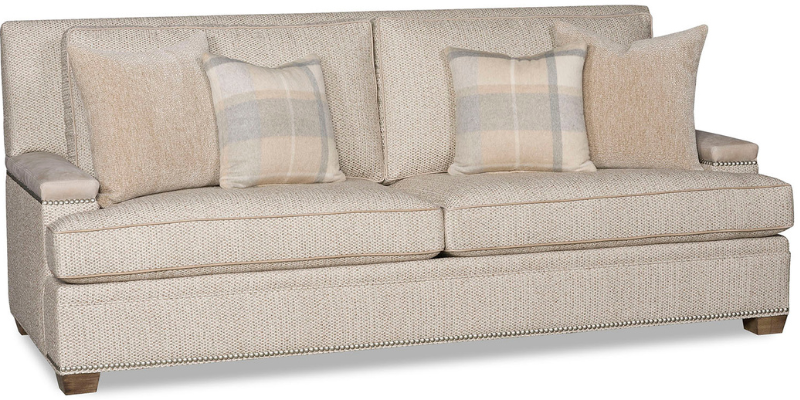 Paul Robert's high-back sofa with leather cap arm provides comfort and support and is bordered with pewter-colored decorative nails. Leather contrast welting frames the box back and seat cushions. The fabric is imported from Turkey and consists of a blend of acrylic, olefin and polyester yarns that create a nubby texture. Plaid pillow fabric is a blend of wool, mohair and alpaca. Showroom: 442 N. Wrenn St.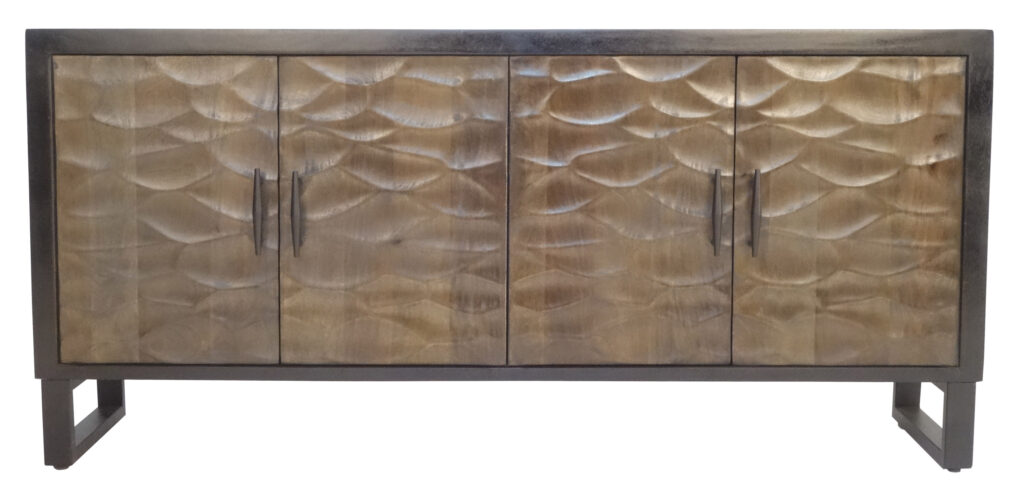 Sagebrook Home's Bartholomew is an elevated midcentury modern console with a twist. It is perfectly suited for a masculine library with dark moody hues combined with warm amber and rust. As an accent, the group also has industrial modern gold and brass elements mixed with lush bronze finishes to give it a designer edge. Showroom: IHFC, D-520