LENOIR, N.C. – Fairfield, a premier artisan-crafted furniture, upholstery, and case goods brand with a history that spans over a century, announces the expansion of its bedroom offerings, further solidifying the company's commitment to whole home design.
With a keen understanding of current aesthetics and a nod to timeless craftsmanship, Fairfield's new introductions include four beds, all designed to integrate luxury with functionality. The company decided to expand its bedroom offerings following the success of Libby Langdon's Farley Bedroom Collection and initial bedroom additions to the East Camden Collection showcased last Spring at High Point Market.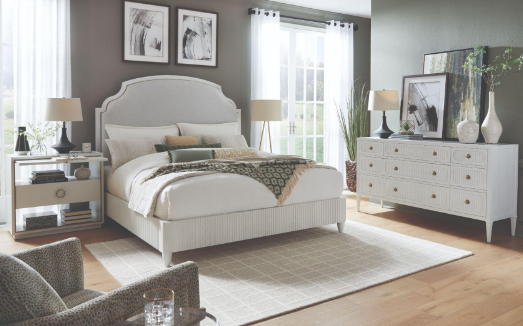 "Fairfield is committed to supporting interior designers and retailers as they redefine the spaces where their clients rest, rejuvenate and reconnect," says Dixon Mitchell, CEO of Fairfield. "This season, we've set our sights on transforming the bedroom, and by broadening our bedroom offerings, we're positioning ourselves to better assist our trade partners while deepening Fairfield's commitment to the whole home business strategy."
Fairfield is enhancing its customization options by integrating all four bedroom collections into the Monogram Custom Finish Program, offering over a dozen finishes. Additionally, the East Camden, West Camden and Camille collections can be tailored with any Fairfield Fabric, Leather or COM. These collections are set to ship in January 2024, while the previously released East Camden bedroom and
Libby Langdon's Farley Bedroom Collection will be available for shipping in October 2023. Customers can choose from over 75 leather and 1,200 fabric options, with the option to order the bedrooms as shown or customize them within six weeks.
The debut Camille Collection and new bed designs for the East and West Camden Collections will be showcased this Fall at High Point market within the Fairfield Showroom at 200 N. Hamilton Street.