By late this month there were 43 galleries installed at 31 retail accounts around North America, including in 9 states and 5 Canadian provinces
WINNIPEG, Canada — Since Palliser launched its Studio gallery concept about a year and a half ago, more than two dozen retailers have come on board, using the footprint to not only display the line but also to let consumers tap into state-of-the-art technologies that allow them to customize their product exactly the way they want.
As of late September, the company has installed about 43 of the gallery footprints at 31 retail accounts around North America. The stores are in nine states, including Wisconsin, Florida, Massachusetts, Maine, Texas, Alabama, New Hampshire, Tennessee and Missouri. They also are in five Canadian provinces including Manitoba, Ontario, Saskatchewan, British Columbia and Nova Scotia.
With its objectives being focused on quality versus quantity, the company said that the rollout at retail is on target.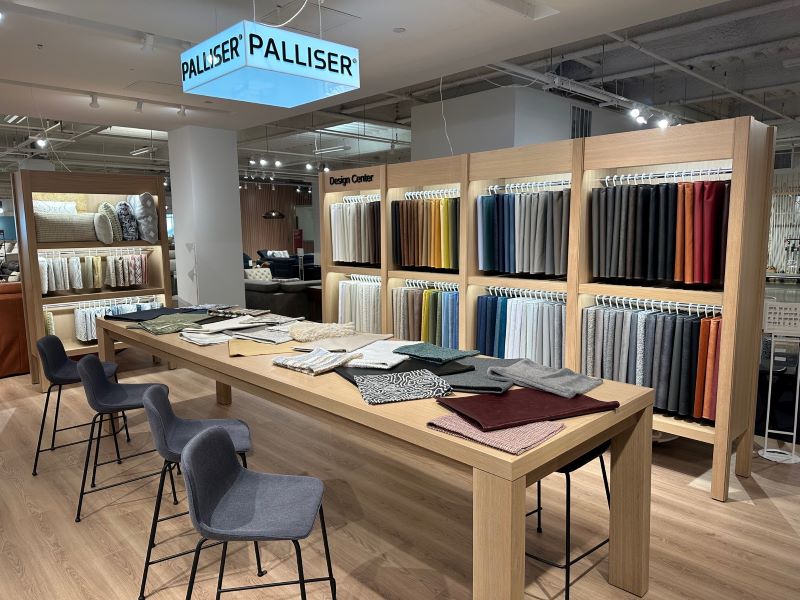 The studios began rolling out this past May, with the company's Winnipeg-based teams traveling to each retail location to provide personalized set-up assistance tailored to the needs of each store, the company told Home News Now.
Steve Ambeau, Palliser chief marketing officer, said that this also helps ensure that "we are being consistent to our brand's visual identity. For a four-month period of time, we're very pleased with the speed at which we've been able to open these new studios."
The studios cover 3,000-, 5,000- and 7,000-square-foot footprints, although the largest is more than 14,000 square feet. In total the company said that it has thus far opened a total of 185,000 square feet of Studio space and every new Studio retailer is experiencing year-over-year growth with Palliser that is averaging about 49%.
"Studio results are exceeding our expectations, positioning Palliser as the top-performing brand with most partners, said Jim Hunt, vice president, sales Canada.
"We are ecstatic with the overall response we've received and retailers' general anticipation and excitement around the program, Ambeau added. "We have been strategic when it comes to selecting partners that align with our vision and our elevated approach to custom upholstery. We have intentionally shifted some of our focus in recent months away from signing more studio retailers, to executing and opening studios so retailers and end consumers can start to reap the benefits from the program and the enhanced shopping experience."
A key aspect of the gallery footprints also is the overall visual presentation, which includes a display of fabric and leather options as well as wall graphics that "communicate the special benefits and characteristics of bestselling styles." This combines with a digital 3D modeling tool that helps various pieces — ranging from sofas and sectionals to chairs and ottomans — come to life in its wide selection of fabrics, leathers and seating configurations. Retail sales associates also benefit by learning how to help consumers sort through these options and others such as individual leg styles as well as pillows.
"Our Design Center and Interactive Designer have in many respects become the heartbeats of our studios," Ambeau said. "While we are always continuing to innovate and enhance its offering, the digital tool to date not only helps consumers visualize their upholstery configuration and options available, it helps train sales associates on the Palliser lineup and allows them to sell more confidently and efficiently."