Brand debuts independently from Conrad Grebel line sold to LJ Gascho last year
GOSHEN, Ind. — The founder of Amish case goods manufacturer Conrad Grebel is showing again at the October High Point Market for the first time in three years, albeit with a different brand and product mix.
Chad Gascho is bringing the Foundry 39 brand to High Point with a mix of solid wood desks and bookcases, TV consoles, entertainment sideboards and occasional tables.
This follows the sale of the Conrad Grebel brand and product line last October to LJ Gascho, a case goods producer based in Pigeon, Michigan, that is run by his uncle, Lyle Gascho.
Gascho decided to sell the company to LJ Gascho after a difficult run with supply chain issues and extended dealer payments that almost put the company into bankruptcy.
"We were strapped, a year ago, during Covid," Gascho told Home News Now. "Our business exploded like everyone else, so it was a blessing and a curse at the same time…And the supply chain from the Amish, it just became a joke. It suffocated us on that side and on the other side, we had retailers that we used to count on to pay early and that suddenly went to 60-90 days and we were bankruptcy bound."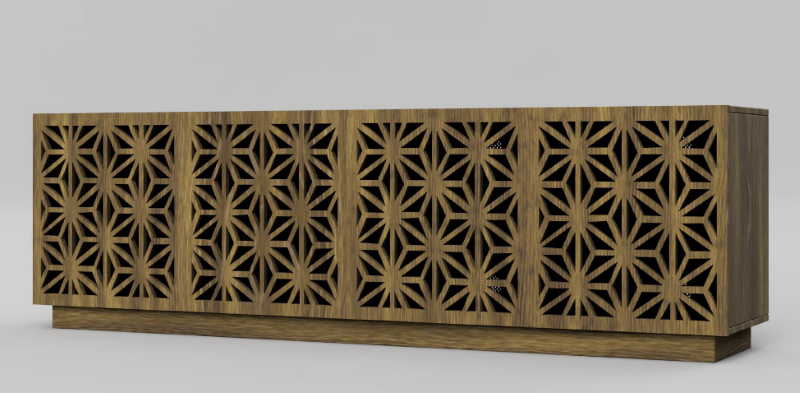 He said that was when he reached out to his uncle, the founder of LJ Gascho, and said "This is my situation. I have to figure something out here. For all intents and purposes, he rescued my ass. That is the honest story behind it."
Foundry 39, a clean-lined transitional/contemporary product line that Gascho established in late 2017 was part of the sale. But when Chad Gascho learned that the 10,000-square-foot workshop in Goshen that employed six longtime workers might be closing, he went back to LJ Gascho to buy back that part of the company. In addition to the equipment and customer base the company also owns the name and product line
"It wasn't just me," Gascho said, noting that he took back ownership of the brand in early September. "We have a great team and I didn't want to see that team separated. I said "I want to get this part of it back." And they (LJ Gascho) readily agreed. They were more than kind to make this happen for us."
He said the team includes seasoned craftspeople and finishers that understand the type of quality that retailers are looking for today, particularly in domestic made, solid wood furniture.
"It's phenomenal what these guys who understand lean manufacturing are capable of," Gascho said, noting that the workshop can produce some $15 million a year in product.
Made with solid maple and solid hickory, the line also is available in seven finishes, which is a big reduction from the many custome finishes offered in the Conrad Grebel line previously.
"Our goal with this is to keep it simple," Gascho said. "We fell victim like a lot of companies did back in the day of having way too many options, because as a manufacturer, you felt like you had to have them. But then you know how it went, the 80/20 rule was in effect and that 20% just bogged you down."
TV consoles are targeted to retail at $1,199 and entertainment sideboards are targeted to retail around $1,599. Cocktail tables start around $799.
The line is also produced with an environmentally friendly, plant-based non VOC (volatile organic compound) finish that the company has been using for the past several years.
"It is more durable than conversion varnishes and lacquers that our industry is so heavy into," he said, adding, "We just have been having incredible success with it…It's a phenomenon of a finish."
The product also ships within 30 days of the order, Gascho noted, a result of the limited wood and finish options available that help streamline the production process.
At the October market, the company is showing in spaces 211 and 213 of Centers of High Point Hamilton.