Exogenous macro shocks keep coming, but furniture businesses that retain focus on product, service and value will thrive.
We make three points to furniture business owners:
Expect demand to improve.
Business conditions will never be perfect. Don't overly lament today's challenges.
It rarely pays to read major news headlines. They are mostly irrelevant and skew negative. Better tuning into the golf.
The consumer is healthy, and demand should strengthen moving into the spring. 2022 was a year of exhale. It followed two years customers spent looking around their homes, while stimulus checks were flowing. The negative impact to furniture demand from last year's rebalancing into services was further darkened by the macro shocks of war and inflation. Consumer confidence plummeted.
Looking forward, the demand picture brightens. Households have record incomes, savings are robust, essentials inflation is abating, and demand rebalancing is complete — our fund's restaurant investments are telling us their pandemic recovery boom has passed. Finally, consumer confidence keeps edging higher. Households get tired of being scared.
To capitalize, keep your eye on what you can control. Furniture is an innovative industry. Some of that innovation was understandably paused while there were shortages of basic raw materials and lead times became measured in months. Now is the time to bring back newness and excitement because it will be rewarded. Don't let an underwhelming order book over the past year manifest in underinvestment in product and service.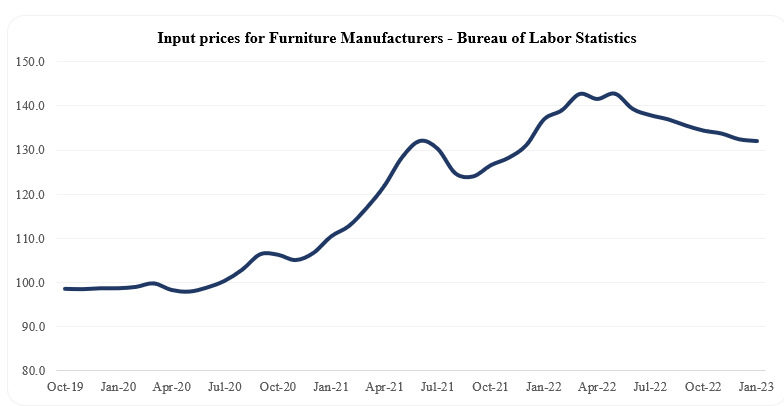 Not everything is bad. Remember the torrid pace of supplier price increases and $20,000 shipping containers? Doesn't feel that long ago but it is firmly a thing of the past. Bureau of Labor Statistics data shows furniture manufacturer input costs have declined for nine consecutive months and are now deflationary versus last year, for the first time since May 2020.
Lastly, please don't extrapolate major news headlines to your business. Headlines are almost always negative because that's what sells. Today's headlines are about bank runs at lenders to start-up technology and crypto companies. Not exactly furniture adjacent. Look 12 months ago and the headlines were record gas prices eroding household spending power. Where are gas prices today? Twenty-five percent below last year and lower than 15 years ago. Don't expect that fact to the make the news, however.
The world will remain volatile but let's also remember that the furniture customer is on fundamentally sound footing and their interest in new product reignites much faster than the life cycle of their purchases. Be ready for a healthy spring selling season. And good luck!
James O'Brien is managing partner at Great Ocean Road Advisors, a New York-based consumer fund with investments concentrated in the furniture industry.