This week, Home News Now takes readers inside the Kitty Hawk, North Carolina-based retailer for a closer look at its product mix across several different categories.
The images below show the styling that's popular in this coastal region of the state with a mix of upholstery and occasional, plus bedroom and dining room furniture. As seen here, the finishes and patterns speak to a more relaxed and comfortable lifestyle that's popular whether you're renting or spending time in your own coastal getaway.
The displays on the 12,500-square-foot sales floor also include a mix of accent pieces, wall art, rugs, lighting, vases and other decorative items that all celebrate life at the beach. Fabrics and finishes also complement the coastal lifestyle, with a mix of fabrics offering blues, off-whites and striped patterns, as well as decorative coral and seashell motifs. Meanwhile, wood finishes are also casual in nature, with a mix of whites, grays, driftwood and sandy brown tones that complement natural coastal environment.
Scroll down to see how the team at Daniels' has pulled off a look that keeps its many customers coming back to refurnish the properties that make this a go-to resort destination for people around the U.S.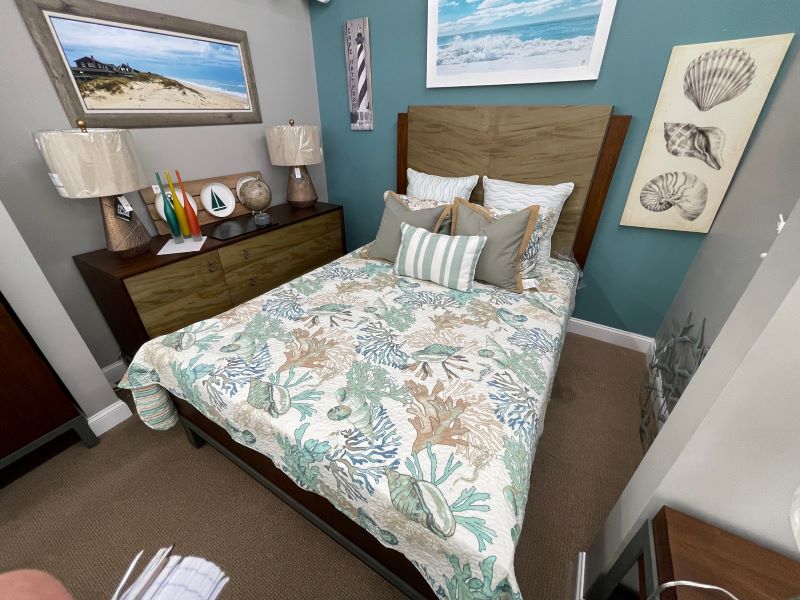 Twin beds are popular for kids' and guest bedrooms at the beach. This set offers a two-tone look in a more modern design footprint that is a growing part of the store's design palette.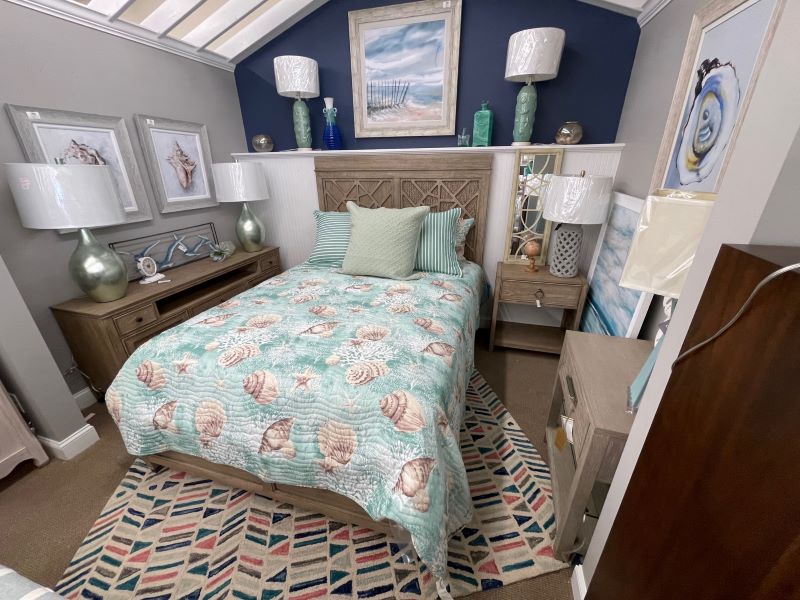 The Vista bedroom by American Drew offers a more transitional look with its geometric-inspired headboard. It is surrounded with decor that complements the Driftwood finish on the set, including plenty of wall art to choose from.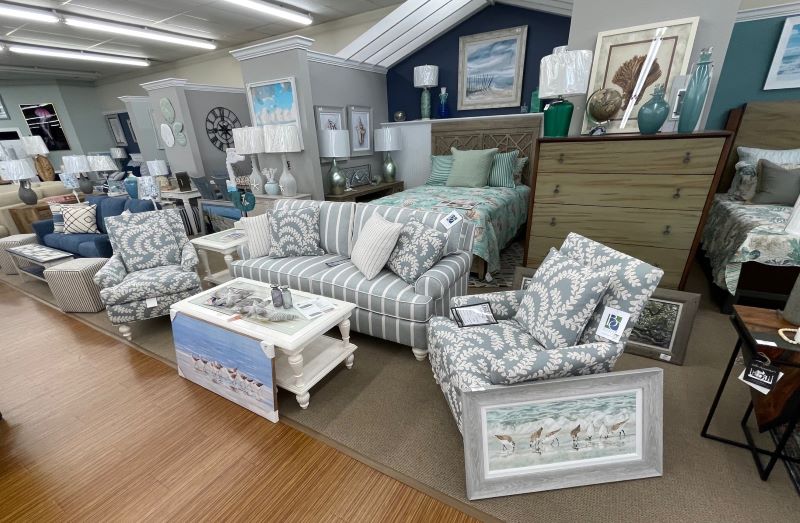 This upholstery group by Braxton Culler features fabrics in a striped and a decorative leaf pattern. Accent pillows also are shown in a mix of stripes and leaf patterns.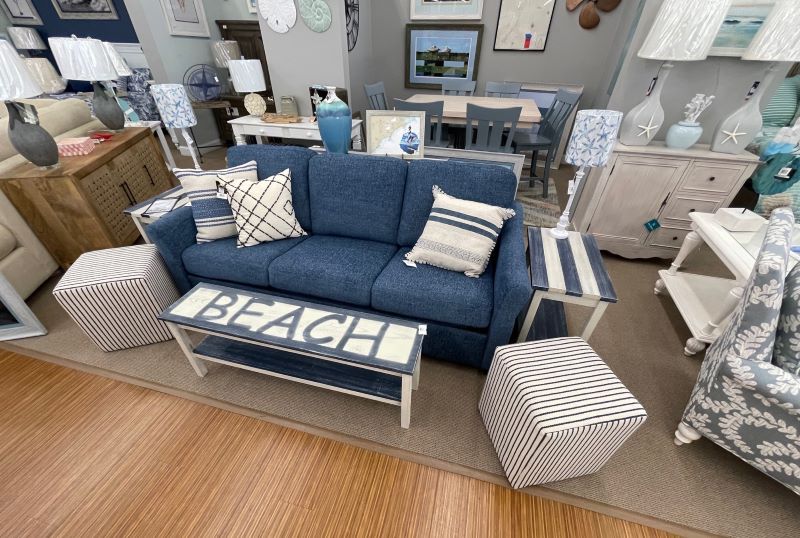 Here is another sofa shown in a deep blue tone that contrasts with blue and white accent tables and blue and white striped decorative upholstered accent cubes. And just in case you didn't know it, you're at the BEACH!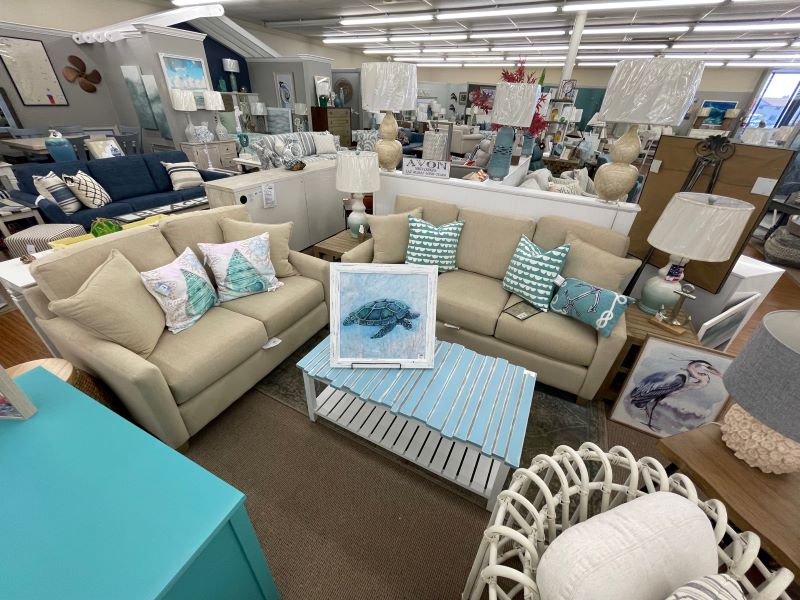 Here's an upholstery group shown in a sandy-toned fabric accented with pillows featuring shell and anchor motifs. Wall art remains an important part of the mix, even if it's shown on a cocktail table sporting an aqua blue and white finish.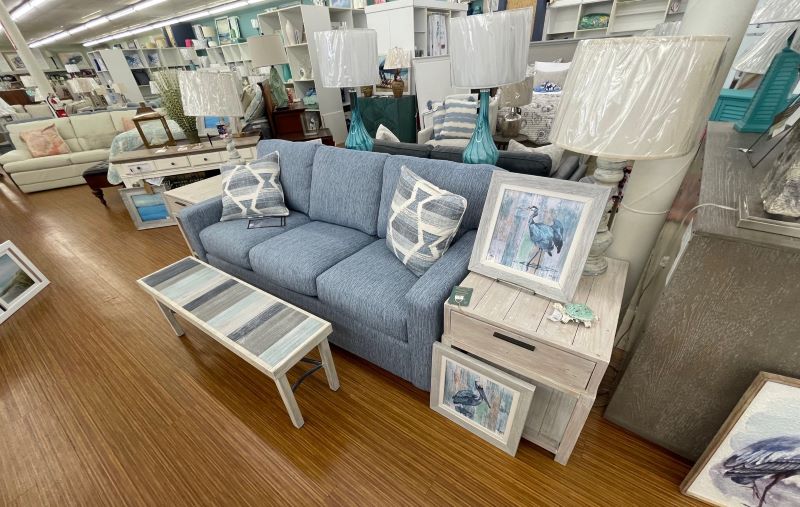 Another living room vignette featuring a sofa, accent and occasional tables, lamps and wall art.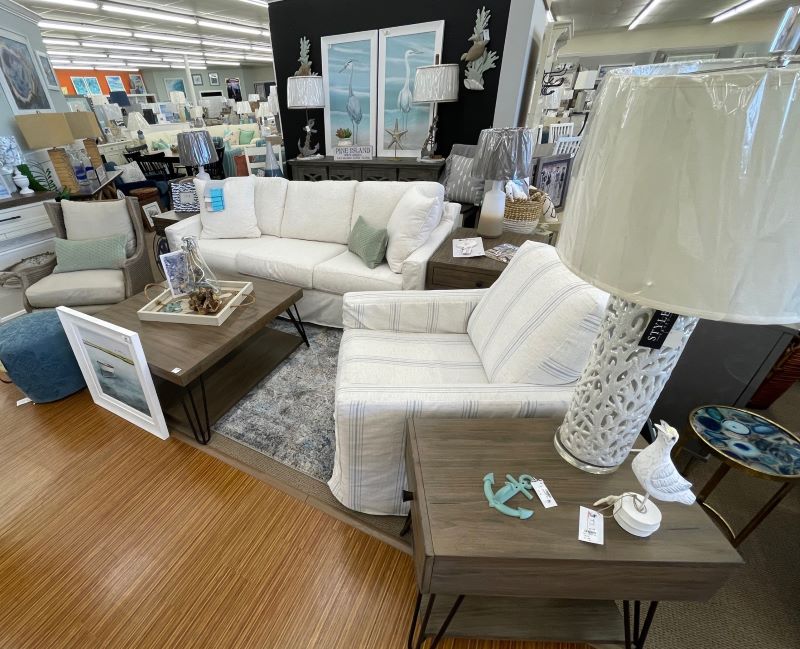 This living room vignette showcases a setting that again features a sofa in lighter-tone fabrics from Capris, flanked by a cocktail and end tables in darker brown tones and featuring contemporary hairpin legs. The walls in the background showcase more wall art, allowing every bit of space to be filled with items for sale, and thus increasing the potential sales per square foot.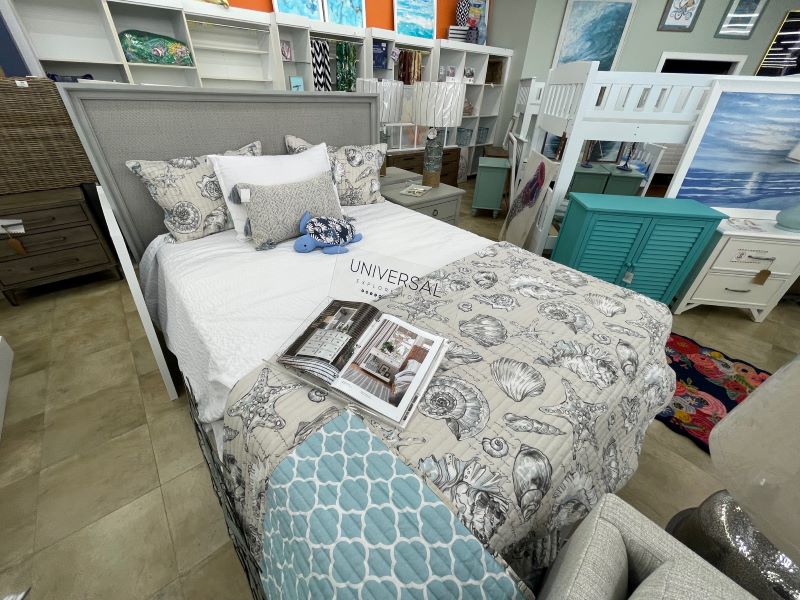 Smaller-scale beds, including this panel bed by Universal Furniture, are popular items for youth and guest bedrooms. The store also sells other kids' furniture including bunk beds and companion wood storage pieces. Note how the bedding bears a coastal theme featuring fabrics that complement the wood finish.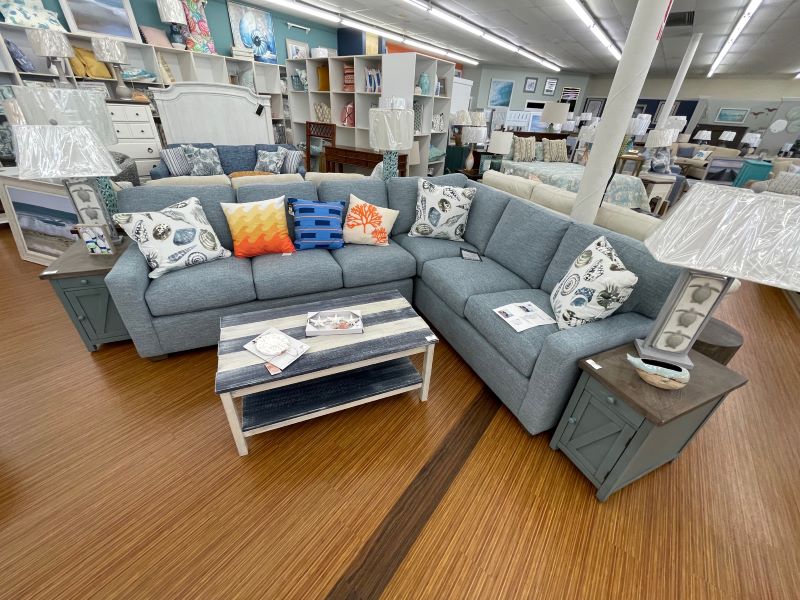 The Grammercy Park two-piece corner sectional by Braxton Culler is shown in a blue tone fabric with a mix of pillows featuring wave, seashell and coral prints.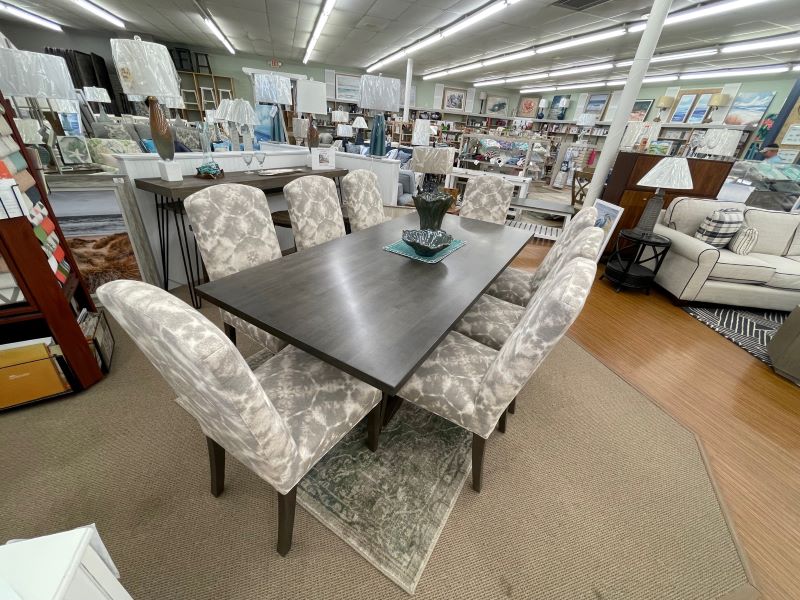 The Terazi dining set is part of John Thomas Furniture's Select custom program. Shown with the Aubree side chairs, the set retails at $6,999.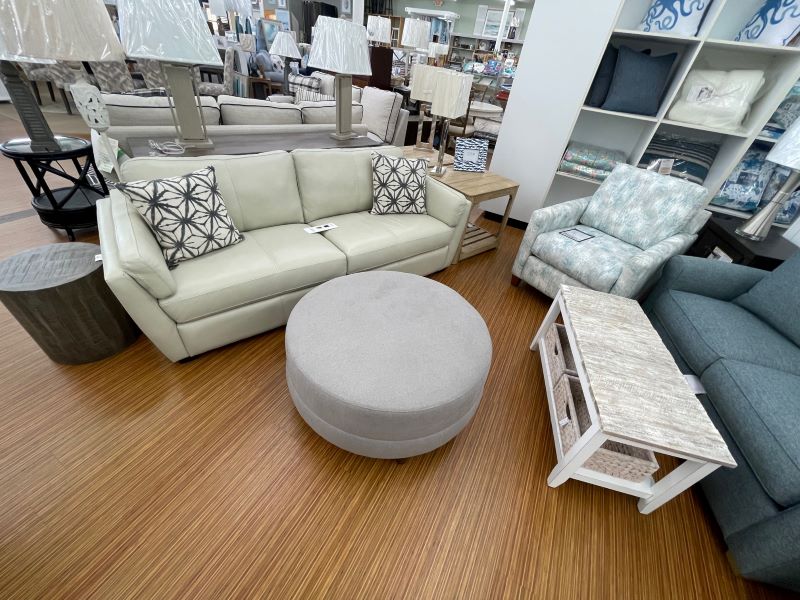 The sofa shown here is made by Palliser and the accent chair in the background is made by Capris. The sofa is shown in a pearl leather and the fabric on the chair is called Mystery Oasis.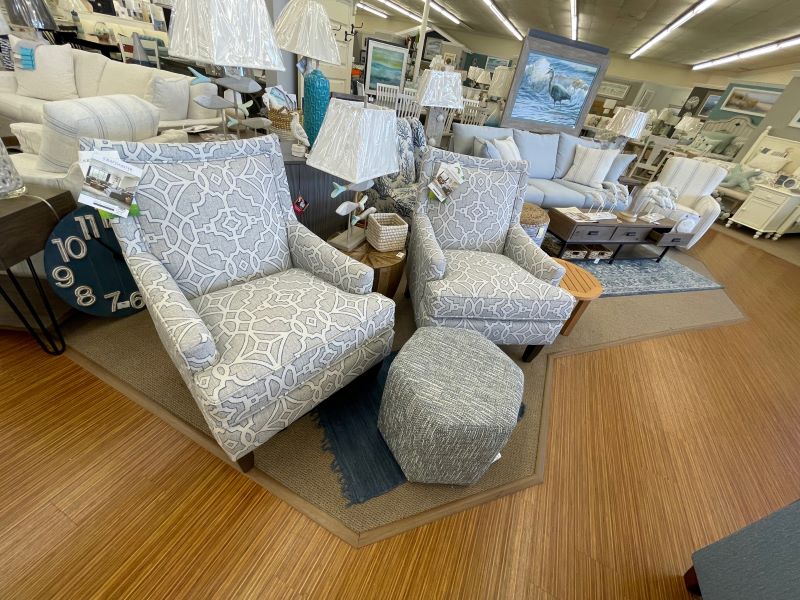 These two chairs are made by Craftmaster Furniture and are shown with a small-scale ottoman and a round drum accent table.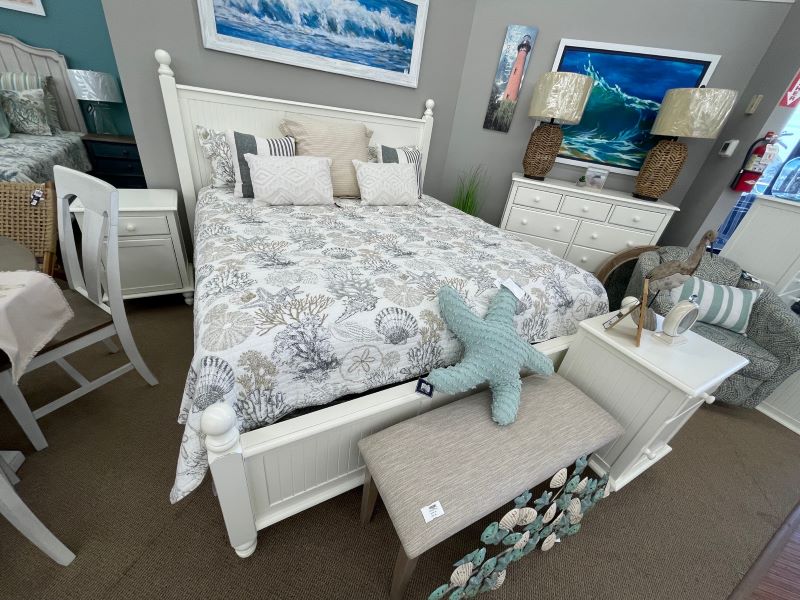 Here is another transitional bedroom set in a white finish. It has coastal-inspired design elements as seen in the bead-board pattern on the headboard and footboard and the turned finials on the posts.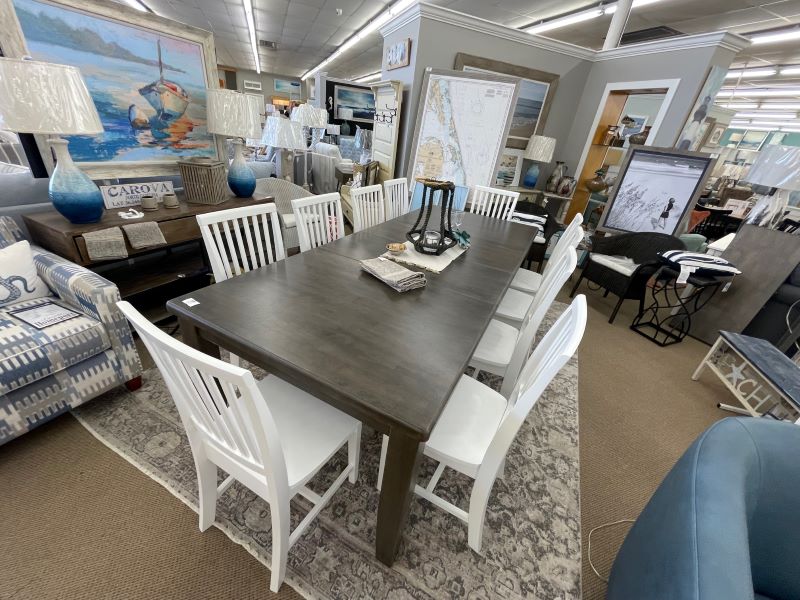 This dining set offers a solid wood table in a dark brown finish and chairs in a white finish, completing the coastal look.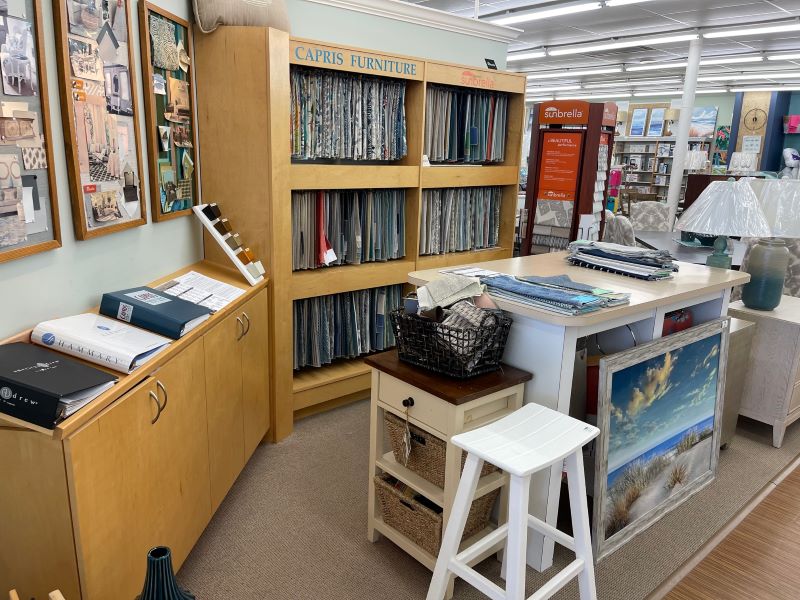 This selection of fabrics by Capris Furniture is seen in the Design Center at Daniels' Homeport. Catalogs also showcase additional products available by Capris, American Drew and Hammary, to name a few key vendors.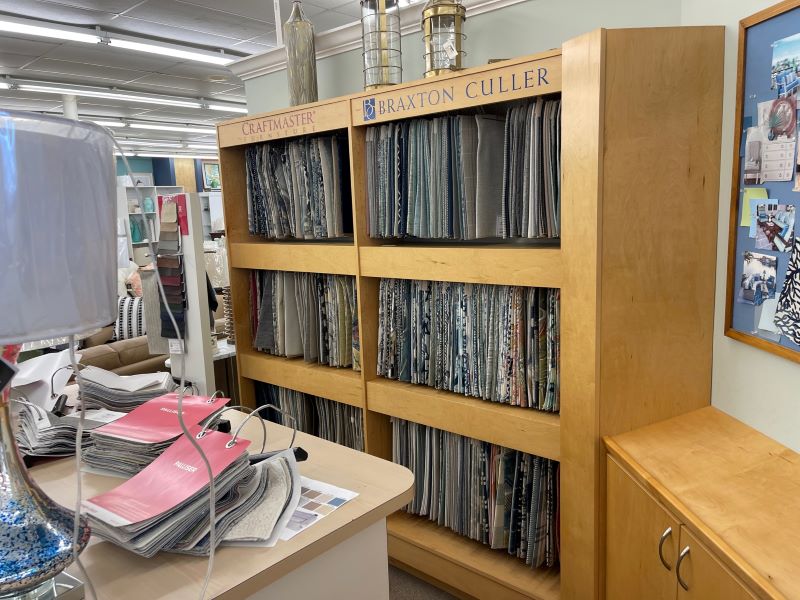 More fabric selections are available from Craftmaster and Braxton Culler, two other core vendors.