The Outer Banks, North Carolina, retailer has shifted its business model to serve a growing number of out-of-town property owners
KITTY HAWK, N.C. — From the front windows of Daniels' Homeport Coastal Furnishings, there's what co-owner Shawn Daniels describes as a year-round view of the Atlantic Ocean.
It also has a view of the thousands of cars that make the trip up and down the Outer Banks' Route 158 both during and between peak tourist seasons.
It is the ocean and the tourists that have fueled what's become a year-round destination — and a year-round business for Daniels' Homeport.
Indeed, the tourists are mostly the end users of the furniture in the thousands of rental homes in this region. Yet it's the owners of those homes — mostly out-of-town property owners — who are actually buying the furniture for those properties.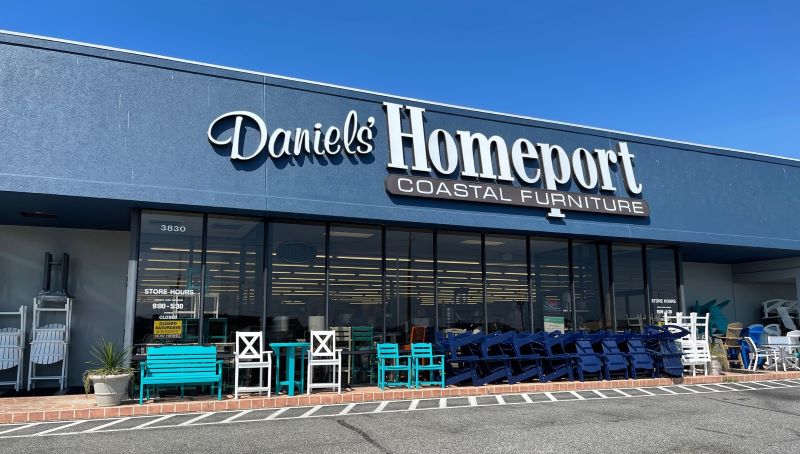 And while many owners use the homes themselves for a few weeks — or perhaps longer — during the year, they are mostly buying furnishings to be enjoyed by others occupying them in the busy summer months, although the season has extended well into the spring and fall.
And business has been good in an area that more and more people around the country — from the Northeast and central Atlantic states to the upper Midwest — have begun to discover.
Owned by Karl and Debby Daniels and their son Shawn, the nearly 13,000-square-foot store is having one of its best years in its 28-year history. Year-to-date sales for the first half were up about 20%, said Karl Daniels. By the end of October, they were up about 15%, with sales peaking at 50% during the month of August.
"We are on track to have one of the best years we ever had," Karl Daniels said. "I think 2017 was our biggest year, but our growth has been steady since 1994. … We have had a couple of years where business was down a little, but business overall has been good."
He said that peak season for the business would typically be November through April when most people are refurnishing their rental properties. However, he noted that sales are showing more consistency throughout the year.
"We were up 50% in August, and August used to be our slowest month of the year," he said. "So it is getting more balanced for sure. More people are visiting this area in the off season than ever before."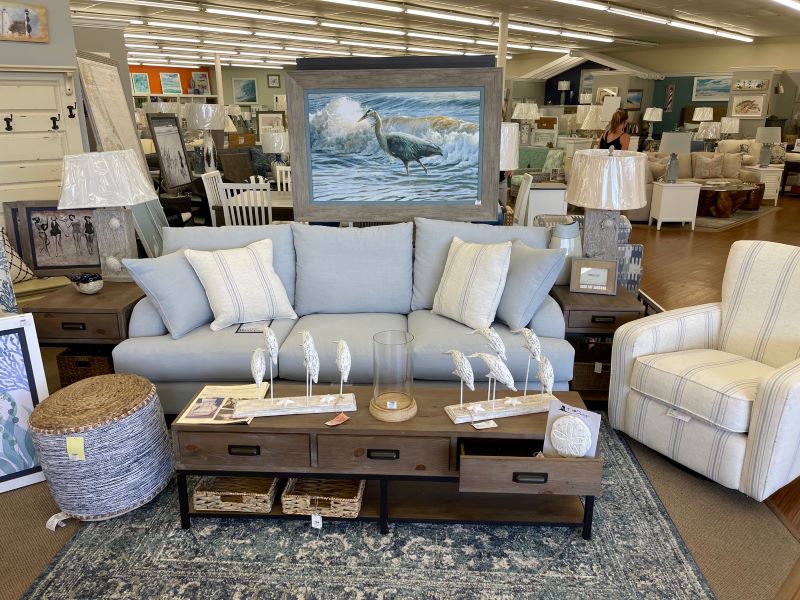 But just as much, if not more than, the influx of traffic, Daniels attributes the store's success to its ability to adapt to changes in the marketplace.
First a bit of history. The Daniels family has been in the area for 200+ years. As a fifth-generation business, it began with a fueling dock and ferry operation that ran customers between Manteo and Elizabeth City. The business also had a history of peddling wares in town, including selling the Wright Brothers the fuel used in the first flight at Kitty Hawk, just five miles south of the current Daniels' Homeport store.
According to Karl Daniels, the fuel depot on the waterfront ultimately was passed down to his uncle and the general store in Manteo was passed down to his father, who opened a Ben Franklin store location at the beach in Nags Head in 1977. This was the family's second Ben Franklin store in the region, after Manteo.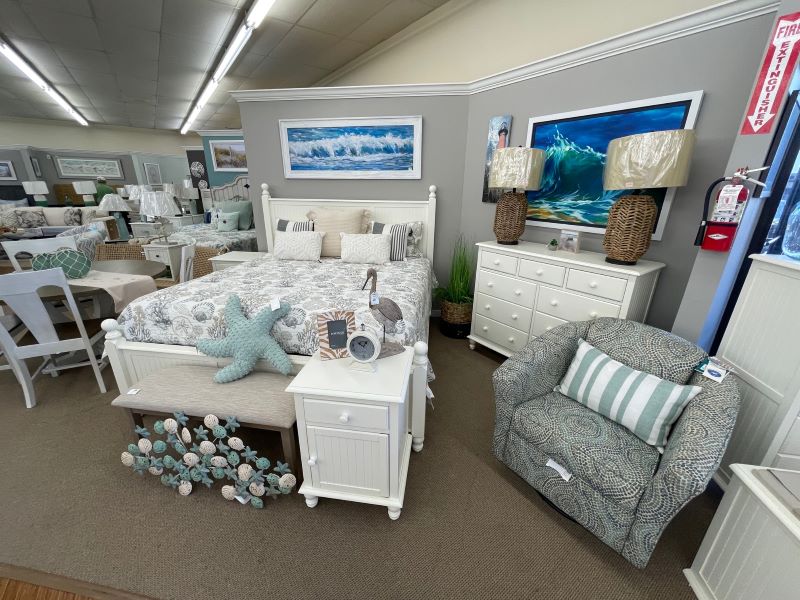 Then Karl's father suggested the family open another Ben Franklin store at the beach, which the family built in 1983 in Kitty Hawk. Like the other Ben Franklin stores, these initially were like five-and-dime stores similar to a Roses or Woolworth at that time.
As the area began to gain more tourists, the stores ultimately shifted some of their focus to the tourist market, with items ranging from beach chairs and umbrellas to suntan lotion, T-shirts and bathing suits, for example.
But as the rental property business boomed — namely with the development of homes built for out-of-town property owners — the family saw opportunity in home furnishings.
"When we opened as a Ben Franklin in 1983, it was a general variety store," Karl Daniels said. "Our target customer was the year-round residents, the out-of-town property owner and the summer tourists. It would have been impossible to survive at that time with just any one of these customer bases."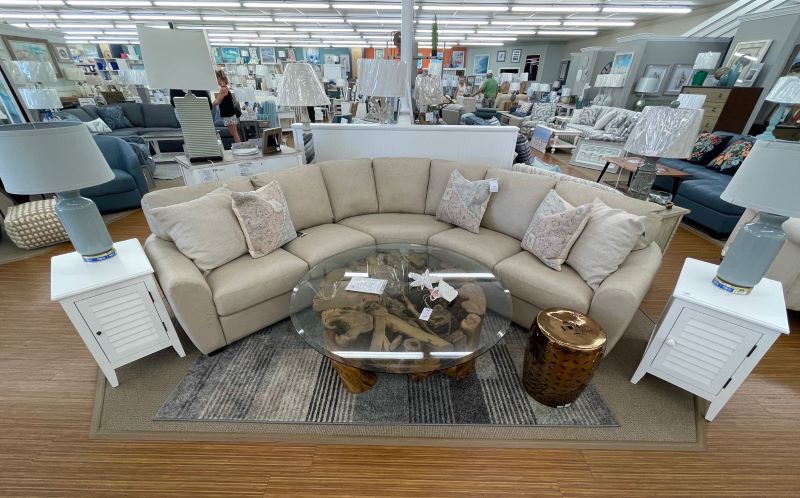 "Our home décor items in the beginning were housewares, bedding, bath, outdoor furniture and window treatments," Daniels added, noting that the company started buying furniture for display use in the store, quickly learning that it could sell those items, too. "We always delivered what we sold and that helped grow our business into larger and more transactions from our loyal customers. … It is from this humble beginning that our current business evolved."
In 1994, the family changed the name to Daniels' Homeport, which to this day, continues to sell home furnishings year round, and doesn't require a long summer schedule of 80 hours a week or seasonal staff during the off season.
Here too the market shifted and so did the business, serving mostly the out-of-town property owners that were buying up area rentals at a record pace.
"That is where the income comes from and over the years, we have just had to adapt our business," Karl Daniels said. "In the beginning we needed all three segments of the market to make a living, then it got narrowed down to the summer tourists and now it is the out-of-town property owners that we serve with furniture mainly, but also accessories."
While the company has sold furnishings to hotel properties — including some bedding and light fixtures — the main market has been the summer rental homes ranging from small one- or two-bedroom bungalows up to 20-plus-room mega-beach houses serving as rentals for multiple families gathering at a time for weeklong vacations and reunions.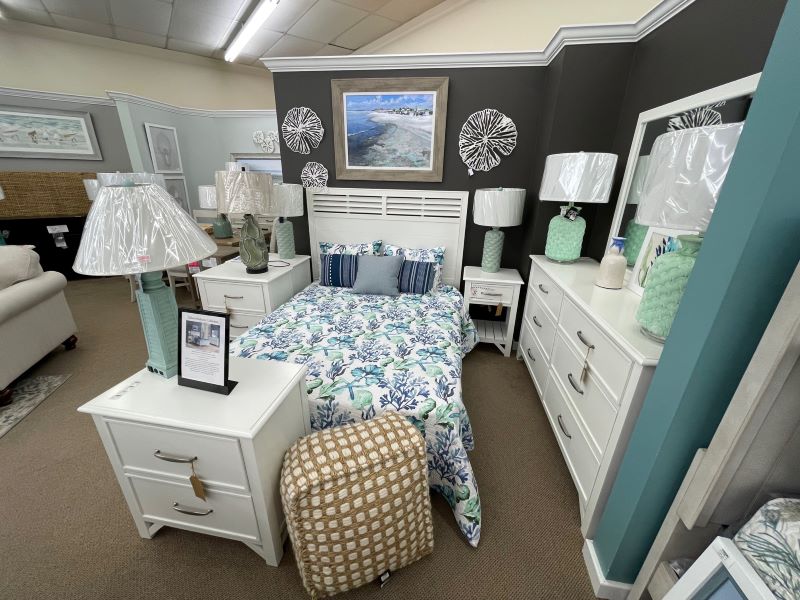 "The big thing is that the changes this county has gone through, I think, from a retail standpoint have required an independent business like us to make adjustments in our mix of inventory to accommodate the growing rental market that we have here now." Daniels said, noting that the business serves as far south as Cape Hatteras and inland to Manteo, but also up north toward Duck and Corolla, both popular havens along the well-traveled Route 12.
The company even sells furniture to customers in Virginia Beach and northern Virginia and even as far south as Florida. This includes many clients that also have purchased furniture for their Outer Banks rental properties.
Daniels said a big transition in the area occurred around 9/11, when families in the metropolitan New York region sought refuge in the area, first by renting homes. Then, seeing the value of the properties they were renting, they began to buy or build homes of their own. Hurricane Sandy was another major factor that influenced more people from New Jersey and Philadelphia to come down to rent, and later buy homes of their own.
More recently, Covid encouraged people from those heavily populated metropolitan areas to spend more time in the more secluded Outer Banks, Daniels noted.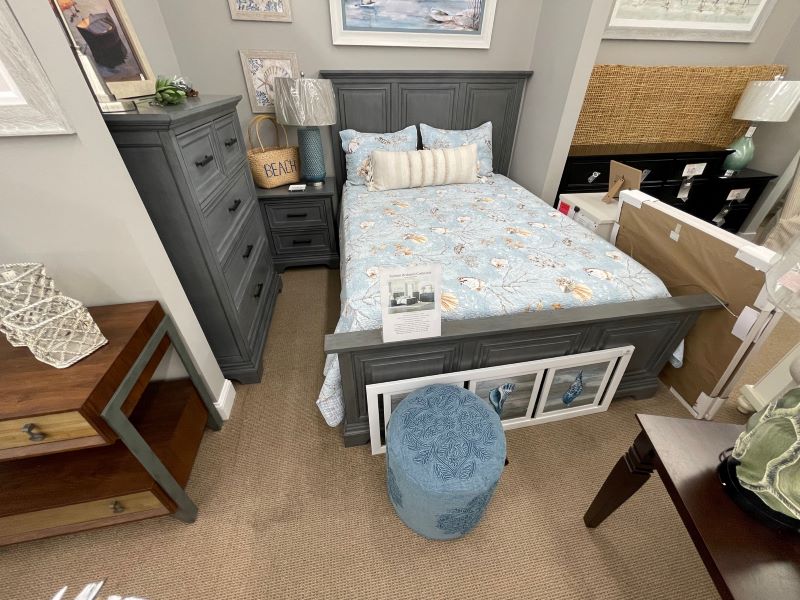 "A lot of people that have their properties here took their properties off the market as rentals and moved down here," he said. "They felt they were safer here. And then there were also people who were working in offices in Washington and other metropolitan areas — they weren't working in their offices, so some of them would rent cottages and stay in them on a monthly basis."
The rental season remains strong, starting as early as April or May, and lasting through Thanksgiving. But more and more out-of-town owners are using their own properties as well, which gives them time to refurnish their homes due to typical wear and tear — notably on upholstery, which has boosted the sale of performance fabrics.
The company sells some upper-end lines such as Hooker and Universal. However, due to the wear and tear that occurs with rentals, Daniels doesn't recommend – or carry too much on the upper end. Instead it has several core upholstery vendors such as Capris, Palliser, Catnapper, Younger and Braxton Culler and on the wood side, it carries John Thomas Furniture, New Classic, A-America, Riverside, Palmetto Home and American Drew, to name several.
"I would say we are moderate, although we have done some super high-end projects," Daniels said. "Some of my projects are pushing $300,000 furniture packages for the home. That is really a 26-bedroom home, including window treatments, outdoor furniture and indoor furniture, kitchen cookware and all of that."
Daniels said repeat business is as high as 50%, as some customers have multiple properties in the area — as many as five or more houses — or want furnishings for their main homes in other states. Others have established their properties as Airbnb locations, which also require replacement furniture due to wear and tear.
"It is not just the initial sale — you establish a relationship with the customer and they come down here and they may not need a sofa, but they need to replace glassware, or pillows — something as simple as that, but it brings them to our store. We have a very good customer base and I am pleased with how loyal our customers are."
But perhaps more than anything, he attribute the store's success to its ability to adapt to changes in the marketplace over time.
"Times change, and you have to change with them," Daniels said. "Change is inevitable. Things are going to change going forward sooner or later."