GREENSBORO, N.C. – 3D tech company Intiaro and Canadian case goods resource Durham Furniture have partnered to launch a state-of-the-art 3D visualization tool at the upcoming High Point Market.
From Durham Furniture's new showroom at 220 Elm, space 204, Intiaro's technology will debut within Durham's new website, which goes live opening day, Oct. 22. The two will co-host a technology and showroom launch party on Friday, Oct. 21 from 4-6:30 p.m.
Intiaro said its tool is among the most advanced in the industry, providing high-quality 3D models of more than 95% of Durham's products, with 4K zoom and 360-degree rotation functions. All models are configurable with the ability to change finishes and hardware options.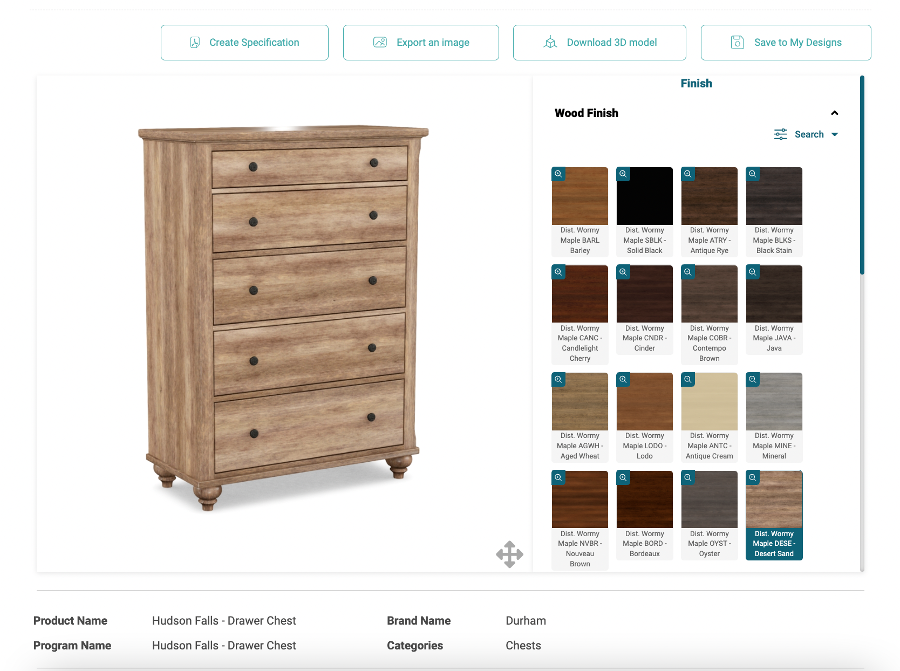 "Intiaro has been a valuable partner in this venture," said Luke Simpson, CEO of the 123-year-old Canadian furniture maker. "Durham set out to have a best-in-class 3D configuration tool, with realistic finishes, encompassing our complete product line. Our early on conversations with vendors highlighted the extensive process this would be, and that a proper result would position us as a leader in the case goods field with regards to online configuration."
Intiaro, he added, accepted the challenge."
The 3D visualizer and configurator is integrated into Durham's new website developed by VanNoppen Marketing of Morganton, North Carolina. The site includes a proprietary dealer portal with all the 3D configuration options available on the forward-facing website in addition to wholesale and retail pricing, order entry, shopping cart, claims, enhanced sales reporting and analytical tools, and account and dashboard control for retailers.
"What we've accomplished together with Durham … demonstrates the opportunities for case goods and other home furnishings categories beyond upholstery to empower their sales force and consumers for an overall better buying experience by making it faster, easier and reducing errors and returns,"
Intiaro CEO Pawel Ciach said.
The new technology will optimize the presentation of Durham's extensive line-up of bedroom and occasional furniture during fall market, as the company has downsized to a 3,000-square-foot showroom from the previous 12,000. Kiosks located strategically in the space will provide access at the fingertips to high-resolution 3D product visualization and configuration tools.
"We believe the technology is game changing for a manufacturer who provides as many options as Durham does for the majority of our bedroom and occasional pieces," said Josh Alexander, Durham vice president of sales and business development.
"Combined with our new website, retailers working with guests will be able to easily answer questions, fill carts and create an image of the bedroom or occasional pieces based on their selections in real time."