And a look at how they didn't change may offer a glimpse into what CSC was aiming for with its failed bid to buy Flexsteel
DANVILLE, Calif. — When CSC Generation acquired a 50% stake in Home Consignment Center here two years ago, HCC co-owner Johnny Crowell heard the same kind of concerns that Home News Now heard from retailers when CSC made its since-rebuffed offer to buy Flexsteel.
Among those worries: The digital-first owner of DirectBuy, One Kings Lane, Z Gallerie and other brands would somehow work around HCC's stores and not protect the brick-and-mortar business that it had built for decades.
"That was the first take all my stores had," Crowell told HNN. "What are these guys going to do? Take it over and sell it all online?
"Then the reverse happened," he added. "The relationship ended up with us doing substantially more business, all my people making more money … all of the stores producing more profit. I can only speak to my situation, but I'm a brick-and-mortar seller, and my sales are through the roof."
Granted, this is not an apples-to-apples comparison by any measure. Flexsteel Inds. is a furniture manufacturer selling to an independent network of retailers. Home Consignment Center is a midsized retailer. CSC bought just half of HCC in 2020. Last month, it proposed to buy all of the publicly-held Flexsteel's stock for $20.80 a share, or about $115.6 million (As one retailer noted, that's less than a recent quarter's worth of Flexsteel's revenue.)
Regardless, in his publicly released proposal letter to Flexteel's board, CSC Founder and CEO Justin Yoshimura mentions Danville, California-based Home Consignment Center as just one example of how CSC gets along with existing leadership at its various holdings while also strengthening their business.
"Across our portfolio, we also have a strong track record of partnering with existing management and building upon the legacies of longstanding furniture businesses," he wrote. "One such example is the Home Consignment Center, which the long-time founder has continued to operate since we acquired the business. If you would like to ask him about his experience working with us, I would love to put you in touch with him."
Some industry observers took this as somewhat of an odd offer to lay out there so publicly. Yoshimura has declined to answer HNN's questions about the Flexsteel bid, including whether or not CSC will make another offer now that the first publicized bid was rejected. But just as he offered to connect HCC's Johnny Crowell with Flexsteel, Yoshumura made the same offer to HNN, and we took him up on it.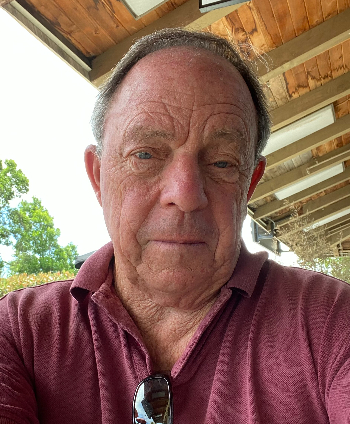 The 79-year-old co-founder and now managing partner of HCC, Crowell shed some light on how the privately-held CSC operates with both suppliers and retailers in and out of its portfolio. Here's what we learned from that interview and follow-up emails with both Yoshimura and Crowell:
Home Consignment Center was founded 28 years ago by two families with "four type A personalities," said Crowell. It operates 16 stores in California and Texas and has become a major outlet used by a number of brands to liquidate returns and overstocks.
Its stores average around 14,000 to 15,000 square feet. They're located in affluent communities and sell furniture, accessories and jewelry "to the yuppie crowd." Crowell said. They take goods in on a consignment basis from this same target consumer to some degree, but also from retailers, suppliers and others, including several of CSC's portfolio companies and connections. Furniture accounts for the vast majority of sales, and furniture and accessories combined make up about 70% of the total.
CSC took a 50% stake by buying out HCC's other co-founders in late 2020. Crowell said he doesn't know what CSC paid for it, and CSC has not disclosed the terms. Crowell continues to own a 50% share in the business, and under a modified partnership agreement, he controls it and gets a larger percentage of profits for his management efforts, he said. "That seems consistent with (Yoshimura's) M.O. where he buys a business and has the management continue, but where he also offers his services, connections and relationships to assist the remaining team to obtain more success," he said.
HCC has tasted that success. In the past two years, business has boomed for the retailer. Sales rose last year by $8 million to $58 million and are up about 6% so far this year. 2021 profits, Crowell said, were up more than 300% over the best year the company had ever had.
Nearly all sales are generated through HCC's network of brick-and-mortar stores. It does not sell furniture online — even now, two years after partnering with CSC Generation.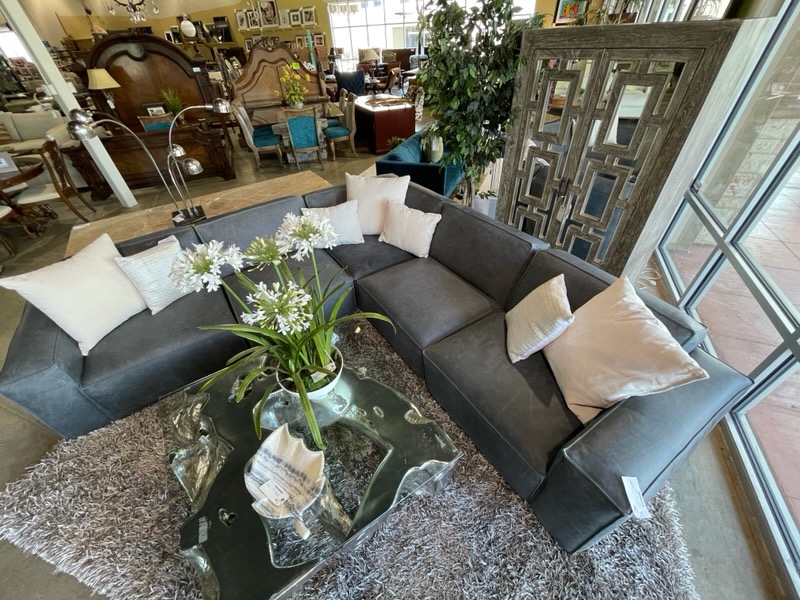 HCC takes "a lot of stuff from factories and middleman," said Crowell. "We're really good at onesies and twosies, so we can take 53-footer after 53-footer of mixed stuff folks get left with. We're not good at thousands of the same piece." HCC will buy some of the merchandise through a subsidiary when necessary, but it prefers the consignment model. Here's its pitch to anyone looking to sell rather than consign:
"When we go out and buy it, which is not our favorite, we have to figure it's going to do poorly," Crowell said. "We always show these guys how much money they would've made had they consigned it.
"Our consignment rate is 50-50. We do the work. The consignors get 50% of what it sells for. What we don't do is the trick in the trade, which is to overprice things to get them in, and then go through a series of markdowns every 10, 20, 30 days or whatever it is. We try to price it to sell, with a little bit of leeway to negotiate. No markdowns."
About half of merchandise sells within the first 14 days on the floor, he said — a pretty fast turnover that Crowell credits to the way it has structured its store operations. The people who sell the goods are the same people who take it in. They say yes or no to items, and they price it. They're also bonuses substantially on how their particular store does every month and based on the hours they've worked.
"They don't get paid a commission because the people bringing it in and sweeping the floors are just as important as the people selling it," Crowell said. "They all work on a team, and the better the team does, the higher the bonus number, the more money they make. So they've become pretty darned good at pricing items and making choices about what should be there and what shouldn't."
Clearly, Crowell's HCC doesn't operate like a traditional furniture store so there are no straight-line comparisons to how it functions as a CSC partner vs. what could happen should, say, Flexsteel — or any other furniture maker for that matter — become part of the portfolio. But the reason Crowell was made available for comment to both Flexsteel and the press was to offer some insight into what a home furnishings brand stands to gain from the relationship with CSC — at least from the viewpoint of CSC and one of its portfolio companies.
With that disclaimer, we jump back to what Crowell had to say about this fairly new relationship. Surprisingly, it has nothing to do with technology even though that's one of the main things CSC Generation promotes about itself on its website — that in addition to being savvy investors, it builds "proprietary technology and centralized teams across the stack to generate alpha."
"One of the best things they brought (to the table) is something they didn't bring," Crowell said. "And that is, they didn't start to micromanage us."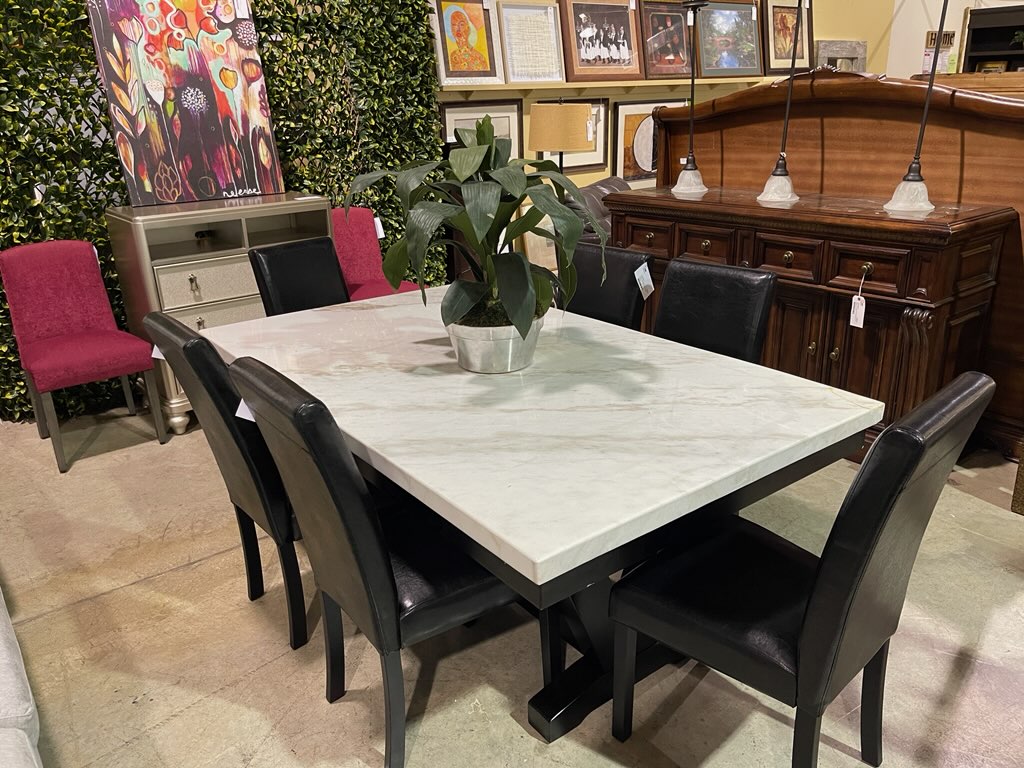 For years, HCC operated as a two-family-owned business with four Type A personalities. It was a happy marriage, he said. Together, they made a lot of money, and they parted on "wonderful terms."
"But sometimes, with four people making decisions, you can complicate the process," he added. "One of the things CSC did (with the purchase) is they took that away, which gave us the ability to operate the business as we needed. They haven't ever looked over our shoulders. They don't critique. They've just given us complete freedom — more freedom than we had before they came in, so that's been a positive."
The second thing CSC did, which Crowell said benefited the company tremendously, is help Home Consignment Center connect to the many partners and relationships CSC has been nurturing in the industry. He's talking about everything from the delivery companies that have product left over from sales that have gone wrong, to buys of surplus merchandise to returns from CSC-owned companies such as Z Gallerie and One Kings Lane.
"That's been a wonderful part of the relationship, and I would say that was a substantial contribution to our sales increase," he said.
Although it's not selling furniture online, in a way, HCC has become a sort of clearance center for e-commerce furniture businesses.
"When you sell things online, sometimes the people aren't there, or it's a different color than they expected, or somebody passed away or the address was incorrect," Crowell said. "So online sellers end up with a vast amount of stuff — one of these, two of those — that they don't know what to do with, and they wind up paying warehouse fees and trucking fees and labor fees to manage it.
"We just take it and we turn it into money pretty quickly."
HCC gets goods in from CSC's DirectBuy, Z Gallerie and One Kings Lane as well as furniture brands inside and outside of its portfolio of companies. From outside the portfolio, for instance, Crowell said his company has done business with Flexsteel and that he has a lot of respect for the manufacturer.
From inside the portfolio, other than the retailers named above, it's a little harder to pinpoint, because the only other brands listed on CSC's website besides Home Consignment and the other three retailers mentioned, is Sur la Table, a kitchen and cookware company CSC acquired in partnership with Marquee Brands in August 2020 for nearly $89 million.
There are no suppliers listed, but CSC has been snapping up a few.
Crowell said he knows this not because he has any direct knowledge of the deals but because he's getting the product from these sources funneled through CSC. CSC struck a deal awhile back with home furnishings source Euro Style, and now HCC gets a bunch of its modern home furnishings. More recently, Crowell said his stores have been asked to take office furniture and chairs from suppliers Cherryman Inds., and iDesk, which tells him that they've been acquired, too.
HNN followed up on this with CSC's Yoshimura, who confirmed the latter two deals were acquisitions without providing details other than to say they should be live on the CSC website soon. He called the Euro Style deal, "more of a strategic partnership."
Crowell said Home Consignment Center is eager to return to expansion mode and that's been another benefit of the CSC partnership. Before the deal, expansion was one of the subjects that caused internal partner conflicts, he said. Crowell wanted to grow, but the others weren't interested and wanted to retire. Yoshimura, he said, "has given us an opportunity to really be serious about it."
A new Home Consignment Center store opened in Torrance, California, about six months ago, and in addition to backfilling existing markets, HCC is exploring expansion opportunities in Florida, Colorado and Arizona.
"That's a nice thing about Justin's companies," Crowell said. "They have some resources. They've given us some locations to look at, and that will definitely help us expand."
Asked if the tech-savvy CSC has helped HCC with any technology adaptations, Crowell said not yet, but they'll probably be coming.
And will HCC eventually sell furniture online? Crowell said he doesn't see that ever happening, but HCC does sell some jewelry online and he feels certain CSC will help grow that business.
This led to one last story Crowell wanted to share, which he believes might quell the concerns of any furniture operator worried that a CSC takeover would lead to rash decisions about the future direction of their businesses.
"We are just a small player, having fun making money," he said. "We've been around awhile, have a pretty decent reputation, and Justin shows up in the picture with lots of irons in the fire, a lot of clout and a lot of sales.
"And he comes to me and says, 'Hey, what do you think about putting some jewelry kiosks in our Z Gallerie stores?'
"I say, I don't know. We'll give it a try. Let's test three of them and see how they work."
That tells Crowell something critical about the company that now owns half of his operation. "Here's a guy that has the big clout looking to see if there are ideas he can pick up from the guys already (operating) to use for his growth. I think that's unusual in this business — that the young guy is asking the old guys for a couple of tricks to put into play in his operations."
In fact if a Flexsteel partnership of any sort did ever come to pass (reminder: the publicized proposal was rejected), Crowell believes Yoshimura "is liable to pick the Flexsteel guys' brains and let them give him some guidance on some of the things that he does."
But he added the advantages could be mutual. Even though HCC doesn't sell furniture online and has no plans to go that route, "There is a shift in the market to selling things online, and these guys are pretty good at it," Crowell said.
As for the Z Gallerie jewelry kiosks, the third test recently opened in a Z store in Boca Raton, Fla. The others are in Dallas and Roseville, California, stores. In addition to jewelry, they're selling consigned designer handbags.
"He follows through, and now we have a little joint venture," Crowell said. "Maybe it works. Maybe it doesn't. But it says a lot about who I'm dealing with. I have a lot of respect for that."