What a difference a year can make in outdoor retail.
A 19 percentage point difference, as it turns out.
A year ago, Broad River Retail, Ashley Furniture's largest licensee in the U.S., was reporting that outdoor sales had increased by 70% year over year, following an outdoor showcase that took place three years earlier.
At that event in 2017, the retailer both introduced its new outdoor category and demonstrated to its partners that it was fully committed to taking it outside.
And it has. That 70% has increased to an 89% rise year over year, which Broad River COO Manny Rodrigues attributes to a concentration on quality in the goods, as well as a continuing trend of Americans seeing patios and decks as an extension of the interiors of their homes.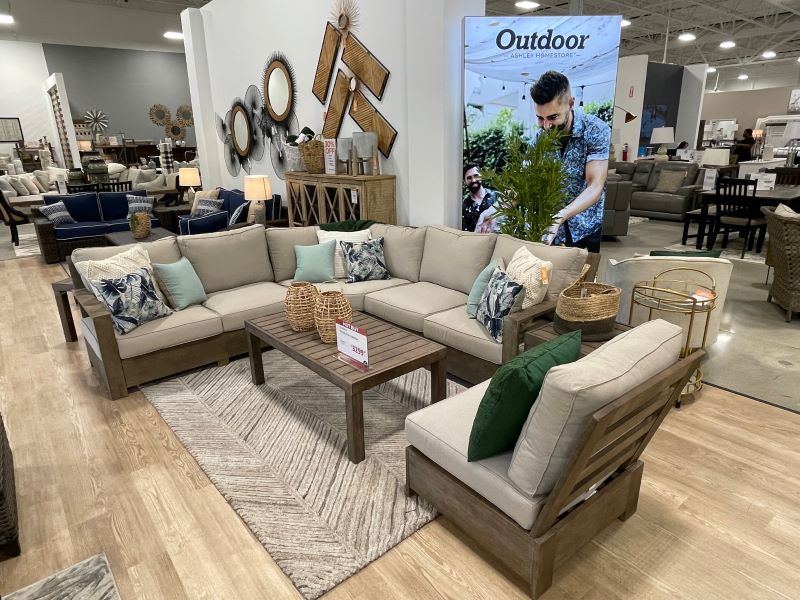 "We have really seen growth in this category and we're still bullish on it," Rodrigues says. "We love it for a lot of reasons."
Lynn Knowles, who works on the merchandising team, says that product mix and placement, tied to the seasons, works well in the category. In spring, Broad River places outdoor, especially dining, in the front room of the store, making it top of mind for the retail performance team. In the fall, outdoor is moved back into the store, and the pieces are more about seating and fire pits.
"It really makes it like an oasis in the store and that has contributed greatly to our success," Knowles says.
As with real estate, outdoor retail is about location. Rodrigues says that Broad River's location in the Carolinas and Georgia have had a boom in residential construction and with it, more emphasis on outdoor living. At the same time, people who worked at home because of Covid have a new appreciation for all the rooms of their home – both inside and out.
"The home outdoor experience today is one that just continues to drive a lot of excitement in our stores," Rodrigues says. "Folks are working more and more outside in their outdoor spaces, using outdoor furniture in ways that they wouldn't before. It has become more important to the overall home than it has been in the past."
Knowles says the new definition of home has had a good effect on outdoor retail.
"People are feeling better about making investments in their outdoor spaces," Knowles explains. "They want high-quality furniture on the outside, like they have on the inside."
Rodrigues says that Broad River isn't immune to industry challenges. But the biggest challenge, supply chain shortages, hasn't had as much of an effect, because Ashley has worked hard to keep product in stock and stores supplied.
Another challenge has been a good one to have — because so many offerings have been added to outdoor collections, Broad River has begun displaying them both vertically in the stores and featuring them on kiosks and on iPads and tablets that sales consultants carry with them.
"We have a multiple ways to show the product," Rodrigues explains. "We've put more of it on our website and we are seeing more traffic. Our guests are looking online and then coming to the store and asking to see the Beechcroft sectional or the Clairview dining set."
In addition, product reps coach the 300 employees on the features and benefits of the outdoor furnishings, coupled with an internal LMS system called Ashley Discovery that has videos and other resources the sales team can use.
What, overall, are customers looking for?
Knowles says that generally, guests are looking for designs out of nature and not as much the traditional looks, while Rodrigues said he has seen some pieces scaling smaller to better fit apartments and condominiums.
"That is the genius of the Ashley model, depending on which stage of life you are in, whether you are just out of college and in your first apartment and you need something small, or you are in your small first home and you have more space, as we've got those, too," Rodrigues says.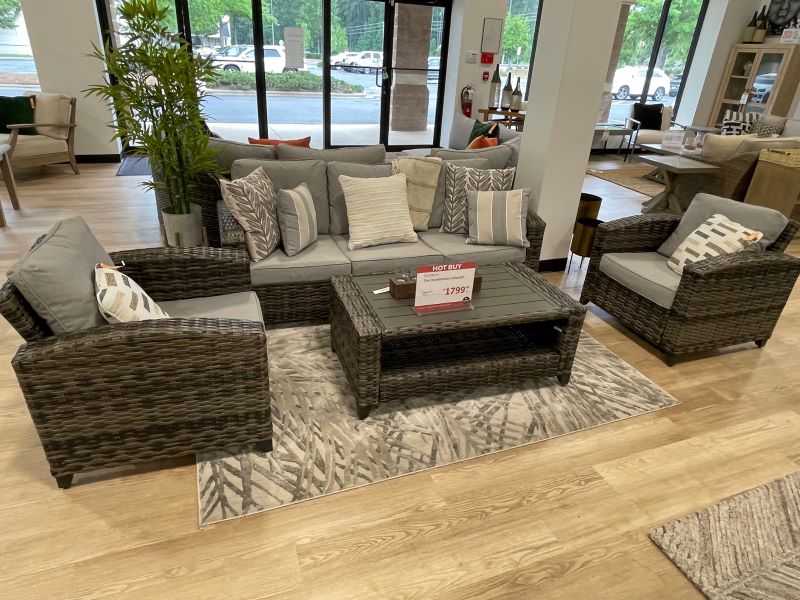 That model is working, as sales figures show. Rodrigues said that in 2021, the Broad River Retail stores had 98 Million Dollar Memory Makers — sales staff that had each sold $1 million or more in sales, including both indoor and outdoor furniture. That's up almost double from the 51 honorees in 2020.
"We have a gala and each is given time to talk through their story, how they have gotten into this moment," Rodrigues says. "It's grit, determination and perseverance. They have a willingness to be coachable and improve on their craft, to know our product offerings."
In all of it, outdoor is at Broad River Retail to stay.
"We're 100% committed to outdoor," Rodrigues says. "Ashley is committed to it. The product continues to get better and evolve year over year. It goes back to what customers want. What they are telling us and what we are seeing is that outdoor space is being used more and more and it is more and more important to them in their lives to be outside, to enjoy time with family, to enjoy time with friends and they want to have great outdoor furniture. It reflects their personality and their lifestyle."