CITY OF INDUSTRY, Calif. — GigaCloud Technology, which provides a B2B marketplace for home furnishings and other large-parcel industries, is in growth mode with a new president and new capital now that it has gone public on the Nasdaq exchange.
In the prospectus filed with the Securities and Exchange Commission, GigaCloud Technology (GCT) describes itself as a "a pioneer of global end-to-end B2B e-commerce solutions for large parcel merchandise." It calls its platform the GigaCloud Marketplace, and it integrates everything from payments, warehousing and other logistics tools into the AI-powered platform.
The idea is to connect retailers in the U.S. and other markets with sellers — in Asia, but also the U.S., Mexico and other markets — giving them access to each other with just a few clicks of a button. With its main subsidiaries and entities operating in mainland China, Hong Kong, the United States, Japan and the United Kingdom, GigaCloud is sort of like the Amazon marketplace for business, with the abilities to deliver the goods quickly to the end consumer through its vast logistics arm. It's connecting smaller producers that, perhaps, don't have the resources to build out sophisticated supply chain networks, and it specializes in large-parcel items, such as furniture, where many try and fail.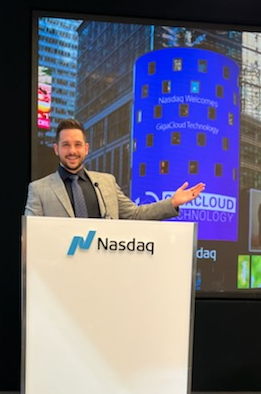 Earlier this month, shortly before going public, the company hired industry veteran Iman Schrock as president, located at its offices in City of Industry, California. He came from Abbyson Living. where he worked for 15 years. Schrock has deep experience in home furnishing operations and in other industries. (He's also an adjunct professor for the online American Military University.)
According to the prospectus, GigaCloud Technology was in rapid growth mode since the marketplace opened and well before the initial public listing. Revenues grew from $122.3 million in 2019 — the year the marketplace was established — to $275.5 million in 2020 to $414.2 million in 2021. Net income grew from $2.9 million, to $37.5 million and then down to $29.3 million over the same periods.
For a 12-month period ended March 31, GigaCloud facilitated merchandise transactions valued at $560.8 million, up 54% from the same period the year before.
Its stock was listed on Nasdaq late last week, opening at $19.20 per share, according to data on the Yahoo Finance website. Shares were down Monday, but still were more than double the initial listed opening price, closing at $41.41.
In an interview with Home News Now, Schrock said the GCT platform is the vision of founder, Chairman and CEO Larry Lei Wu, a vision in which "the seller of a product, whether it's a brick-and-mortar store, or an online seller or designer or trader … can download the product to the consumer's home with the click of a button. Hence the name GigaCloud."
"The thing we do so well is the thing (others) struggle with — that is, getting the product delivered anywhere in the United States at a very competitive flat rate." That's the advantage for the buyers on the platform, he said. They visit the site. They know what the product is going to cost, what the shipping is going to cost and they can set their price to consumers as they see fit.
For the sellers — a brand or manufacturer — "we'll give you access to our infrastructure, which as of right now is about 21 warehouses globally and a last-mile delivery (fleet) offering white glove and threshold deliveries." On top of this, the company has partnerships with both FedEx and UPS to offer what Schrock said are "unbeatable rates for our small parcel deliveries."
GCT got its start as B2B marketplace for the furniture industry, and today about 90% of its business still comes from home furnishings. The rest is largely appliances and home fitness sector business. Product on the site is coming from across Asia, Europe, Mexico, the United States and other countries. Fourteen of its 21 warehouses are in the United States.
Today, there are more than 8,000 buyers (retail companies, designers and more) using the marketplace and somewhere between 500 and 700 brands and manufactures selling on it, Schrock said, though he declined to name names (you can see sellers for yourself by scrolling the marketplace listings).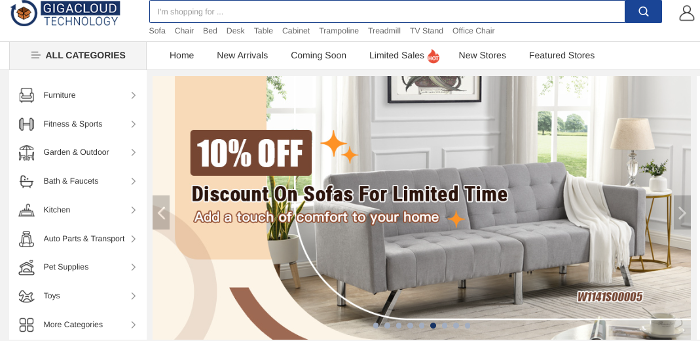 But think small players for the most part. In the prospectus, GCT said it lowers the barriers to entry for sellers, giving them quick access to "global markets in which we operate, including the U.S., the U.K., Germany and Japan." Sellers can connect with resellers and leverage GCT's supply chain capabilities "to establish overseas sales channels without having to invest in their own logistics."
"We manage the entire logistics process from the moment the product leaves the factory floor, and simplify the process by offering a flat rate program for shipping and handling. Leveraging our algorithm, we determine when and where to ship a product, reduce the amount of time a product is handled and select the most effective delivery mechanism for the product."
For use of the company's warehouse space, sellers are charged on a per-cubic-foot-per-day basis.
GCT also sells its own inventory, what it calls "1P" for "first party" on the marketplace and to and through third-party e-commerce websites, such as Amazon and Walmart in the U.S., Wayfair in the United Kingdom and Rakuten in Japan. GigaCloud Technology said the 1P revenues "expand our market presence, reduce inventory and logistics risk for sellers, create more products for buyers" and drive volume-based cost efficiencies for sourcing products, among other things.
Indeed, the majority of GigaCloud Technology's revenue has come from 1P revenues in the past. But as its GigaCloud Marketplace grows, GCT expects 1P revenues as a percent of the total sales to continue declining over time. "Many of the sellers operating in our GigaCloud Marketplace were originally suppliers of our 1P inventory that later joined the GigaCloud Marketplace as 3P sellers," it notes in the prospectus. 
Schrock said growth is among GCT's many goals. And while he declined to put any numbers to it, in his interview with financial media portal Proactive and in the prospectus, Schrock and the company indicated there's a long runway ahead. The prospectus notes, "The U.S. B2B market is estimated at $14.8 trillion, nearly three times the size of the U.S. retail sales market and is currently underpenetrated by e-commerce." It pointed to a report from business consulting firm Frost & Sullivan that said U.S. B2B e-commerce sales reached $1.3 trillion in 2020 and is expected to grow at a compound annual growth rate of 10.7%, reaching $2.2 trillion by 2025.
Amazon may have revolutionized the online experience for consumers, but the B2B world is still very "old school," Schrock said.
GCT aims to bridge the technological gap by making it "super easy" for buyers and sellers to connect while taking care of the other big pain points, too, such as payments (making them easy and secured) and logistics infrastructure costs.
"To win customers, resellers not only compete on product quality and price, but also on selection, delivery speed and customer service," the company said in its prospectus. Delivering on all of these criteria is especially challenging in the large parcel market given the difficulties of moving bulky items. Small to medium-sized resellers often lack the resources to invest in their own supply chains and therefore tend to struggle to compete against well-capitalized large e-commerce platforms."
B2B marketplaces, it said, offer low-cost end-to-end supply chain solutions that allow resellers (retailers and others) to focus on sales growth.
Per the prospectus, GigaCloud's growth strategies include: growing and diversifying its seller base and SKUs; growing its buyer base and engagement; and expanding its product offerings and geographic coverage.