And the growth story is still being written
TORONTO — The year was 1972. "The Godfather" was the box-office boss. Don McLean's "American Pie" filled the airwaves. the Dow Jones closed above 1000 for the first time, and a fledgling Canadian upholstery maker, Decor-Rest, began making upholstery in a small, rented facility at 40 Wabash Avenue in Toronto.
Fast forward to today and one could fill a book with the stories of furniture makers who have since fallen by the wayside unable to survive in a market that often takes no prisoners.
One notable exception is Décor-Rest Furniture, a family-run upholstery maker launched by Angelo and Christina Marzilli, which is celebrating its 50th anniversary this year.
To underscore just how remarkable a feat this is, consider these statistics from funding specialist Fundsquire. The company reports that 20% of Canadian small businesses fail in their first year and a whopping 60% will shut their doors within the first three years.
How it all began
Like so many after WWII, Angelo's parents found life increasingly difficult in post-war Europe and the lure of a better life in Canada led the family to emigrate from Italy to this new country.
In 1963, at the age of 16, Angelo Marzilli Sr., got his first job at a local furniture manufacturing company and spent the next eight years making upholstery and developing a passion for furniture and a desire to design and build beautiful, affordable furniture.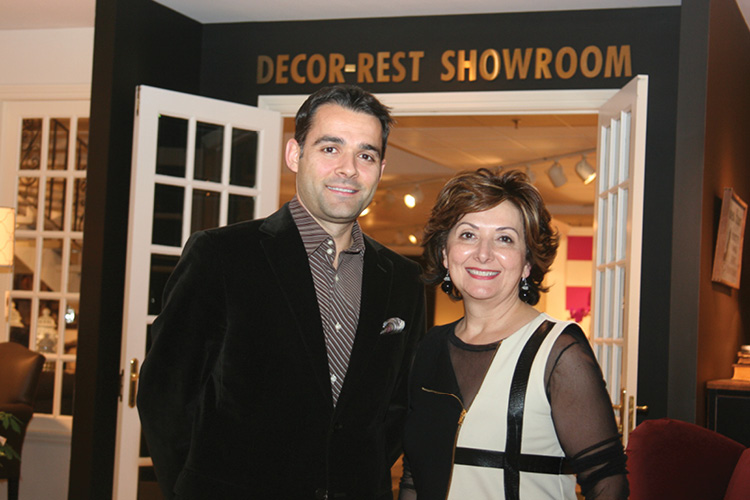 Christina shared his vision and in May 1972, they began operations in a 4,000-square-foot space at a century-old building on 40 Wabash Avenue in Toronto. Angelo's engineering skills in furniture design and manufacturing, coupled with Christina's fluency in marketing, accounting, and décor, allowed them to create durable, high-quality upholstered furniture.
The couple married that year, and in keeping with their focus on furniture, they honeymooned at the Holiday Inn in High Point — a place they would circle back to years later.
In the ensuing years, Angelo spent most of his days visiting retail stores selling his furniture. At night, he would return to the factory to sew and upholster furniture alongside his six employees, fulfilling the confirmed orders for that day.
As their business grew, so did their family. A daughter, Natalie, was born in 1973 and a son, Angelo Jr., in 1975.
The business prospered and he company was going nowhere but up, but as it moved into the 1990s, the North American Free Trade Agreement (NAFTA) was announced. NAFTA encouraged investment in areas where production is cheapest.
As a result, compared to low-wage countries like China and Vietnam, Canada,suddenly became a much less desirable country to source product from.
This was a major challenge for many Canadian producers, and it resulted in scores of those suppliers either shuttering or relocating to the United States. Decor-Rest, meanwhile, staunchly remained in Canada and adhered to a vision of creating quality furniture at a good value.
Two years later, another milestone was reached and the need for expansion was required again to accommodate production for their 250+ customers throughout North America and the growing team of 100 family team members.
Decor-Rest moved to the 111,000-square-foot factory located at 233 Signet Drive in Toronto. The new factory location also became the first showroom to display their line of furniture.
In 1995, Decor-Rest set another milestone, making its debut as an exhibitor at the High Point Market, inaugurating an 8,000-square-foot showroom space that it bought at 208 Jacobs Place. Not long after, Decor-Rest was making headlines again. This time, for being the first Canadian upholstery manufacturer to receive ISO 9001 certification in August 1998.
The ISO 9001 is the world's most recognized Quality Management System (QMS) standard said to help organizations meet the needs of their customers and other stakeholders more effectively by building a framework to ensure consistent quality in the provision of goods and/or services.
As the business grew, so did the Marzilli children. After college, Natalie returned to Decor-Rest in the late 1990s, joining the sales department. She participated in opening new business opportunities across Canada and the U.S. while positioning the Decor-Rest brand and developing marketing strategies alongside Christina and the team.
In 2009, she ventured out with her retail store, Zilli Home Interiors, offering customized space and planning solutions to a clientele seeking a tailored retail experience with a beautifully curated showroom and an extraordinary team of interior designers.
Angelo Jr. studied Business Management and seamlessly transitioned into Decor-Rest's next-generation leader, becoming the company president in 2017.
In January 2000, construction was completed on their first custom-built landmark location, 511 Chrislea Rd, Woodbridge, Ontario. A 225,000-square-foot factory, showroom, and office space were equipped with a professional kitchen and pizza oven to serve hundreds of lunches and dinners.
In 2001, Décor-Rest became recognized with more national Trillium Summit Awards than any other upholstery company for the superiority of product design and marketability. Decor-Rest also broadened its base with collaborations with well-established designers such as Alexander Julian, Cobi Ladner, Steven Sabados, and Chris Hyndman.
Along the way, the company has always been a good steward of the environment. In addition to maintaining its accreditation in ISO 9001 Quality certification along with its BIFMA certification, the company's environmental commitment to the environment earned CertiPUR-US certification for the use of eco-friendly materials, recycling and repurposing of materials.
In February 2020, when the COVID-19 global pandemic hit, Decor-Rest proactively readapted workstations, installed plexiglass screens, enlarged the washrooms and installed touchless sinks to keep the onsite staff safe.
Recognizing the growing shortage of personal protection equipment (PPE), the factory was repurposed and began producing masks and gowns. They sourced hand sanitizers for PPE kits and distributed them to retailers and front-line workers to keep them safe.
At a time when other suppliers were pulling in their horns, Decor-Rest recently announced the acquisition of two Canadian upholstery makers, Superstyle Furniture and Trendline Furniture, a move that will increase Deco-Rest's manufacturing output by an additional 35 percent while boosting its footprint to 400,000 square feet and expanding its total workforce to about 450 employees.
However, the story of growth at Decor-Rest is still being written. The company recently reported that it has just made another acquisition — this time well-established Canadian upholstery frame facility called Superior Frame. (Click here for a Decor-Rest timeline.)
With 50 years of hard work, teamwork and innovation having helped pave the road ahead, Decor-Rest appears to be firmly positioned in the passing lane of the fast track.
Ray Allegrezza is executive director of the International Home Furnishings Representatives Assn.