The company's investments in its wood operations are helping to meet demand among high end retailers and designers
HICKORY, N.C. – Sherrill Furniture's domestic case goods operation here continues to expand as demand for its luxury wood line grows both among designers and upper end retail stores.
For example, the company's work force grew by 10% in 2021, bringing the total to 200 workers. Sherrill plans to increase this by 15% this year, which would add as many as 30 workers to its 300,000-square-foot plant. And it expects to have these additional workers on board by this summer.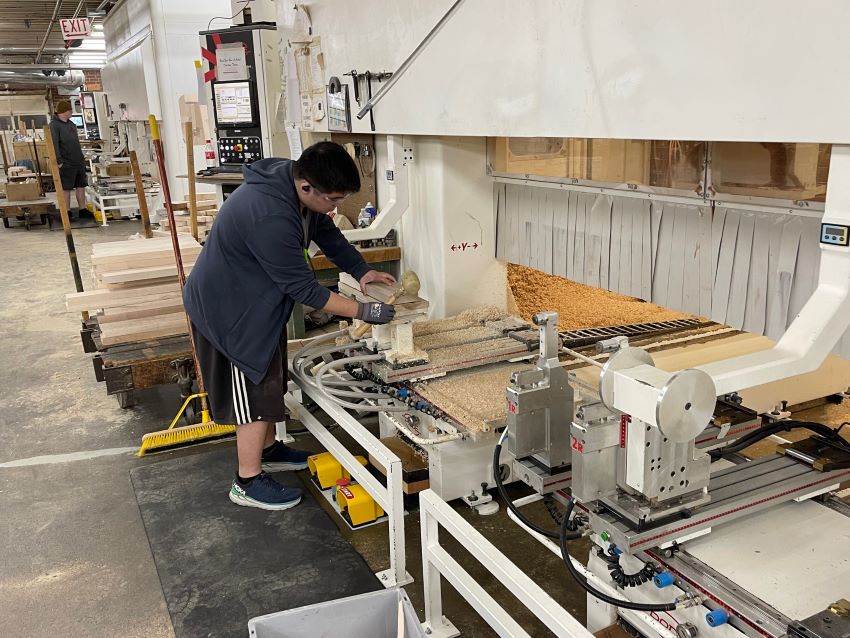 While the facility is expected retain its footprint in terms of square feet, the company also has invested in nearly $3 million in new equipment in the past two years. In addition to three 5-axis CNC routers, the company has added a 10-axis lathe, a CNC edge bander, plus other new machines in its veneer cutting operations.
The investment in people and machinery has come in conjunction with an estimated 51% growth in the domestic case goods business since 2019. Today some 90% of the company's wood product is made domestically, producing product for Sherrill's major brands including Hickory White, CTH Sherrill Occasional, Lillian August and Mr.& Mrs. Howard.
The domestic wood operations also produces private label product for retailers around the country, which also helps boost demand for its capacity and capabilities in both design and finishing for the upper end segment.
Sherrill Furniture President Thad Monroe said the investment in its domestic wood plant – along with its upholstery operations – is part of the commitment that second generation executive Buddy Sherrill has made to the business over many years.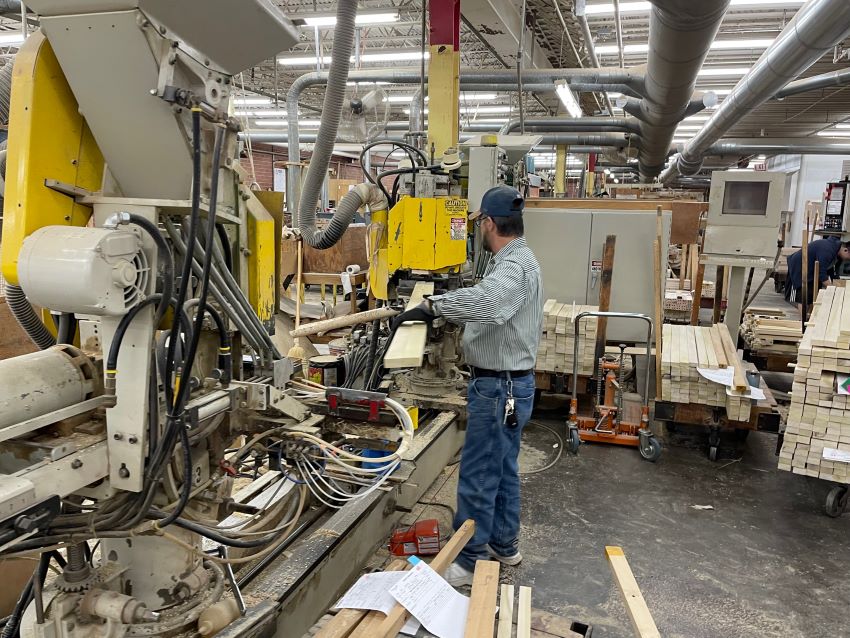 "When Buddy Sherrill purchased Hickory White in 1988, he did so to keep the first case goods factory in Hickory, N.C. from closing and to maintain that community of skilled furniture craftspeople in this area," Monroe told Home News Now. "His commitment to domestic manufacturing and the local community has proven visionary. More and more customers are committing to domestically made product due to the challenges associated with sourcing from Asia, and we see that providing sustainable growth in our case goods business even as the recent boom subsides."
That investment continued when the company sold its ownership stake in Theodore Alexander several years ago, Monroe noted.
"A lot of families probably would have taken the money out (of the business), but Buddy said, "we are going to reinvest,"" Monroe added, noting that the company made a concerted effort to invest in new equipment both on the case goods and upholstery sides of the business, which he estimated at more than $5 million since that time.
Thus, as the company has invested in its domestic operations, interest in the marketplace indeed has grown. Much of the demand for its wood product in the past couple of years, Monroe noted, has come from both brick and mortar stores and designers.
Sherrill also has added some OEM customers in the last year and a half.
"We have accelerated our growth there," Monroe said.
Of course demand for domestic wood product has come with its challenges too, particularly in supporting all those orders during a pandemic. While Monroe did not reveal specifics about where he sees extended lead times headed in the near term – that varies as it largely depends on the availability of whitewood inventory – he foresees big improvements down the road, something that the company's investments in equipment and people will help achieve over the short and long term.
"The equipment investment will make the machine room more efficient and increase speed, and this drives a decrease in lead times which creates a lot of value for our customers, particularly at this time," Monroe said.
"It is going to help us reduce our lead times and increase our throughput," he added of the investments in people and equipment. "Adding additional people and additional lines in our cabinet room along with the new equipment is going to be a big help."