CHARLOTTE, N.C. — Members of Furniture Manufacturers Credit Assn. met for the organization's Fall Education Conference at the Hyatt House Charlotte/Center City here last month. The program was filled with work, networking and educational sessions and time to honor extraordinary achievements.
The Sept. 16-17 event marked FMCA's 60th anniversary, and, because of the Covid-19 pandemic, it was the group's first physical meeting since its May 2019 education conference, though some presenters took the virtual route.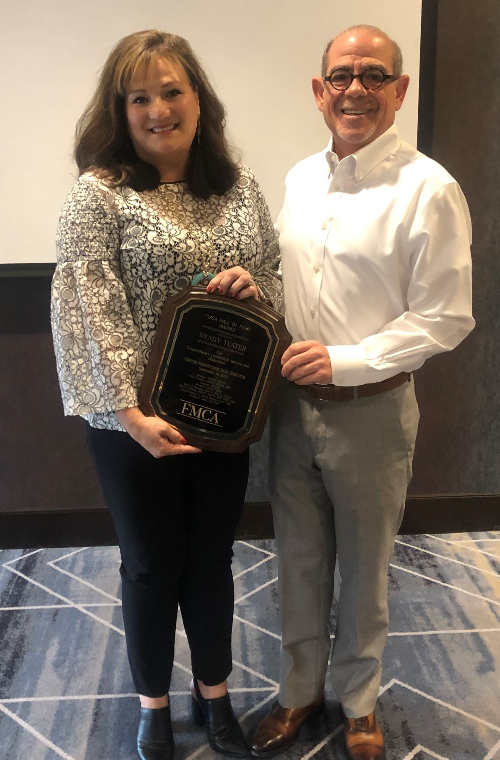 Sessions included "Making Meaning Out of the Mundane — How Ordinary People Deliver Extraordinary Results," by John C. Maxwell coach, speaker and trainer Vidya Raman; a virtual credit and sales best practices presentation by attorney Scott Blakeley of Blakeley LLP and Robert Shultz, credit and financial industry veteran and managing partner of Q2C LLC; and more.
During the Sept. 17 awards presentation, FMCA honored members in several areas. Wendy Tester, credit manager for Lee Inds., and Glenn Hendren, credit manager for Legacy Classic Furniture, were announced inductees into the FMCA Hall of Fame, recognizing their "extraordinary leadership, service, and dedication to the association."
Both have served on the FMCA board for more than 10 years and have served as president and chairperson for at least two of those years. They have also served in various officer roles and chaired various committees for the association.
In addition, Matt Melcher, director of credit for Sherrill Furniture, received the FMCA Credit Manager of the year honor. And Bennie Corbett, credit manager for Universal, received a special service recognition for serving as FMCA's credit interchange chairperson for seven years.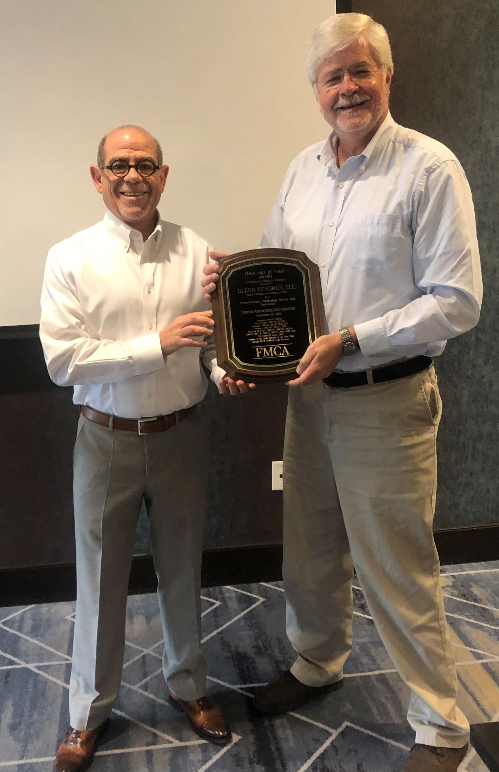 With its 2020-2021 Heritage Award, FMCA recognized member companies for their credit interchange meetings attendance as well as use the use of the organization's credit interchange reporting and collection services. Honorees were Ashley Furniture, Baker Interiors Group, Bassett Furniture, Bernhardt, Best Chairs, Caracole, Home Meridian International, La-Z-Boy, Hooker Furniture, Howard Miller/Hekman, Leather Italia USA, Lee Inds.; Legacy Classic Furniture, Lexington Home Brands, Magnussen Home, Progressive Furniture, Rosenthal & Rosenthal, Rowe Fine Furniture, Tempur Sealy International, Sherrill Furniture, Universal Furniture, Vanguard Furniture, Vaughan-Bassett Furniture and Wells Fargo.
Brian Spencer, director of credit for Home Meridian, was presented with the Past Presidents Plaque and a ring for his 2019 and 2020 service.
FMCA's digital marketing firm, Charlotte-based Lazarus Design Team, was also on hand during the event to meet members and to gain further insight into the group, FMCA said. Lazarus "is working to expand FMCA membership (and get) the word out about all the services and benefits that membership in FMCA affords credit professionals working for suppliers in the home furnishings and accessories industry," it said.