PISCATAWAY. N.J. — Bob's Discount Furniture has opened a 622,230-square-foot state-of-the-art distribution center here as part of its continuing aggressive expansion strategy.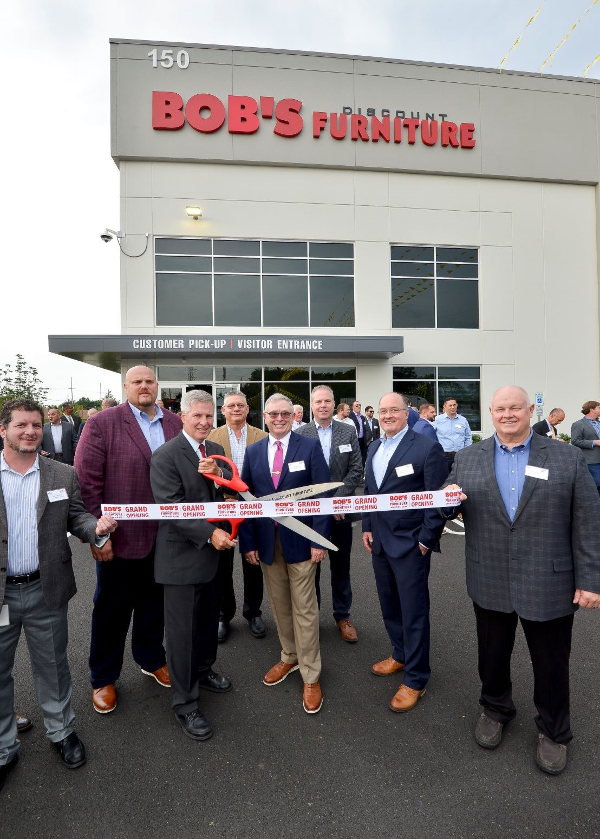 The energy efficient LEED Silver certified facility at 150 Old New Brunswick Road features 40-foot ceilings, 125 dock doors and parking for more than 300 automobiles as well as nearly 130 trailer parking spaces.
The Manchester, Conn.-based Top 100 company held a ribbon cutting ceremony and tour of the facility to mark the official opening and "to celebrate the expected creation of hundreds of jobs over the next few years," it said in a release.
"This new distribution center will enable us to deliver superior service to Bob's customers in the New York Metro region, and we also anticipate that this facility will house several hundred new jobs over the next few years," said Bill Barton, Bob's president and CEO.
He also thanked Duke Realty, owner, developer and manager of the facility, and the city of Piscataway for their support.
Preceding the ribbon cutting, Bob's presented Stacy Lopez, associate director of development at Elijah's Promise Soup Kitchen and Dr. Frank Ranelli, superintendent of Piscataway Schools with $2,500 checks to their respective organizations. Duke Realty also gave Bob's Discount Furniture's Charitable Foundation $5,000 check, which will be used to benefit charities and families in need in the Piscataway-area.
Bob's operates 150 promotional to midpriced furniture stores in across 23 states.